Truffle Hunting in Piemonte
While truffle hunting may take one to other corners of Europe, chefs and gourmets agree that Piemontese truffles are the finest and most aromatic of all.
Piemonte: The Original Truffle Hunting Haven
Piemonte is the original white truffle production area: the white truffle is also called the "Alba truffle" after the main town in the Langhe. The tuber magnatum pico are also found in a few other areas in Europe (notably northern & central Italy).
In Piemonte, the truffles grow symbiotically on the roots of many trees and bushes, from blackberries to oak to hazelnut, as well as poplar and beech. Piemonte's natural areas, from the steep shady valleys between sunny, well-exposed prime vineyards to the high-altitude forests of the Alta Langa, lend themselves well to the truffle hunt.
Man's Best Friend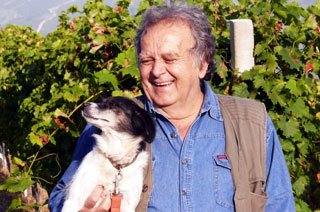 While dogs have long been man's best friend, to a truffle hunter they're so much more—friend, business partner, confidante and often a family member.
Small, mixed-breed mutts make the best truffle hunters. The truffle hunter begins training the pup by letting the dog sniff a bit of truffle and nibble it, then pairs the scent with a doggie treat.  He then places the truffle on the ground and rewards the dog for going to it.  Then he bit by bit digs a little hole for the truffle, rewarding the dog with each find, until the truffle is covered with earth and still found.
But actually, much of the training is just about revealing the dog's natural aptitude.  Some dogs have extraordinary noses (like Diana, the trusted companion of our truffle-hunter friend Beppe!) and just adore their work.
Experience Piemonte With B&R
Scheduled Group Biking Trip
As the home of Barolo, Barbaresco and Slow Food, Piemonte tastes as good as it looks. On Piemonte Biking, we'll hunt for truffles and get a firsthand pasta-making demo from an expert chef. Delizioso.
DETAILED ITINERARY
Scheduled Group Walking Trip
Slow down,  sip and stroll your way from the well-heeled wine hub of Piemonte all the way to pastel-hued Portofino. We traverse to each side of the Apennines on an epic Piemonte to Portofino Walking trip!
DETAILED ITINERARY
Harrowing Tales (and Tails) from the Hunt
Spending an evening with our truffle-hunting friend Beppe, who's been kind enough to ply his trade for many a B&R traveller over the years, yields enough material for a novel.
One of my favourite stories is about the one and only time his dog Diana refused to hunt and stayed by him. He was confused, but not long afterward he saw a strange large black animal—which turned out to be a panther escaped from a nearby game farm! Sitting down with a bottle of ruby-red Barbera and a plate of his wife Carla's handmade egg pasta, glistening with butter, and seeing Beppe's blue eyes twinkle as he shaves the truffle thickly on, makes my mouth water in memory.
Some stories hint at the violence of this truffle passion and the jealousy his success has elicited: his tires slashed, his dogs poisoned, how he's turned down an offer of 10,000€ for Diana.
But just watching their teamwork, and seeing her bounce high to his pocket seeking her reward after a successful find, is always a source of joy!
JOIN MORE THAN 70,000 FELLOW WANDERERS