Finding Prosperity in Food & Community in Rural Italy
Christina Cain, our Experience Designer for Puglia, shares the story of our long-time friend and local guide, Alex, and how after his adventures abroad, he found his way back to his village in Italy to re-engage in a slower way of life at his farm-to-table restaurant, Terra Madre. 
---
The allure of Italy's heel is largely connected to its rustic beauty, where modern life manages to seamlessly blend with farmland traditions. Rolling hills and pastures speckled with masserie (farmhouses) and trulli (dry-stone huts) are synonymous with the region's famed turquoise-hued coast.
A roadside detour to pick ripe cherries while patiently waiting for a flock of sheep to ramble along, an impromptu tasting of olive oil fresh off the stones and afternoons of infinite sunshine in the vibrant countryside are a few of the enamoured images that come to mind for Puglia. 
Home of the country's largest producers of olives, grapes, tomatoes, eggplants, artichokes, almonds and citrus fruits, Puglia has earned the title of Italy's vegetable garden. However, it wasn't until the early 20th century, with the construction of the Pugliese Aqueduct, that farmers were able to diversify the blankets of farmland by tapping into nearby Campania's Sele river.
Even with the prospect of a farming future, like many rural areas, Puglia risked losing its next generation to "bigger and better" opportunities outside the plowing and planting legacy that the biz nonni (great-grandparents) had sown. In the early 1980s, fresh graduates ventured to the more successful north to job hunt or further their studies.
Then, something changed.
Puglia began to receive international interest as a travel destination. Investors poured money into renovating old farmhouses into unique lodgings and urban planning began to better connect towns that would later be recognized by UNESCO. Paralleling this, while not yet related, began movements to protect traditional Italian foods and crops as a way of identifying a place. 
Groups like The Slow Food Association, whose efforts emphasize the pleasure of food and slowness, and Kilometre Zero, who focus on food within a 100 km radius, as well as government efforts to regulate origin denominations all had the same scope—to give back the importance to traditional, local farming practices.
This married well with the newly growing interest in travel to the sunny, southern region. A trip in Puglia naturally meant eating farm to table, perhaps even plucked from the back garden, a stop to a local producer to pick up the freshest olive oil and, of course, stuffing some goodies in your luggage to bring home. 
It was these pleasures that brought our friend, Alessandro (Alex) Paiano, back to his homeland in the Val d'Itria in 2002. Alex, too, had left his beloved Puglia to travel through Europe, Japan and America. With him, he took memories of his grandfather milking cows while the radio hummed in the background, the smell of hay, the taste of freshly twisted mozzarella and the images of dry-stone walls draped across warm, welcoming hills. After more than 10 years abroad he made the decision, like many, to return.
Our Friends, Your Experience
Our local friends unlock the doors to what makes a region really tick. Anyone can visit Alberobello to marvel at its curious trulli, but an invite into Terra Madre's garden to pluck fresh-grown veggies for your farm-to-table meal? That's B&R's Puglia. Join us to experience it for yourself.
Start Planning
Alex quickly found his place back home as a tour guide, sharing Puglia with wide-eyed visitors who were yet to pronounce the region's name correctly. He wasn't your typical guide; instead of a rehearsed tour of the whimsical trulli-filled town, he preferred sharing the rural life that he had longed for while overseas. He wanted people to slow down, get their hands dirty and learn about his Old Country.
It was obvious in 2003, when we first met Alex, that he was a natural fit for B&R. He's since worn many hats from teaching farming tricks to our younger travellers to leading the older ones through wine tastings, from scouting biking routes through his old stomping grounds to visiting local producers, where his background in agronomy shines. 
While enjoying success in Puglia's growing travel industry, he later opened his own tour company and trulli rental business in Alberobello. But Alex knew something was missing. The more time he spent in the countryside it became clear it was time to get back to his roots, literally. So, like the start of many remarkable business adventures, he took a leap of faith.
"If you do things and you're a little bit lucky—and I believe very much in my luck—then things will come to you. It costs nothing to believe."
And with this philosophy, Alex opened his trattoria, Terra Madre, to share Italy's favourite pastime of mangiare bene (eating well) with others. A small garden behind the restaurant served as a kilometre-zero source for the daily veggies. Crunchy, fresh, raw vegetables presented in the simplest form portrayed the land's richness and experimental dishes led to a vibrantly colourful menu. Beetroot carpaccio, creamy zucchini with mint and oozing burrata highlighted Puglia's best. And, as the restaurant grew, so did the ideas and the need for more raw materials.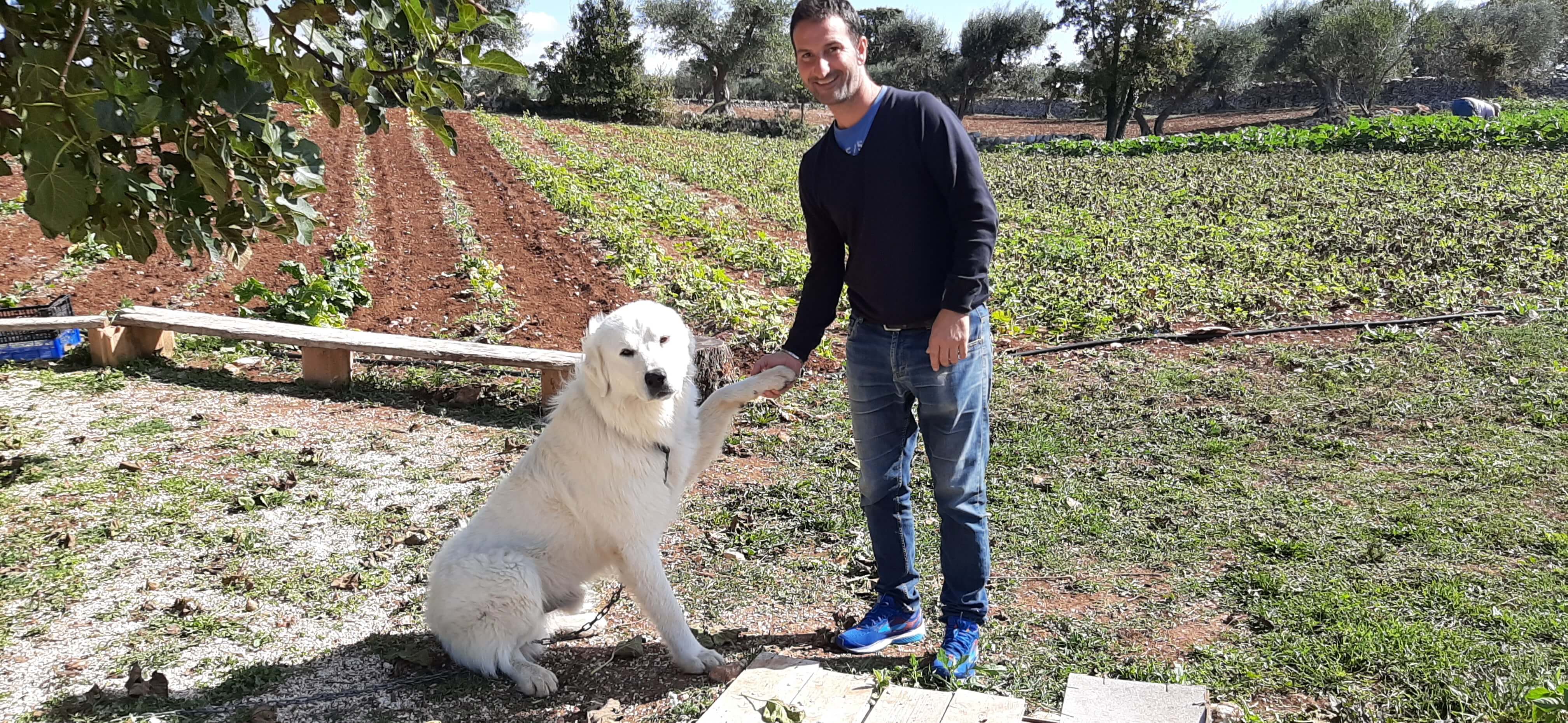 Just one year after opening, Alex began the project of Terra Madre Orti; the cultivation of roughly four acres surrounding one of his countryside trulli. Here he began mixing both organic and sustainable farming practices by using crop rotation, intercropping and diversifying, exactly as his nonni once did.  
"Puglia is a colourful, tasty, fragrant region where excellent raw materials can be found. My aim is to focus on the authenticity and purity of agricultural foods, even if it means an 'anti-entrepreneurial' use of economic resources." 
While he may have been going against the grain, the seed planted would reap its fruits in one of this generation's most trying times. When Covid hit Italy in March 2020, his restaurant doors closed, the tour operating business went on hold and the trulli emptied out. He had workers without work and vegetables without a recipe, so he turned to the fields for a solution. It was time to call on "his luck" again.
Alex and his team hit the fields harvesting vegetables and tending the crops. Puglia was in the midst of a full lockdown with halted daily market rituals and supermarkets understocked in local produce. As shelves went empty, his gardens bloomed in abundance where nothing went to waste; from unsold vegetables elaborated into preserves to using his own chickens' manure to fertilize the land. 
Where many saw despair Alex saw an opportunity. He turned his business focus to home delivery service with daily vegetable crates, preserves and take away food options from Terra Madre.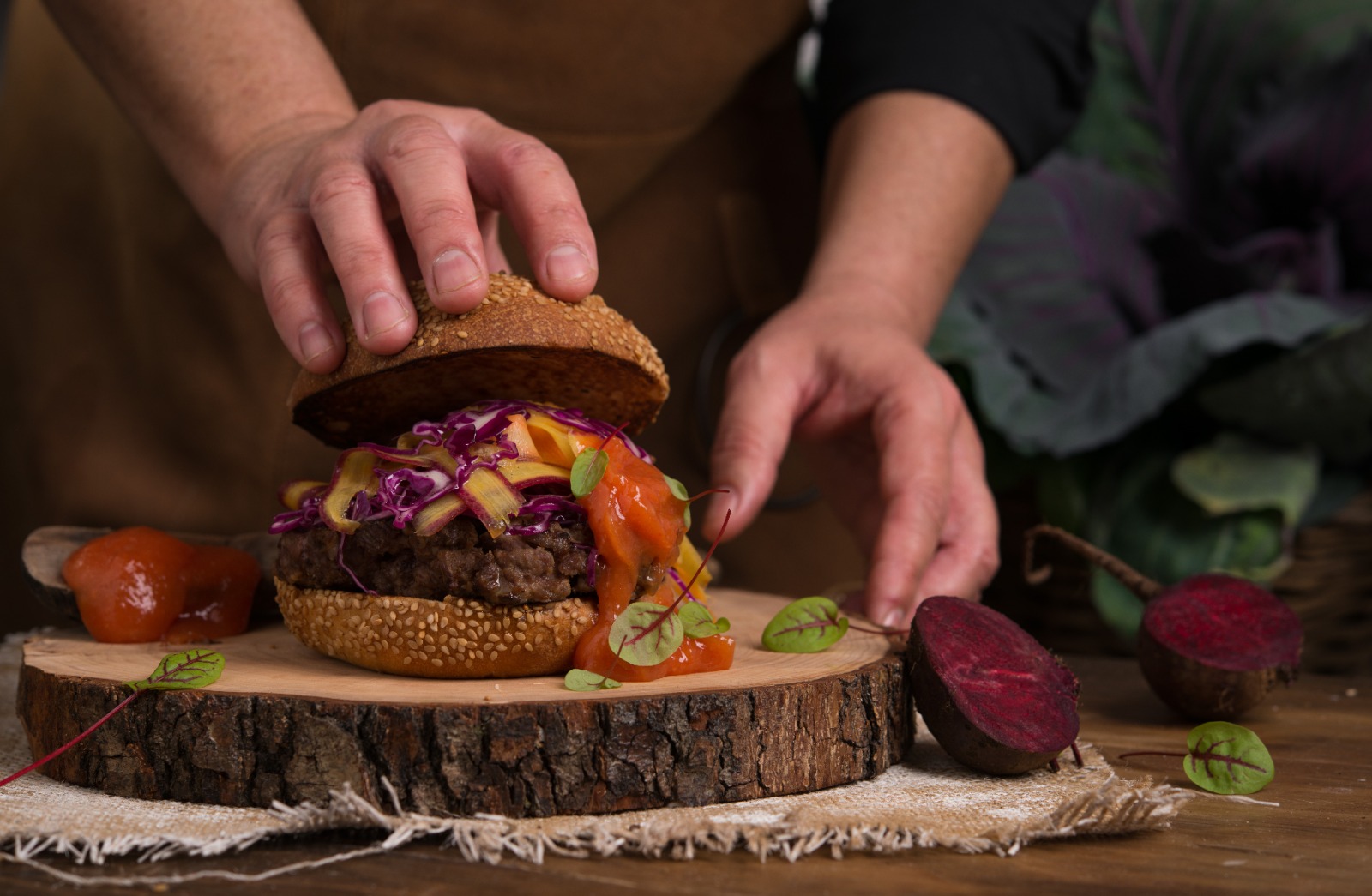 Like all of us, Alex is ready to turn the soil and cultivate the next harvest—one that has had time to nurture, develop and progress into the new future. It's thanks to people like Alex that Puglia will continue to thrive as a sustainable travel destination where the synergy of the land is not only maintained but showcased; where getting down to the roots does not merely mean observing, but playing an essential role. 
We look forward to getting back on the road with Alex, returning to sample his newest creations at Terra Madre (including the new rainbow-coloured hamburgers!) joining him in the fields, rolling up our sleeves and staying tuned to his next innovative adventure, of which we're sure to take part.
Interested in scoring an invite into Terra Madre's garden to pluck fresh-grown veggies for your farm-to-table meal in Puglia? Get in touch with a member of our team to start planning.
JOIN MORE THAN 70,000 FELLOW WANDERERS