Why Your Next Private Family Vacation Should Be to the Dolomites
Georgia Yuill, our go-to expert for Italy's mountainous northern region, the Dolomites, shares why it's an ideal choice to bring your family on your next vacation. 
---
A B&R colleague introduced me to the Dolomites in 1996. It was part of a whirlwind trip from B&R's Burgundian home base which crossed the Mont Blanc, paused on the shores of Lake Como, had us cycling through the Veneto's prosecco zone and concluded with breathtaking hikes traversing the South Tyrol's Dolomite mountains. I was dazzled by the unique jagged formations seemingly bursting out of the verdant valleys and the tranquil, carefully arranged towns nestled at their base.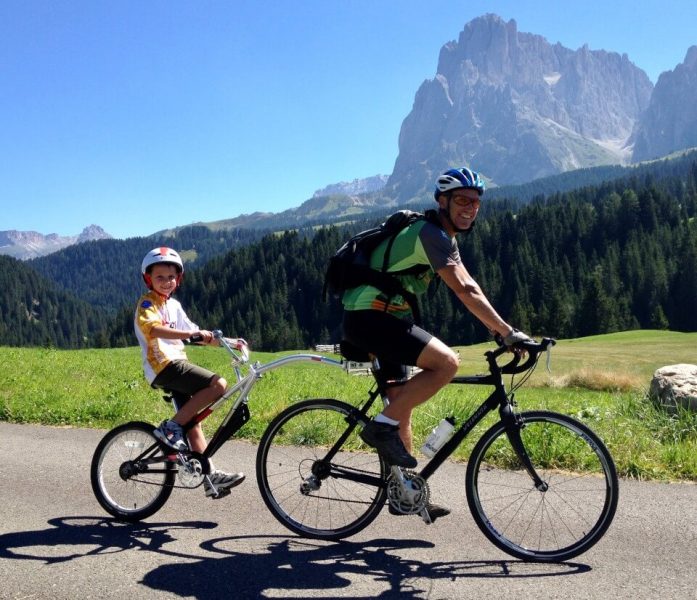 That colleague, a few years later, became my husband and we returned repeatedly over the years to the dramatic Dolomite peaks to hike and ski given its reachable distance from our home in Milan. Sharing time in this mountain wonderland with our two sons further enhanced our love of the area. Unable to resist the region's charms, we found a second home in one of its small villages and have been building priceless memories ever since.
Through these rich experiences with my kids, extended family and close friends, I have crafted dozens of trips for families in search of quality time together. Here are a few reasons why I'd encourage the Dolomites for your next private family trip.
A close-knit community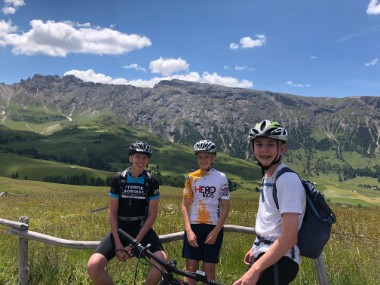 Equally engaging as the dramatic landscapes are the easy-natured locals and the warm hospitality you'll receive, whether during a simple lunch at a rustic mountain hut or with the owners of the finest hotels.
It's not surprising as the people, or more appropriately, families, of this region have been welcoming visitors for generations. They are proud of their history, deeply connected to nature and humbly aware of their paradise. This sense of pride and the close-knit community it has created extends to being welcomed into the region like a fellow family member.
A variety of activities in remote settings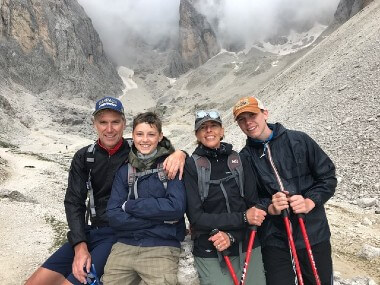 Activities are not limited to hiking and mountain biking but expand to fit adventure-seekers who can tackle a via ferrata (cable-assisted hiking), go paragliding, rock climbing or road cycling on the epic mountain passes of the Giro d'Italia. A more moderate pace and effort are also possible with gentle walks along the valley floor or hopping on gondolas or chairlifts to easily reach the high alpine meadow trails.
Electric-assist mountain bikes are all the rage and are the great equalizer for all levels of ability and allow for considerable exploration in a single or half-day if time in the spa beckons. Whichever activity you choose, wide, open spaces allow you to comfortably navigate with your group.
Family-style meals and a focus on local food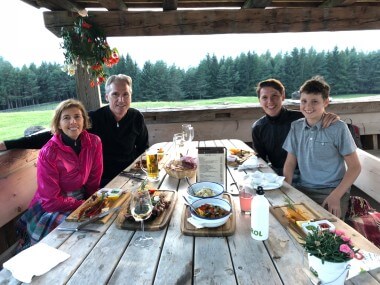 Culinary interests are not sacrificed in this region where farm-to-table is not the trend, its the standard and the way its always been.
Among other unexpected elements discovered by travellers are the exceptional regional wines and the opportunity to visit the idyllic estates where they are cultivated.
A consistent highlight of these family trips is all members gathering around the dinner table to recount their adventures and unexpected discoveries. I suspect this is one of the main reasons we so often hear 'best family trip ever' at the close of their travels.
How to Get There
The best way to arrive in the Dolomites is through Innsbruck, Austria, Verona, or Venice. These smaller airports allow for a smooth, quiet arrival. From here, a pre-arranged private vehicle can take you to the region. There is also a small regional airport in Bolzano for private flight arrivals.
Whether your family desires the attentive services and amenities of the region's finest hotels or prefers the privacy that a beautiful chalet or lodge can offer, a trip for all ages and all abilities awaits in Italy's glorious Dolomites.
---
To chat more about planning future travel to the Dolomites, get in touch with Georgia.
JOIN MORE THAN 70,000 FELLOW WANDERERS