5 Unmissable Hilltop Towns in Tuscany
The Tuscan hills are alive with quirky and charismatic villages ripe for discovery. Cobblestone lanes lined with authentic shops and friendly locals often lead to cozy piazzas and clinking glasses of ruby-red wine, usually accompanied by breathtaking views.
Here are five of Tuscany's hilltop towns that earn their rank at the top of our list (no pun intended).
Monticchiello
This happy hamlet can be found in the heart of postcard-perfect Val d'Orcia, close to the Renaissance city of Pienza.
The medieval town's history can be felt simply by strolling its streets, perhaps popping into Busatti for some handmade linens or sipping a cappuccino on the terrace of La Porta di Monticchiello with drop-dead gorgeous views.
If you're visiting in July, don't miss a performance of "Teatro Povero": a theatrical experience written and performed by the town's inhabitants in the main piazza, perhaps followed by a fabulous dinner at one of our favourite Tuscan restaurants, Ristorante Daria.
San Quirico d'Orcia
In the Middle Ages, San Quirico was an important stop along the Via Francigena, the pilgrimage route that connected Northern Europe to Rome. After all these centuries, it hasn't lost one bit of historic hospitality without becoming a tourist hotspot.
In the heart of town, the 16th c. Horti Leonini botanical gardens sprawl across two levels, and one can sate their appetite and quench their thirst between great local restaurants and a small hometown brewery.
The surrounding hills are home to two of the most photographed spots in Tuscany: a peculiar and picturesque grove of cypress trees (the most photographed trees in the world!), and the beautiful Vitaleta Chapel, absolutely dwarfed by its surroundings.
See Tuscany Your Way
Whether it's your first time visiting or you keep coming back for more (we can't say we blame you), there's always more to discover on a tailor-made journey through Tuscany. Connect with Courtney, our expert Experience Designer for Italy, to start planning your bespoke adventure.
Start Planning
Bagno Vignoni
Not far away from San Quirico lies the minute, little-known village of Bagno Vignoni—a hamlet quite unlike the other hilltop villages in Tuscany.
Every Tuscan town is built around the main square, but in Bagno Vignoni, instead of a piazza, you'll find an enormous natural pool fed by Tuscany's hottest underground thermal spring. The town dates back to the Etruscan era, and the curative Italian tradition of "taking the waters" continues today.
There are plenty of cute eateries where you can enjoy a Tuscan dish or two, and if you time your visit to Wednesday or Saturday evenings, we recommend enjoying the thermal baths under the stars at Posta Marcucci.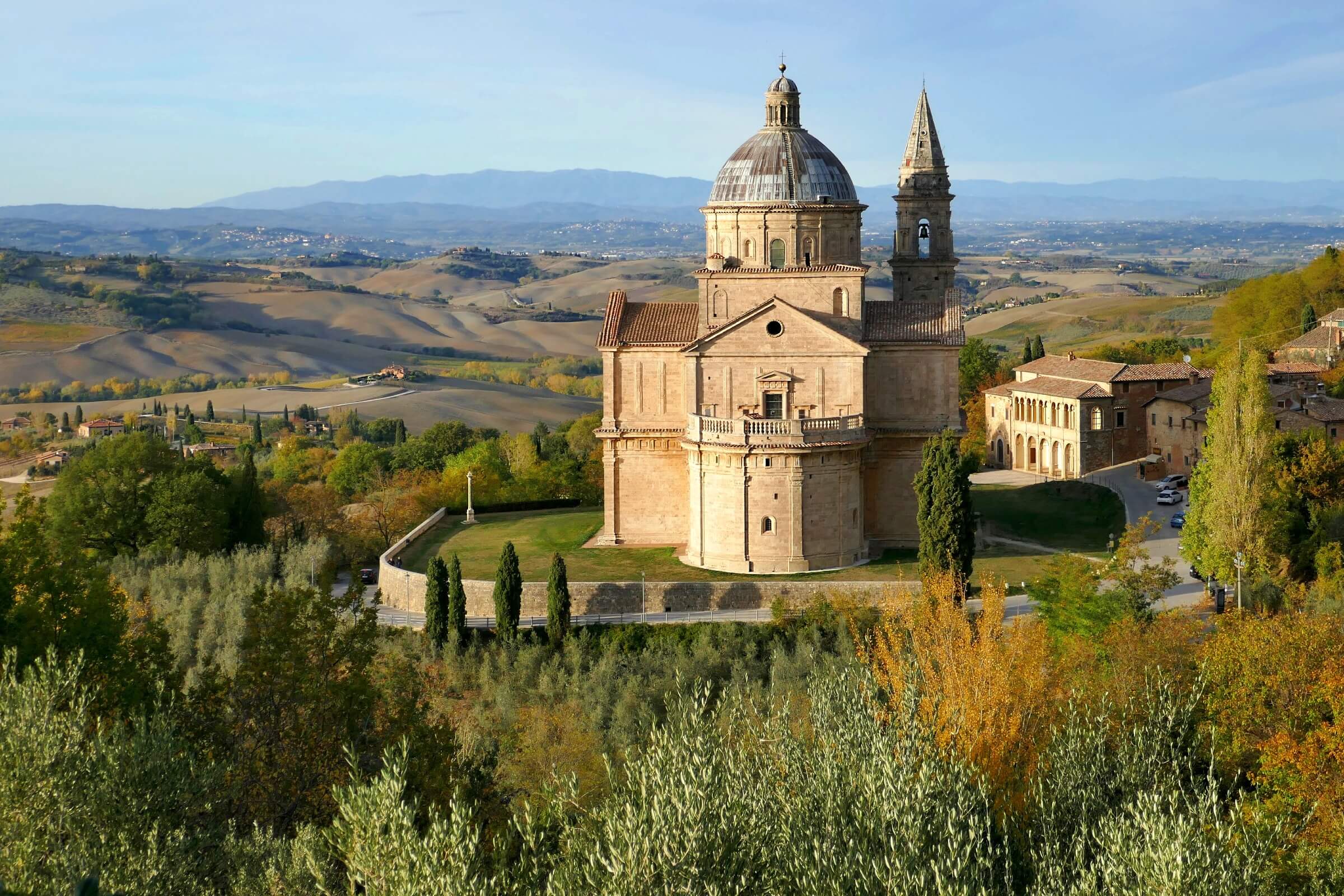 Siena
Siena, whose San Biago church is pictured above, is the biggest town on our list, but its qualifications as a hilltop beauty are much more than satisfactory.
For starters, it boasts a monumental Cathedral complex, which is considered to be the most beautiful in Tuscany (stand down, Florentines!). If you visit in the weeks of September and October, you can view the cathedral's jaw-dropping mosaic marble floor, which Giorgio Vasari called "the most beautiful and magnificent" floor ever made.
In addition to incredible history, Siena offers lanes and lanes of shopping and gastronomic paradises. Our favourite place to grab a pre-dinner aperitivo drink is in the main square, Piazza del Campo, where each year the Palio horse race takes place.
Cortona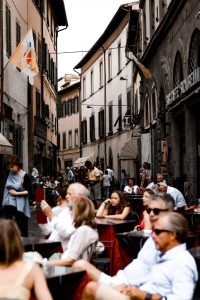 Cortona is a fairytale town built vertically along a steep slope in the Valdichiana Valley, boasting magical views of sunflower fields and Lake Trasimeno: it's no wonder the town inspired Frances Mayes to pen her most famous book, Under the Tuscan Sun.
The village is the perfect size for a day spent strolling through its historic city center, with plenty of authentic local flavour amongst handmade ceramic shops, outdoor cafes, and a beautiful piazza crowned by the Teatro Signorelli opera house.
Nearby, you can also find Le Celle Convento, the first monastery built by St. Francis of Assisi still active today.
For those looking for an extra challenge, climb to the top of the town to visit the beautiful cathedral and the imposing Girifalco Fortress for the very best views of the valley below.
JOIN MORE THAN 70,000 FELLOW WANDERERS