The Most Incredible Hikes in Italy's Dolomite Mountains
Our award-winning Experience Designer, Georgia Yuill, splits her time between Milan and the Dolomites, the mountainous region in the northern part of Italy. Here, she narrows down the best hikes in the Dolomites. 
---
There are dozens of spectacular hikes spattered across the Dolomites, it seems nearly impossible to narrow down the choices.
But as I spend more time in my home here with my family exploring the peaks and valleys of this UNESCO-listed World Heritage site, there are a few that I have been finding particularly soul-stirring. These are my picks for some of the best hikes in the Dolomites.
Bullaccia Loop, Alpe di Siusi
Activity Level: Easygoing
Perfect for anyone looking for an easy morning or afternoon walk that takes only about 2.5 hours. It offers panoramic views overlooking the picturesque villages of Castelrotto, Ortisei and the Gardena Valley.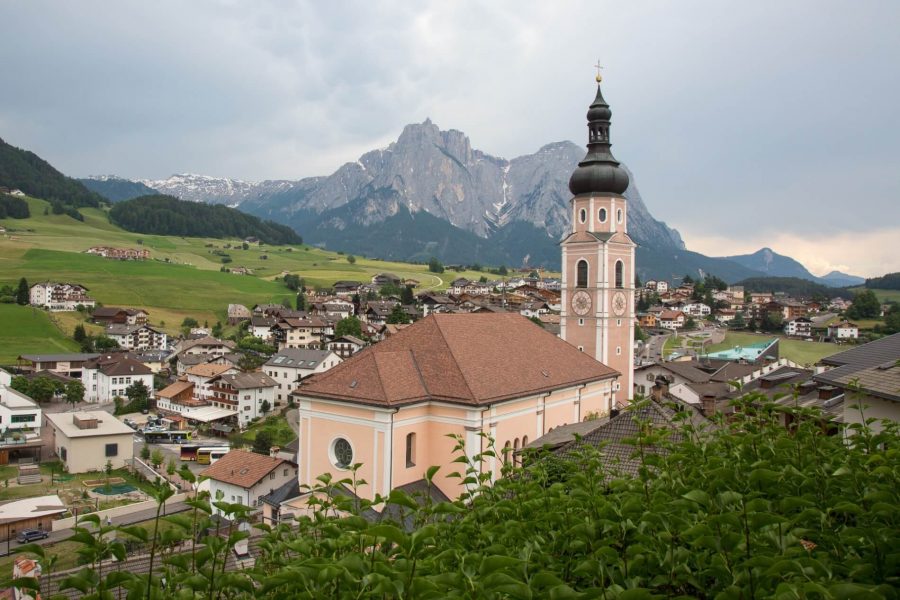 Reach New Heights
The Dolomites' stunning peaks have drawn foreign mountaineers for centuries. Whether you choose to fill your days with leisurely walks or a challenging multi-day trek, we'll show you the beauty of these incredible valleys and mountains on our Dolomites Hiking trip.
DETAILED ITINERARY
Santa Croce, Alta Badia
Activity Level: Easygoing to moderate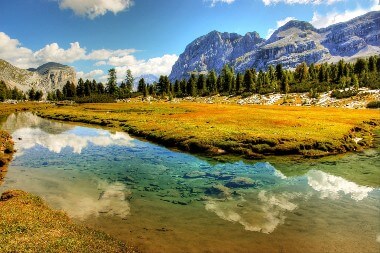 Follow the pilgrim route or take a more gentle approach through a shady larch forest leading out of San Cassiano to reach the Santa Croce church and mountain hut. It will take about 2.5 hours each way. There is also a chairlift plus gondola option in addition to the paths.
Given its long history as a place of worship, there are still several summer processions leading to this spiritual gathering point. With its southern exposure and red rockface, this is a particularly spectacular to catch the sunset.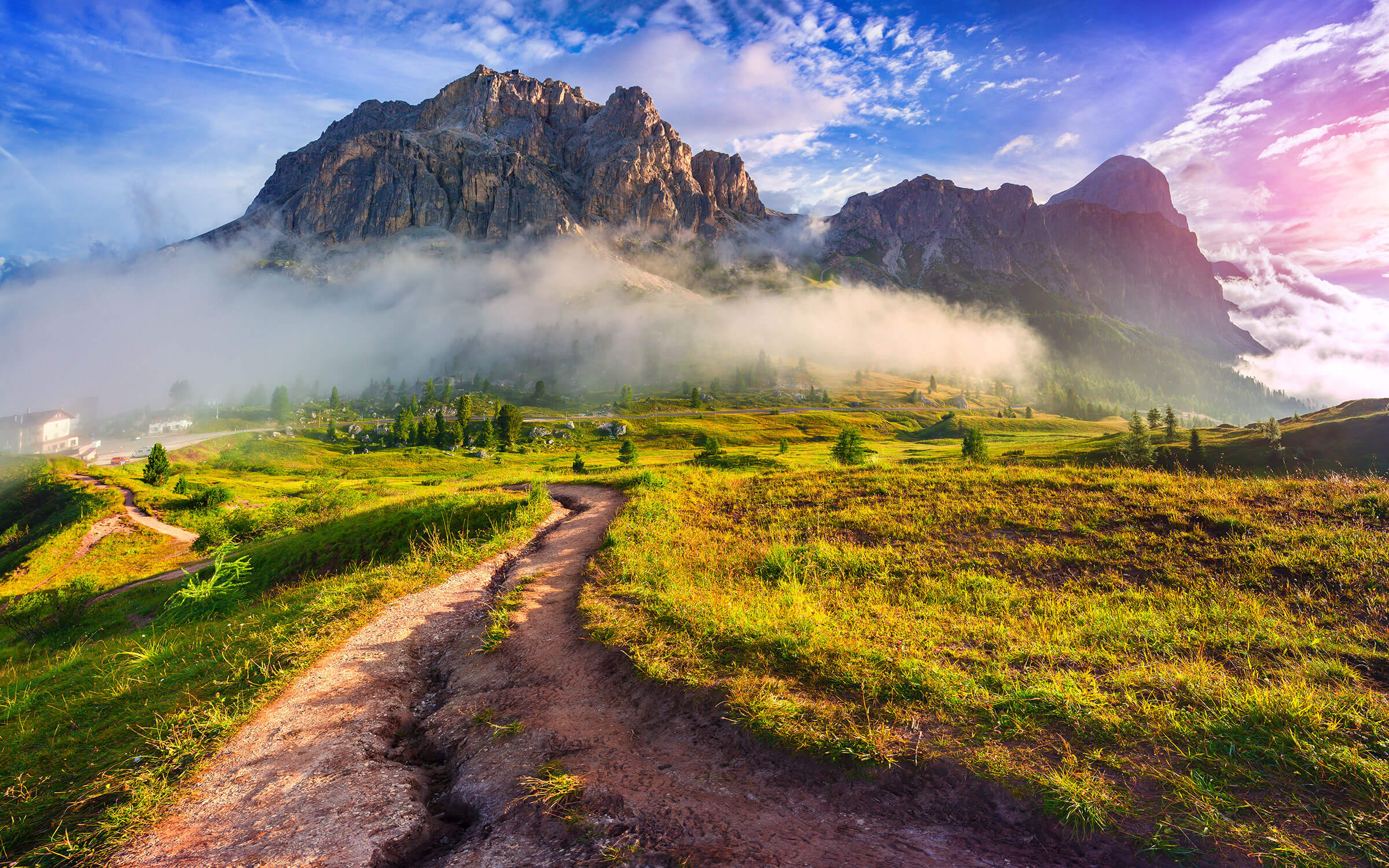 Sasso Piatto & Sasso Lungo loop, Alpe di Siusi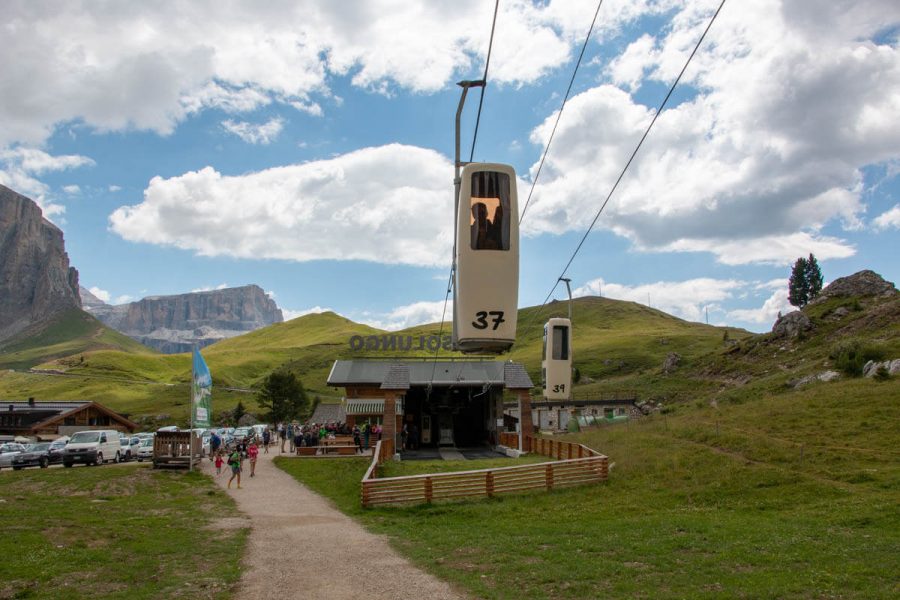 Activity Level: Moderate

This hike takes anywhere from 6 to 7 hours in total. Circumnavigating the two massive rocks that tower over the Alpe di Siusi meadows, it offers a fabulous route that crosses many mountain huts along the way.
It's also possible to hop a ride on a stand-up chairlift (space for two only; see photo on the right) to cut the route in half and loop around only one of the massifs. En route, you're likely to pass grazing milk cows, sheep and marmots whistling enthusiastically.
Kaiserjager, Passo Falzarego
Activity Level: Moderate to challenging
Hike from Passo Falzarego to Piccolo Lagazuoi (the total time is about 2 to 2.5 hours). Along the way, you can pause to tackle a moderately challenging Via Ferrata that includes a suspension bridge. You'll be rewarded with breathtaking, expansive views across the Alta Badia, including the peaks surrounding Cortina, the Marmolada glacier and Passo Gardena.
Stop for lunch at the Rifugio Lagazuoi hut then descend via cable car, wide gravel path or most exciting, through a WWI gallery with helmet and headlamp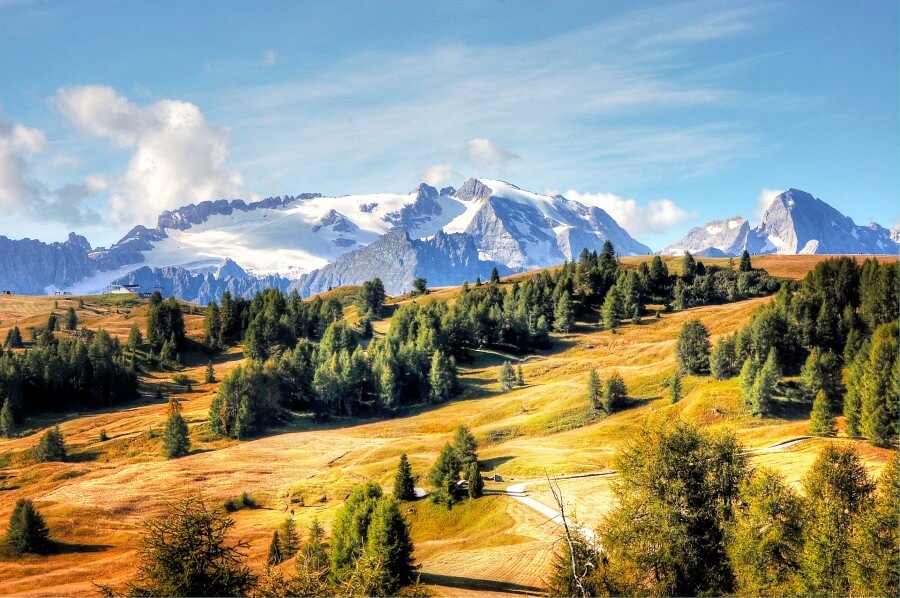 Alta Via 1
Activity Level: Challenging
The list wouldn't be complete without the amazing hut-to-hut experience along this 125 km (77 mi.) route, which can be broken up into smaller legs. It's said to take about 12 days to complete.
If you don't have that much time, I recommend tackling Stages 2, 3 and/or 4 rather than the whole route. This would allow a couple of overnights and at least three days of trekking.
---
Ready to take on the Dolomites? Get in touch with Georgia to start planning your adventure.
JOIN MORE THAN 70,000 FELLOW WANDERERS