Umbria's 3 Essential Cities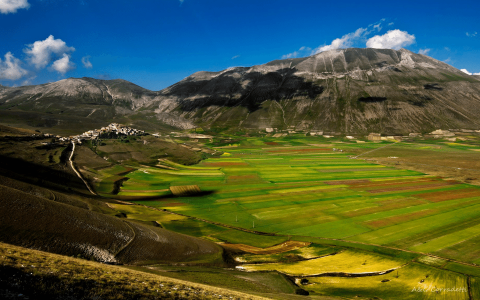 The region of Umbria in Italy is known as the nation's "Green Heart," thanks to its vast expanses of beautiful natural parks and reserves nestled within its borders. But there's plenty to see and do in Umbria's cities as well, whether it's noshing on some famous chocolate or following in the footsteps of St. Francis.
Here are our top three cities in Umbria that you definitely should not miss.
Perugia
As the capital city of Umbria, Perugia charms with an ancient city centre dominated by Italy's largest fortress, the Rocca Paolina. In fact, Perugia's history can be seen all throughout town, from Etruscan ruins to medieval fountains and art galleries of national importance, but that doesn't mean it's a sleepy town.
Perugia is home to a vibrant university community and the Perugina chocolate factory, home of the famous "Baci" bonbons known throughout the world. In fact, Perugia plays host to a Chocolate Festival each October, and the streets of the old city are lined with stalls of chocolatiers selling their wares, one more impressive than the next.
Speaking of festivals, Perugia is also home to one of the most important jazz events in the world: the Umbria Jazz Festival. Each summer since 1973, the city welcomes jazz legends and royalty to play under the stars. Notable guests have included B. B. King, Prince, Sarah Vaughan, Herbie Hancock, Elton John and Alicia Keys, just to name a few. Whether looking to have a brush with fame, be transported back in time, or simply satisfy a sweet tooth, there is certainly something for everyone in Perugia.
Assisi
Lovers of the outdoors cannot miss the city of Assisi, set against the breathtaking green backdrop of Mount Subasio. Arguably one of the most famous destinations in the region, the city is home to the Basilica of St. Francis—patron saint of animals and ecology. The glistening white complex and UNESCO Heritage Site, comprising church and monastery across two levels, hosts 13th c. frescoes by Giotto and Cimabue detailing the life of the saint and is so expansive that it can be seen stretching across the hilltop city from miles away.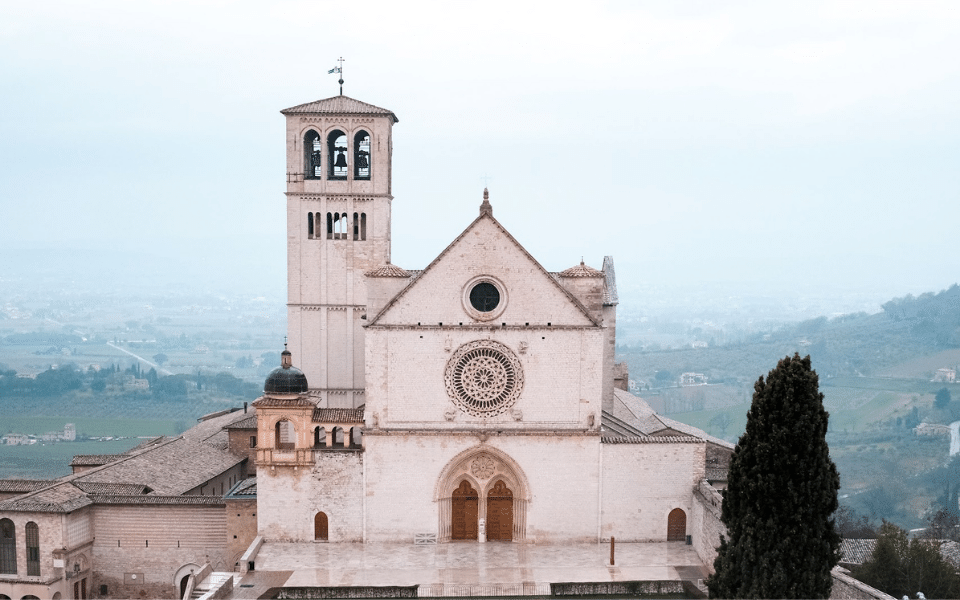 Assisi boasts many other impressive sites, including the ancient Roman amphitheatre, the Temple of Minerva, and the underground Roman forum located beneath the town's main square. But if you prefer to stretch your legs like San Francesco, take a hike up to the nearby Rocca Maggiore, a 14th c. fortress perched high above the city that offers incredible views of the valleys below. Whether visiting as a tourist or a pilgrim, you'll find a sweet reverence for the town of Assisi.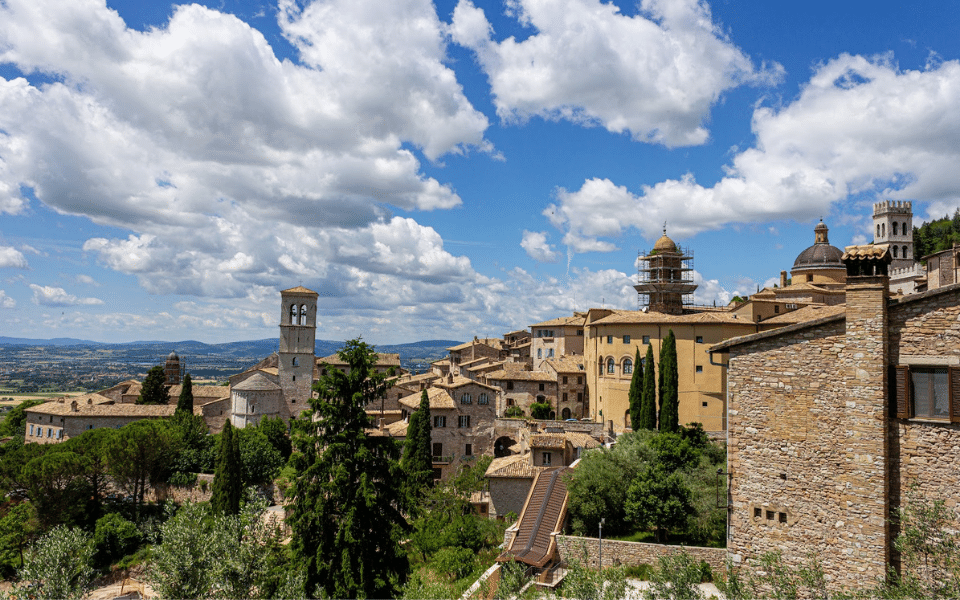 Orvieto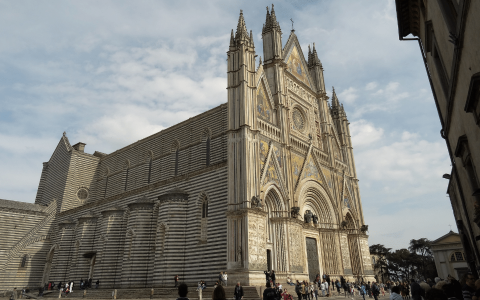 Orvieto captivates from the moment your train rolls into the station: the ancient Etruscan town stands dramatically at the top of a sheer cliff, once a volcanic slope in the south of Umbria. Hop into a cable car for a scenic ride up to the city centre while admiring breathtaking views of the surrounding area and getting a glimpse of the ingenious ways in which the town has been built to persevere itself throughout the centuries.
Orvieto offers everything a quaint Italian town is expected to provide: a stunning Gothic cathedral, quiet cobblestone streets, and perfect trattorias to sample traditional and delectable dishes of the region. However, there is a secret layer of Orvieto that is sure to awaken your inner Indiana Jones. The city's underground is host to an intricate system of tunnels, caves and grottoes from the Etruscan and Medieval ages. Most notable is St. Patrick's Well, a masterpiece of Renaissance engineering which affords visitors to plunge 53 metres (175 ft) into the heart of the mount along an impressive spiral staircase. Along with a necropolis, ancient Etruscan temple sites and current archaeological excavations, Orvieto is a fascinating double-face of adventure and scenic charm.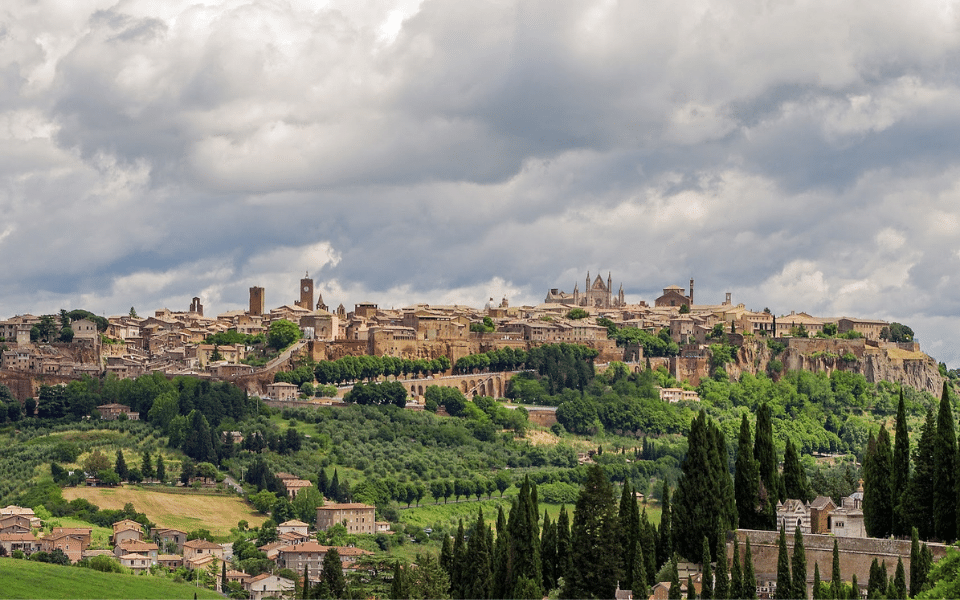 Feeling inspired to experience Umbria's breathtaking cities for yourself? Get in touch with Courtney to see how she can craft your perfect adventure here.
JOIN MORE THAN 70,000 FELLOW WANDERERS