Piemonte's Secrets....Revealed
To know Piemonte is to love it. (Just ask our travellers).
From the heights of the regal Alps to the plains of the Po Valley, Piemonte is a wealth of beautiful contrasts.
Located in the country's northwest, the region's varied landscapes—hills, valleys, orchards and prized vineyards—yield some of the best food and wine in Italy, while the drop-dead-gorgeous countryside, dotted with elegant castles and charming villages, is among the finest in Europe.
A few things to know about this underrated region—our best-kept secret in Italy—before you go.
Experience Piemonte With B&R
Scheduled Group Biking Trip
As the home of Barolo, Barbaresco and Slow Food, Piemonte tastes as good as it looks. On Piemonte Biking, we'll hunt for truffles and get a firsthand pasta-making demo from an expert chef. Delizioso.
DETAILED ITINERARY
Scheduled Group Walking Trip
Slow down,  sip and stroll your way from the well-heeled wine hub of Piemonte all the way to pastel-hued Portofino. We traverse to each side of the Apennines on an epic Piemonte to Portofino Walking trip!
DETAILED ITINERARY
Horsing (and Donkeying) Around in Asti and Alba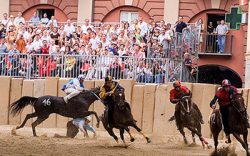 What better way to immerse yourself in the regional quirks of Piemonte than participating in its festivals?
You may know about the Siena Palio, but you will also find one here, called the Asti Palio horse race.
Legend has it, the tradition began with a defeat of the town of Asti's rivals, Alba, and a race around their city walls.
Alba, in typical retaliatory fashion, created a donkey race, which is physical comedy at its best!
Rice…and Kiwi Fruit!?
Piemonte is also rich in rice paddies—Italy is, in fact, the highest producer of rice in Europe. Rice production in Italy began in the middle of the 15th c., arriving in Italy from the Spanish via their Moorish conquerors.
Don't miss out on a Piemontese specialty: risotto al Barolo, the grains plumped and stained a deep wine-red, with the bold, concentrated flavours in every bite.
Another odd fact: Piemonte is also one of Italy's biggest producers of kiwi fruit; Italy is second behind China in global kiwi production.
So if you look at the label the next time you cut into this fuzzy fruit, don't be surprised.
Fabled History: From the Romans to the Resistance
In prehistory, Piemonte was inhabited by Celtic-Ligurian tribes, until the Romans moved in around 220 BCE.
Once the might of their empire faded, Burgundians, Ostrogoths, East Romans, Lombards and Franks took turns ruling up until the year 773. In the 8th and 9th centuries, Magyars and Moors earned their place in the annals of Piemontese history, which set the stage for the powerful House of Savoy, adding the region to their territory in 1046.
Italian unification in 1859 acknowledged the House of Savoy as the Kings of Italy, even naming the city of Turin its capital for a short time (until Florence and Rome took over).
During the Second World War, following the armistice of September 8, 1943, the Italian Resistance came to life.
With a dangerous number of German troops still occupying northern Italy, antifascist and anti-Nazi partisans in the region assisted Jews, cared for Resistance fighters, and relayed important messages.
While most men were out fighting on the front, it was women who stepped in to fight the good fight (it is said that Eusebio Giambone, a Piemontese resistance fighter, even had a brigade of women fighting for him).
Of 185,000 resistance fighters, an estimated 35,000 women risked their lives for the resistance movement, especially as staffette, bicycle-riding messengers, who were generally ignored, waved through and underestimated by male fascists, who didn't hesitate to discuss politics or plans in front of these seemingly 'uninterested' or 'frivolous' women, eagerly listening in the background.
A Biker's Paradise: Rolling Hills, Sweeping Views
One of the region's defining features, Piemonte is surrounded on two sides by the Alps, and on another side by the Apennine Mountains, dividing it from neighbouring Liguria.
The very name of the region comes from the medieval Latin pedemontium or 'ad pedem montium' and the related Italian phrase "I piedi del monte", meaning, quite simply, "at the foot of the mountains."
A valley enclosed by the Alps, the landscapes are beautifully forested, with a glut of castles, medieval towns, and cities to explore.
Piemonte is Italy's second-largest region, with a huge variety of landscapes from Alpine peaks and valleys to fertile plains and even the blue shores of Lago Maggiore.
Piemonte is a biker's dream, with its cultivated hills and rows of precious vineyards serving as a backdrop to your efforts.
Passing hazelnut groves (who doesn't love gianduja?) and forests, the hills are also resplendent in the fall, ablaze with gold, red, and orange hues, and especially dramatic on misty fall mornings.
Of Truffles, Rice, and Orange Fights
Piemonte is a gourmand's paradise, home to an impressive number of Michelin-starred restaurants. (It's also the place which birthed the Slow Food movement).
Let's start with the most famous: the white truffle of Alba, one of the most prized culinary treasures around, commanding the highest prices on the global truffle market.
Our good friend Beppe and his trusty truffle-sniffing dogs can attest to the passion and frenzy that locals have for this fragrant fungi: his tires have been slashed, and he has received offers of at least 10,000 Euros for the skills of his talented animals.
Orange You Glad You Missed Me?
Another quirky little festival, unique to the region, is the Carnevale D'Ivrea.
Held in February in the town of Ivrea, this is Italy's largest food fight, where the weapon of choice is a carefully-wielded orange lobbed at your rivals.
Thousands of townspeople and curious visitors are divided into nine combat teams; some on horse-drawn carts, and other 'civilians' in the streets, with a massive fight that takes place over three citrus-soaked days (Ironically, the oranges—about 584,000 pounds of them—are imported from Sicily, as Piemonte does not produce them).
Originally, beans were used in the fight, then apples (ouch!). As of the 19thC, the orange was chosen as the official projectile of the carnival, which ends in a roaring, convivial bonfire.
…Don't Get Us Started on the Wine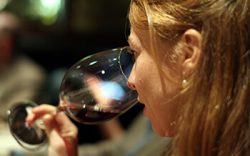 The wine of kings, the king of wines: many places lay claim to having the best, but it is here in Piemonte where some of Italy's most esteemed vintages are grown.
A UNESCO World Heritage Site, and more than half of its land area (about 170,000 acres of vineyards) is dedicated exclusively to the growing of the noble grape (I must confess, I've even resorted to helping out with the harvest just for an excuse to taste more).
So what'll it be: Nebbiolo, Barbera, Barolo, or all three? Raising a toast to Count Cavour (who was, incidentally, a Barolo man) in the very place where they were grown? Priceless.
The Perfect Trip…From Which To Start Another
While we like to think our Piemonte Biking trip gives you more than enough biking and eyes-rolling-in-the-back-of-your-head good wines for a lifetime, we also know that many of our travellers can't resist heading elsewhere for some well-deserved 'vacation after the vacation'.
In this case, you are ideally located for an easy jaunt over to another one of our favourite Italian regions, the jewel-toned and utterly charming Cinque Terre and Portofino regions.
With our decades spent exploring Italy, our travel advisors are happy to help set up a few introductions with our closest friends—buon viaggio!
JOIN MORE THAN 70,000 FELLOW WANDERERS