In Tuscany, Home is Where the Hospitality Is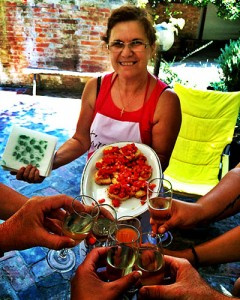 Every winter when I stop by the Lungarella house to say hello, I find there's another new member of the family there to greet me.
The Lungarellas are a vibrant family who define the word hospitality. Originally from Calabria, Sara and her husband Michele relocated to Switzerland for 23 years before returning to their homeland, this time deciding to settle, along with their four children and seemingly never-ending supply of grandchildren, in a Tuscan farmhouse surrounded by wheat fields.
One Fateful Knock on a Door
We met them back in 1994 when my colleague Joe knocked on their door wondering if he could use their backyard as an impromptu picnic spot for hungry bikers. He did the same one year later. And again the following year. At that point, Sara had worked up the courage to ask if she could "help" Joe improve his lunch service; he had been serving sandwiches out of the back of the B&R van—not bad for a quick van stop, but not quite up to snuff for a proper sit down lunch, especially for a respectable Italian family like the Lungarellas. The rest, as they say, is history.
Returning the Favour
I met Sara on one of my first trips as a guide in 2001. Her kindness and hospitality stuck with me. So much so that when I found myself making batch upon batch of Christmas cookies to share with my friends in Florence that year, I decided it would be fun to take some to Sara and the family.
A Vacation for the Ages—All of the Ages
From guided historical walks through vineyards and olive groves, découpage lessons and medieval games for the kids, and bike rides for the whole family down cypress-lined streets, on a Bespoke trip to Tuscany & Umbria, everyone has a vacation for the ages—regardless of age.
START PLANNING
The next day I rented a car and took off on a few of Tuscany's lesser known roads to surprise the Lungarellas. What I didn't account for was the fact that her home, located on a tiny road in the middle of a five-page biking route, was much easier to find on a sunny summer day than on a dark winter night! (I'll spare you the details, but let's just say that many Tuscan farmhouses look the same in the dark.) Fortunately we did finally find the right one, and in typical Lungarella fashion, received a warm greeting, which included a multi-course meal and copious amounts of homemade wine and grappa.
A Family Affair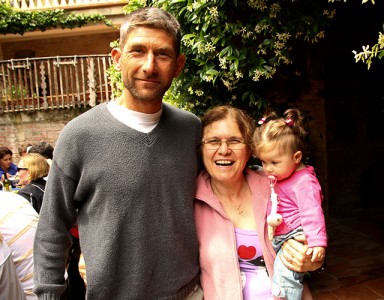 The Lungarellas have extended this generosity to all of our guides over the years. My colleagues know that if they plan to swing by the Lungarellas' to make preparations for an upcoming trip they should bring their appetites! Sara's picnic has grown over the years (along with the family) and includes many ingredients from her garden, eggs from her chicken coop, and lots of recipes from her roots in Southern Italy.
Lunch is accompanied by a song or two from Selene, Sara's daughter, an aspiring singer, and is often served by Sara's eldest granddaughter, Sofia (now four-years-old) with her two siblings Andrea and Michelle in tow. Depending on the day, you may also meet one or two of Sara's sons, Damiano and Terenzio, though it's unlikely you'll bump into her eldest son Massimiliano, who now lives in Switzerland with his wife and son.
Home is Where the Hospitality Is
It's these connections that make me love my job so much. I adore heading out in the wintertime to visit friends and colleagues, and catch up on their news. Sometimes I'll bring my own two small children to the Lungarellas; they're the same age as Sara's grandchildren, and it warms my heart to see them all playing in the backyard under the weeping willow while I have the pleasure of tasting some of Sara's homemade delicacies.
Fifteen years after I met her for the first time, Sara's house still feels like home.
JOIN MORE THAN 70,000 FELLOW WANDERERS