Umbria:

Italy's Green Heart

Often passed over by visitors seeking out its better-known neighbour, Umbria, Italy's only landlocked region not bordering another country, rewards travellers with marvellous hilltop towns, a distinct and delicious cuisine, and exceptional wine in a setting where the local presence feels authentic, not touristy.
The Franciscan Trail
It's fitting that one of Umbria's most enchanting hikes bears the name of its most beloved citizen, St. Francis of Assisi. Walking through shimmering olive groves high above the verdant Umbra valley, one needs little imagination to envision Francis making his way along the hillside paths from Spoleto to Assisi. Well preserved over the centuries by keen pilgrims and naturalists, the views and tranquil ambiance provide the ideal mode to arrive in Assisi.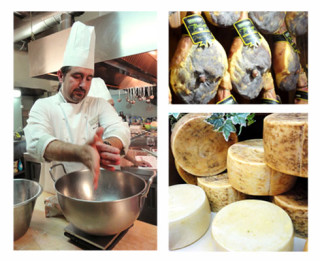 Incredible Cuisine
Even if you expect to eat well (and you probably should—this is Italy, after all), you'll still be bowled over by Umbria's cuisine. Humble roadside trucks have been serving porchetta (generous cuts of suckling pig) since long before the phrase "food truck" became de rigeur, while delicate servings of black truffles are available during the two best seasons to visit, spring and autumn. And who could forget the olives, chocolate and pecorino cheese? (Spoiler alert: the answer is "no one who tastes it.")
A Vacation for the Ages—All of the Ages
From guided historical walks through vineyards and olive groves, découpage lessons and medieval games for the kids, and bike rides for the whole family down cypress-lined streets, on a Bespoke trip to Tuscany & Umbria, everyone has a vacation for the ages—regardless of age.
START PLANNING
Sangrantino di Montefalco
The region's native red grape stands as one of Italy's most distinctive and accompanies Umbria's rich culinary specialties. Vintners dedicated to producing the ruby-coloured nectar covet the sun-soaked slopes leading to the grape's namesake town. Sipping a glass of Sangrantino di Montefalco at one of the enotecas lining Montefalco's main piazza is just reward for having cycled or walked up to the hilltop town.
Nun Assisi Relais
Upon learning a few years ago that the owner of hotel Nun Assisi Relais (an architect by trade) was undertaking a renovation to create a five-star hotel from the ancient Saint Catherine monastery, I hurried to Assisi intrigued to take a look.
While it's not unusual in Italy for construction crews to discover centuries-old artifacts, it is something rather newsworthy when they discover ruins that date to the 1st century BC, and the findings are not just barely identifiable objects but intact limestone pillars. Fortunately for the hotel's guests,  a stay includes the chance to sleep next to incredibly restored frescoes from the monastery's original construction in 1275, and relax in the truly Roman spa, where the six limestone pillars majestically tower above you as you float in the heated pool.
JOIN MORE THAN 70,000 FELLOW WANDERERS