A Walking Tour of Rome: Discovering Caravaggio
When exploring a city, I prefer to plan my day around a consistent theme.
Instead of checking off an assortment of famous sites from a list, I love the idea of a walking journey with a mission. Regardless of your theme, walking, of course, will take you all around the city and allow you to see other marvellous things along the way. In Rome, one of my favourite adventures is tracking down the masterpieces of Caravaggio.
Born in Milan, Caravaggio moved to Rome in his twenties, and it was here where he made a name for himself as a radical Baroque painter. He developed chiaroscuro (which translates into English as light-dark)—a painting technique that uses heavy contrasts and would ultimately become his works' trademark aesthetic.
Here are my suggestions of how you can take a journey through chiaroscuro and discover Caravaggio in Rome on an approximately three-hour-long walking tour.
Live La Dolce Vita
Whether you've visited Italy before or you keep coming back (we don't blame you), there's always more magic to uncover in this trifecta of dazzling cities.
DETAILED ITINERARY
Begin at around 10:00 am with an espresso at the Capitoline Museums, where you can catch an incredible view over the city from the rooftop café. This also just happens to be one of my top museums in Rome, and I highly recommend paying a visit to the gallery before you take off. You'll find two Caravaggio works here—The Fortune Teller (this one is my favourite!) and St. John the Baptist.
From here, wander down past the statues of Castor and Pollux and cross a couple of major roads to arrive at the Pantheon, and ultimately at the Church of San Luigi dei Francesi.
There are some wonderful Caravaggio masterpieces here that you can view for free. Well, not exactly 'free': you need to pay for the light to see them, but it will only cost you a few Euros.
Coffee time again—this is Rome, after all! Down the road is one of the most famous coffee places in the city: Café san Eustachio. Ask for a Grand Café and they'll do their thing (though you may want to add a bit of sugar). It's a bustling place where locals stand around and brush shoulders. Insider tip: most places in Italy double or even triple the price of a coffee if you sit at a table versus if you stand up.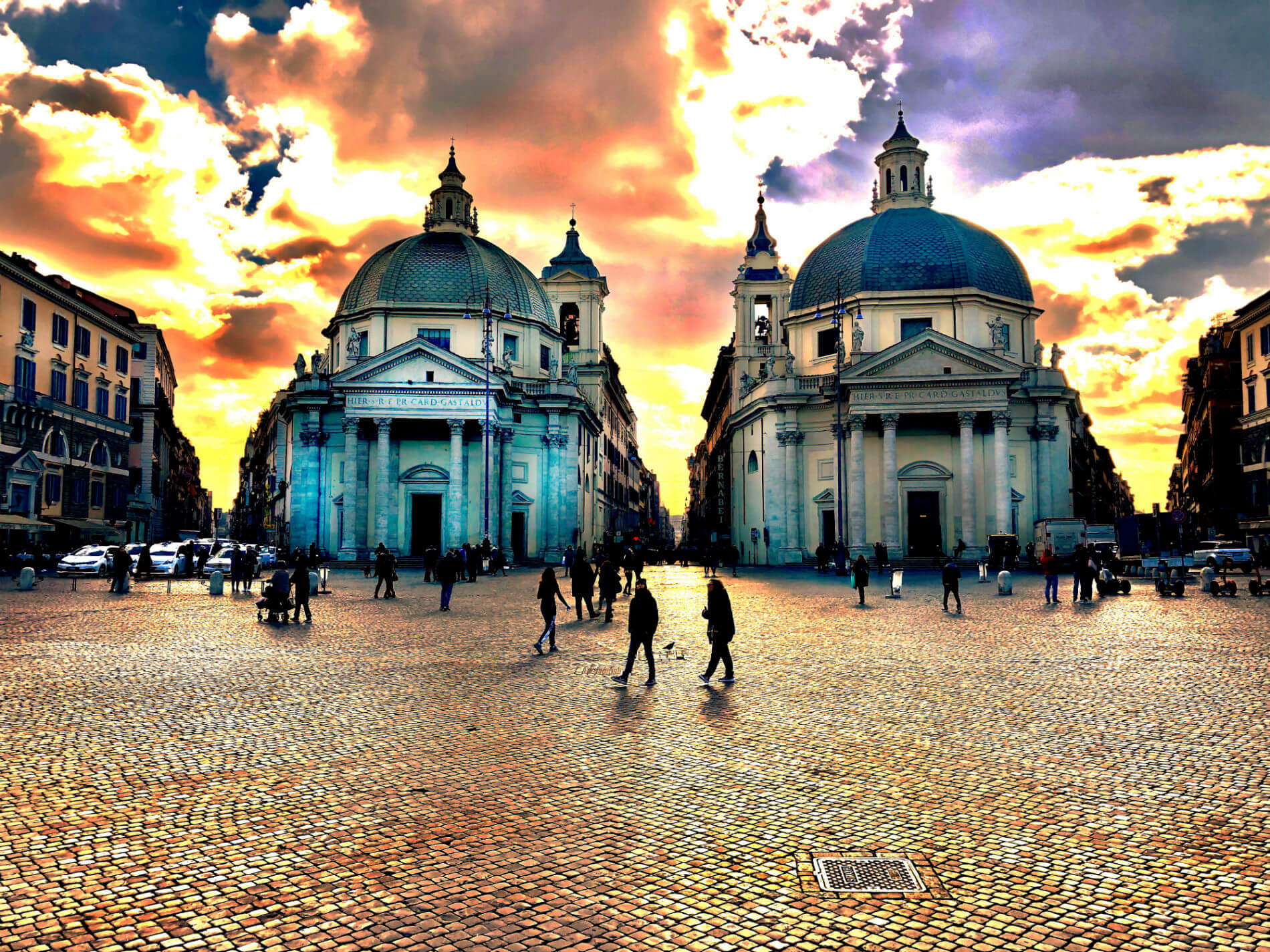 From here, it's a short walk through Piazza Navona—be sure to walk up Navona and not along the busy via de Rinascimento. Near the North end of the piazza is the Church of Sant Agostino. This church displays a fantastic Caravaggio painting and admission is free. Note that the church is sometimes closed. Regardless, it's still a great walk.
Wind your way farther north to the Piazza del Popolo by way of Via Di Ripetta. Across the Piazza, on your right-hand side, will be Santa Maria del Popolo. It's here you'll find The Conversion of St. Paul and The Crucifixion of St. Peter. Same as with the works in the Church of San Luigi dei Francesi, you'll need a few Euro coins to illuminate them.
If you really want to prepare for your journey, I recommend reading Caravaggio: A Life Sacred and Profane by Andrew Graham-Dixon. 
This tour just scratches the surface; if you want to see more Caravaggio works beyond this walking tour, here's a map where you can find them in Rome. Let me know if come across any others! You can also feel free to reach out to one of our Italy Experts and see how we can put together a bespoke trip for your group catered to your interests in Rome and beyond. 
JOIN MORE THAN 70,000 FELLOW WANDERERS