The Best 22 Shops
in Venice
From gondola makers to glass-blowers, ornate masks to dazzling jewellery, the Venetians are surely some of the most talented artisans in the world, keeping centuries-old traditions alive. Between La Serenissima's carnival culture, prosperous past, meandering canals and its Baroque buildings, works of art unto themselves, it's easy to see how creatives have found inspiration here over the centuries.
Given Venice's immense popularity, coming across authentic and Italian-made items can seem like a daunting task when you're lost in a maze of kitschy souvenir shops. Add to this the increase of chain stores that are infiltrating Europe and discovering that one-of-a-kind piece becomes increasingly challenging. To help you uncover that special find to commemorate your visit to the Lagoon City, we've put together a list of our favourite shops in Venice that highlight the region's traditional crafts and outstanding craftsmanship.
Glass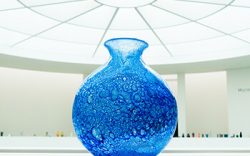 After water, Venice's second defining element is fire, as seen in the production of Venetian glass. Glassmaking in Venice can be traced back as early as the 8thC when under the Roman Empire, moulded glass was used to let outdoor light filter into the bathhouses. Combining Roman expertise with artistic influence from the Byzantine Empire and trade with the Orient, Venice perfected its technique to becoming a prominent glass-making region. Its legacy remains today, with Venetian glass remarked worldwide for its vivid colours and masterful artistry.
In 1291, glassmakers were moved to Murano when the Venetian Republic, fearful of losing their mostly wooden city to the maker's kilns, ordered them to relocate off the mainland. Many of them continue to produce in Murano, though have showrooms and stores in central Venice where they display their work.
L'Isola
L'Isola showcases some of the best glass pieces in Venice, made by the legendary brother duo of Carlo and Giovanni Moretti. Contemporary designs abound, find drinking glasses, bowls, vases and light fixtures that make for the perfect conversation piece in your home. You can also ship directly to the US, saving yourself 20% on the VAT tax.
Massimo Micheluzzi
Striking and contemporary designs with a touch of elegance are the hallmark of this glass artist. Here, you'll find sculptural vases in muted earth tones and monochromatic shades along with sleek shapes that offer a modern feel.
Phone: +39 041 528 2190
Address: Sestiere Dorsoduro 1071 Ponte delle Maravegie, 30123 Venice, Italy
Vittorio Costantini
A born natural, Vittorio Costantini has been perfecting the art of glassmaking since the tender age of 11. Get a peek inside his imaginative mind with his creations of tiny and life-like animals, birds, fish and plants. Due to their delicate nature, Costantini doesn't ship his whimsical designs, so you'll have to come by the shop to find your coveted piece.
L'Angolo del Passato
A dealer of high-quality Murano glassware for nearly 20 years, you're likely to find something interesting at L'Angolo del Passato. Rare pieces, both contemporary and antique, range from vintage light fixtures to geometric-patterned vases to a collection of goti de fornasa, Dali-esque drinking glasses that were made without much precision for the workers of the piazza. While their melty forms are perhaps not the most practical, they're visually captivating pieces.
Phone: +39 041 528 7896
Address: Campiello dei Squelini, 3276, 30123 Dorsoduro, Venice, Italy
Beads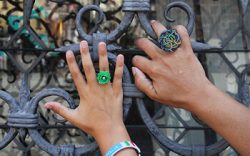 From Venetian glass comes beautiful small beads, used for decorating costumes and masks and strung together to make necklaces and bracelets. You can collect your own to assemble your own design or find a pre-made item from the following spots.
La Compagnia delle Perle
At one time, there were many spots in Venice to purchase glass beads for your own jewelry crafting, but these are increasingly gone. La Compagnia delle Perle is one of the last remaining places where you can pick up beads made of Murano glass, wood and aluminum in all shapes, sizes, colours. Mix and match to create your own design or shop from a selection of pre-made pieces.
Phone: +39 041 520 6969
Address: Sestiere Cannaregio, 408, 30121 Venice, Italy
Venetian Dreams
Not so long ago, the number of women who crafted mass bundles of beads in Venice numbered about 5,000. With a change of the times, few of these impiraressas—bead threaders—remain.  Marisa Convento is one of these last women standing and at her store, Venetian Dreams, you'll find beaded jewelry along with larger objects like lampshades, animals, birds and flowers most of which are strung together from antique beads.
Jewelry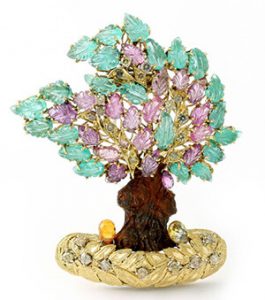 Here's where to scope out sensational Venetian accessories that combine the mastery of glassblowers, goldsmiths and jewellers.
Attombri
Attombri's eye-catching necklaces and bracelets see Murano glass beads accent weaving designs. Handcrafted by brothers Daniele and Stefano Attombri, their handiwork has been seen on Dolce & Gabbana models on the runway in Milan and extends to a line of housewares.
Nardi
The pieces here are more than mere decoration; they're intricate and wearable works of art. Nardi is particularly known for their moretto: an elegant brooch of the Blackamoor that's embellished in gold and colourful jewels and an unmistakable Venetian emblem. Find their store in the heart of Venice in the Piazza San Marco.
Palwer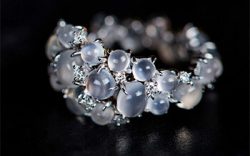 Palwer is the brainchild of Roman-born Alessandro de Angelis-Pawler. A former costume designer for Italian Operas, when he decided to turn his attention to jewelry design, a move to Venice was the obvious choice. No two of his hand-made designs are alike, meaning your find is guaranteed to be unique.
Carnival Masks & Clothing
While many cities offer their rendition of the annual carnival, none is perhaps more exquisite than that of Venice. Richly coloured fabrics woven into dramatic costumes and of course, the elusive mask, turn the fabled city into a veritable theatre performance.
Mask-wearing came about in the 13thC when Venetians would hold parties between December 26 up until Lent. These parties were the only time where the upper and lower classes mingled, and the masks served as a way to conceal their identities. They were also a guise for the partygoers' less socially acceptable behaviours like gambling and debauchery.
Venetian masks were traditionally simpler designs than the creations seen nowadays, made of leather or a simple paper-maché. Today's versions tend to be more elaborate, typically made of plaster and gold-leaf and hand-painted. There are four main traditional mask shapes: the Bauta mask with its projected chin, the all-black Moretta, the ravishing Volta mask, and the Colombina, which covers the eyes only. Here's where to pick up a carnival-inspired piece for the classic Venetian souvenir.
Antonia Sautter
Whether you want to live out a carnival fantasy or find accessories that evoke Venice, Antonia Sautter is the unofficial Queen of Carnival. Journey into her world of eclectic bags, jewelled shoes and home décor in velvet brocade. A costume atelier even allows you to seek out your own masquerade gown. Don't expect to find anything understated!
Ca'Macana
In business since 1984, Ca'Macana is another place to pick up a Venetian mask or make your own at a mask-making class. Start from scratch with a choice of over 60 different white Venetian-style masks and decorate using paper, water-based paints and metallic colours. A class takes around one to two hours and is sure to be a hit with young ones.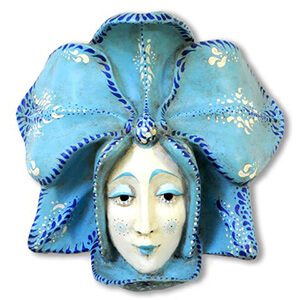 Giuliana Longo
For handmade hats, seek out a chic creation from Giuliana Longo's shop, a family-owned business since 1901. Ranging from authentic Ecuadorian Panama hats to Carnival-inspired headpieces to handmade cappello da gondoliere (official gondolier caps), you'll find her store near the Rialto Bridge.
Mondonovo Maschere
Guerrino Lovato is the master behind the masks at Mondonovo Maschere, which were famously featured in Stanley Kubrick's, Eyes Wide Shut, starring Nicole Kidman and Tom Cruise. These are the premier masks to invest in if you're looking for a masterpiece worthy of displaying at home.
Paper Shops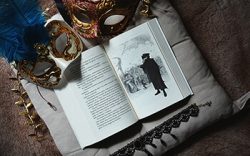 The art of papermaking in Venice can be attributed to its location on the map. A gateway to the East, it was a significant player in international trade and a hub for knowledge exchange. This resulted in becoming a central location for bookmaking which in turn, translated to innovations in papermaking.
The type of paper most associated with Venice is marbled paper. A practice likely influenced by China, this decorative paper mimics the undulating pattern found inside a glass marble by swirling paint in a shallow pan with water and laying the paper on top to capture the pigment. By the 18thC, Venetian bookmakers began to incorporate these handmade sheets as a part of their bookmaking services, using them as endpapers or as covers to reduce the amount of pricey leather. Here's where you can find beautiful paper in Venice today.
Il Prato keeps the tradition of papermaking alive with handmade sheets that are transformed into beautifully printed everyday pieces like tissue and pen holders, letterboxes, notebooks and memo pads. Other items on offer here include quirky jewelry, miniature libraries,  clocks, leather items and housewares made of Murano glass.
With a great selection and many different styles, Alberto Valese is worth stopping by to peruse the gamut. Here you'll discover paper with the classic Venetian marble design as well as kaleidoscope patterns that alternate between striking and modern or delicate and floral.
Gianni Basso Stampatore
For a truly unique gift for yourself or another, head to this shop, where Gianni Basso and his son Stefano print calling cards, business cards, bookplates, and full books on pre-industrial letterpresses, with manual typesetting and antique plates. Basso has studied this rare art since the age of 15 from Armenian monks who had been printing books on the island since the 18thC. (Ask him to see the plates from the very first edition of Pinocchio). Famous clients who have had their own cards made include Hugh Grant, Scott Turow, Angelina Jolie and more. Cash only—no email or website, just an old 1950s working phone! The shop is located along Calle del Fumo, 'the alley of smoke.'
Address: 5306 Cannaregio
Phone: +39 041 523 4681
Experience Veneto With B&R
Scheduled Group Biking Trip
Pedal your way through the Italian countryside in search of Prosecco and prosciutto, marvelling at medieval villages and serene lakes, ending in the Lagoon City on our Verona to Venice Biking trip.
DETAILED ITINERARY

Shoes
Make a stop by Giovanna Zanella's shop for made-to-measure shoes. Zanella works in the shop alongside her apprentice (she also learned under the tutelage of a master shoemaker) and can create custom shoes—ready in two months—after measuring your feet in the shop. From there, you can order online or by phone, but only after she takes your measurements in person.
La Friulana
Many of the shoes worn by the gondoliers of Venice today are made cheaply overseas. If you're in search of the real thing marked by Made in Italy, Le Friulana is the place to go. From velvet to silk or linen and colours both bold or muted, you may be able to find something here that piques your interest.
Phone: +39 041 523 9833
Address: Calle del Scaleter, 30125 Venice VE, Italy
Lace
Lace in Venice is most closely linked with Burano, the colourful island found to the north of the mainland. This dainty fabric was at one time the prized possession of European nobles; it was used in dowries and outfitted the most prestigious of royals such as Marie de'Medici and King Louis XIV.
The legend goes that lacemaking first made an appearance in Venice when a smitten sailor gifted a Venetian girl with a plant called trina delle sirene, otherwise known as mermaid's lace. Enchanted by the plant's beauty, the girl aimed to recreate its intricate design using delicate thread, and the art was born. Lacemaking was always deemed a 'woman's task', particularly suited for convents; the work behind crafting Burano lace is painstaking and the art of making it was deemed fit for women who lived a cloistered and contemplative life. Despite its labour-intensive nature, lace continues to be a mainstay of Venice. Here's where you can take home a bit of Venetian history with a lace-made piece.
This is the shop for Burano lace, from fine lingerie to dresses and home decor. Carrying on the family legacy, Emilia took on the craft at her grandmother's knee. Now in its fourth generation, the business has extended into bespoke home linens as well. There are two boutiques found on Burano Island and one in Venice inside the Belmond Hotel Cipriani.
Boats
A symbol of Venice, gondola-making is a long-standing tradition passed on through family generations. Gilberto Penzo, who comes from a family of boat builders, translated his craft to miniature models of gondolas, the vaporetto and other Venetian boats. Along with his incredibly detailed, pre-made models, he also offers kits for do-it-yourselfers.
At Tramontin you can go big and go home…with a full-sized gondola. Building this traditional vessel since 1884, the Tramontin family hasn't changed their technique since and use only cured, solid wood to assemble their boats. After dropping a cool $30,000 and a two-month construction time, you can live out your romantic fantasies well after your trip to Venice. An appointment is necessary, so be sure to call ahead.

For A Break…
If you need an air-conditioned respite from the outdoors, head to T Fondaco dei Tedeschi. A former roadside inn for traders, it's now a luxury shopping mall that sees free art shows on its top floor and views over Venice from the rooftop terrace. Even if you're not looking to shop their selection of international labels, the restaurant café, AMO, is a great place for a bite or espresso break. Designed by French designer, Philippe Starck, AMO is headed by Massimiliano Alajmo, the youngest chef in history to earn 3 Michelin stars.
JOIN MORE THAN 70,000 FELLOW WANDERERS