9 Best Shops in the Italian Lakes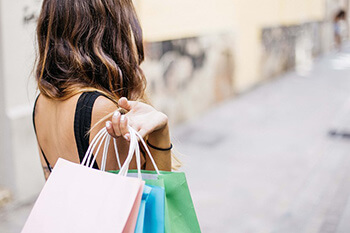 When in Italy, do as the Italians do—shop! The stylish country's penchant for hand-crafted fashion, couture houses and obsession with la bella figura means it goes without saying that you should leave a little room in your suitcase for the souvenirs, goods, and mementos you're sure to bring back home.
While memories are the best way to preserve your travel abroad, sometimes you want something tangible that you can wear or use and proudly boast, "Oh, I picked this up on my trip in Italy." Below, we've put together a short list of the top spots to shop in the Italian Lakes and pick up one-of-a-kind specialties from the region.
Lake Como & Bellagio, Italy
SILK
Anywhere you step in the town, you are sure to see the sheen of silk scarves, ties, or any number of silken wares enticing you at local shops—welcome to Italy's capital of silk! There are a number of reasons why Lake Como became such a large producer of the shiny, luxurious fabric: an already-abundant number of mulberry trees and production taking place in the nearby Po River Valley just south of the region, combined with ample water sources from alpine streams and the lakes.
Silk production in the Como area dates back to 1400 when the Duke of Milan, Ludovico Sforza (also known as the man who commissioned Leonardo da Vinci's The Last Supper), began to invest in the industry, eventually employing 20,000 workers in the silk trade. It continued to flourish in 1869 with the opening of setificio Paolo Carcano: a 5-star program dedicated to training masters from across Italy in the art of crafting this luxurious fabric. By 1972, the popularity of silk in Lake Como saw its production exceed that of China and Japan.
Almost all the silk found throughout Italy is produced here, with the weaving, dyeing, and finishing continuing to take place in Como. In turn, the region sees many outlets and boutiques where you can pick up sleek evening dresses, scarves, and ties, all made of silk. Its intricate creation process and delicate nature require a close eye. When purchasing silk, be sure to inspect the quality carefully. Some pieces may be imperfect, particularly at factory outlets, and minor imperfections may not be marked.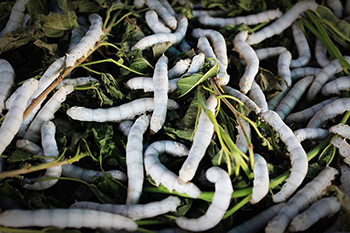 Before you venture in search of that perfect piece, keep in mind Italians enjoy long lunch breaks and typically close shop between noon and 2:30-3:30 pm. Most stores are closed on Sundays and occasionally on Mondays, so phoning ahead is a good idea. The shops below are some of the most well-known brands for silk, and walking around, you may make your own silk shop discovery—it's the souvenir in this region!
Known as 'Bellagio's tie guy', some of his clients include HRH Prince Albert of Monaco, both Republican (George W. Bush) and Democrat presidents (Bill Clinton), and Microsoft mogul Bill Gates, among others. The eponymous owner used to work in fashion for a number of the big houses like Armani, Pierre Cardin and more, and now designs his own line of ties, scarves, bags, shawls, and more creations in silk.

Mantero has been a family-run business since 1902. They are the exclusive maker of Chanel scarves, and while you won't find the Chanel label here at their production site, you can snag one of their colourful, floral-printed scarves or bags.
In this outlet of silk accessories, you may find brands such as Lanvin, YSL, Moschino, Fendi, Missoni, Versace, and many others. They also have a boutique store at the Piazza Cavour in Lake Como.
Ratti first opened in 1945 and today is one of the largest and most respected manufacturers of silk in the area, offering a selection of ties, scarves, fabrics, pillows, and blouses. Find their entrance on the first floor of the Fondazione Antonio Ratti, a museum dedicated to the art and history of the fabric.
Frey has been in business for over a century, turning silkworms into scarves and shawls since 1899. Peruse their range of sophisticated designs at their outlet in Como or from their boutique shop in Bellagio.
Found 30 minutes south of Como, the Armani outlet offers a wide selection of pieces under the Armani label, typically from last season. Inventory is sometimes discounted up to 50-80% off the regular price, meaning you may be able to grab that 2000 EUR Armani suit for a mere 500.
OLIVE OIL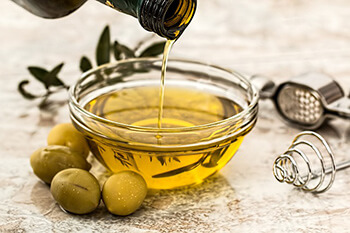 While not as famed as its southern neighbours, the North can still hold its own when it comes to producing tasty olive oil.
Elevate your home cooking with flavourful olive oil from Lenno, Italy, or sample their line of all-natural, olive oil-infused skincare. You can find it at most grocery stores in and around the region, or arrange for a visit to their groves along Lake Como.
Scheduled Group Walking Trip
On our scheduled Italian Lakes Walking trip, truly incredible walks lead us through the charming streets of Lugano and über-chic Bellagio to unforgettable authentic meals at opulent waterfront resorts.
DETAILED ITINERARY
Private Walking Trip
Go private on this Italian Lakes Walking trip, making your way through sublime mountain scenery, travel along the glamorous lakefront by private boat, and stay in star-studded villas along the way.
DETAILED ITINERARY
Lugano, Switzerland
When you're this close to the Italian border, hopping over to Switzerland just makes sense. One of the closest cities, Lugano, belongs to Switzerland but is located in Ticino, an Italian-speaking canton. When shopping in Switzerland, why not pick up a timepiece for yourself in the watch capital of the world?
WATCHES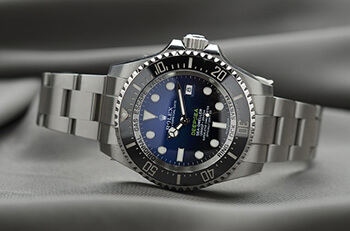 Watchmaking in Switzerland dates back to the late 16th c. after Huguenot refugees introduced the craft of portable timepieces to the booming city of Geneva. Under Calvin rule at the time, the citizens of Geneva were strictly banned from displaying any signs of wealth, including pieces of jewelry. The city's goldsmiths were left in a precarious situation and needed to diversify their skills. They turned to watchmaking and went on to export their masterpieces to the Orient and American colonies.
The art of watchmaking began to spread across the country, evolving into crafting other timepieces like pendulum clocks and pocket watches. By the 19th c., Switzerland was considered the most important watch manufacturer in the world.
Near the end of the century, their success was briefly jeopardized by the Americans who had matched Swiss innovation and added to it mass production. The Swiss responded by adding additional features to their watches like calendars, stopwatch functions, and waterproof protection, swinging them back into the market.
Pick up a classic from the world leaders in watchmaking from one of these shops so that you can linger in the memories of your time in the Swiss Lakes with every glance of your wrist. A VAT refund (about 7.7% in Switzerland) means you can shop tax-free (just ask for the form), and you may also find a wider selection at the stores here than back at home, with the possibility of better prices in their country of manufacture.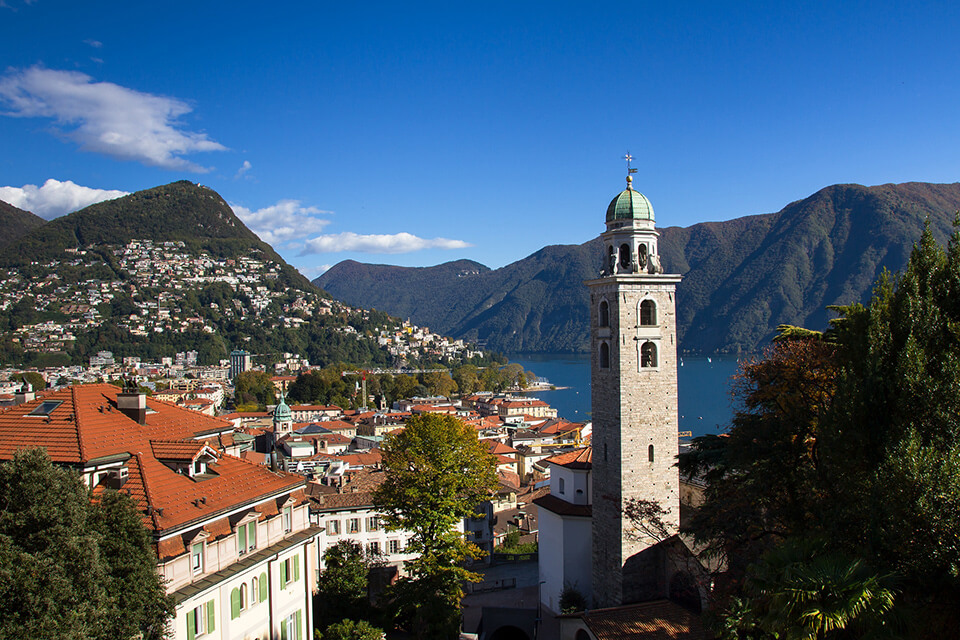 Established in 1888, Bucherer was Lucerne's first watch and jewelry store. Rolex, Tissot, Girard-Perregaux and Jaeger-LeCoultre watches are just a sample of the Swiss brands on offer here, along with their line of dazzling, award-winning jewellery.
About 30 minutes from Lugano, you may encounter a rare find at Foxtown. The outlets are worth a look for quality bargains on labels that are not often discounted back at home, including Dolce & Gabbana, Dsquared, Etro, Fratelli Rossetti, Prada, Gucci, Valentino, Missoni, and other European and Italian brands.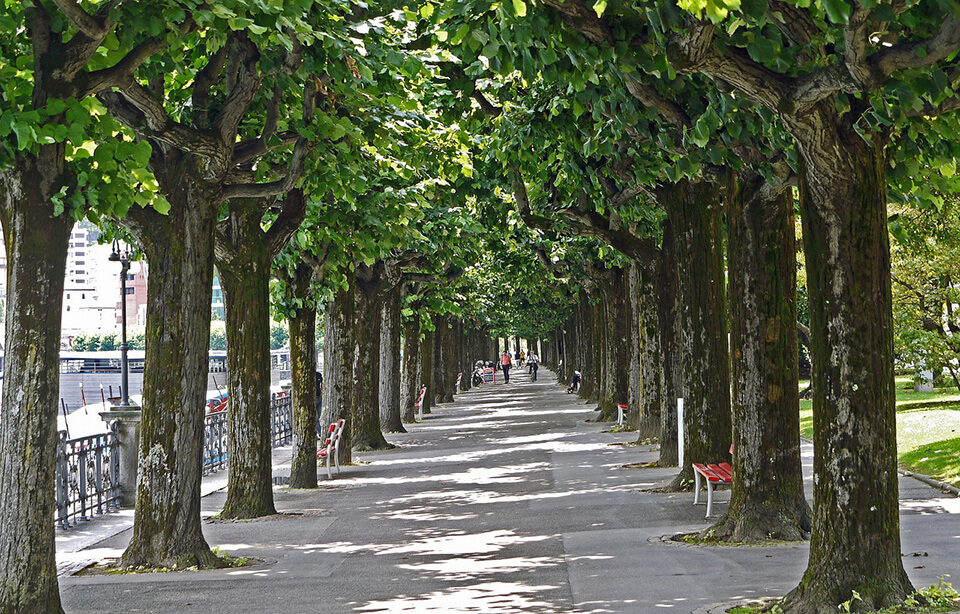 JOIN MORE THAN 70,000 FELLOW WANDERERS