The Best Hotels in Florence, According to Our Italy Expert
Exploring Florence is like walking through a painting come to life, where some of the world's greatest pieces of art reside within the walls of Italy's most famous museums. And much like the Accademia does for David, a slew of well-appointed Florence hotels will make you feel like a masterpiece.
This list was curated by our Experience Designer, Courtney Mundy, who's been named a Top Travel Specialist for Italy by Condé Nast Traveler.
---
Florence Hotels
Fit for a Masterpiece
With aesthetics that perfectly capture Renaissance grandeur and refined elegance, this historic palace makes a remarkable Florentine retreat. Designed by Brunelleschi in the centre of Florence, it's ideally located along the Arno River, minutes away from the city's finest shopping, museums and the world-famous Ponte Vecchio.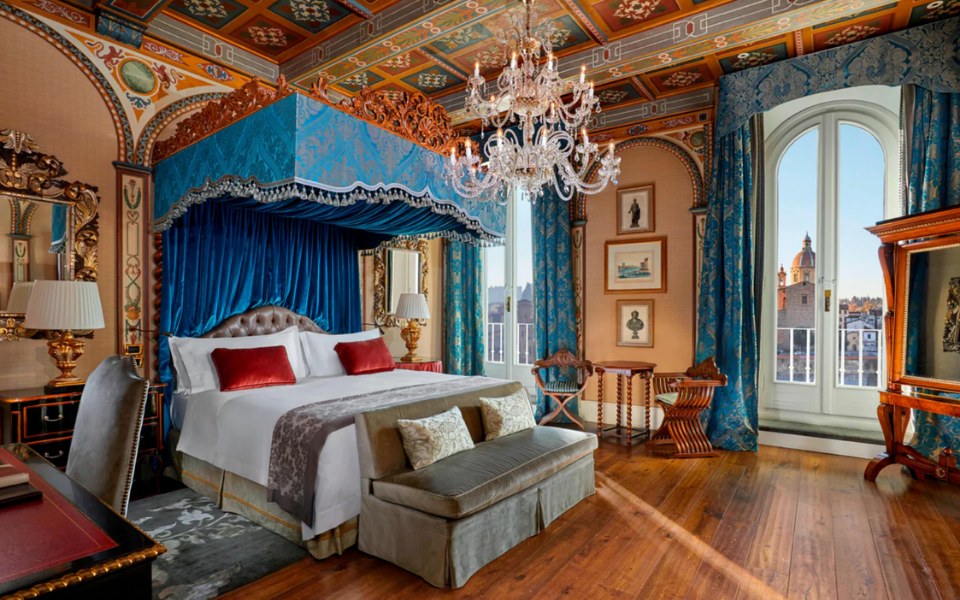 Nestled in the romantic Fiesole hills just outside of town, this former medieval monastery lives and breathes ethereal Florentine beauty. The facade is attributed to Michelangelo and is surrounded by lush woodland and terraced gardens bursting with lemon trees and roses. A Belmond Hotel, Villa San Michele is recognized as one of Italy's finest small boutique accommodations.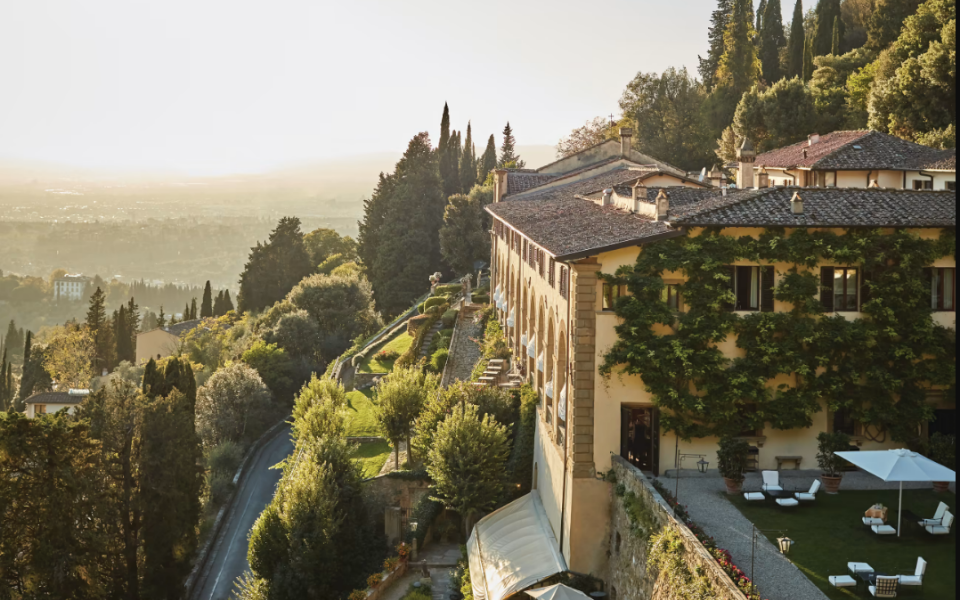 Just a stone's throw away from the iconic Ponte Vecchio, Hotel Lungarno is one of my favourites in Florence. The Ferragamo-owned property seems to float on the Arno River, with expansive waterside views spilling out from every window. A mainstay in Florentine excellence for over 50 years, the hotel offers an extensive art collection dating back to the 900s. The beautiful terrace of the Sky Bar on top of the medieval Consorti tower provides stunning views of the famous sights of the city.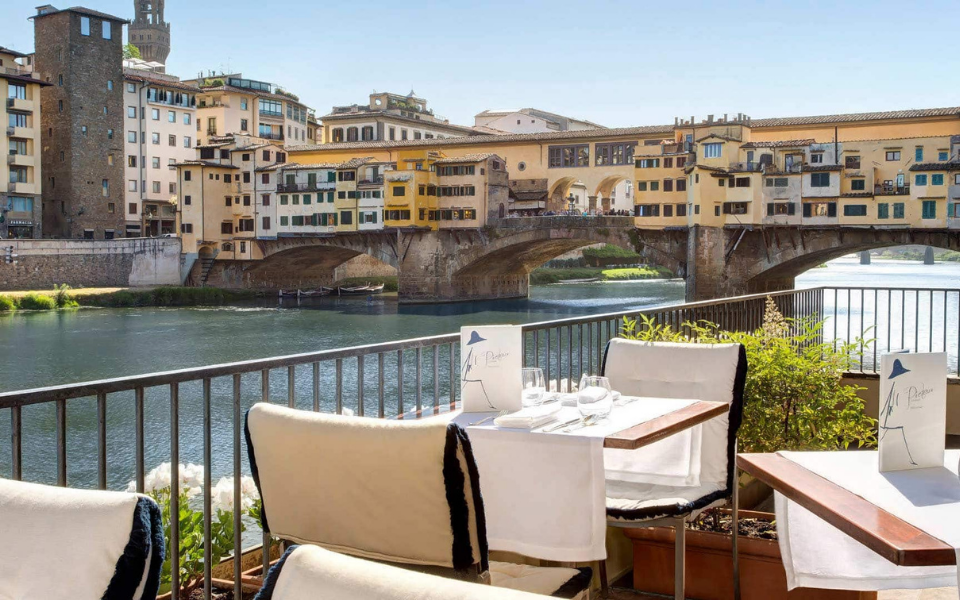 Experience Tuscany With B&R
Tuscany Biking Trip
Some come for the sun and to be seen, but on our Tuscany Biking trip, we've got better plans: sumptuous spreads, behind-the-scenes tours, award-winning wines, and spectacular biking through picturesque hills.
DETAILED ITINERARY
Tuscany & Umbria Walking Trip
There is something eminently peaceful in wandering through medieval hilltop towns, passing vines tended to for generations, and savouring traditional, local and eminently fresh cuisine. Need more convincing? See for yourself on our Tuscany & Umbria Walking trip.
DETAILED ITINERARY
One of the most magnificent Four Seasons in the world! This hotel is perfectly located and set among tranquil gardens that take up an entire city block. Its relaxing atmosphere is an oasis amid the bustling Florence city centre, with all the main sights at your doorstep. If you are an art lover, the original frescoed rooms and sculptures will definitely impress.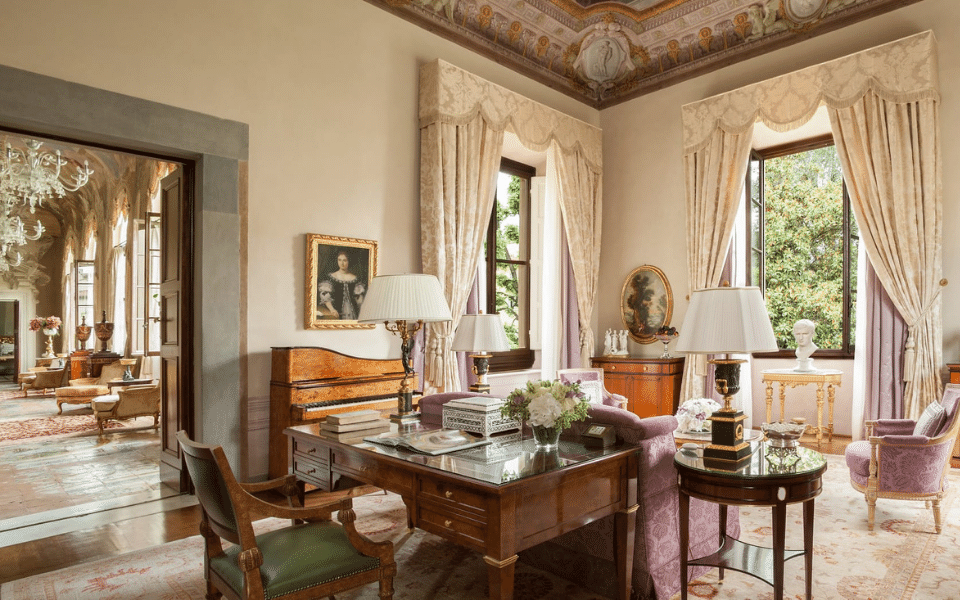 The Regency is an intimate, tastefully renovated hotel on a quiet square just outside the heart of the old city. Attached to the hotel is the highly recommended Le Jardin restaurant, and there is a wide range of restaurants to choose from within easy walking distance.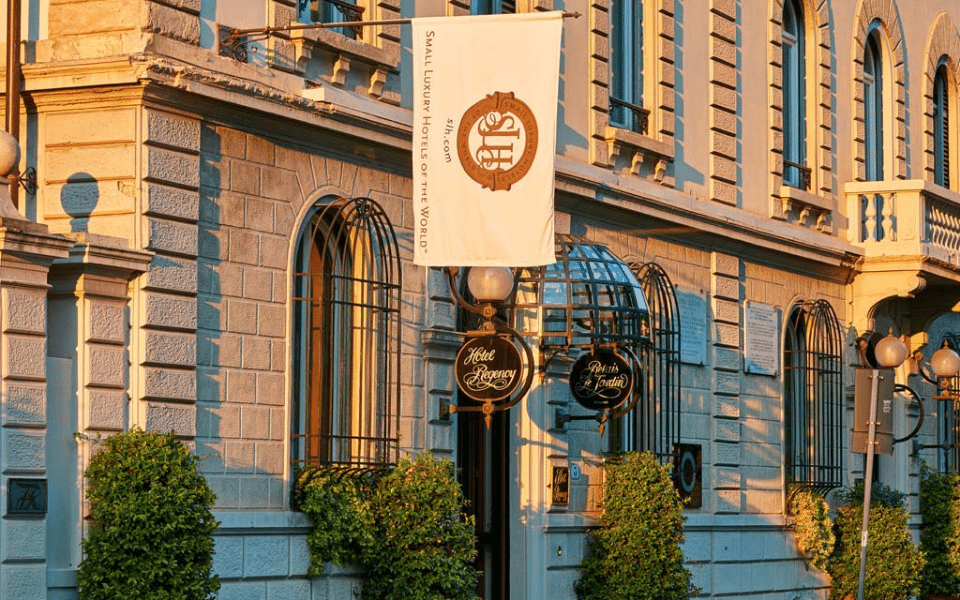 This Rocco Forte is as central as it gets. Located in Piazza della Repubblica, all the major Florentine landmarks are within five minutes on foot. It recently underwent a major renovation and is now one of the most elegant and sought-after lodgings in the city, with style and careful attention to detail in both décor and service.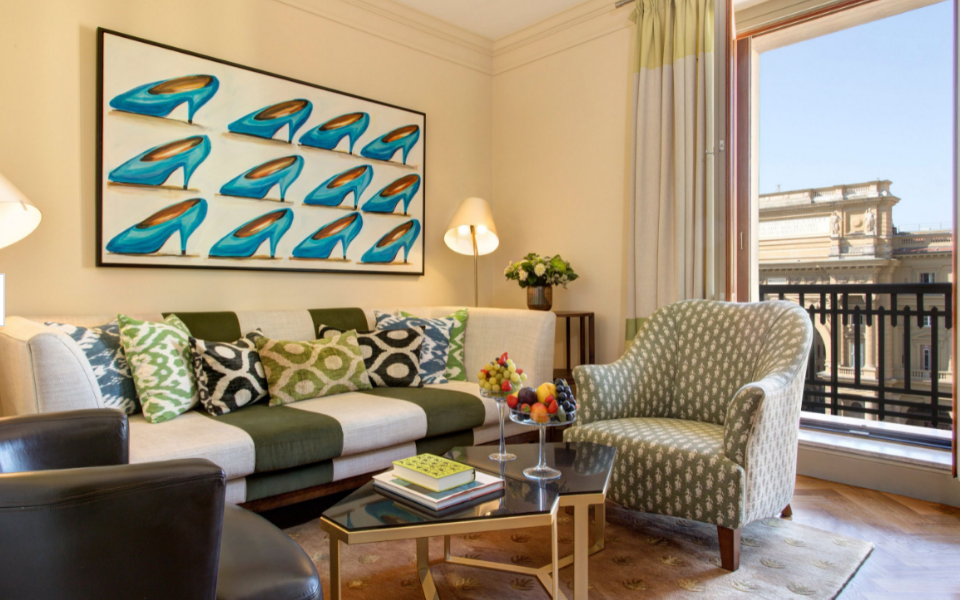 Great for families, you'll enjoy the solitude of your own private residence paired with the exclusive services provided by Hotel Lungarno, located in the same building. Four elegant apartments sit next to the Ponte Vecchio, and their rooftop bar offers unparalleled views of the Arno river, Brunelleschi's Dome and Palazzo Vecchio.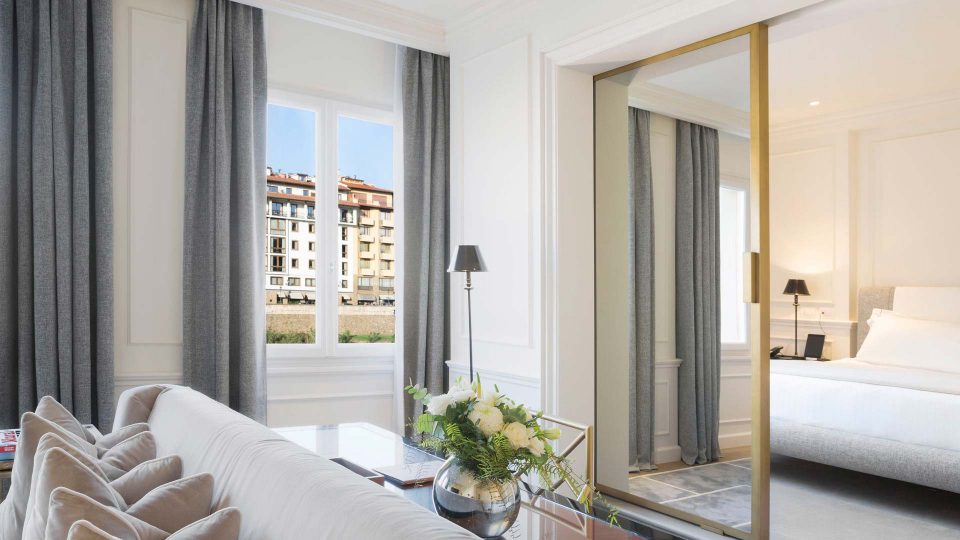 Slightly less expensive options:
History rings through the Brunelleschi. Surrounded by 1,500-year-old Byzantine walls, The building was once owned by Renaissance artist and author of the Dome of Santa Maria del Fiore, Filippo Brunelleschi. You'll also find a museum on-site that displays Roman artifacts found nearby. Charming rooms are dressed in traditional decor, with four-poster beds and marble bathrooms, some offering views of the Piazzetta del Giglio or the Duomo. Their Michelin-starred restaurant is stellar and offers an interesting take on Asian and Tuscan cuisine.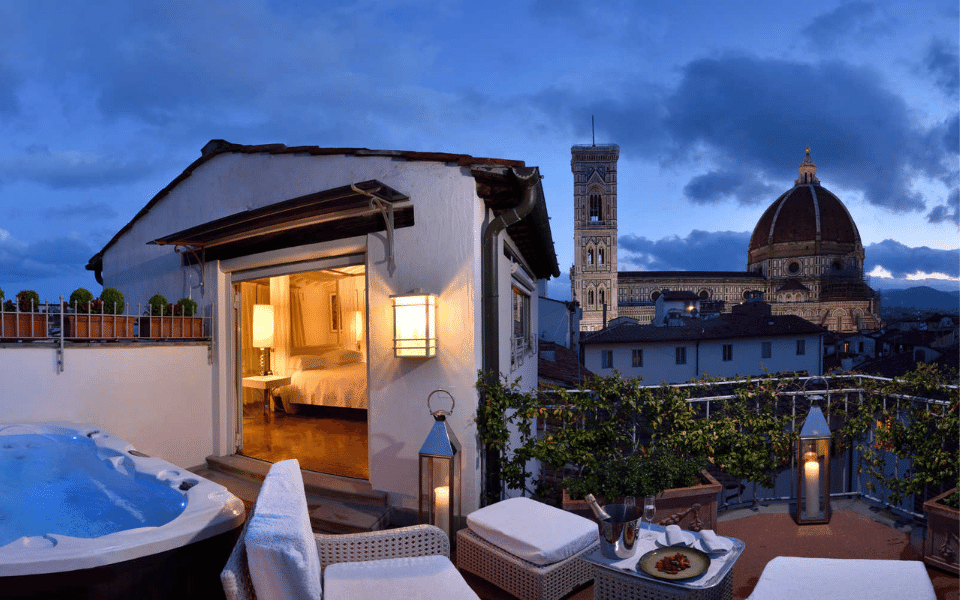 Renovated in 2017, everything at the Grand Hotel Minerva is polished and sophisticated—frescoed ceilings and oil paintings get a modern touch with bold fabrics and quirky chandeliers. Its biggest draw is the rooftop pool that delivers postcard-perfect scenes of the Renaissance City, though its sumptuous cuisine is a close contender.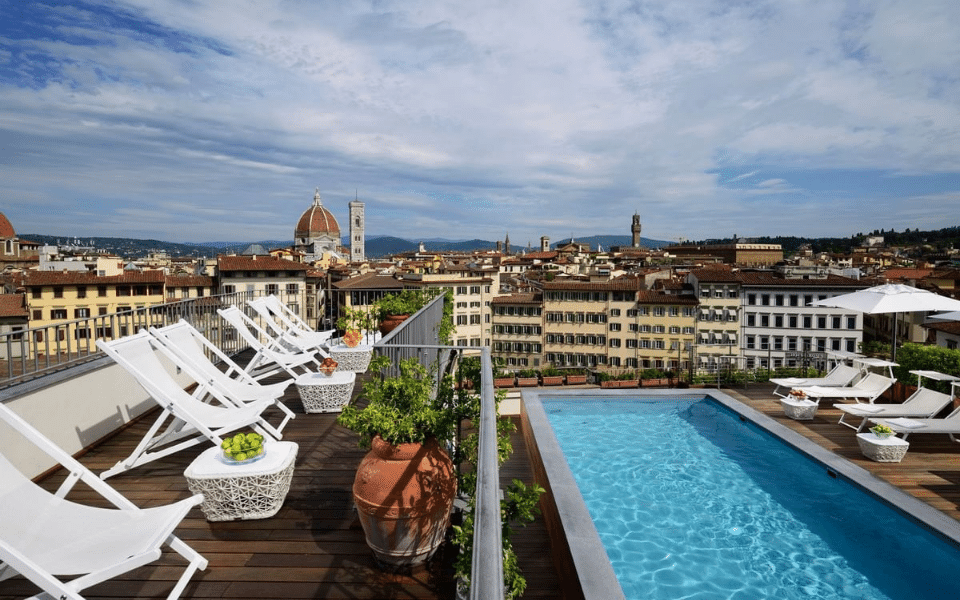 This funky B&B option is really about the locations, a quiet detour from Florence's busy streets in a stretch of grounds that watch over the largest garden in Europe. Each guest room is unique and showcases a glimpse of its past decor in the form of original mouldings and wood floors, with framed artwork handpicked by the owners and custom light fixtures. Perfect for those seeking a quiet location with charm and a distinctive flair.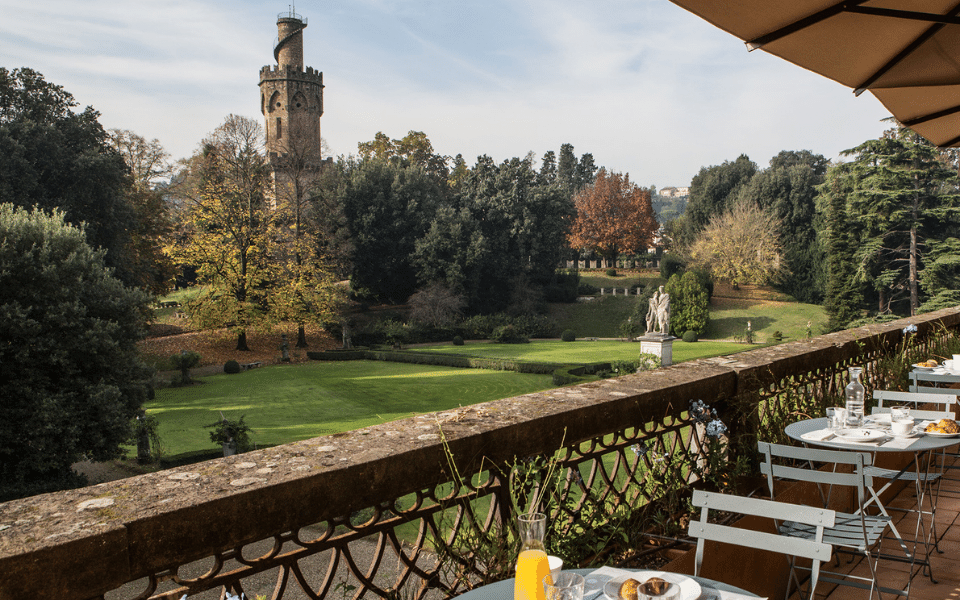 Feeling inspired to see and stay for yourself? Get in touch with Courtney to start planning your next escape to Florence.
JOIN MORE THAN 70,000 FELLOW WANDERERS