A Luxurious, Magical & Wild Walk in Tasmania
Like all working parents, as B&R's Experience Designer for Australia. I sometimes find it hard to juggle work and parenting responsibilities.
So when it's time to hit the road to check out fabulous new places to send our travellers, what's a Mum (or, Mom, as you'd say in North America) to do?
Bring your kids with you, of course!
The Perks of Being a Trip Designer's Daughter
My 9-year-old daughter Charlotte was the main beneficiary of my "bring-'em-with-me" philosophy; after spending a few days on my own in Tasmania, I arranged for Charlotte to come and join me.
Now apart from the fact that Charlotte happens to be an excellent travelling companion, I wanted her to join me on this trip so I could get her perspective on a particular adventure.
One of the reasons I came to Tasmania was to try out the fabulous Maria Island Walk – a four-day hiking trip that meanders across the stunning Maria Island (pronounced Ma-RYE-a), which lies just a short boat ride off the East Coast of Tasmania.
I'd been here before and knew how utterly picturesque and fascinating the island is, but this I thought was the perfect opportunity to road-test the hiking trip and to see it through the eyes (and feet, and stamina) of a child – in this case, my beautiful daughter.
Australian Icons Abound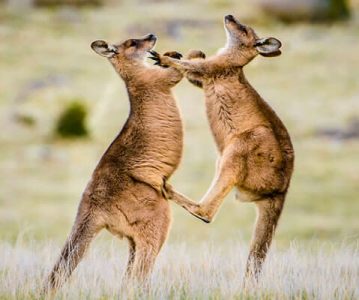 In a country as huge, and sparsely-populated as Australia there are many places to hike through some incredible countryside.
But Maria is absolutely teeming with amazing, unique Australian wildlife of the cute, cuddly, hoppy varieties. In fact, I would go so far as to say it's one of the best places to get up close and personal to wildlife (with the emphasis on 'wild') in Australia, and this is why I love planning trips here.
Being an idyllic island paradise managed by the National Parks, over the last five decades it's become a veritable 'Noah's Ark' for wildlife management and conservation.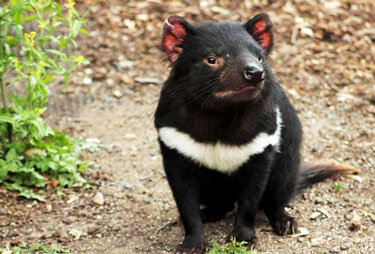 This has meant that endangered species from other parts of Australia have been brought to Maria and set loose, with startlingly successful results. Visitors to Mari, share its idyllic walks with a plethora of Australian icons: wombats, kangaroos, wallabies, bettongs and pademelons to name a few.
The gravely endangered Tasmanian Devil – threatened by a severe facial tumour that is annihilating the mainland population – has found a refuge on Maria with an 'Island Insurance' population now thriving.
For birders, there's a unique aviary to discover here, including Cape Barren Geese, rare pardalotes, swift parrots, Tasmanian native hens, parrots and eagles that make up a total of around 125 species.
Passing the Charlotte Success Test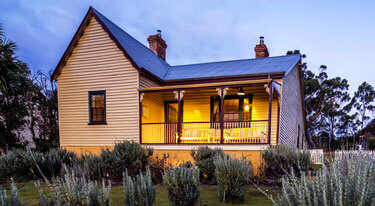 Needless to say, when Charlotte and I took the short boat ride to Maria, along with our two guides–Jo and Sharna–I knew we were heading for four days of spectacular walking in stunning environments, mostly shared only by the wildlife around us.
Although small groups of tourists do overnight in the northern part of the island around the old convict settlements of the early 1800s, we were staying immersed in the bush and wildlife as much as possible, with two nights spent in comfortable, custom-designed bush camps, before a final night in the lovely Bernacchi House at the tiny colonial settlement of Darlington, in the island's north.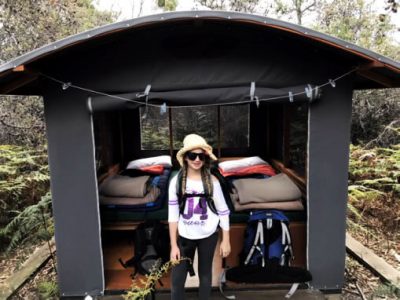 So let's get down to the meat of it. How did Charlotte do, and what did she make of it all? Short answer – she loved it!
Uncomplainingly, she followed me through the walks and loved the experience. Actually, that's not entirely true. She's 9 years old and her energy was boundless – so I mostly followed her! (As those of you with kids no doubt know, this tends to be how it goes.)
The walks are easy to moderate, with some challenging optional walks for those who want to push themselves, or go for those killer views. Overall, I think the best way to give you an idea is to share a few photos, along with some vignettes of our time on Maria.
"The Riviera of the South"
The Maria Island Walk is a three-night-walk, with the first two nights spent in separate wilderness camps that are discreetly hidden amidst the bush, each just behind a glorious beach. The camps are very cleverly designed, with separate twin-share bush cabins scattered through the bush for privacy.

A cozy central lounge/dining/kitchen cabin beckons you to relax while browsing through the library of books as you sip on a glass of Tasmania's finest (Charlotte chose a local ginger beer, I went for an East Coast Chardonnay). Three-course meals are prepared here by the guides, enjoyed in the hut, or on the veranda beneath the trees. Magical!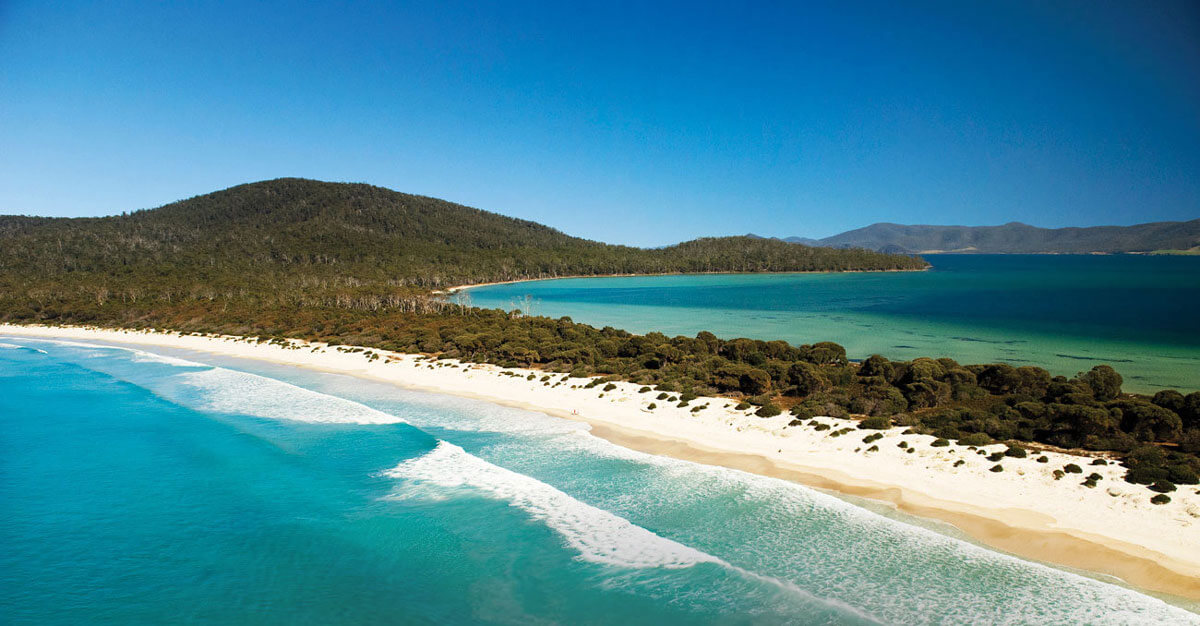 The final night is spent at Bernacchi House. This is the original and lovingly restored home of Diego Bernacchi, the larger-than-life Italian entrepreneur who tried to make Maria Island the "Riviera of the South".
Tales of his grand plans pepper the story of Maria, and add to the colour of its diverse history. As for the experience? Local oysters on the verandah served with Tassie bubbles, and a three-course meal enjoyed in the dining room are a sublime end to several days of glorious and companionable walking.
Friendly Critters & Stunning Views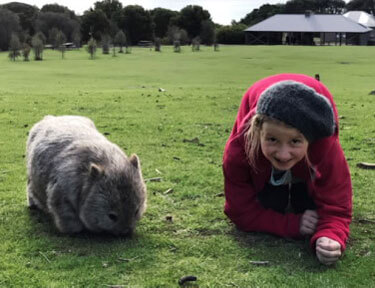 For Charlotte, a lot of the joy was about the wildlife.
In the photo included here, she's having an in-depth (albeit rather one-sided) discussion with one of the many, many, many island wombats. As you can see, they're more than used to people.
If you think I didn't make Charlotte work for her free trip, you're wrong! On our final morning, we took on the walk to the highest point on the north end of the island, to the so-called Bishop and Clerk rock formations.
Stunning views look out across to the Freycinet Peninsula, earned after a couple of hours of steady uphill trekking, followed by some scrambling and climbing. Well worth the view, and hey–even a 9-year-old can do it!
Slowing Down for Spontaneity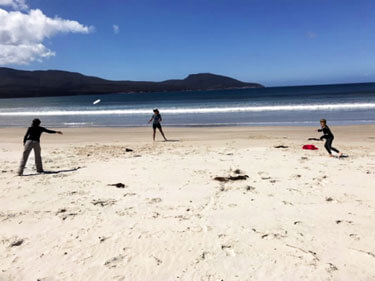 Our trip even included one of those wonderful, completely unscripted moments in time that can only be realized when you "slow down to see the world." It wasn't anything particularly spectacular–but then again, it was very much so.
On a pristine white sand beach that stretched on for a mile or so, with not another soul to be seen, we decided to stop and enjoy some home-baked goods as a pause on our walk to Haunted Bay Lookout.
Before I knew it, a spontaneous game of beach frisbee broke out, which led to a wild dash into still somewhat chilly end-of-winter waters – and may or may not have involved a touch of skinny-dipping, too.
Magic in (and Under) the Sky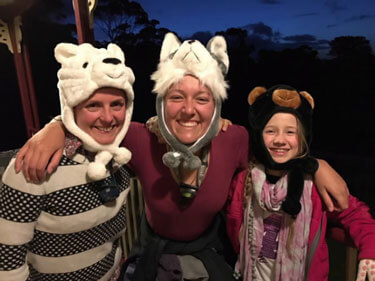 A trip is always all about the magic!
For us, a touch of that magic came on the last night as we heard reports that conditions in the southern night-sky were going to be perfect for a chance to spot the Aurora Australis – the southern hemisphere's own, rarer version of the Northern Lights.
An impromptu and very excellent decision by our guides led to us stashing dessert in a hamper as we set off up the hillside in the dark with flashlights, thermoses and blankets.
And this is where Charlotte's genius came into play, and why trip design should always be conducted by a 9-year-old. I ask you – would any grown Trip Designer have thought to bring along three hats shaped like a bear, a polar bear, and a wolf on a walking trip in Tasmania?!?
I think not, and yet what an excellent addition it made to the whole affair – a spontaneous late-night picnic of lemon tart with thick, fresh Tasmanian cream, consumed in disguise as the not-so-local wildlife.
In actual fact, the lights didn't show themselves that night. But as you can probably tell from the smiles on our faces, the night still felt like magic.
JOIN MORE THAN 70,000 FELLOW WANDERERS