The 7 Best Things to Do
in Bhutan in 2019

The fascinating country of Bhutan is on many a traveller's must-visit list, and it's no wonder why: this small Himalayan country is a living, breathing cultural gem. This never-colonized kingdom, isolated thanks to its geography, is nestled between Tibet and India's northeastern provinces. (Another reason why its rich culture is so well-preserved, is likely because the average Bhutanese did not have access to television or the internet until 1999).
Known for its unique concept of 'Gross National Happiness,' the country of Bhutan received the teachings of Tibetan Buddhism in the 7thC, which forms the basis for most of its culture. Everywhere you go, you will see prayer flags fluttering in the wind, and the massive dzongs, fortresslike complexes which are the religious and administrative heart of each region. Here are some of the ways you can make the most of your visit, and some of my favourite things to do in 'the land of the Thunder Dragon'!
The Epic Hike to Tiger's Nest
It's a no-brainer: if you're in the country, you'll almost certainly make the pilgrimage to the "Tiger's Nest" (or Taktsang) monastery, built in 1692 on a sheer cliff wall rising above Paro Valley. It's one of the many sites ascribed to Padmasambhava (also known as Guru Rinpoche), the influential 8th c. Buddhist master who came to Bhutan and further established the foundation of Buddhism in the country.
It's said that the guru rode here from on the back of a flying tigress and retreated in the cave to meditate, hence the name. That being said, from the 11th c. onwards, many famous Tibetan saints have also come here to meditate, establishing this powerful place as a must-see, as evidenced in the many postcards that highlight its incredible location!
Trekking in the Himalayas
Nothing will prepare you for the sheer beauty of trekking and camping in remote regions of the Bhutanese Himalayas. Forests, lush valleys and crystal-clear lakes are accompanied by stunning views of snow-capped mountains. There's an astonishing array of possibilities for hikes and treks for any ability (easy to difficult) or amount of time—whether you only have a few hours to spare or are up for a multi-day adventure. With few tourists around, you will also be able to see and connect with everyday people going about their business: tending to crops and animals, you may be greeted by locals with a friendly wave or a hello.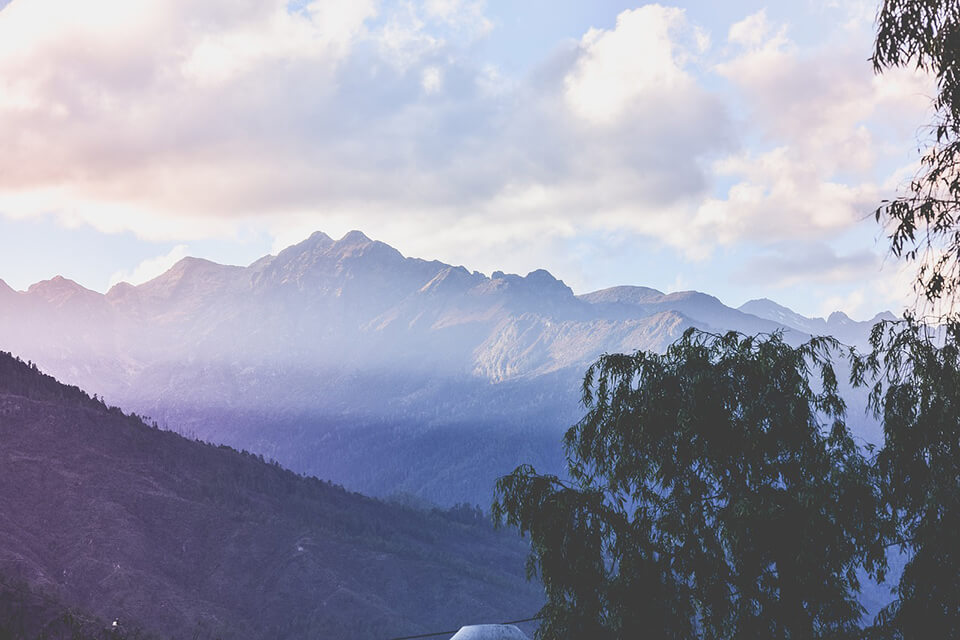 When in Bhutan, Do As the Bhutanese Do: Let (an Arrow) Loose
One of the most Bhutanese traditions is the deeply entrenched national sport of archery. Every village or town has an archery field for the sport, which differs from Olympic archery. The brightly painted wooden targets are extremely small and shooters stand about 130 metres (430 feet) away from the target.
These all-day (or even monthlong!) affairs are rife with a festival atmosphere, with an excuse for all to consume lots of alcohol and food, accompanied by raucous banter and teasing between sides, who play in teams of thirteen.
Experience Bhutan With B&R
Private Bhutan Hiking
We're lucky enough to be among the 14,000 visitors granted permission to enter Bhutan each year—and we're happy to share our good fortune with you. On our Bhutan Hiking, life-altering moments and Gross National Happiness await at every turn.
DETAILED ITINERARY
Private Bhutan Cultural Journey
The vivid richness of Bhutanese culture, from daily Buddhist rituals to centuries-old temples, is one to witness firsthand. On our Bhutan Cultural Journey, marvel at the astonishing Tiger's Nest monastery and other wonders in the Land of the Thunder Dragon.
DETAILED ITINERARY
Go Deep: Meet the Locals, Try the Food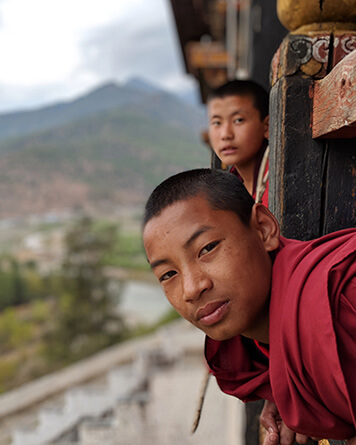 You can't truly immerse yourself in a country without getting to know the people who live in it. (Or, for that matter, trying the local cuisine). It's actually quite easy to get to know the welcoming  Bhutanese to connect and converse, as English is widely spoken in the country.
And speaking of the food, Bhutan's unofficial national dish is ema datshi, 'chilies and cheese', a stew that's the most popular meal in the country. Other distinctive ingredients you will encounter include healthy red rice, buckwheat food items (mostly in Bumthang, where it's grown), and the momo dumpling, also popular in Tibet and India. In general, though, everything in Bhutan is organically grown, and the fruits and vegetables are delicious, fresh, and abundant.
As for drinks, a common one is suja, Bhutanese butter tea, made by boiling tea with fermented yak butter (or sometimes cow butter), which turns it into a frothy, buttery drink with a salty undertone. The butter tea is also popular in Tibet and parts of Nepal. (Another fun activity to try when you're here is cooking with a local family, learning how to make a staple, yak cheese and butter, as befits tradition).
The country's traditional alcoholic beverage is known as ara or arag, and it is made from any grain available: rice, wheat, maize, millet, barley or buckwheat. It's milky in appearance and can also be heated with butter or eggs for extra body.
 Go Deeper: Attend a Bhutanese Festival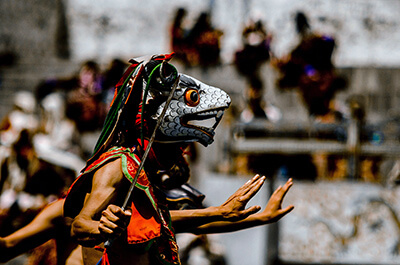 Immerse yourself in living tradition at any number of Bhutan's unique festivals. The Tschechu (meaning 'tenth day') is an annual religious festival in which the whole community participates. They're wonderful expressions of Buddhist culture influenced by (guess who? Padmasambhava). You can expect exuberant and colourful costumes, masked dances, which often tell the story of Buddhism in Bhutan, and nothing like you've ever seen before. Here are a few of my favourites.
Make your way to the Jambay Lhakang Drup, a flamboyant five-day festival held at the Jambay Lhakang temple, one of the oldest in Bhutan. It involves, among other things, Bhutanese running beneath flaming gates (the Mewang, or 'fire blessing') and, the most important part of all, the Tercham (naked dance), involving twelve masked male dancers who perform in the middle of the night. (No pictures, please.) The belief is that dancing naked blesses infertile women.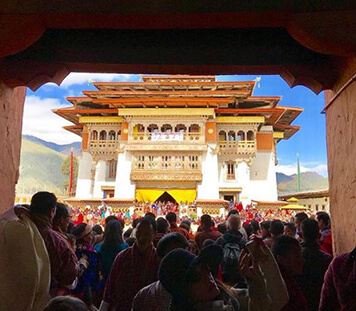 Another festival I'm partial to—which involves no nudity but does involve nature—is the Black-Necked Crane Festival, which takes place in Gangtey, in the Phobijkha Valley. The birds, which are legally protected in Bhutan and are honoured with dances and songs. (People believe they're blessed when the cranes circle around their valleys, and winter wheat is often not planted until after the cranes return). The birds summer in the Tibetan Plateau and spend their winters in Bhutan from October to mid-February, and are the reason why in some valleys, there are few (or no) electric power lines to protect the birds—a prime example of the Buddhist respect for all living beings put into action.
In the Bumthang Valley during late April, look out for the Domkhar Tsechu festival, held in the small town of Chumey. This tiny little village means that you can get up close and personal with the tradition of Bhutanese sacred festivals, minus the massive crowds that may gather in Paro or other large cities.
Rites and Rituals: Meet the 'Divine Madman Monk'
"Outwardly, I enjoy wine, women and song
and inwardly I work for the benefit of all beings.
Outwardly, I live for my pleasure
and inwardly I do everything in the right moment.
Outwardly I am a ragged beggar
And inwardly a blissful Buddha."
-Drukpa Kunley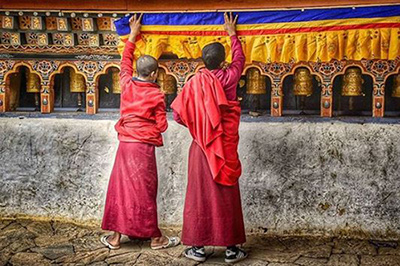 One of the wildest monks out there, Drukpa Kunley, whose nickname attests to the 'crazy wisdom' branch of Buddhist teachers who did bizarre things in the name of bringing enlightenment to others, which, in this case, involved having a lot of sex and drinking a lot. (Editor's Note: Or urinating on sacred relics). As he was often found in a state of undress, he is one of the few Buddhist teachers to appear topless (gasp!) in paintings.
A cult of phallic worship linked to fertility meant that this 'Saint of 5,000 Women' and his, ahem, 'Thunderbolt of Flaming Wisdom' was sought after by infertile women, to bring the ultimate blessing of a child. To this day, people still flock to the Chimi Lhakhang temple established by this mad monk for its fertility rites. (These days, expect to get hit on the head with a 10-inch phallus statue instead).
The phallic statues painted on houses, affixed to rooftops, and over-the-top souvenirs for sale in the town continue to be a part of his everlasting influence!
Most Beautiful of All: Punakha Dzong
Set in the Punahkha Valley upon the confluence of the Pho Chhu ('father') and Mo Chhu ('mother') rivers, the second-oldest (and second-largest) dzong in the country dates from 1638, but is considered the most beautiful, especially in the spring when blooming lilac jacarandas release their fragrance.
Within, you'll find relics from Tibetan Buddhist sects, from the Bhutanese saint Pema Lingpa, and the 'Bearded Lama', Ngawang Namgyel, the unifier of Bhutan. Don't miss a walk across Bhutan's longest suspension bridge across the river!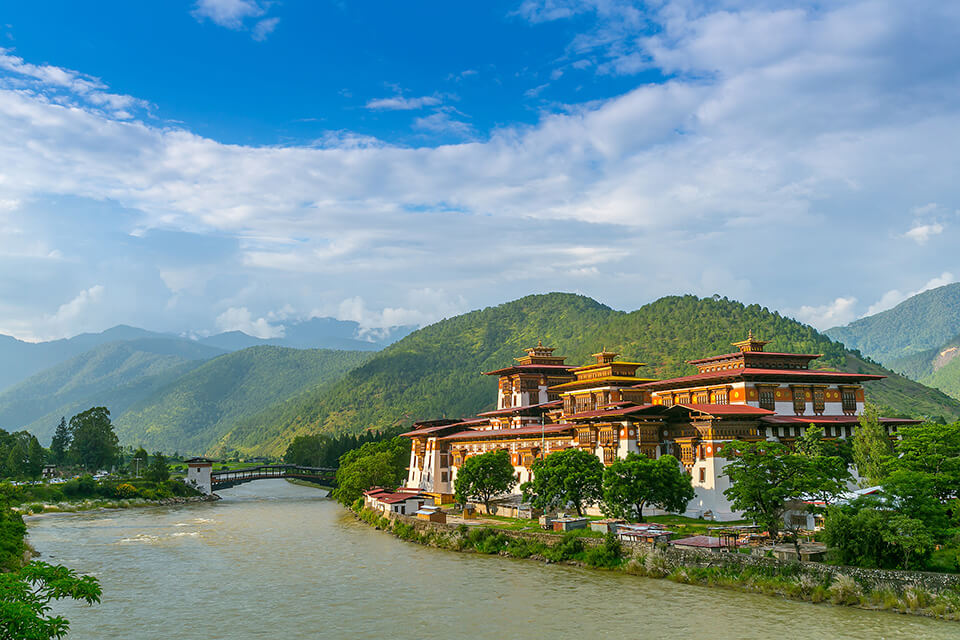 JOIN MORE THAN 70,000 FELLOW WANDERERS