Well-trodden: Annalise Andrews provides her take on Australia's Top Multi-day Hikes
A continent in its own right, there's no denying that Australia has a huge variety of scenery and landscapes, and one of the best ways to immerse yourself is on foot. Here, Australian Trip Designer and resident all-round Aussie, Annalise Andrews, talks us through some of her favourite multi-day hikes in the Land Downunder experienced alongside a range of familial and friend-based companions. All of these walks can easily be incorporated into a Bespoke Australian itinerary, tailor-made by Annalise.
---
I'm a confessed hiking nut, and one of my favourite things to do is strap on a pair of boots and see what's around me. Whether it's mooching along looking for whales on the stunning coastal walk on the stunning Noosa Headlands walk, my home turf, or experiencing a multi-day hike in one of our beautiful regional areas, putting one foot in front of the other seems like a great way to pass the time, see the sights, and get the heart pumping! Here are a few of my absolute favourites—tried and tested with a range of accomplices both family and friend.
It's good to understand early on that all the multi-day walks below are 3 nights / 4 days (unless otherwise stated), some involve carrying your clothing in a back-pack for most or all days, but at day's end you'll be greeted at a lodge or eco-hut with a glass of wine and canapes before tucking into fabulous meals. You're well cared-for, with great naturalist guides accompanying you throughout.
Three Capes Lodge Walk
Situated in the beautiful, southern, island-state of Tasmania, the Three Capes Lodge Walk is a new addition to the lodge walks in Australia, and oh-my is it a lovely addition! Recently road-tested along with my eager 14-year-old son, Dylan, I can vouch for everything from the spectacular views and the excellent walking trails, to the tender, slow-cooked beef cheeks you'll enjoy at day's end. My walking partner (already over 6 foot at just 14 yrs!) took it all in his very long stride, virtually skipping up the somewhat challenging but rewarding Mount Fortescue while his Mum jogged behind to keep up!
With the highest sea cliffs in the Southern Hemisphere on the route, this 4-day walk is replete with absolutely spectacular scenery around every bend, but be ready for some vertigo-inducing views! There's enough variety in the walking to keep it challenging and interesting, and a real highlight is the incredibly stylish and impeccably designed lodges you'll usher into post-hike—along with a guide offering you a choice of local red, white or bubbles. Oh, and locally sourced soft drinks and juices for Dylan. Who could ask for more? Oh—did I mention the in-house masseuse? NOW, who could ask for more…?
The Arkaba Walk
If walking amongst some of the oldest landscapes on the planet sounds of interest, then The Arkaba Walk will rock your world. In the Flinders Ranges at the top end of South Australia, the rocks here are so old they even pre-date fossil life on the planet!
This is your chance to experience genuine Australian Outback—we're talking red-dust-billion-stars-at-night type Outback—as you travel from Wilpena Pound, through the beautiful Elders Ranges, to finish at the 60,000-acre sheep station turned wildlife conservancy of Arkaba Station. Amazing Naturalist guides help the geology and wildlife of the area come to life, with emus, kangaroos, wedge-tailed eagles and the rare Yellow Footed Rock Wallaby to be found along the trail.
Each afternoon, you'll find yourself at stylishly humble and perfectly apt bush camps, with a signature 'Star Bed' that allows you to sleep under the canopy of a million stars, or within the sheltered bush huts. A cozy swag, warmed by a hot water bottle, gives just the right amount of luxury and authenticity, while a three-course, gourmet dinner by the campfire is spot-on. On the final afternoon, walk into the haven of Arkaba Homestead for a final night at this luxury 1850s homestead, with all the warmth and hospitality that Outback country Australia offers.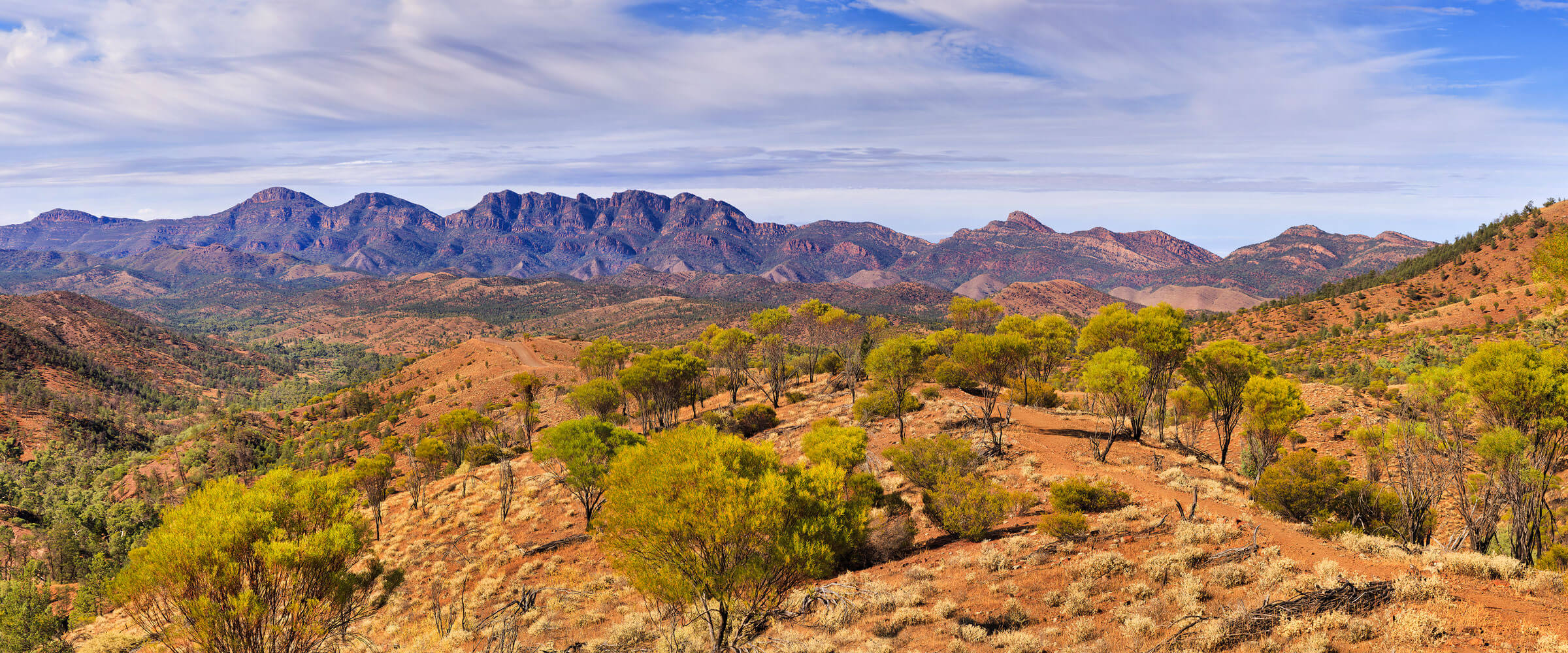 Maria Island Walk
Another walk lovingly road-tested by my offspring, my daughter Charlotte joined me on this fabulous four-day walk when she was just nine years old, and it's still one of her favourite travel memories three years on. This is my favourite walk if you're keen to see wildlife, with plenty of opportunities to get up close and personal with a huge range of our iconic Australian animals.
Lying just off the coast of Tasmania, Maria Island (pronounced Mar-EYE-a) has a fascinating history of convicts, eccentric and enthusiastic Italian entrepreneurs, and wildlife conservancy. Its current conservancy status means that it's become a refuge for endangered species from the mainland, and it's absolutely replete with wildlife from wombats, to kangaroos, wallabies, Cape Barren Geese, and even the endangered Tasmanian Devil. For bird enthusiasts, you'll find all Tasmania's endemic species here, as well as the rare Forty Spotted pardalote and the Swift parrot.
Walks vary from long, white beaches, to bushlands and rocky mountains, with two hidden bush camps providing a simple but cozy refuge. On the final night, you'll stay in a quaint heritage cottage in the historic Darlington settlement, once home to over 600 convicts in Tasmania's penal days. Candlelit dinner at the dining table was the prelude for Charlotte and I to wander to a nearby hilltop to search the night skies for the lights of the Aurora Australis—we didn't spot it that night, but the memories of gazing at the stars while sipping on hot chocolate stay fondly with us!
PS This walk dove-tails beautifully with a post-walk stay at the spectacular Saffire lodge on the Freycinet Peninsula. The perfect place to rest your feet and indulge!
On private, or selected departures, a 'pack-free' option is available to transfer your luggage between camps
Cape to Cape Walk
If walking and wine go together for you like peas in a pod, then the Margaret River Cape to Cape Walk in Western Australia might just be your thing! This civilized walk means you won't be compromising any of your luxuries, with accommodation each night in private beach-side luxury villas, with your own plunge pool—naturally! Short drives each day bring you to a new section of the Cape to Cape Track, so you can stay based at the one lodge, and need only carry a day-pack each day.
Throughout the four days, you'll be taking in spectacular views that vary from vineyards to coastal cliffs, long beaches, limestone caves and karri forests. There's something really special about combining wine-tasting with whale-spotting, as you gaze out over the Indian Ocean!
Once again, this walk offers incredible food and wine, with a combination of fabulous restaurant dinners, winery lunches, gourmet breakfasts to have at leisure in your villa, and picnics of fresh produce to enjoy along the track. This is a great walk to combine with a visit to Perth, or time it (between March and July) to tie in with a trip up to stunning Ningaloo Reef to swim with the Whale Sharks—priceless!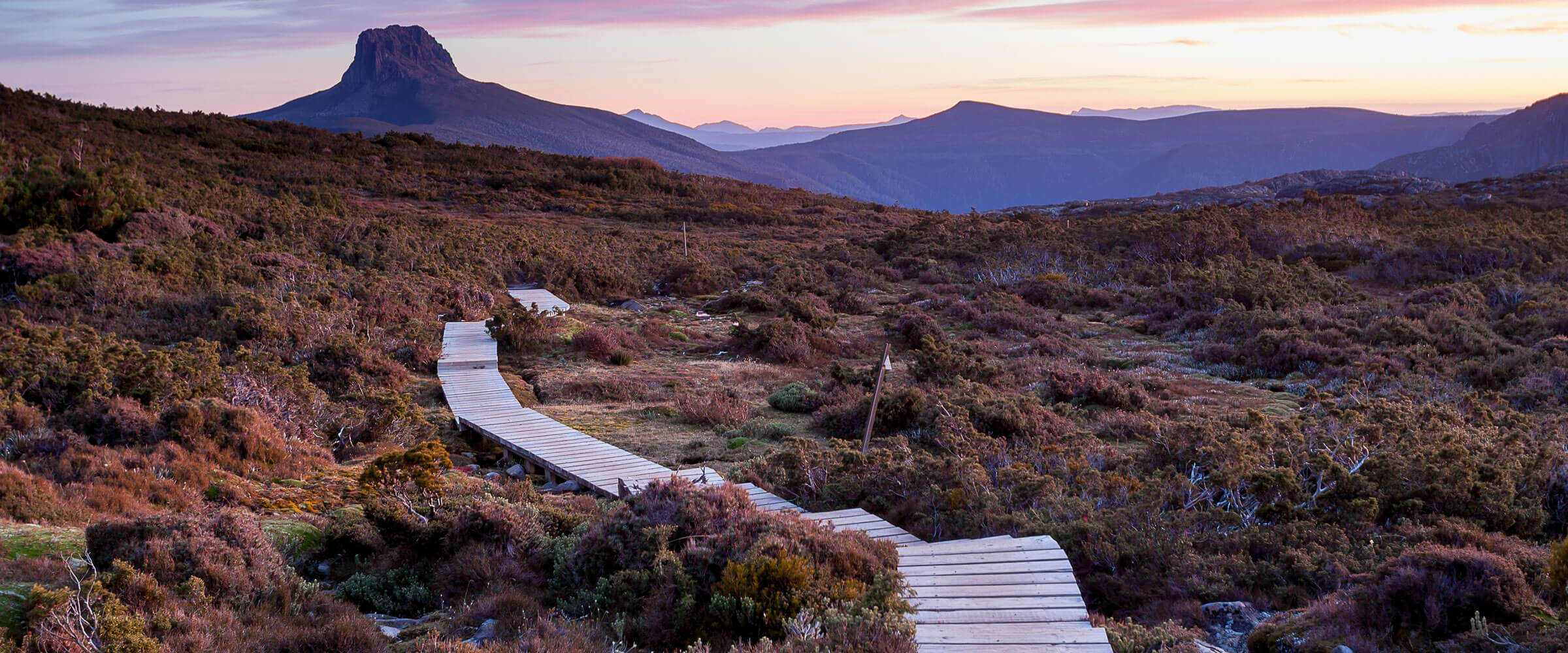 Cradle Mountain Huts Walk
What's better than walking and wine? Walking and wine with friends, of course! On a recent trip with a few girlfriends, we decided to really challenge ourselves and strike out along a hiking route that bows to the majestic views of Cradle Mountain, in Tasmania. We spent six days ambling the varied terrain—a smattering of alpine meadows, dramatic moorland, lush pastures and temperate rainforests—all the while catching up on each other's lives and getting our heart rate up.
At day's end, we were nourished by hearty meals and cozied into our private rooms (two to a room) set a little way back from the main trail. Each day brings a new hut and a new location, but the guides manage the change seamlessly, with the smell of freshly-baked goods for afternoon tea wafting through the air on arrival each afternoon. While not as sparkly as the other luxury accommodation on the walks I've mentioned above—these lodgings still qualify as luxe lodges boasting hot showers and other coveted hiker perks, all the while functioning under a mandate of sustainability. Take for example the renewable energy design of the huts—rainwater is directed toward water tanks, the loos are self-composting, and gas and solar remain the only sources of power. This is remote Australia.
While a tad more "rugged" than the other walks I've profiled, this is a truly enchanting experience made all the richer with a pack of good friends.
Depending on your desire for difficulty, the route can be complemented with add-ons. One such side trip takes you up to Mt Ossa—Tasmania's highest peak.
6 days/5 nights
Twelve Apostles Walk
If you don't hail from Australia, and only know a bit about our natural monuments, this walk may be the one that pulls you in. Set in the Great Ocean Road region—a national treasure that hugs the coast for more than 100km—this four-day hike traces the last 55 km of Australia's Great Ocean Walk and reveals abundant wildlife.
Walk highlights include the Twelve Apostles, a cluttering of limestone stacks just offshore; remote and beautiful beaches with evidence of ancient shipwrecks; sheer, brooding cliffs and Southern Ocean views that are entirely sublime. Yes, drink it in. (Then, obligingly, retreat to the creature comfort of your base lodge.
Each night you return to the same eco-luxe accommodation, The Twelve Apostles Lodge, where you can unpack once and then casually depart every morning with your daypack to amble along one of the great coastlines of the world, un-hindered. Come evening, hearty regional meals are paired with Victoria's illustrious wines and a good dose of day-trip reliving. Earlier in the evening, I'd suggest checking out the foot spa—you deserve it!
JOIN MORE THAN 70,000 FELLOW WANDERERS