Why I Love Guiding
(And Travelling) In Vietnam
The Best Place On Earth
I've had the pleasure of guiding so many Vietnam trips over my 12 years with B&R—getting to know the country like the back of my hand—it almost seems like this isn't really 'work' for me.
While I have been to Vietnam many times, I always look forward to reconnecting with our friends in the country and discover something new on each visit—like that time I ate a silkworm by accident, or crashed a wedding, for instance. Here are a few reasons why I love travelling and guiding in Vietnam—and why you'll love it too, especially if it's your first time in this part of the world.
Decades of Experience
Vietnam holds a very special spot in our hearts—it's our spiritual home in Asia. We were one of the very first travel companies to explore Vietnam on two wheels, and our decades on the ground here go a long way, from our local guides to Trip Planner Nathan Lane, who has been recognized by Conde Nast Traveler for his expertise (including his ability to get out of Vietnam's worst traffic jam in history and knack at finding hidden gems in the country).
The Possibilities are Endless!
More so than any other country I've guided in, the way we spend our days in Vietnam are super-flexible; whatever you want to do that particular day is up to you, and we can make it happen. Want to spend more time chilling out at the beach post-lunch, throw in a last-minute basket boat race, or take an extra hour (or afternoon) to shop? Consider it done, especially if you are travelling with children, who, as we all know, are the epitome of 'spontaneity.'

Friendly Faces
The people of Vietnam are so welcoming—you'll know this when you pedal down the street, with residents waving at you from their houses or kids racing around your bikes with big smiles and a friendly 'hello!' There's something about travelling here that just makes you feel alive, connected, and present—sometimes this feeling is in short supply when we're all rushing around in our usual day-to-day lives.
The More, the Merrier
Vietnam is one of the best places to travel with your family—in fact, I think Vietnam gets even better when you bring the whole squad on your trip. Over the many trips I've guided with families, there's something different about the energy and playful attitude that kids naturally bring.
I have to point out there's something refreshing about the Vietnamese respect for children; it's almost like a 'magic ticket' to getting yourself invited to parties, weddings, and into people's homes! (Plus, if you want to join along with your kids in paper lantern-making, pottery crafting or plowing the fields, you're more than welcome).
Experience Vietnam With B&R
Discover Vietnam
You'll be enchanted by Vietnam from beaches to mist-filled mountains on our Vietnam Family Adventure, but it's the people who make it unforgettable. Meet the locals on this epic journey from Hanoi to Ho Chi Minh City.
DETAILED ITINERARY
The Best of Southeast Asia
Expand their horizons on our Vietnam to Cambodia Family Adventure, a truly magical combination. From picture-perfect bike rides to the jaw-dropping temples of Cambodia, the history, the gracious locals, and scenery make this your best family vacation ever.
DETAILED ITINERARY
Your New Favourite Cuisine
Vietnamese food is delicious, fresh, tasty, and something familiar to most people in large cities, from the humble spring roll to pho noodle soup or my favourite sandwich in the world, the banh mi. There's so much more to dig into, though, from the wonders of the mi quang noodle to our favourite restaurants in Saigon, Hanoi, Hoi An, and the unique qualities of Vietnamese tea.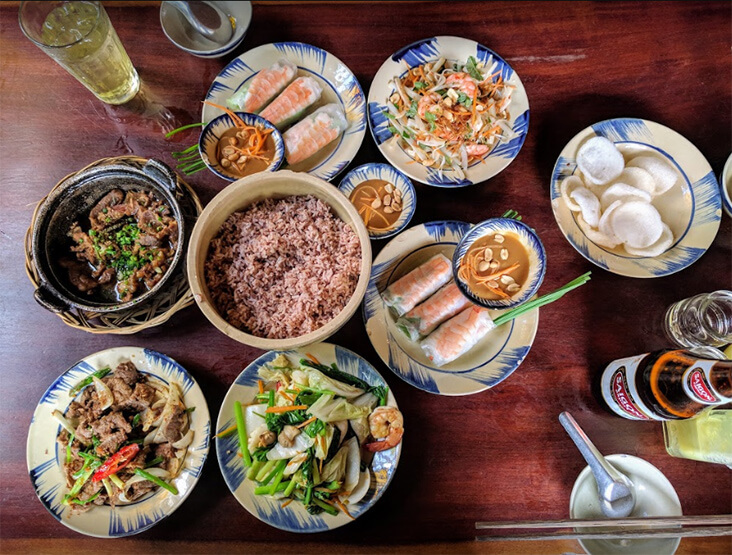 The Biking is Awesome
Pedalling around Vietnam is safe and relatively fuss-free—especially if you're a first-time bike traveller, or if you are on the road with little ones. And Vietnam offers some lovely country roads to ride upon, paved, through villages, rice paddies (scented with jasmine rice…blowing in the wind)…and friendly faces encouraging you along the way.
If you're more than just an occasional biker, you'll also be pleased to know that several bike routes in Vietnam are among our top in Southeast Asia, too.

Hotels to Write Home About
From north to south, Vietnam is filled with stunning hotels that suit every style, from the crisp colonial feel of the Metropole Hanoi to secluded beachside getaways, mountain spa hideouts, and even a family-run resort that will make you feel like home.
JOIN MORE THAN 70,000 FELLOW WANDERERS