Insider's Guide: Where to Eat & What to See in Christchurch
The largest city on the South Island of New Zealand, Christchurch is a travel hub for those who want to experience the country's deep fjords and majestic glaciers.
Rebuild, or Rethink?
While the city remains a splendid destination, any introduction of Christchurch must now include mention of the February 22, 2011 earthquake that destroyed much of its infrastructure. Fast forward several years later, and Christchurch is getting its groove back, celebrating its new-found identity through the opening of unique and forward-thinking restaurants. Between shared dining halls, an influx of international cuisine, a focus on local produce and intimate seating areas, it's clear that the basis for dining in Christchurch is one of community; a sentiment that was likely brought on in light of heartbreaking loss.
Fortunately for travellers, not even an act of God can put a dent in the city's abundant charm.
On your next visit to this vibrant city, here are my top picks on where to dine (and perhaps even meet a new friend!) in Christchurch.
---
Things to Do in Christchurch
Where to Eat & Drink
Where to go eat in Christchurch?
This city has a plethora of great places to dine, including some of the best (and award-winning) restaurants in New Zealand and Australasia.
In fact, the city prides itself on being one of the hotbeds of Nouvelle New Zealand cuisine.
Little High Eatery is an innovative food hall that focuses on the shared dining experience. The concept combines eight family-run businesses in one space and a communal seating area for guests to dine. Choose from a variety of international dishes including Japanese, Chinese, Italian, Thai and American. This is a great place to head when everyone in your group is craving something different!
Madame Woo
Found next door to Little High Eatery, the cuisine at Madame Woo draws its inspiration from the street markets and flavours of Malaysia. Offering plates of what's known as hawker food, a slang term for vendor food, indulge in snacks such as ginger and prawn garlic dumplings, flavourful curries and roti canai rolls filled with sticky pulled pork.
Mumbaiwala puts a fine-dining twist on Mumbai's world-renowned street food scene. The decor is industrial-chic yet warm and highlights the laid-back experience of eating at an outdoor market. Plates are ideal for sharing among family and friends and include Indian classics like chicken biryani and palak paneer tikka and nosh 'from the streets' like coconut prawns and squid bhajee.
Twenty Seven Steps
Housed in a heritage building (that at one time was the location of one of Christchurch's first restaurants), Twenty Seven Steps provides a dining experience that's equally centred on quality fare as it is on connecting with family and friends over a fantastic meal. Hospitality and local ingredients are the primary concerns of owners Emma Mettrick and Paul Howells, who opened the restaurant in 2015 and have been the recipients of several awards ever since. If you show up early for your reservation or want to try and sneak in without a booking, head to their glorified wait room, the Tiny Bar, for a pre-dinner cocktail or glass of wine.
If you're looking for upscale dining, this is your place. Recognized as an iconic dining establishment in the city, The George is minimalist and modern in décor and features seasonal menus and an excellent wine list.
Good food and an excellent wine list, in a wine-bar style setting. (George Butterfield is among the many fans of this wine list.)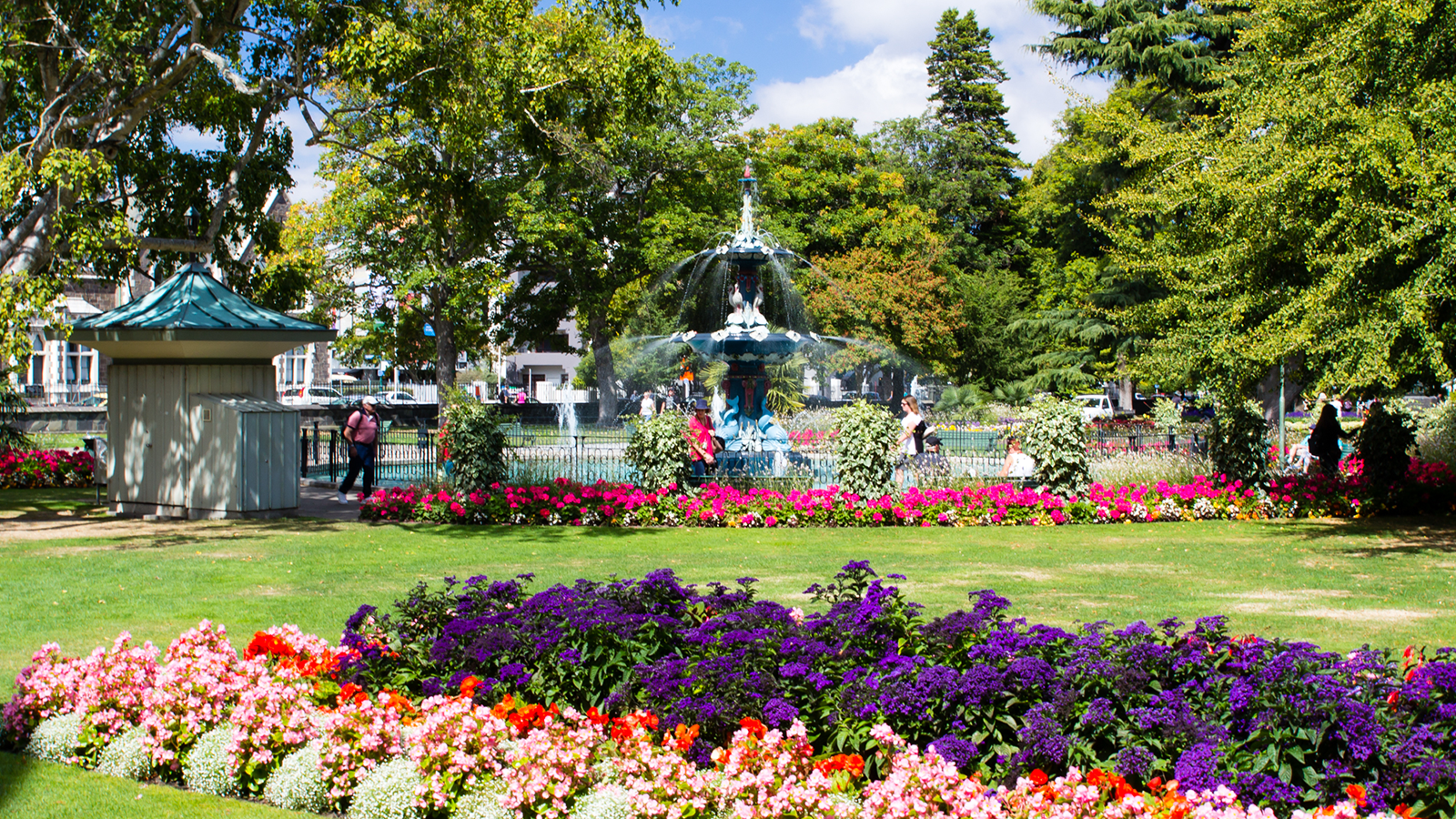 What to See & Do
Before the series of earthquakes that hit in 2011, Christchurch referred to itself as the "Garden City" of New Zealand.
With that dedication imprinted on the city's mind, all attempts are being made to rebuild in that very image (and ideally to make it even better).
While many historic building are still fenced off and changes are happening in real time, here is what we would recommend if you have one day to spend.
Ask for directions from the hotel staff to Victoria Square; if your route allows for it, follow the Avon River downstream along the path to Worcester Boulevard.
Check out the Botanic Gardens, The Canterbury Museum and the new Art Gallery (which looks like a mini Frank Gehry "a la Bilbao" style building) all within a stones throw of each other. If you're hungry, stop by a great little cafe called Ilex Botanical Gardens to grab something to eat. Located in the heart of the botanical garden, you'll have the opportunity to eat surrounded by beautiful plants.
If you have more time go for a stroll in the Public Gardens, you'll understand the reputation of the city as the "Garden City."
Give your feet a rest and take the tram; the route loops around the downtown area.
On a rainy day, or if you have more time, take a cab back to the airport (NO, don't leave to go back home!) and go spend a few hours at the Antarctic Interpretation Centre. New Zealand has a long history with Antarctic exploration and research and the Centre is fascinating.
JOIN MORE THAN 70,000 FELLOW WANDERERS