Insider's Guide:


The Top 9 Hotels in Siem Reap

Siem Reap, Cambodia is just like the island of Capri.

There. I said it, and I'm not referencing pasta, boats or high-end shoe shops. In fact, the food couldn't be more different (although I do have an Italian favourite down a little alley in Siem Reap, if you're asking). Actually, I'd hazard a guess that the Italian food in Cambodia is better than the Khmer food in Capri, but I digress! What I'm really trying to get to in a circuitous way is, drumroll, the hotels!

In no other place have I seen such a wonderful collection of fantastic luxury properties. You'll never find yourself asking for the one must stay location as the answer contains multitudes—well, at least nine, according to the list I'm about to provide.

Here are my favourite properties each detailed with praise (though I've kept it short) as well as one negative note about each, in an effort to balance out all my enthusiasm.
Top 9 Hotels in Siem Reap
This is where it all started. The Grand Dame of town, the original feather in the town's cap…in short, a great colonial luxury property that takes charming uniforms seriously and provides French cuisine to match. This is where you can find the largest pool in town lightly crowned with twisting frangipani trees. My personal preference tends toward the Heritage wing complete with an antique wrought iron elevator and a trail of gorgeous French tiles to guide you down the hallway to your room.
If I were to change one thing: I wish they had an epic smokey bar filled with cigar smoke, men dressed like Indiana Jones and the overwhelming desire to drink a gin and tonic. It really seems like the hotel is missing hit.
Room category I prefer: Landmark Suite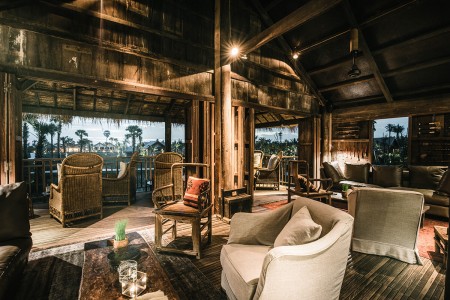 Sure, it might be a mouthful to pronounce, but I promise it's worth the effort. This hotel certainly garners full marks for design and a few more for its delightful garden of aromatic lemongrass, poised as a paddy field, nonetheless. The highlights: Expansive grounds with paddy fields suggestive of lemon, large pools, and personal villas.
If I were to change one thing: The location is not ideal for visiting town or biking, but it works, especially if you're happy to really settle into a place. Not a difficult endeavor. Read above.
I love the Pool Villas because, well, pool.
The hip and happening Park Hyatt sits in the Centre of town, only a short stroll to various shopping and dining options. I love the deco and trendy furniture—accented with a smattering of colour. It's well lit, energized by good music and even better Mojitos.
If I were to change one thing: The pool is a tad too shady and small for me.
Room category I prefer: Park Deluxe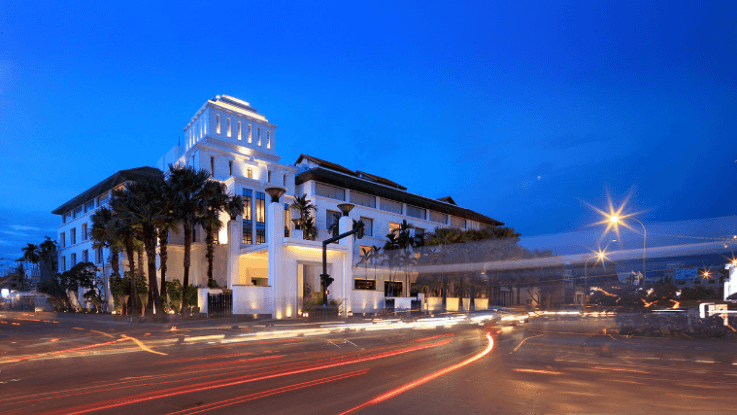 A Well Preserved Jewel
The spectacular, ancient Khmer temples of Angkor comprise one of the most impressive and well-preserved temple complexes in the world. On our Cambodia Biking trip, delve deep into the jungle to discover civilizations past.
DETAILED ITINERARY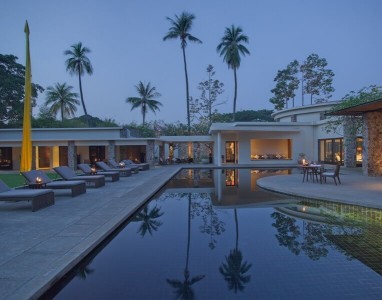 Think: Zen mellow meets luxury. Horizontal lines. A khaki & black colour scheme.
Basically, this is an oasis of calm in bustling Siem Reap. This place is ideal for a relaxed visit or a honeymoon stay. My favourite element is the preserved original structure that now houses the restaurant, which, if you've got the same cultural reference points as me, makes you feel as if you've descended into a James Bond movie from the 60's—directly into the secret layer of Dr. No.
Vodka martini, anyone?
If I were to change one thing: It's not ideal for groups or families as the vibe leans toward hush hush rather than ha ha (read: you're not encouraged to have loud fun).
Room category I prefer: Pool Suite
Meet a hotel with a social purpose. Shinta Mani is doing just about everything right in terms of training and support for the community in which it resides. On top of the social aspect, the food is excellent and the entire hotel is designed in authentic Khmer style by renowned architect Bill Bensley who found inspiration in the nearby temples of Angkor Wat.
If I were to change one thing: I would make the rooms just a touch bigger.
Room category I prefer: Pool Room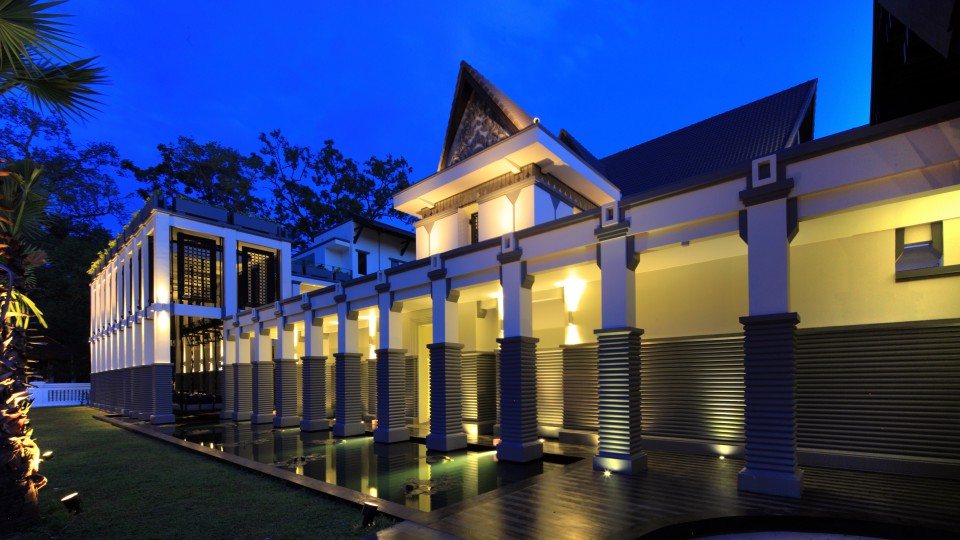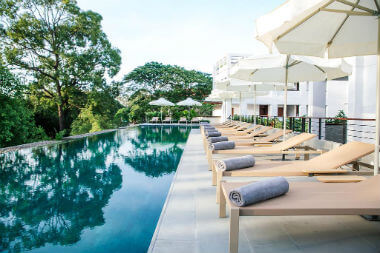 As the name suggests, this hotel aims to raise you to another perspective, with its pool, bar and terrace sitting literally at the treeline! The Cambodian property owner lent a hand in the design, which shows in the attention to detail, like the installations and works of local artists in the shaded courtyard and rooms, which change four times a year.
Natural materials, a zero-plastic policy and all-organic hygiene products add to the holistic feel. You'll find restaurants and the exciting Siem Reap nightlife mere steps away.
If I were to change one thing: A higher-end restaurant on-site or adjacent would be a great addition!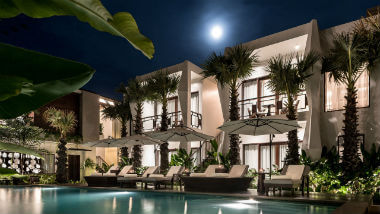 An irresistible package of sustainability, luxury and style, this boutique hotel engages fully in the natural and cultural life of Siem Reap: they have planted 849 trees around their location on the Siem Reap River and have eliminated 95% of their plastic waste.
Intriguing art and garden displays in the beautiful grounds add to the fresh, dynamic feel. The high number of return visitors at this hotel shows that their commitment to sustainability, environmental and otherwise, has been a wise choice. If you'd rather spend a day at the hotel, the stunning pools and spa (one free hour of treatment per day!) invite you to relax and refresh in an oasis of tranquillity.
If I were to change one thing: The hotel is a bit of a walk from dining options or the bustling city center, but that's also part of its tranquil natural charm. Plus, with the free tuk-tuk service and loaner mobile phone provided, this doesn't pose much of a problem!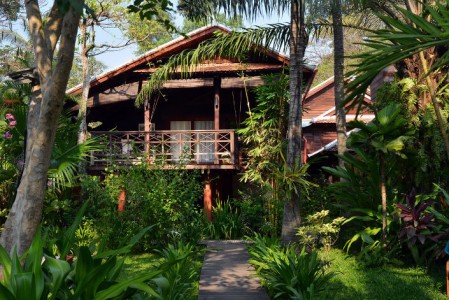 This little Eden is my secret favorite (I really tried to be impartial). The layout features two private villas with a couple of rooms branched around tropical gardens and a classic pool. As you could say of the original Eden, this property is virtuous and tranquil with a twist of French style and service (the latter, my projection). I'm just waiting for the perfect group to do a complete takeover of this property, really let their hair loose and love it.
If I were to change one thing: Actually I wouldn't, but I would prefer to use it exclusively for full takeovers. Not to exhaust the metaphor, but in such an intimate space it's nice to know you've got it all to yourself: True Eden styles.
Room category I prefer: Khmer House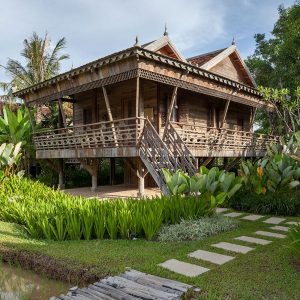 These authentic Cambodia houses have been lovingly rebuilt into a stunning hotel in the tranquil countryside. Each room boasts unique histories and architecture. The oldest date from the late 1950s. A 4-star stay full of love, attention and the occasional bug:
If I were to change one thing:  Somehow a bit higher end services so it could be this but 5 star.
Villa I prefer: Bram Bei
JOIN MORE THAN 70,000 FELLOW WANDERERS