Insider's Guide: 6 Best Restaurants in Luang Prabang
Ah, love at first sight. This was my frame of mind when I first waltzed down the main streets of Luang Prabang. As the lanterns lining the wide boulevard swung in the early evening breeze and a swatch of brilliant orange cloth caught my eye as a monk dashed around a corner, just ahead of me, making his way toward the quiet chanting drifting out of a dimly lit temple, I had the uncanny feeling that I had been here both many times before, but also never before. The city was familiar and foreign, which is why I felt like I knew it: it had always existed in the back of my mind.  Luang Prabang was exactly what I wanted and hoped it would be and was, at that time in my travels, exactly what I needed it to be.
Over the years I have continued my love affair with this town surrounded by the majestic Mekong and the lesser known, but equally impressive, Nam Khan. I have learned many things about the culture, Buddhism, the surrounding countryside and, of course, the cuisine! So I felt it was only right to address my top picks for Where to Eat in Luang Prabang, if you are ever fortunate enough to pass through this oh so charming little town (and would like to, potentially, share some of the same feelings I did upon my first visit):
---
The Institution
Full of just the right amount of French sophistication and wicker chairs (to remind you, lest you forget, that you are in an old colonial town). You'll feel as if you should most certainly be sitting back with a Gin & Tonic in hand watching the world go by. The menu is full of Laotian/French Fusion dishes that make me giddy with choice but also a little unsure as to what to order for fear of missing out (the kids call this FOMO).  Beyond the food, I adore this place for its charming lighting and its heady wine-bar atmosphere.
 
The menu is replete with all things French and the ingredients are always fresh.  Although I do not make it here every time I am in town, when I do, I always leave wondering why I do not go more often.  A bowl of French onion soup followed by some fresh goat cheese salad, a glass of Burgundy and a chocolate Grenache cake to round it off, and it is fair to say one leaves here feeling satisfied, full, and maybe as if another French colonial bar would be the perfect send off to the evening, with the help of a cigar and a brandy!
The Contemporary
Change comes and this is captured perfectly with the emergence of L'Elephant's little sibling, L'Elephant Vert.  Located just next door, this is a vegetarian restaurant with a French twist (meaning: no meat, more butter).  I especially like this place if my pants are starting to feel a wee bit snug or if I am in need of a large green infusion to my diet (life on the road is not all play, after all). There are several vegan options as well.
The Traditional
Good food, good service. This is why I go back time and time again to 3 Nagas. Pictured below, this restaurant serves traditional Laotian cuisine in a beautiful setting and boasts a fantastic wine list curated by a French sommelier.  Quite simply—I go here when I want to treat myself to delicious food, fantastic wine and an enlivening atmosphere.
Like Nothing Else on Earth
From the famed limestone islands of Ha Long Bay to the UNESCO-protected, colonial architecture of Luang Prabang, explore Southeast Asia's most spectacular gems on our Vietnam & Laos Biking trip.
DETAILED ITINERARY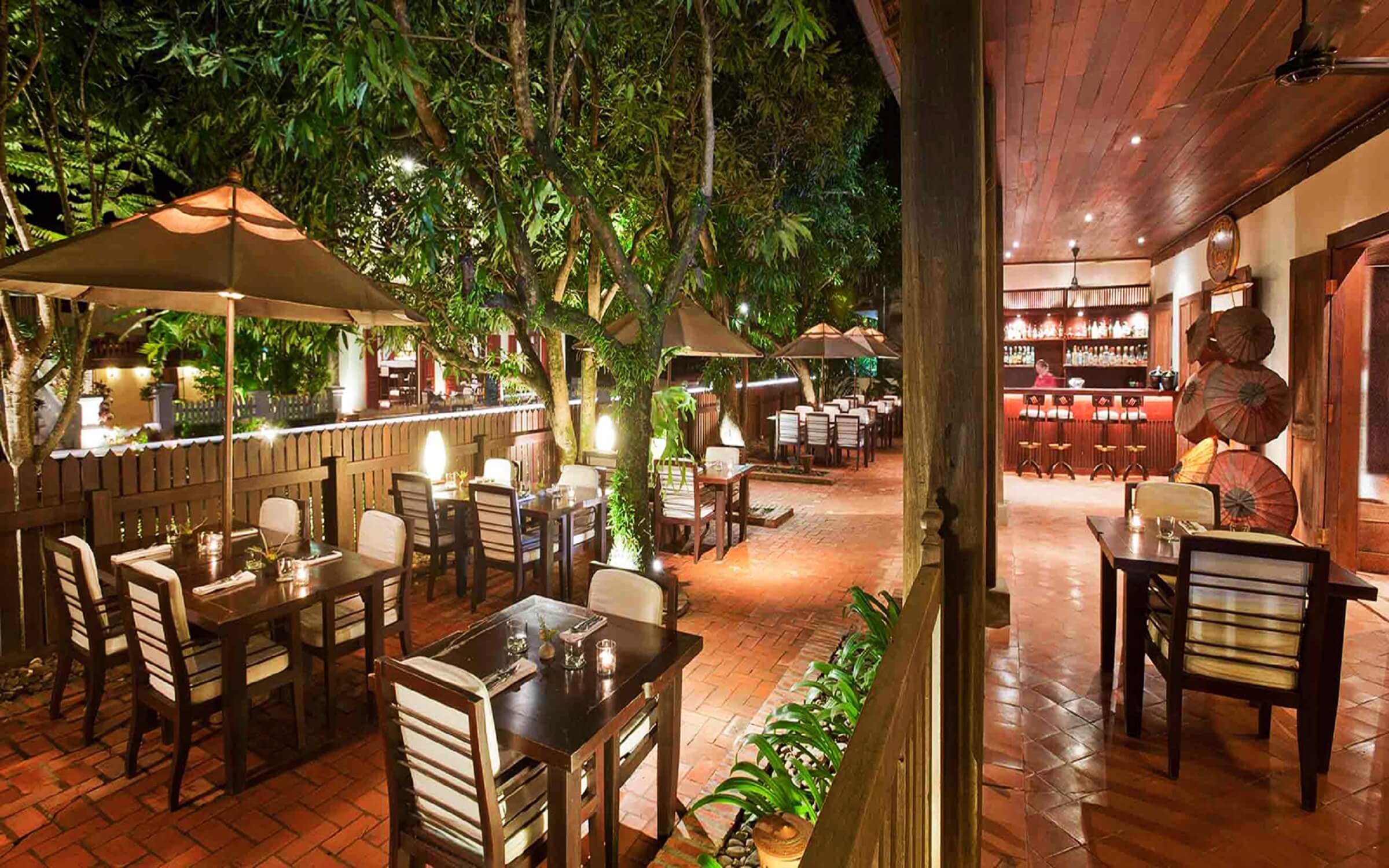 The Pizza Place
Pizza Phan Luang
Pizza. Do I need to say more? This little pizza restaurant is located across the Nam Khan River and in the back courtyard on a residential street.  The first time I went looking for it, after a serendipitous tip from an old friend, I was on a street thinking I was completely lost and then there it was like an oasis: a tiny sign adorned with a picture of a pizza pie entreating me down a narrow path to the right of an un-lit house.  (I took the path, possibly less travelled, and to this day I am so glad I did.)  This restaurant is owned by a French Canadian man and his Laotian wife. He is both the chef and the waiter, so don't be surprised if there is a bit of a wait. I can, however, vouch that it is well worth both the effort to find this place and the likely wait to get your pizza. The ingredients are super fresh and the dough a delicious mix of soft and crisp with a light dusting of flour. Voila!
The Real Deal – Lao-style BBQ Restaurant
When I travel I often make choices that I wouldn't necessarily make if not travelling… I think we have all bought that ridiculous pair of pants that is so not us but we were compelled to make the purchase on trip nonetheless because our surroundings gave us the illusion that we were now the type of person who wears pants with elephants all over them and maybe even tie dye! This is what I now refer to as the exotic effect.
Being in a new place so totally different from where you hail from can act to reset your compass just enough to make you open up to a new definition of what you do and do not do, eat, try, wear, etc.  This is all to preface one of my favourite 'adventurous-eater' spots: Dyen Sabai.  This is one great Lao-style BBQ restaurant that is a must stop if you have a few days in town and a new sense of self!  This place has the most laid back approach to dining as the seating is largely reclined and the views look out over the Nam Khan River.  This place makes me feel fresh and as if I could redefine my whole self…or just eat a damn good meal on the banks of a stunning river. Not a bad endeavour either way.
The Educational Meal – a Cooking School
This is a cooking school and restaurant that in my opinion does the best job at leading you through local cuisine in an uncomplicated, un-intimidating way.  Each dish is presented by one of the staff and the history of the dish is explained, as well as the proper way to eat it.  I love being educated about local customs and food, so this place holds a special place in my heart for helping me understand Laos a bit better, not to mention the fact that it is delicious.  My favorite drink on the menu is a banana, coconut, cinnamon smoothie and my favorite thing to order is a Mung platter full of things like smoked eggplant, lemongrass, rice noodles, and river weeds…trust me—It's delicious!!
JOIN MORE THAN 70,000 FELLOW WANDERERS