Where to Eat:


Our Favourite Beaune Restaurants

What more can we say about our beloved Burgundy, France? This medieval jewel of a town is simply our idea of heaven on earth.

With superb bike routes to navigate, legendary Burgundy wines being produced all around, there's very little not to love about this corner of the world, and we love sharing it with our travellers.

Fortunately, a varied and distinguished contingent of Beaune restaurants makes the local fare served on a plate almost as enjoyable as that served in a bottle. Here are a few of the B&R Beaune office's favourite places in town to eat, drink and be merry, from tried-and-true classics to up-and-comers. Bon appétit!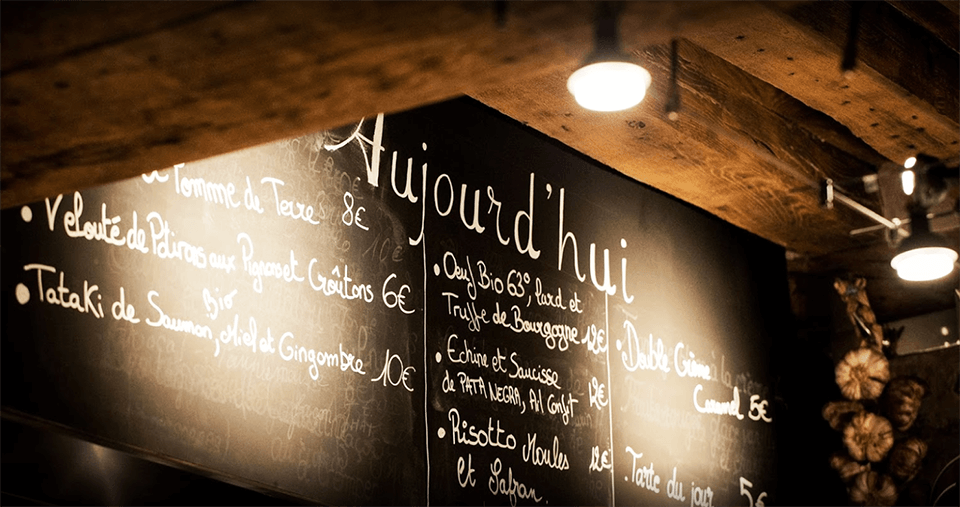 Our Favourite Beaune Restaurants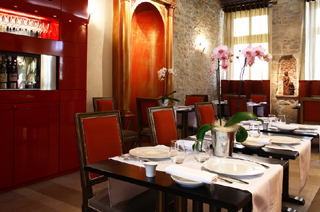 Michelin-Starred:
Loiseau des Vignes
The "Group Loiseau" (named after Bernard Loiseau, the Michelin three-star chef) opened this restaurant in 2007. While located in the Hotel Le Cep, it is not part of the hotel. Order either "a la Carte," or select one of their fantastic set menus. Offers the largest selection of wine by the glass in town.
Closed Sundays and Mondays
---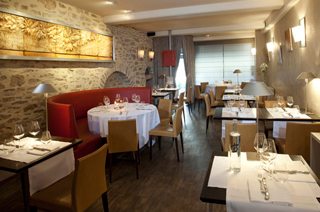 Le Benaton
An excellent young chef and a relaxed atmosphere. This hidden gem in Beaune offers not only reasonable prices but also some of the most exquisite cuisine in town. The creativity of the kitchen is what makes Le Benaton special. Fish, seafood, and meats will all come prepared in a way you never imagined possible. Features an excellent wine list full of quality winemakers.
Closed Wednesdays, Thursdays and Saturday Lunch
Experience Burgundy With B&R
Scheduled Biking Group Trip
To Burgundian locals, time is measured by the season. On our Burgundy Biking trip, it's by the kilometre, the meal and the vintage. We fell in love with this place 30 years ago and have made it our second home ever since. One visit, and you'll understand why.
DETAILED ITINERARY
Self-Guided Walking Trip
What's red and white and Michelin-starred all over? Walk through the world's most famous vineyards on our Burgundy Self-Guided Walking trip. Excellent hotels, show-stopping cuisine and ecstatically good wines: it's your time to step, sip, and savour.
DETAILED ITINERARY
---
A Few More Faves: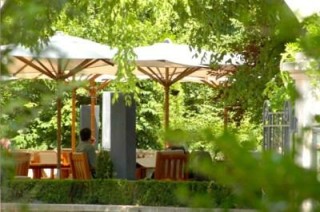 Le Jardin des Remparts
This restaurant boasts a fantastic terrace, some very innovative food, and a charming atmosphere. It has been highly rated by the famous French guidebook Gault & Millau. The service is not the speediest, but keep in mind, you are intended to linger over your meal and enjoy your company.
Closed Sundays and Mondays
---
Le Comptoir des Tontons
Les Tontons is a great place with an excellent small menu that changes daily. The atmosphere is elegant but not stuffy. Lots of locals go here, and Paquita, the chef, is consistent and creative. Everything here is fresh and organic: they work exclusively with seasonal products and carefully select their ingredients from the finest small producers.
Closed Sundays and Mondays
---
Le Petit Paradis
A great little find tucked away on Rue Paradis behind the pedestrian zone. Excellent menus with a variety of prices, à la carte choices made from fresh produce, and a good wine list. Reserve in advance, as there are not many tables and they fill quickly.
Closed Sundays and Mondays
---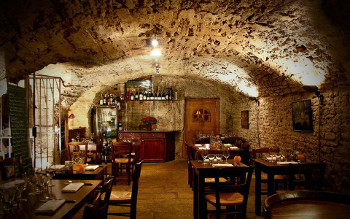 Le Conty
A nice restaurant with good food and quality service. The terrace is one of the finest in town. Set menus here are always a good choice and change seasonally. Laurent Parra, the chef, is from a local gourmet family. Priced about mid-range among restaurants in Beaune.
Closed Sundays and Mondays
---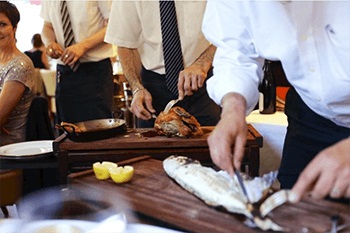 This bistro focuses on serving simple food, using only the freshest high-quality produce from local suppliers, including fish, seafood, beef, poulet de Bresse (the best-tasting chicken in the world!) and Charolais veal.
This is simply one of the best tables in Beaune, with an equally superb wine list. We also love their deli, which serves delicious pizzas all day on a terrace that is perfectly situated for people-watching.
Closed Sundays

---
There's a communal table set up inside this friendly, intimate and casual abode. This is a great spot for regional specialties and features a large range of à la carte options. It also boasts an excellent selection of wines that are stored and displayed all around you—how can you resist? The chef is a true artist who chooses the best local produce and turns them into divine creations on your plate. This has been one of B&R's favourites for many years.
Closed Wednesdays and Sundays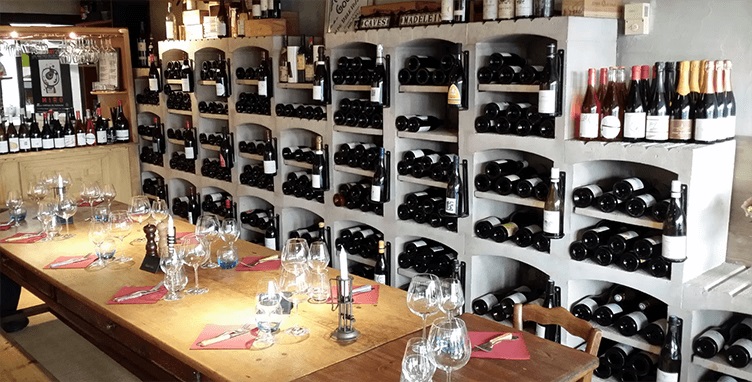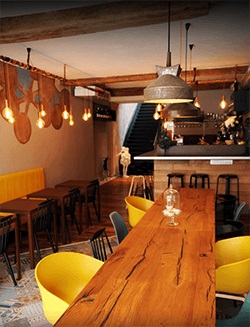 Les Pôpiettes
Within a year of opening, this cozy restaurant has quickly become one of our favourite new restaurants on our list! The chef is an outstanding young Italian woman who creates her menu according to the season. Expect to encounter a modern fusion of French and Italian flavours on your plate, finished with impeccable presentation—colours, flowers and herbs galore.
Closed Tuesdays   
---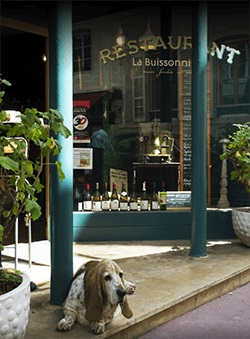 La Buissionière
With old vintage pieces decorating the room, this modern yet funky new restaurant has everything you need for a casual dinner, especially if you're looking for a relaxed, unpretentious experience.  
Run by a husband-and-wife team, you can see everything being made in the open kitchen.
The food here is simple yet delicious, traditional but with a twist, and, as you might expect, they have a great selection of wines. What more do you need?
Closed Saturdays and Sundays
---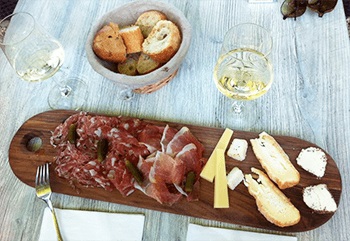 If you want to head to a place where you are guaranteed a good time, the Beaune B&R team always has Les Cocottes in mind. (They also don't mind when we're loud, so that's a huge bonus.)
We love the simple food there, the emphasis on quality (it's certainly one of the best entrecôte steaks I've ever had!), and the wonderfully friendly service. An added bonus, they serve late!
Closed Sundays and Mondays
---
La Tavola Calda
Design-oriented, with a modern atmosphere, this excellent Italian restaurant is the perfect spot if you need a break from 'classic' French fare. In our opinion, the fresh and delicious salads are the best in town. Don't miss the pizzas, either—the flavours are authentically Italian, so here's the place to go if you are craving something different.
Closed Sundays and Mondays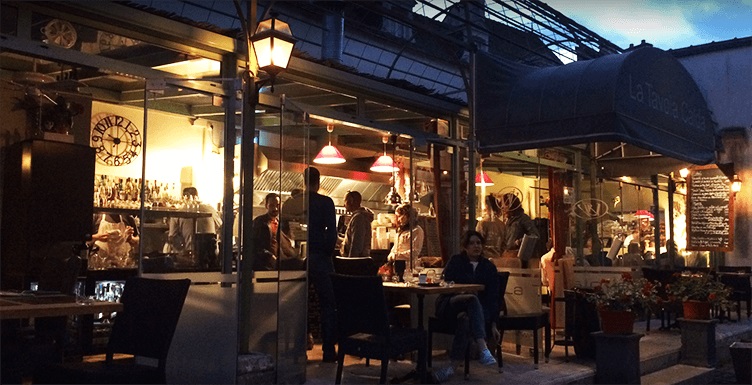 La Maison du Colombier and La Dilettante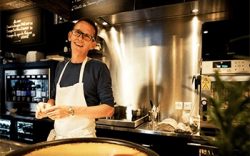 These are the two most recent up-and-coming wine bars/tapas bars in town. A side note: when we say 'tapas' here in Burgundy, it not only means amazing charcuteries and cheeses, but also a selection of incredibly fresh dishes of the day cooked "à la minute" by the talented chefs (who each previously owned other restaurants in town but decided to "retire" by running these wine bars!).
The terrace of the Maison du Colombier, which overlooks the Notre-Dame church, is an unparalleled location to savour a glass of Grand Cru at the end of a long ride!
Maison du Colombier has an impressive wine list that features the delights of Burgundy, along with the rest of France's most talented winemakers. La Dilettante, with a smaller, more casual atmosphere, will serve you delicious local fare, along with a selection of mostly Burgundy wines, as well as biodynamic and natural wines.
Both restaurants are closed Wednesdays and Sundays
JOIN MORE THAN 70,000 FELLOW WANDERERS