10 Best Markets & Shops
in Provence
It's no wonder why we've spent decades roaming Provence: this Southern France beauty has too many things going for it. Here is an ancient land of remarkable beauty, which captivated none other than Vincent van Gogh, whose masterworks from his yearlong stay in Arles make the most of the inspiring landscapes and its ample light (more than 300 days of sunshine each year).
Another inspiration to those who make pilgrimages by pedalling, let's not leave out the legendary Mont Ventoux, hallowed in the Tour de France and one of the most challenging routes in the world. Climb this and leave a champion!
From the charming hilltop towns, some scarcely inhabited, to the legends of romancing troubadours and fierce lords, the countryside simplicity still remains authentic. The long-held traditions here are sacrosanct: from the pastime of boules to agriculture and ancient olive groves to the scent of lavender and the global centre of the art of perfume. Provence is a place that reveals itself to you little by little, visit after visit, year after year. Timeless and chic as ever, here are a few of my favourites in the region!
Provençal Markets
Welcome to southeastern France, where the weekly market day is something to look forward to. You'll see locals catching up with their friends and favourite vendors, buying their items for the week. Any day of the week, no matter where you are, you are bound to run into a market. Any of these picks are sure to please you, and whether small or massive, this is one of the best ways to immerse yourself in the Provençal way of life! Enjoy!
Apt
A beautiful local market, the array of goods and snacks and local items to find here is dazzling, and will make you wonder. From fresh fruits, cheeses and herbs to an array of baked goods and bread (vive le France!), cheeses, and . Saturdays only. Rue des Marchands.
Gordes
A truly photogenic marketplace set at the foot of a castle, along the stone-hewn houses and buildings, this weekday market features many fabrics, linens, soaps, lavender and clothing, along with the usual vendors of fruits, vegetables, and sundry things to snack on or plan a lunch with (sausages, honey, bread, cheese, and wine). Tuesdays only.
L'Isle-sur-la-Sorgue
The Sunday (and Thursday) antique market is a standout, rated one of the best in France, and one of the largest in Provence. Taking place right along the winding River Sorgue, along the Avenue des Quatres Otages, it's the antiques that steal the show. Of course, you will be spoiled for choice with all the typical French market goodies: bread, cheese, sausages, clothing, hats, soaps, and the best of the region's farm-fresh fruit and veg. It's a feast for the senses. In addition, there are loads of antique shops open all week long in the town for some unique finds, so keep your eyes peeled!
Le Thor
The village itself is not as charming or cute as the others you may see, but the market here is a real gourmand (and industry) favourite. Restaurant owners and other industry folks will drive here from hours away to purchase fantastic tomatoes, olives, fragrant local Cavaillon melons, and other items. Just close to Avignon, come hungry when you visit this market!
Lourmarin
A local favourite, this is not the largest market in the region but has plenty to offer. Some of the best vendors in the Luberon venture here, from textiles to jams, bread, sausages…you name it, it's here. A beautiful space lined by trees, perhaps you may be inspired to put together an impromptu picnic. All you need? A warm rotisserie chicken, baguette and a chunk of cheese, some tapenade and a bottle of local wine. There are also some lovely fabric stalls that sell homewares (tablecloths, placemats, etc.) in typical Provencal fabrics, printed with lemons or olives—excellent for souvenirs. Fridays only.
Experience Provence With B&R
Scheduled Group Walking Trip
Wander (slowly) through the narrow vineyard paths, secluded olive groves and limestone ridges of our Provence Walking trip. The wines are not to be rushed, either (once you've sampled a Côtes du Rhône or Côtes du Lubéron in its natural habitat, you'll understand why).
DETAILED ITINERARY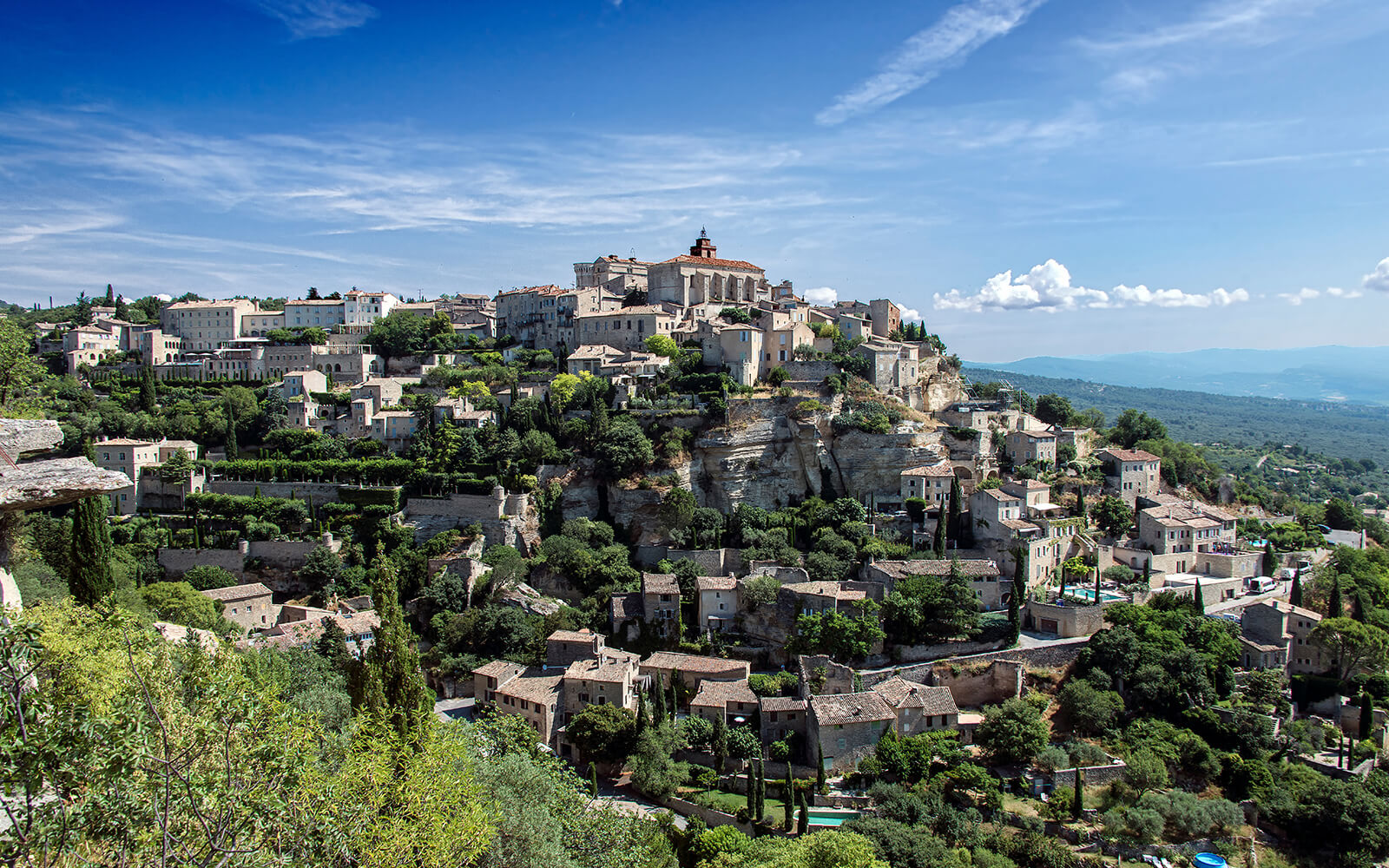 Where to Shop
In any of these little towns, shops are bound to catch your eye! Menerbes is tiny, but has more than a few stores that we love.
A gorgeous shop that calls itself an "antique boutique and bizarre bazaar", you are sure to find something unique here, whether it's a one-of-a-kind oddity, antique, or reworked antiques with a modern twist. High-quality, beautifully designed items from France and around the world round out their offerings. Every piece tells a story…what will you find?
With beautiful clothing in cool neutral tones and relaxed (yet crisp) linen, this sophisticated store offers men's and women's clothing, along with homewares. Bring something elegant home that will always remind you of Provence!
A tiny little shop, it has the best ice cream in town with some well-crafted flavours, from salted caramel to rich chocolate. Even better, you can browse for fine clothing at their excellent little boutique to boot!
Where to Eat
Bistrot le 5, Menerbes
A lovely view over the valley from this restaurant, you'll want to make a beeline for the open terrace with its truly expansive view. A little glass of wine, a bit of charcuterie, and warm sun with a bit of umbrella shade? Kick up your heels and relax—there's no such thing as hurrying here. You'll also find the occasional live music event here as well.

L'Arôme, Bonnieux
A restaurant specializing in regional dishes and seasonal offerings, this husband-wife team serves up artfully plated and sophisticated fare in a lovely atmosphere. A number of prix fixe menus and seasonal tasting courses are offered. Book in advance and call ahead.
JOIN MORE THAN 70,000 FELLOW WANDERERS