Bordeaux Nouveau:
France's Coolest City Right Now
Year after year, France is by far the most popular destination for B&R's classic trips. Is it that Gallic je ne sais quoi? Is it a pent-up need for all our Francophile travellers to discover (or rediscover) one of our favourite countries in the world? Or perhaps it comes down to the simplest pleasures in life: going slow, glass of Bordeaux in hand? It doesn't get any better than that for me. 
Bordeaux isn't as stuffy as one might expect: with a wine museum and a revitalized restaurant scene, this cosmopolitan city has a bright and fascinating future. If you want to enjoy French innovation and a fresh new way to experience the country, I like to think of Bordeaux as one of the most exciting cities in France right now. While it certainly has a moneyed, exclusive reputation as one of France's traditional centres of trade and wine, the newly revitalized waterfront—once blocked with ugly warehouses and industrial sites—offers up much more cutting-edge and cultural value to be found these days. Let's begin!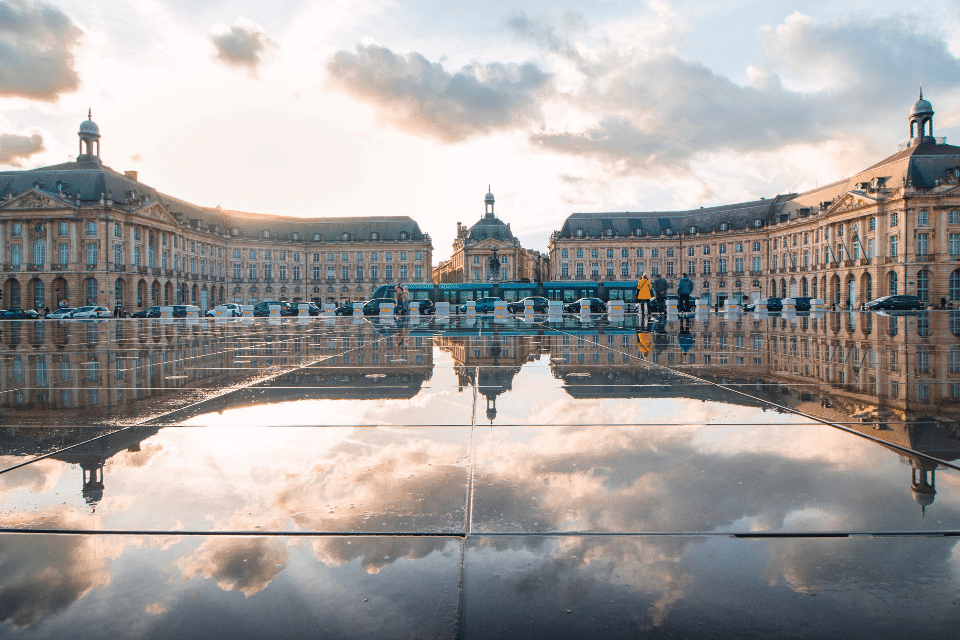 Classic and Contemporary Architecture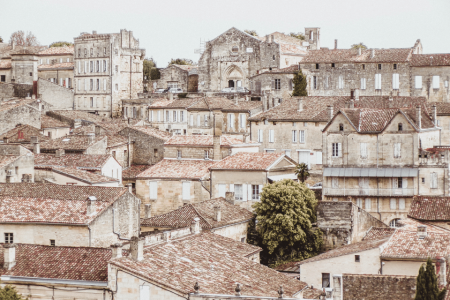 Most people picture the neoclassical good looks of Bordeaux's Place de la Bourse along with its old town—indeed, its wide boulevards and beautiful buildings were, in fact, the ones that inspired Georges-Eugene Haussman as he prepared to redesign Paris in a similar fashion. The iconic Place de la Bourse, the royal square, was built during the reign of King Louis XV, was commissioned by the king to celebrate himself as the supreme symbol of the nation. (Similar royal squares built around the country during his reign include Place Stanislas in Nancy, and the Parisian Place de la Concorde and Place Vendome).
But many other visitors overlook the fact that Bordeaux is, in fact, a place where you'll find some surprisingly avant-garde building projects on the skyline. From the most obvious—the Bordeaux wine museum—to anything from residential complexes and wineries to office buildings and large public spaces, Bordeaux's new looks have been masterminded by a who's who of architecture and design firms.
Boldfaced names like Philippe Starck, Foster + Partners, Herzog & de Meuron's new Bordeaux Stadium and OMA, who was commissioned to redesign a new bridge for the city, a whole host of internationally renowned projects continues to shape the skyline and the emerging look of Bordeaux.
Contemporary Art and Culture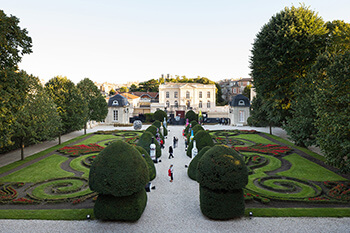 The contemporary art scene is huge in Bordeaux with some of the richest collections of modern and contemporary art in the country, not to mention its emerging street art scene, which you can see at some of the neighbourhoods I mention further down. The CAPC Museum of Contemporary Art, one of the first such art centres in France, first established in 1973, is housed in a former colonial warehouse, and is a great place to start, with 1,299 works from 189 artists from around the world.
Another excellent contemporary art centre is the privately-owned Bernard Magrez Institut of Contemporary Art, housed in the 18th c. garden and grounds of a private mansion. Owned by the wine magnate Bernard Magrez, who has shared his private collection with the world, it's also worth a stop. There's also the 'living art center', Les Vivres de L'Art, an artistic project which features the atelier of artist Jean-Francois Buisson, alongside a community of artists' studios, a gallery, public art and a shared garden to peruse.
If you're more interested in the outré, take a look at The Musée de la Création Franche, an 'art brut' or 'outsider art' museum, established in 1996, with 14,000 works, one of the largest collections of outsider art in the world. Eight new artists are presented each year in their annual exhibitions; housed at a former private residence in the centre of a garden, go off the beaten track to discover some truly original works by non-professional artists.
Explore 20,000
Years of Culture
We begin our Bordeaux to Dordogne Biking trip in Bordeaux, where the riding is as smooth as a Château Mouton Rothschild (you'll understand soon enough). Then, it's eastward to the Dordogne Valley, land of medieval castles, Cro-Magnon cave paintings and exquisite cuisine.
DETAILED ITINERARY
People-Watching and Neighbourhood-Hopping
Mingle amongst the locals, taking advantage of Bordeaux's typically mild climate on a terrasse or along the riverside. Make your way to the newly renovated Marché des Capucins on a weekend and mingle amongst the hipsters buying their farm-fresh produce in the nouveau district of Saint Michel, as you grab a light lunch and perhaps linger over an afternoon coffee. Immerse yourself in the cultural underground (literally!) of Bordeaux in the Bassins à Flot neighbourhood to check out a new cultural hub: a former submarine base originally from the Second World War, which has been transformed into modern and contemporary art, theatre and dance space. 
Another example of the new Bordeaux, repurposing buildings and turning them into public spaces for good, the Darwin Ecosysteme is a one-hectare collective space, located in former warehouses and military barracks, with an eye to creating an eco-friendly community open space, with a grocery store/restaurant, urban farm, a 'bike polo field', a BMX track, and an artists' residence all open to the public.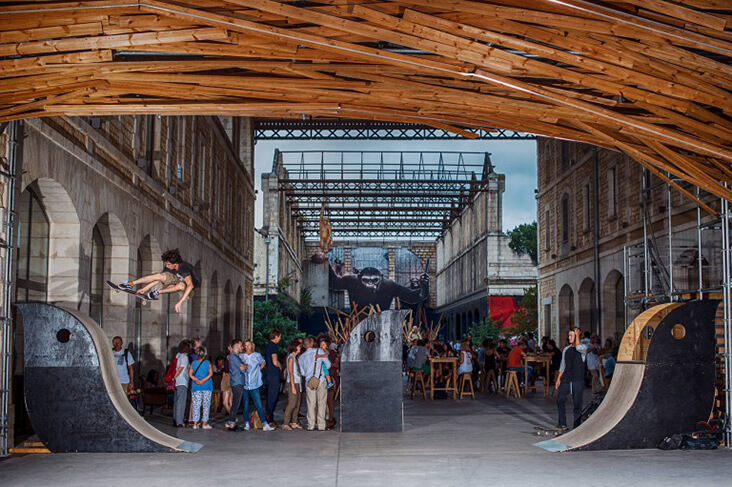 Another thing Bordeaux boasts, which is completely unexpected, is the largest public skatepark in France. So make your way to the hip Chartrons neighbourhood, just by the Garonne, and get lost in the acrobatics—even more striking at magic hour, just before the sunsets.
JOIN MORE THAN 70,000 FELLOW WANDERERS