Grape Harvesting in Ventoux
South African-born, French/German soul living in Provence, B&R Guide Tatjana Buisson shares the story of her summers spent harvesting grapes in Ventoux, France—and how she turned her experience into art.
---
For years I'd been cycling through oceans of vines with travellers during harvest season. While cycling through the endless sea of green in Burgundy, Bordeaux, the Loire, Switzerland or Provence, I would pull over to poke at the "vendangeurs" with questions such as:
"What grape variety are you harvesting right now? When did the harvest start for you this year? How are you finding the grapes? Can we help you pick a few bunches?"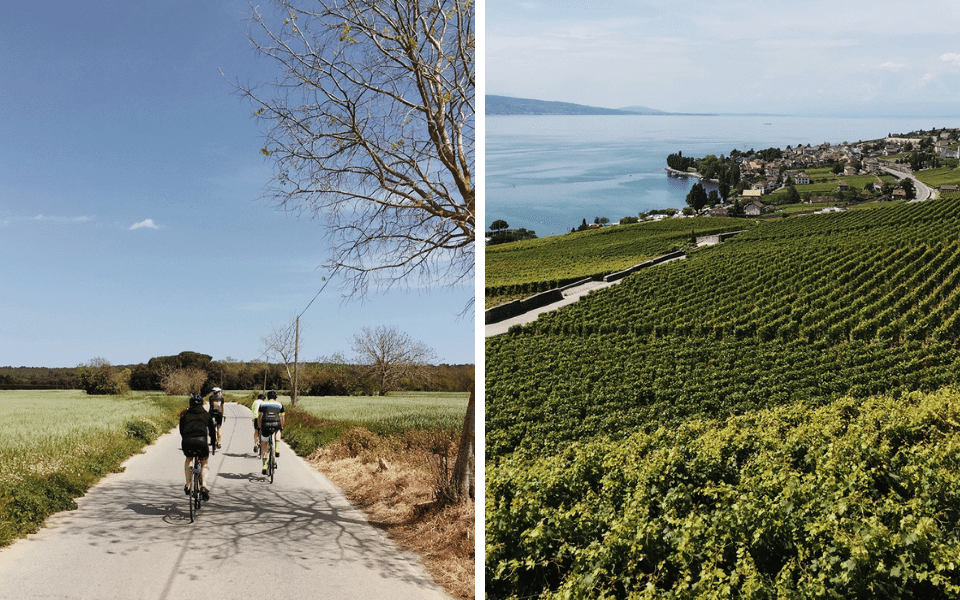 The inquiry was almost always met with a welcoming and friendly response packed with interesting information.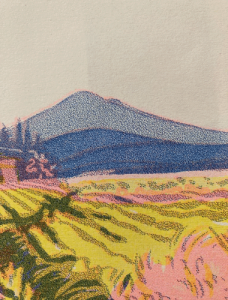 Sometimes it was the multi-coloured specks of umbrellas scattered around the green mass, a giveaway that harvest was on the go. Sometimes it was a cluster of cars jammed between the vines and the skinny roads and sometimes it was the laughter, singing or a soft mumble that emanated from the vines with no visible sign of human presence until our bicycle wheels aligned with the rows that the harvesters were working in.
There was something seemingly free and inviting about the atmosphere of the people harvesting. A light playfulness seemed to weave its way through the vines while clusters of berries were carefully clipped from the 30 to 100-year-old plants that had spent 365 days alchemizing water, sunshine and soil into beautiful offerings of sweet and sour berries.
Guiding cycling trips exposed me to many magnificent wineries. I was intrigued by the process of immersing oneself in the green shrubbery with clippers and good company… and 2020 provided me with just that.
You see, the reason I had witnessed the harvest from the bike-saddle on so many occasions was because harvest happened during one of the peak travel seasons in Europe: September.
Thanks to a certain pandemic, 2020 was an exception to the rule. With no travel season meant that not only was I free to harvest and eager to earn a little money, but the wineries were short on their annual influx of foreign labourers.
Harvesting Ventoux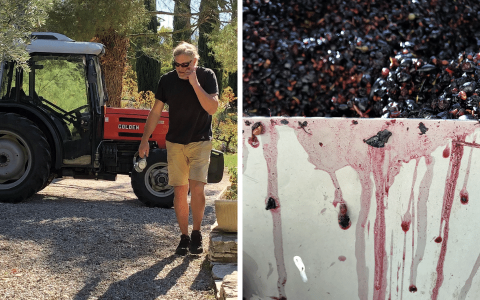 I reached out to Even, a Norwegian Viking I had met a few years back who makes magnificent natural wines in France's Ventoux region. I asked whether I could volunteer for a few days and as luck would have it (for me of course) he was eager to have a few people commit to a full season. His annual influx of labourers were groups of friends and family from Norway, the UK and the US, but 2020 wasn't allowing anyone to cross borders for any winemaker's grape harvest.
Tales of Even's mother's cooking had excellent reviews on the grapevine. Ragnhild used to run a restaurant in NYC a few decades back called Oslo and I was quite happy to hear that she would be preparing lunches for the harvesters in keeping with the Clos de Trias traditions. The idea of pairing an experience I had been eager to investigate with good people and epic lunches seemed just fine to me.
My morning routine had me waking up at 5:15AM to get to harvest by sunrise which, in mid-September is around 7AM. I'm not a fan of cutting my sleep short but the scenery along the 35-minute drive to the winery made it absolutely worthwhile every single morning. There's a reason so many people are drawn to the south of France. The landscapes are breathtaking. The way the sunlight transforms the hues of colour from deep and sleepy blues to warm pinks and yellows as the sun reaches for the treetops doesn't get old.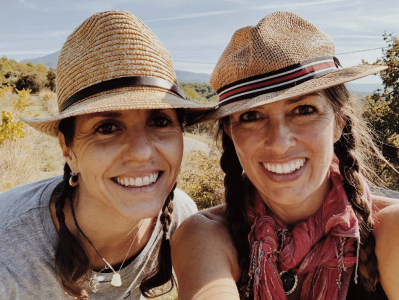 So with my partner-in-crime Vicki, a fellow guide at Butterfield & Robinson who, by a streak of serendipity, also lives in l'Isle sur la Sorgue, I'd drive to the winery and we'd meet where the WhatsApp group chat indicated we should meet.
Day 1
Day one was right in front of the winery. It was so hot that a swim in the 12 degree Sorgue was required upon return to my little town. This wasn't the case at all by the end of the harvest when the woollen socks, thermal underwear and Serbian hats made for an unexpected twist in the harvest fashion trends.
Even's wines are natural which implies no pesticides (whoop whoop!). All the little creatures and plants that wish to contribute to biodiversity are welcome. On hotter days, this sometimes makes for a couple of itchy bites and stings—but nothing lethal.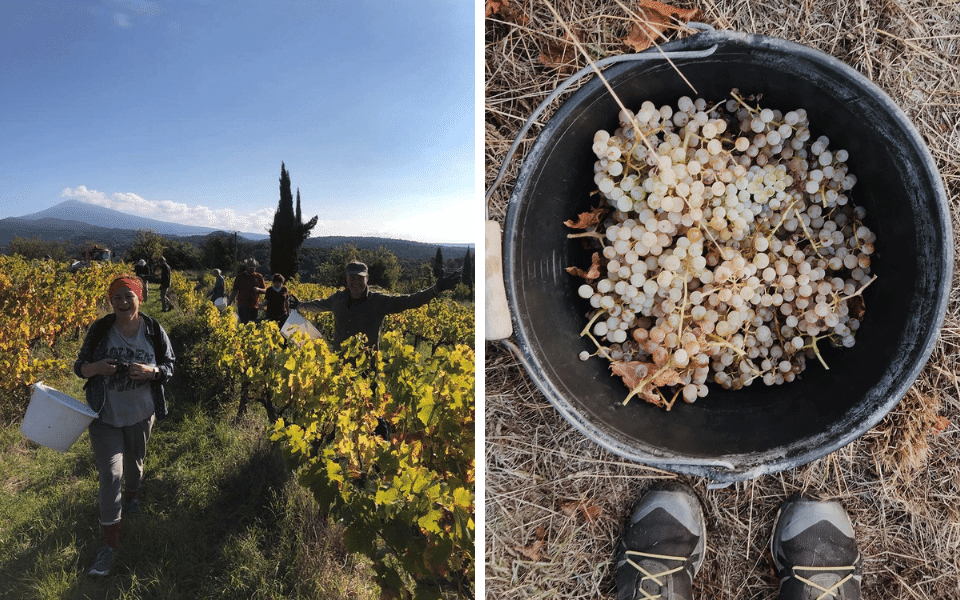 To begin we'd grab a round, black plastic bucket from the stack off the back of the tractor, grab a pair of harvesting gloves and our weapon of choice: secateurs or grapehooks. Knowing myself, I always went with the tool described as "less likely inflict self-harm", the grape-hook.
Abdel Majid usually drove the tiny tractor (aka Knut) that fits snug as a bug between the vines with a trailer. He would select the middle of five rows and in pairs of whoever was nearest, we would comb our way through a row of vines facing each other on opposite sides of the row. As the buckets filled up the tractor would move up the rows with us and buckets would get passed from person to person over the vines to get dumped in Knut's trailer.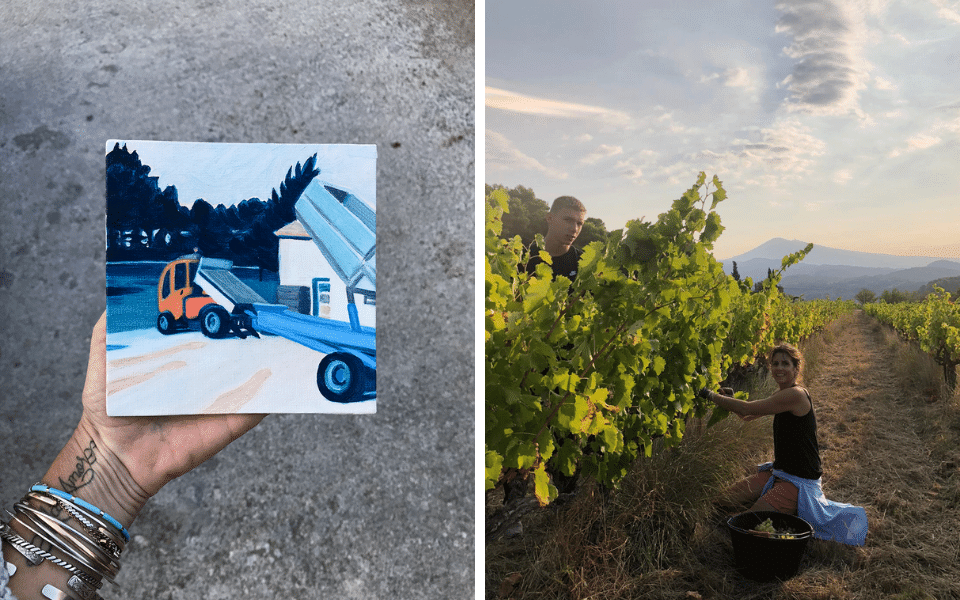 There's a beautiful poetry to the way the picking process unfolds. It allows for row-long explorations of conversation. After dumping buckets at differing paces, helping others complete unfinished rows and beginning a new row (upon Mr Magique's signal of approval biensûr), unfinished conversations are left to linger like a thread in the breeze, awaiting serendipity or intention to bring the same two characters together to complete the inquiry or philosophical exchange.
Sometimes the unfinished exchanges make for beautiful quiet contemplation. On occasion, I would work my way back from the tail end of the row on my own and enjoy the vivid experience of picking grapes… appreciating mindful encounters with a praying mantis, a ladybird or the personality of an old and twisted vine.
Alongside all of this in 2020 was the evolution of COVID, which everyone was viscerally aware of. Of course, social distancing was a challenge throughout the day but some days people wouldn't show and there would be talk of "fluey and a lost sense of taste" which would be followed by PCR tests and parents juggling challenging conversations with spouses over whether or not to alert the school about tertiary contact and such.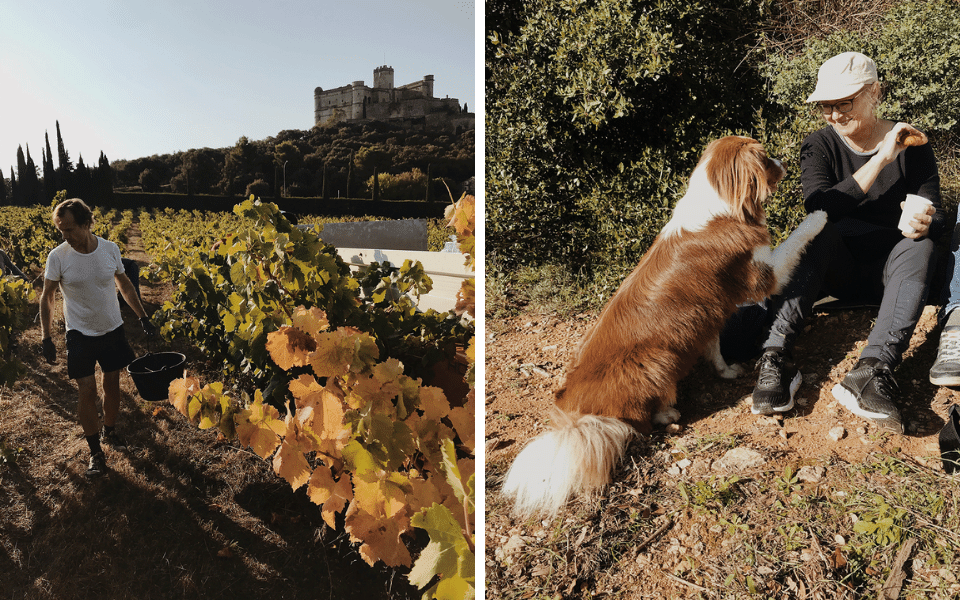 Harvest started at 7AM and around 10AM, Even Senior would appear alongside whichever parcel we were at in his car with a massive coffee flask and a few brown paper bags from the local Boulangerie bursting at the seams with a combination of croissants and pain-au-chocolats (chocolate croissants). I don't believe that this is standard procedure for wineries but I was damn grateful every morning that it was habitual for Clos de Trias. A little sit-down, a little caffeine and a break for the lower back while the tractor delivered, (under good circumstances) a full trailer-load of grapes to the winery and brought back an empty second trailer for the next session.
Once Knut was back, the croissants and coffee were consumed and the chatting, contemplation or inter-species exchanges resumed until the second trailer was full or that particular parcel was completely harvested.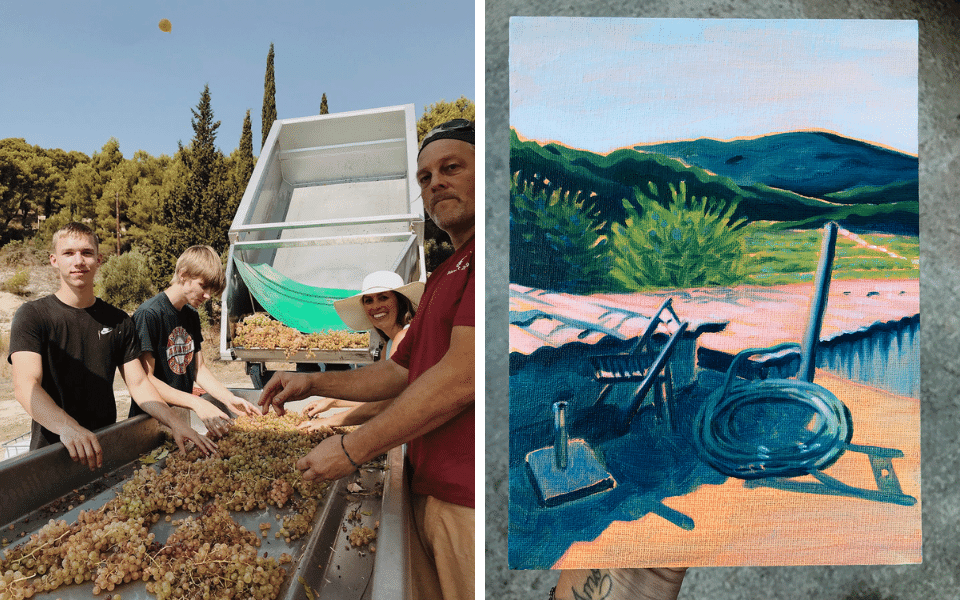 Once the day's picking was done we would then head to the winery where the sorting table had been magically set up (by the winemaker) complete with de-stemmer, pump and all the other bits and bobs (there are a good few moving parts). The trailer would get reversed and tilted towards the de-stemmer (for the red grapes) and once we were all there the sorting would begin.
The Sorting Table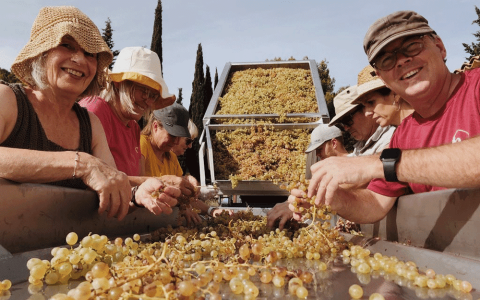 The sorting table was often brimming with interesting exchanges. We were often the same core characters for the harvest in 2020 but for a few new faces each week from which meant that there were big open conversations to be shared around the vibrating table while we were mindlessly removing leaves, stems and insects from the final selection of berries that rolled their way into the pump. 2021 Brought back many beautiful souls who have been volunteering their time and care for anywhere between 5 and 15 years.
The conversations helped to distract the mind from the aching back and shoulders. Almost all subjects were welcomed and people didn't seem to shy away from big questions. Sometimes philosophical, sometimes simple multi-cultural exchanges comparing different experiences and sometimes they were in-jokes between family members or old friends.
Lunch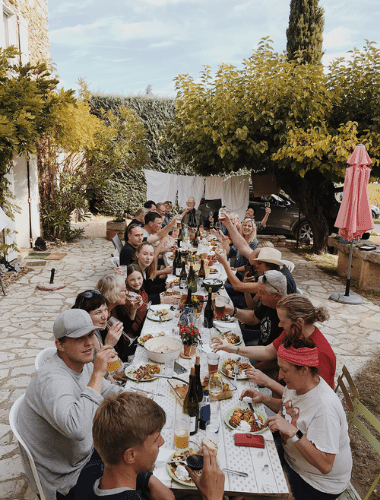 Aaaah, lunch. In order to describe lunch, I must give a little description of Ragnhild, Even's mother. I can only imagine how brilliant her restaurant must have been. There is no room for error with Ragnhild. A tall, elegant and graceful woman with beautiful ice-blue eyes and silvery grey hair who takes pride in everything she does and expects no less of her family.
There were no soups or quick solutions to lunch. Every single meal was complex, multi-faceted and made with great care and excellence. The food would not come out (to the sometimes 28 people) staggered, no, that would be unacceptable. Dishes were prepared to perfection in the kitchen, hot and ready to serve and they would be brought out when they were garnished and ready.
Meals ranging from Norwegian Salmon (obviously) pie prepared in separate parcels for two, magret de canard, slow-cooked pork and everything in between. There were often salads and vegetables and there was always a carefully prepared dessert served with a wad of whipped cream. She would usually have at least one assistant in the kitchen to help with preparations and at the end of lunch, there were usually a few women volunteering to wash up.
Over the course of the harvest, many opportunities presented themselves to connect with a beautiful variety of characters. As with guiding and the travellers I met on every trip, the characters I have met through these harvests have all been adventures. I love immersing myself in another's experience of life. A Norwegian fisherman's daughter, a Swiss programmer, an American PR specialist, a mother… a young soul in search of his true north—all the sorts.
2021
This year, the regular crew who has been participating in the harvest annually for 50–18 years was there at the start. There seemed to be a roster of people coming and going which then morphed into Even's sisters and their friends from Switzerland and the UK and some friends from the US.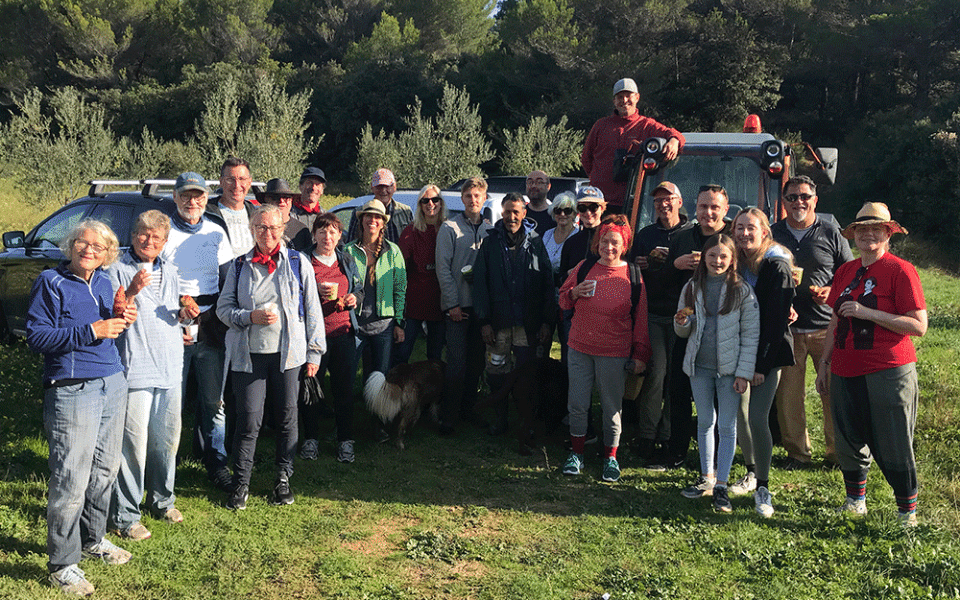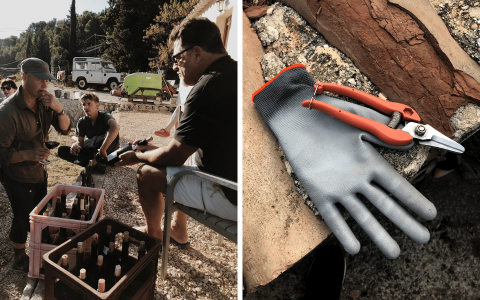 It hadn't occurred to me last year but not only does the wine-maker carry the responsibility of making decisions around eminent rainfall, harvesters available and ripeness vs potential rot… He's also delicately balancing the roster of people who have planned to come and with the quantity of ripe grapes. A balancing act that Even does incredibly gracefully.
Obviously, this isn't the case for most wineries, this one in particular is built on family, friends, consideration, fun and a great deal of love.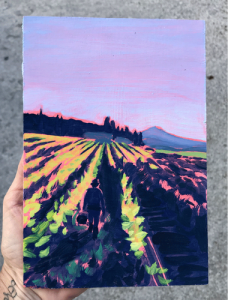 This year I decided that in order to continue to work on my art while harvesting, I would create a small oil painting every evening upon my return home to capture the day's harvest. I painted all but one day and it made for a great exercise in working a little more loosely and being less preciously. It didn't always pan out that way and some nights I got less sleep than others but it was a fun exercise.
I also ended up creating a limited-edition run of 20 riso prints inspired by a painting I made on the second day of Abdel Magique harvesting at sunrise. To order artwork or for more info contact me via www.tatjanabuisson.com or find me on Instagram.
If you're ever in the south of France and eager to taste some beautiful wines made with love, definitely go and see Even at Clos de Trias.
JOIN MORE THAN 70,000 FELLOW WANDERERS