Abbaye de la Bussière:


English Hospitality in the Heart of France
A former 10thC monastery converted into an incredibly charming Relais and Chateaux property with a Michelin-starred restaurant, the transformation of the Abbaye de la Bussière from spiritual to secular retreat could never have been predicted by the Cistercian monks who first built it.
Since 2005, this family-owned property has been overseen by Clive and Tanith Cummings, who themselves cut their teeth managing Clive's father's Relais and Chateaux property in England before they struck out on their own.
---
---
As I sit down with Clive in a high-ceilinged salon with a hunting lodge feel (complete with stag's head and stone fireplace), he's eagerly waiting to set up the perfect marriage proposal for a guest, who we spy on the terrace enjoying lunch with his unsuspecting fiancée-to-be.
"That's a good sign, they're very touchy-feely," he observes. (The couple has just helicoptered in straight from the French Open, and in this case, Clive has set up candles and Champagne in the abbey's crypt, complete with a professional photographer lurking to capture the moment of truth.)
Our friends at the Abbaye have long been accustomed at this point to the sight of B&R bikers arriving, ready for five-star refreshment and rest after a long day of pedalling through Burgundy's vines.
Experience Burgundy With B&R
Scheduled Biking Group Trip
To Burgundian locals, time is measured by the season. On our Burgundy Biking trip, it's by the kilometre, the meal and the vintage. We fell in love with this place 30 years ago and have made it our second home ever since. One visit, and you'll understand why.
DETAILED ITINERARY
Self-Guided Walking Trip
What's red and white and Michelin-starred all over? Walk through the world's most famous vineyards on our Burgundy Self-Guided Walking trip. Excellent hotels, show-stopping cuisine and ecstatically good wines: it's your time to step, sip, and savour.
DETAILED ITINERARY
Should you have a chance to ride along on our Burgundy Biking trip, you'll arrive via a driveway tracing a path along a tranquil lake, dotted with large-scale bronze sculptures by the British artist Paul Day (who lives down the road and is known to pop in for a chat or two). You may even be greeted by Clive, equally at home in his suit, or waving at you from atop a tractor, clad in overalls as he mows the lawn…or perhaps you'll be greeted at reception by any one of his three children, who are known to occasionally lend a hand over the summer.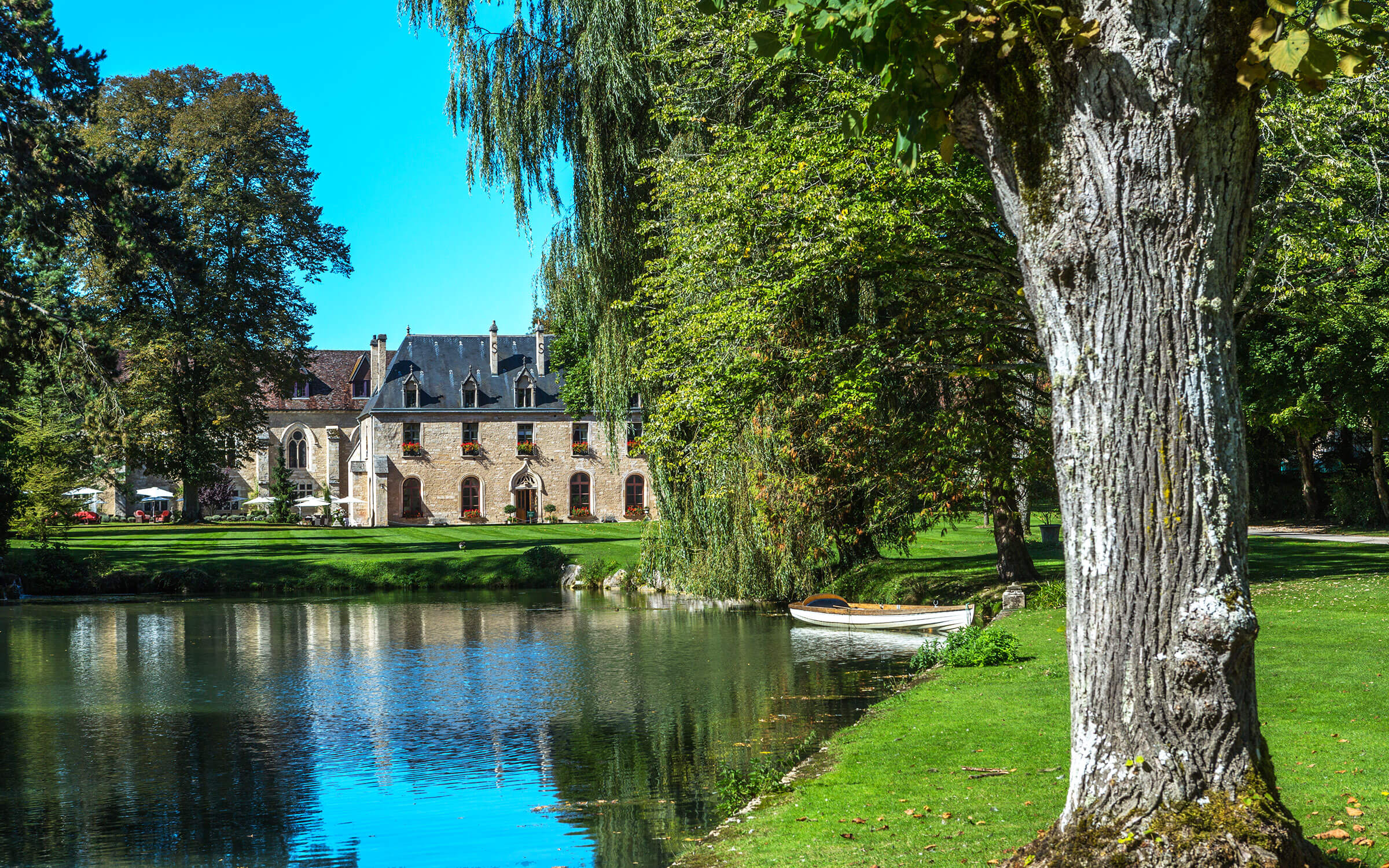 "We just love what we do; it's a way of life. I'm a hotelier and restaurateur by trade. There's the fun of the day-to-day hotel business; working in the kitchen, getting to know our guests, and just making sure people enjoy their stay," he says. "It's more than a hotel to me, you know. I could have made it into a box-standard, boring, run-of-the-mill place, but I am trying to bring a bit of 'theatre' here as well."
We couldn't agree more that life needs a little bit of excitement and imagination. (We like to think you can get it on a B&R trip). And what of the day's excitement, centred around that marriage proposal? She said 'yes'!
JOIN MORE THAN 70,000 FELLOW WANDERERS