Notes From the Road:


Southwest France Biking

My heart quickens as I think of this hidden corner of southwest France.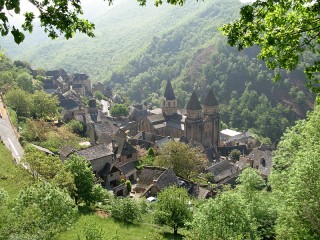 Its dramatic cliffs, perched medieval villages, the stillness, the remove from the noises of modern life. This is an exhilarating escape for cyclists, along the crest (crete) of the Lot Gorge, with its spectacular, plunging views, extreme vistas and the 12thC Abbey of Conques clinging to the pinnacle of cliffs rising from the lush river valley below—a sacred stop for pilgrims en route to St. Jacques-de-Compostelle in Spain. Don't miss the exquisite tympanum of the Last Judgment.
All this rugged beauty, the cobblestoned lanes, the serenity of life make spectacular companions to the comfort of our accommodations: from a traditional medieval castle in Cahors, the birthplace of the Malbec grape, to a charming old water mill outside of Conques and finally to the 3-star Michelin restaurant of Michel Bras, with its very contemporary rooms designed by Phillipe Starck.
There will be fresh vegetables and herbs from their large gardens by the river. Maybe even some aligot, a delectable dish of whipped potatoes, garlic, crème fraiche and cheese from Laguiole, originally served to pilgrims and so delicious with Cahors red wine. There will be saffron and crepes and walnuts. There will be truffles.
In short, there will be satisfaction.
See for Yourself
On our Southwest France Biking trip, cycle the rolling hills through the vineyards of Cahors, relish in the incredible lush scenery of the Lot Valley and explore the immaculate fields of the Aubrac. Satisfaction indeed.
DETAILED ITINERARY
JOIN MORE THAN 70,000 FELLOW WANDERERS