A Timeline of

Bastion Ste. Anne

,
Beaune's Most Charming Hidden Hideaway

Behind an unassuming door in the rampart wall that surrounds one of France's most beloved food and wine towns lies a secret garden. Nestled within it, you'll find a beguiling hideaway for two: Bastion Ste. Anne.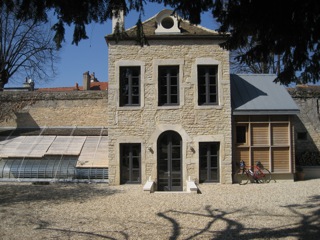 Today a National Historic Monument, Bastion Ste. Anne has been transformed into an idyllic retreat by internationally acclaimed architect Jack Diamond, working within the rigorous restrictions of les architectes des batiments de France. Throughout the house, ancient stone walls are juxtaposed with clean, contemporary design.
On a chilly night, guests of the Bastion can curl up in the greenhouse-cum-living room with a good book, then let the dark close in on the glass walls as the fire blazes. Foodies will thrive in the contemporary, elegant and perfectly functional kitchen, where goods purchased at Beaune's Saturday market can be prepared with care.
One window in the house's loft offers a bird's eye perspective on the property's spacious garden and fruit trees; through another, see Beaune's picturesque rooftops spread out before you. When you're ready to retire to the master bedroom, you can take in a bit of history as you notice the ancient numbers painted thickly on the stones around you—they were the guards' way of recording ammunition inventory centuries ago.
Bastion Ste. Anne: A Timeline
13th Century
A stone wall is built around Beaune to control the flow of grapes coming into (and prized Beaune wine going out of) the city.
1477
After the last Duke of Burgundy is defeated, Beaune refortifies its walls against the threat of invasion by King Louis XI.
1637
A key addition to the city's fortifications is built in the Thirty Years' War, and the idyllic Bastion Ste. Anne is born.
Early 1700s
Against the northern wall, an arms cache and office for the guard is constructed – the gem-like house that still stands today.
Late 1700s
The city ramparts are transformed into wine cellars – but not the walls of Bastion Ste. Anne, which were made from solid stone to better support cannons.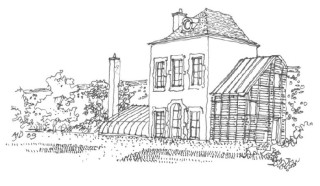 1890s
The house becomes home to the gardener who tends the grounds, and an adjacent greenhouse is erected.
Early 20th Century
The gardens flourish, the orchard grows, and livestock roam within the walls as the city and the world outside evolve.
2008
The Bastion Ste. Anne is transformed into a private hideaway, as the building is restored and reinvented by famed architect Jack Diamond.
JOIN MORE THAN 70,000 FELLOW WANDERERS