Cuisine 101:


Charente-Maritime Cuisine

Oysters and seafood are the stars of Charente-Maritime cuisine, particularly along the coast where producers are renowned for arguably the finest oyster cultivation techniques in the world.
Oysters: The Jewels of Charente-Maritime
Oysters are the jewels of Atlantic France. The region's coastal waters are a veritable shellfish garden, home to some of the finest oyster producers in the world, revered for their commitment to the finest tasting, best quality oysters on earth.
Marennes-Oléron
In the waters along the coast of the Charente-Maritime department lies the world-famous oyster cultivation area of Marennes-Oléron. The region stretches across the Atlantic from the Charente River estuary along the mainland coast to the Île de Oléron—and south to the commune of Marennes. It is by far the largest oyster cultivation area in all of Europe, producing 45,000 to 60,000 tonnes every year. Oysters are grown in protected salt flats or growing basins called "claires" that create a unique environment thanks to tidal waters that continuously refresh, removing impurities. Sunlight is able to penetrate these shallow claires, encouraging the growth of nutrient-dense algae that oysters feast on. Oysters raised in claires are bigger, juicier and—according to many oyster aficionados—superior tasting.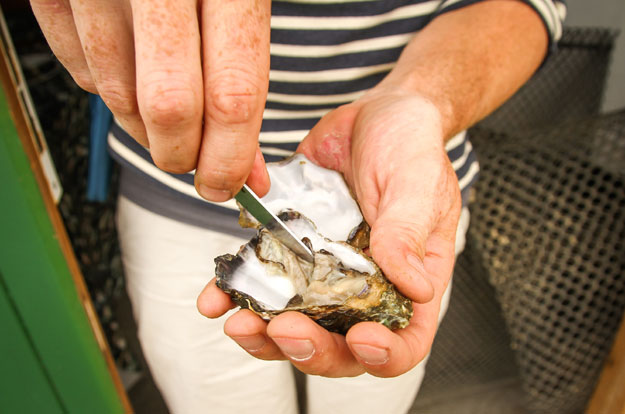 Mussels
Apart from oysters, Atlantic France is also renowned for its mussels. Moules have been farmed in the Poitou-Charentes region for the past 800 years and are farmed with a traditional method using wooden stakes, rope and netting cast into tidal zones. They are harvested about two years later. There are two popular ways to eat mussels in Poitou-Charentes: With a mouclade sauce of butter, garlic, shallots, white wine, curry and saffron—or the eclade method. Eclade is often done on a beach but you will also find it at restaurants along the cost; it involves cooking mussels with burning dried pine needles. The scented smoke and resin add an extra level of flavour.
Still hungry?
Oysters and mussels are no doubt the stars of Charente-Maritime cuisine, but make no mistake: they're far from the only delicacies on offer. Click here for a (mouth-watering) round up of the region's other delicacies.
JOIN MORE THAN 70,000 FELLOW WANDERERS