The Order of Burgundy
Born and raised in Beaune, Burgundy, I naturally love wine. I sometimes like to tell people that I was born in a barrel. This is not true. (But you should see their faces when I say it with enough confidence.) I also sometimes like to tell people that wine flows through my veins. That one is (kind of) true.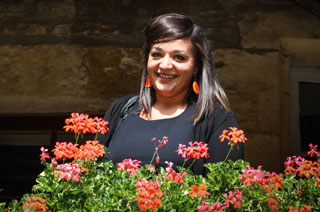 Wine is what makes Burgundy so special, so attractive. Wine brings people to my city, to my country. Wine comes from beautiful and endless vineyards that amaze everyone who sees them turn from green to golden throughout the year; it is the fruit of passionate and hardworking people. Wine is what brings people together, chez moi.
There is always a good reason to drink wine: to celebrate the arrival of summer with a glass of rosé (with olives, and boules, bien sûr), to raise a glass for your friend's birthday, to cheers to the end of a long week of work, to share a romantic dinner with your lover, or simply to have a tête-à-tête with the bottle by yourself on a lonely night. (You need to be responsible, of course, but no one will judge you if you do – at least not in Burgundy.)
B&R has made Beaune its home since the 1980s and I have made B&R my home for 10 years now, after I graduated from the University of Burgundy – with, you guessed it, a Masters in Tourism Management specializing in wine tourism. It's always fascinating and incredibly interesting for me to share the stories of my native land with all our guides from all over the world.
Experience Burgundy With B&R
Scheduled Biking Group Trip
To Burgundian locals, time is measured by the season. On our Burgundy Biking trip, it's by the kilometre, the meal and the vintage. We fell in love with this place 30 years ago and have made it our second home ever since. One visit, and you'll understand why.
DETAILED ITINERARY
Self-Guided Walking Trip
What's red and white and Michelin-starred all over? Walk through the world's most famous vineyards on our Burgundy Self-Guided Walking trip. Excellent hotels, show-stopping cuisine and ecstatically good wines: it's your time to step, sip, and savour.
DETAILED ITINERARY
I was discussing it just the other day with one of our guides: what I love best about wine is that there is a story to be told behind each bottle, whether it be about the winemaker, the millésime, the appellation, where you bought it, who you tasted it with, what you ate with it, where you were when you opened it… And get this, the stories get better the more bottles you open!

This spring, a small crowd of staff and guides decided to turn this passion into action, and the "Order of Burgundy" was born. The rules are simple.
The  Order of Burgundy
1. The committee gets together, but we don't need all members to run a session. Special guests are always welcome.
2. Everyone brings a bottle of wine in accordance with a chosen theme. It could be a special vintage, a special variety, a chosen appellation, etc.
3. Blind tasting. Everyone takes a guess. (Sometimes two.)
4. We open our "Bible," a massive book full of maps, and look out for the parcels, for more background information.
There's no prize to win – just fun. And a little bit of pride when you guess it all right on the first go (and we exclude the "luck" factor, always). Above all: we learn, we laugh, we share. What else?
We're not obnoxious or trying to know everything about wine. We just enjoy its colours, its flavours, its stories, and its passionate people. OK fine, we may be wine nerds, but we're proud to be.
Santé!
JOIN MORE THAN 70,000 FELLOW WANDERERS