Cuisine 101:


7 Delicious Chilean Dishes

Freshness and variety are the hallmarks of Chilean food culture, thanks in large part to its unique geography and climatic diversity. The sheer length of Chile's Pacific coastline ensures a wide variety of fresh seafood: the country's waters are home to several unique species of fish, molluscs, crustaceans and algae.

Sunshine, mountains and coastal breezes contribute to the growth of a wide range of fruits, vegetables, and agricultural products. The roots of the country's cuisine stem from a combination of various indigenous dishes, Spanish influences and the availability of local ingredients. Later influences came from other European food cultures (most notably, Germany, Italy and France).

Chileans love meat and when it comes to beef, they prefer to eat the locally produced grass-fed variety. Chilean cattle are generally raised in small herds and are typically fed a diet of mineral-rich prairie grass rather than corn; the combination produces leaner, albeit tougher beef due to the lower fat-content.
Traditional Chilean Dishes
The endless list of traditional dishes in Chile is as varied and unique as the country itself. Be sure to try at least a few!
Empanada:
Popular throughout Latin America, Chilean empanadas tend to be a bit on the larger side. The pastry is made by stuffing a circle of dough with filling to form a half-moon with crimped edges. In Chile there are three basic varieties: empanada de mariscos (seafood), empanada de queso (cheese), and—by far the most popular and traditional—the empanada de pino (a mixture of ground beef, onions, raisins, black olives and hard-boiled egg). The name comes from the verb empanar, meaning to coat or wrap in bread.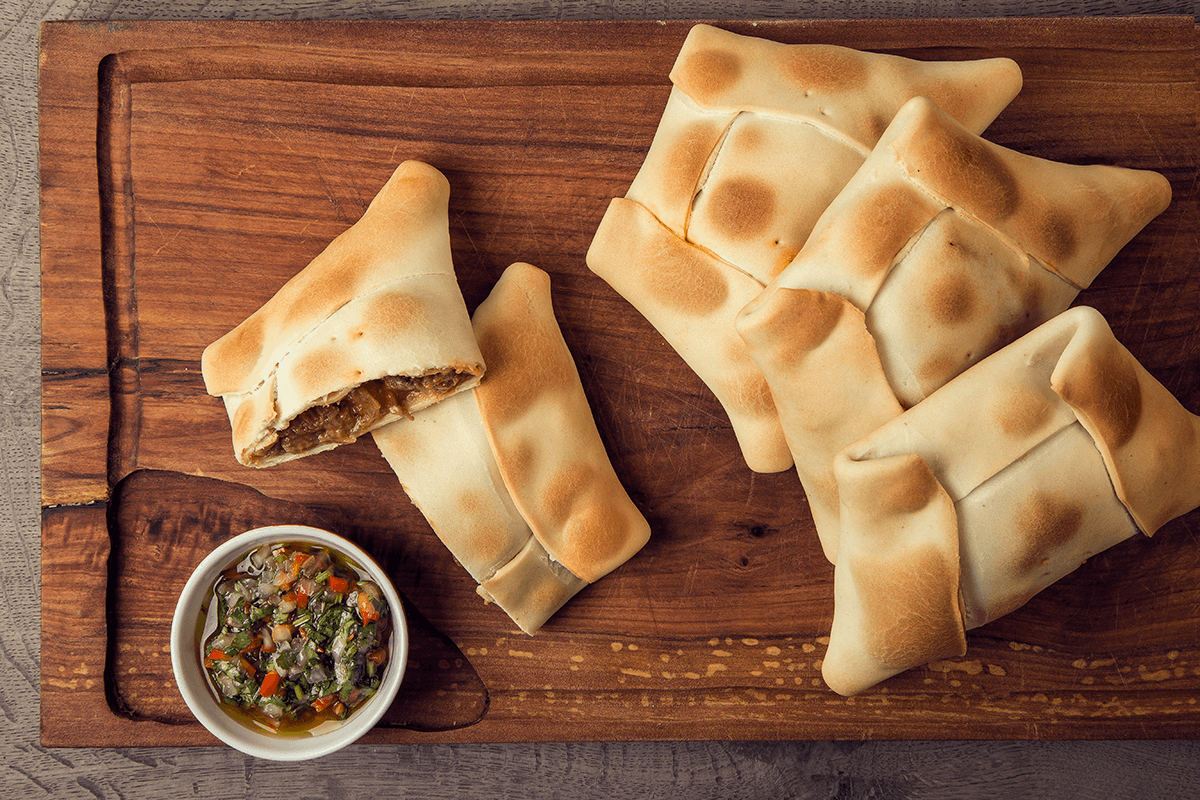 ---
Pastel de Choclo: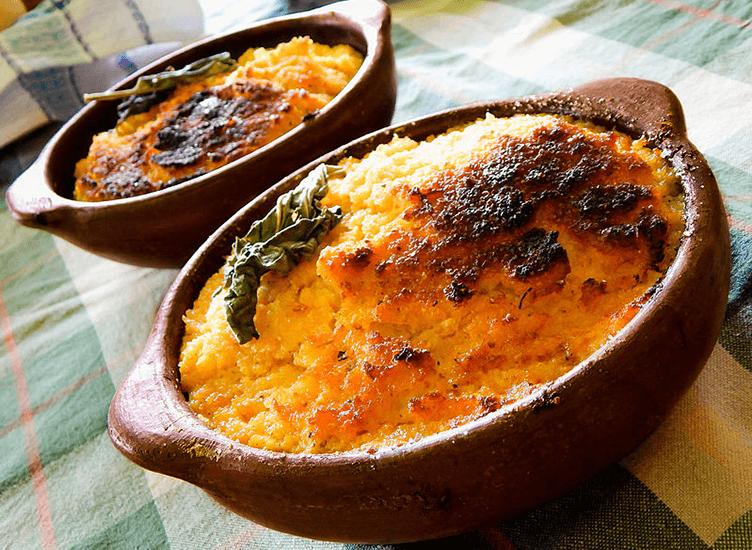 One of the most loved comfort foods in Chile, pastel de choclo is a dish made of choclo (ground sweet corn), beef, chicken, onions, black olives and hard-boiled eggs covered with a corn dough crust and baked, typically in an earthenware bowl known as a paila.
---
Curanto: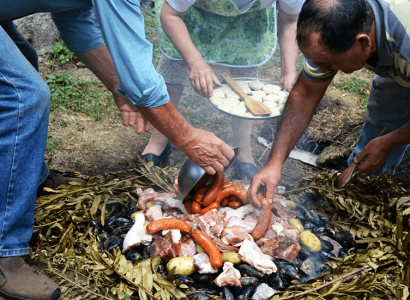 Curanto is a traditional food of the Chiloe Archipelago that is popular in southern Chile. Archaeologists who found a 6,000-year-old curanto dish in Puento Quilo say it may be one of the oldest food dishes in the world. Curanto consists of shellfish, fish, cuts of beef, chorizo, potatoes, vegetables and chapaleles, a dumpling made from boiled potatoes and flour. Quantities are not fixed; the idea being that there should be a bit of everything. It is eaten with a type of bread known as milacao.
Traditionally, the dish is cooked in a hole that has been dug in the ground to create a deep underground stone oven. Once the stones are hot enough, the ingredients are mixed with seasonal herbs and wrapped in nalca leaves (Chilean rhubarb). The food is then covered with wet sacks, dirt and chunks of grass, creating a giant pressure-cooker effect. Curanto can also be cooked using modern methods: in a large stew pot or pressure cooker.
Experience Chile With B&R
Scheduled Biking Trip
Warning: with superb picnics, barrel tastings, feasts galore and the one-of-a-kind, avant-garde Hotel Viña Vik, Chile may give you beauty fatigue. Experience it all on this scheduled Chile Biking trip.
DETAILED ITINERARY
Private Biking Trip
Dominated by the Andes and the Pacific, Chile's mix of European and indigenous influences imbue it with an old-school, European feel—and on our Private Chile Biking trip, you'll take it all in on two wheels.
DETAILED ITINERARY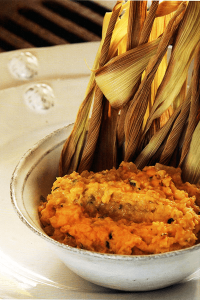 Humitas:
Humitas originated as an indigenous dish and are made from fresh ground corn, sweet basil, butter or lard, onion and paprika. The mixture is wrapped in corn husks and tied with string or strips of corn husk, then baked or boiled. Chilean humitas can be savoury, sweet, or sweet and sour.
---
Caldillo de Congrio:
Nobel Prize winning-poet Pablo Neruda immortalized this classic Chilean coastal soup in his ode, Oda al Caldillo de Congrio. The hearty mixture combines conger (a type of eel), potato, carrots, cilantro, onion, garlic and cream and is served with marinated, boiled or fried conger.
---
Paila Marina:
This traditional seafood soup or light stew is usually served in an earthenware bowl. It typically consists of various fish and shellfish in a base of shellfish stock, with herbs and spices such as paprika and parsley.
---
Manjar: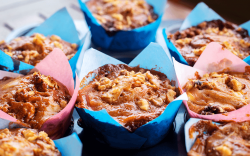 Manjar is the Chilean term for a confection considered to be similar or the same as dulce de leche, a deliciously sweet treat made by slowly heating sweetened milk until it caramelizes. In Chile, Manjar is typically eaten like a spread or used on cakes, ice cream and cookies.
JOIN MORE THAN 70,000 FELLOW WANDERERS