Bespoke Stories:
An "Off-the-Grid" Adventure for a Father & Son in Peru
It's a running joke in my family that I came out of the womb ready to travel. By the time I was six months old, I already had my own frequent flyer number and would accompany my parents on trips as far away as South Africa, Tahiti, and Cape Horn.
Wanderlust is in my DNA (my mom was a pioneer in the travel industry), and it's safe to say that I know a thing or two about family adventures around the globe. So when a traveller came to me requesting a 10-day action-packed Father and Son trip through Peru, I was up to the challenge.
One of my favourite things about being a B&R Trip Designer is planning a Bespoke trip. Of course, every B&R trip offers an exciting combination of challenging activities, inspiring cultural experiences, one-of-a-kind properties, incredible restaurants, and a completely unique perspective on the region, but Bespoke trips are a kind of travel alchemy – an opportunity to create something truly magical. And this trip had magic in spades.
My first call came from an energetic woman named Linda. "I'd like you to put together a trip for my husband and son." she said. "My son is currently doing his residency and he hardly has any time off so we have a small window, but I know B&R can pull off something spectacular and give them the trip of a lifetime."
After touching base with Linda's husband Craig to find out what was on his must-see list, I began pulling together the perfect trip. "We'd love to see Machu Picchu," he said, "but I think it would be great to have some more 'off-the-grid' experiences – a chance to get out of our comfort zone. Take us by bike, on foot, whatever you recommend. We want to see the best Peru has to offer, and we're not afraid to get a little muddy in the process." That was all I needed to hear.
My own experience with Peru began (as the best experiences often do) through happenstance. It was 1:00 pm on a Tuesday when my boss said, "Veronika, how do you feel about going to Peru… at three o'clock?" I was packed in an hour and the rest is history.
Now I get to share Peru's colourful culture and spectacular beauty with B&R travellers, crafting trips that take them hiking through the Sacred Valley, swimming with pink dolphins in the Amazon, and sipping Pisco sours in Arequipa at sunset.
This bespoke Father-Son itinerary was the perfect opportunity to showcase Peru's extraordinary array of adventures. Ten days. Hiking. Biking. Rafting. Countless 'wow' moments. And carte blanche to create an unforgettable trip.
---
DAY 1
ARRIVAL IN PERU'S COLOURFUL CAPITAL
Because they live in different cities on the West coast, dad Craig and son Josh met up in Lima, Peru's bustling capital city.
While the temptation to stroll through neighbourhoods dotted with pre-Incan ruins, or visit the Colonial mansions and architecture of the conquistadors was strong, these savvy travellers opted for a low-key entry, getting their fill of sleep that would serve them well for the following 10 days.
---
DAY 2
HIGH ALTITUDES AND HIGH EXPECTATIONS
After a short flight to Cusco, they headed to the Corso mountain pass where the adventures began!
Craig and Josh are skilled mountain bikers, but since this was their first day of cycling in the high altitudes, I started them off easy, allowing them to slow down to (ahem) see the world.
Several hours, fifteen kilometres, and one delicious local lunch later they were a little dusty from the dirt path but riding high on the spectacular scenery and ready to unwind at their hotel, cocktails in hand.
See Peru 
Your

Way

The Sacred Valley of the Incas sounds, smells, looks, and feels like Narnia, Neverland, and the garden of Eden all wrapped in one. It is imagination realized. And overlooking this great valley—in all its magic and magnificence—is Machu Picchu. Discover the best of Peru on a Bespoke Peru adventure tailored just for you.

START PLANNING
DAY 3
50 SHADES OF COLOUR
With its traditional vibrant fabrics and fantastical rainbow mountains, Peru is known as one of the most colourful countries in the world, and today's activities lived up to the claim.
Craig and Josh's ride began in the fields of the Chinchero plateau where potato, bean, corn, kiwicha, and quinoa crops create a patchwork of colours across the land.
With the snow-capped Urubamba mountain range in the background, it was a ride to remember, full of fast descents and glimpses of local culture in the Sacred Valley.
Outside the town of Moray, they hopped off the bikes to explore the Incan terraces, a luscious green paradise of concentric circles that took their breath away.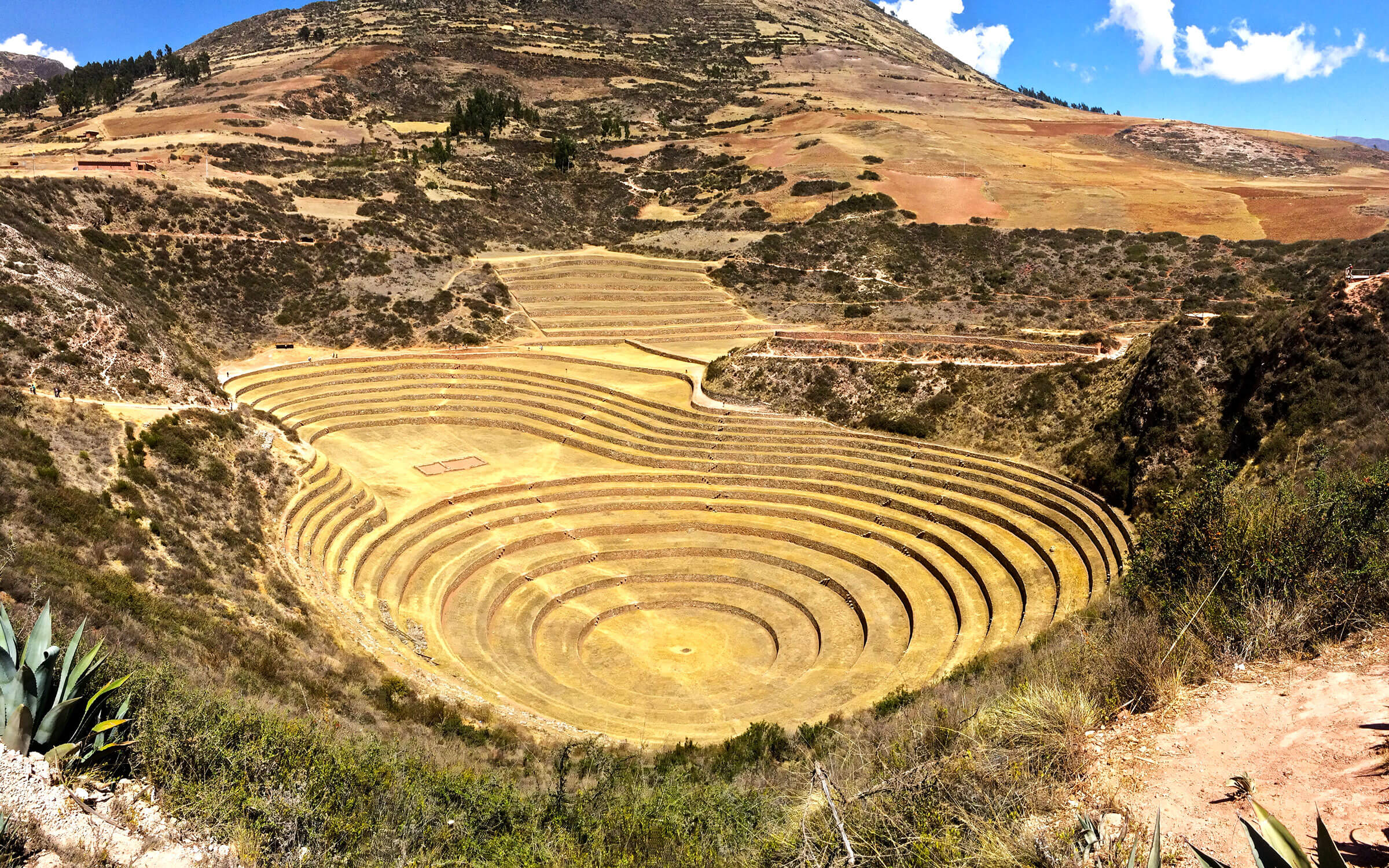 While no one knows the exact purpose of the terraces, they're thought to be an early feat of scientific engineering by the Incans, an in-situ laboratory where they could study crops and experiment with different microclimates to see what conditions were best suited to what species.
They also managed to modify, adapt, and hybridize some crops, just one of the reasons that today, Peru is home to 2,000 different varieties of potatoes.
Thankfully, while potatoes did make an appearance on trip (you can't visit Peru without feasting on a rainbow of organic chips served as an appetizer at virtually every restaurant), there were myriad other delicious dishes for Craig and Josh to try during lunch at the home of Tat, a local friend of B&R and a pretty fantastic cook.
After lunch the boys headed to the Maras salt pans where they discovered just how many shades of pink there can be. For hundreds of years, local Peruvians have been harvesting pink salt from the geometric pools that cascade down the valley like a series of uneven steps.
I scheduled some time for Craig and Josh to walk among them, observing their methods and marveling at the ancient tradition, even getting to sample some of the goods!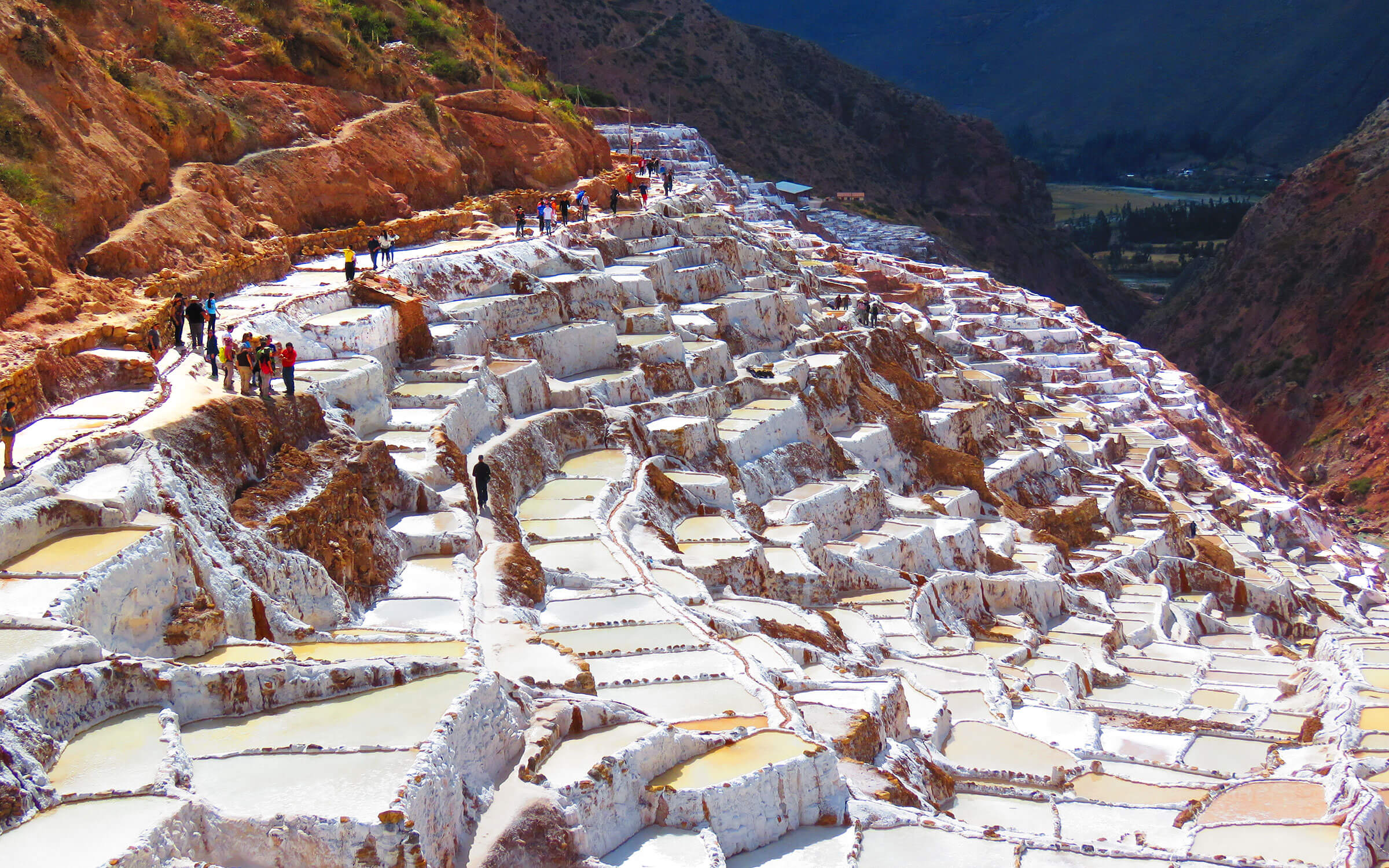 DAY 4
INCAN TRAILS & TOMBS
Since Craig and Josh were avid mountain bikers, I knew they could step things up on Day 4 with an amazing ride through the Lares Mountain Pass to the village of Calca. High altitude pedalling is no joke, but both father and son were up for the challenge, settling into a steady rhythm high above the Sacred Valley.
The climb paid off with one of the best descents in all of Peru – a mix of dirt roads and ancient trails that wind through small farming communities and across original Incan steps, ending at the tombs built into the cliff face of the Totora Canyon.
All in all, the gents completed a mighty 1,400-metre descent, earning a very well deserved rest at the evening's hotel, the luxurious Tambo del Inka, a spectacular respite in the middle of an enchanted region.
---
DAY 5
THE LOST CITY OF MACHU PICCHU
When a traveller makes a request on a Bespoke trip, it's my job to make it happen, but in true B&R style I didn't just want Craig and Josh to visit Machu Picchu, I wanted them to experience the Lost City in all its glory.
The morning began with a train ride along the Urubamba River through the Canyon of Vilcanota to the Lost City of the Incas.
At KM 104, they met up with Carlos, a local Machu Picchu expert, who led the guys along the final passage of the Inca Trail through impressive archaeological sites as he explained the history of Incan engineering and architecture.
They arrived at Inti Punku, Machu Picchu's impressive gate, after lunch, and, as most people were leaving the site, they were able to sit in silence and watch the sun set on the citadel, marveling at one of the new Seven Wonders of the World.
---
DAY 6
SCALING NEW HEIGHTS
Before saying goodbye to Machu Picchu, Craig and Josh took one last opportunity to take in the majestic 360-degree views from Machu Picchu Mountain, the site's highest peak.
Skyscraping Andean peaks tower in the distance while the Urubamba River wraps itself around the mountain site.
Inca priests once performed rituals on this site, and when you stand there now, you can almost feel their power electrifying the air.
---
DAY 7 to 9
A RIVER RUNS THROUGH IT
Aside from being fit, fierce, mountain biking fiends, Craig also revealed during one of our discussions that he and Josh are avid white water rafters.
They couldn't have picked a better spot than Peru and, as the cherry on top of an already exhilarating trip, I planned a three-day rafting adventure that would send them off on a high.
They set out from the Huallpachaca bridge, spending three days, paddling and exploring the Apurimac River through intermediate- and advance-level rapids. They drifted past granite cliffs and portaged across rocky trails.
They ran infamous rapids including – "The Purgatory", "Space Odyssey", "Tooth Ache", and "Babalua" –traversed canyons and ate like kings before ending each day on a sandy campsite.
Up for anything, father and son "roughed" it, B&R style, because while five-star hotels may not always be necessary on a B&R trip, unique, breathtaking, immersive experiences certainly are.
---
DAY 10
ADIOS PERU
Having travelled back to Cusco the night before, Craig and Josh were ready to start their trip home, sad to say adios to Peru, but excited to share stories with their family and friends about their adventures in this magical Incan land.
And I was thrilled that, with this one-of-a-kind Bespoke father-son adventure, we had once again made dreams come true.
---
Start Planning Your Dream Trip
(Or better yet—let us!)
Ready to go on your own unforgettable adventure? Have the perfect trip in mind? Whether it's somewhere you've always dreamed of going or something you've always dreamed of doing, our expert Experience Designers specialize in turning fantasies into reality. Contact us to start planning.
JOIN MORE THAN 70,000 FELLOW WANDERERS