A Boat Cruise Around the Galapagos Islands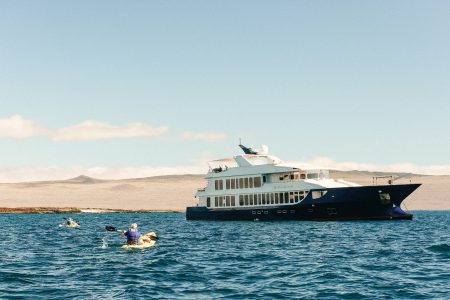 Following my explorations on the mainland, I was fortunate enough to join an island cruise aboard the MV Origin.
Cruises in the Galápagos allow travellers to see more distant islands like Fernandina or Isabela, as passengers sail overnight and wake up in a new destination, ready to explore. My time aboard the Origin was just that—an exploration. Every day was a new island, bay or cove, an adventure and a learning experience.
Naturalists will take small groups of 8-12 passengers on various activities such as snorkelling, walking/hiking, kayaking and panga (zodiac boat) rides over the course of the day. There is always something to see and do, and travellers are never bored. In fact, you are so engaged in all of the different environments, vegetation and wildlife each day that you welcome the opportunity for an afternoon siesta on the ship's sun deck.
Don't Miss Out!
The Galapagos Islands are a modern-day Eden, and as you can imagine, space books up quickly, so be sure to reserve your space. Check out an itinerary below, or email veronika.macas@butterfield.com for more info.
DETAILED ITINERARY
Wildlife as Unique as The Islands Themselves
All of the islands in the Galápagos are unique, differing in landscape, plant life, and animals. Most islands have species and foliage that are exclusive to that particular island and not found anywhere else on earth. Animals in the Galápagos do not fear humans, which at first is hard to wrap your head around. But with few predators on the islands, the animals live in leisure.
They are fascinating creatures, living in perfect harmony, and are ever-evolving and making use of what each island offers. For example, on Isabela you'll see sea lions napping on (yes, literally on!) marine iguanas, both of them living alongside crabs, cormorants, Galápagos penguins and blue footed boobies.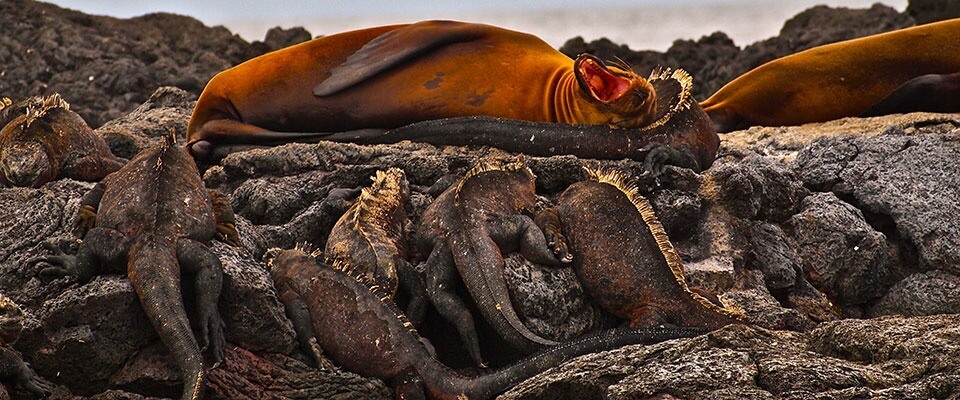 San Cristóbal, meanwhile, features thundering mountains built up by years of volcanic ash on one side of the island, and the most picture-perfect, sea lion-clad beaches on the opposite side. There are islands like Floreana, whose waters are so crystal clear that you can see sharks, sea turtles and rays swimming in the bay from atop the Baroness's lookout, and later snorkel with playful groups of sea lions at Post Office Bay.
The enchanted isles are just that, a safe haven for all those who live and visit the Galápagos. While I may have been amiss thinking that I had landed on Mars, the Galápagos does feel like a fantasy land, but not another planet exactly—more like Eden. They are like no other place on earth, and I hope it remains this way forever.
JOIN MORE THAN 70,000 FELLOW WANDERERS