Cuisine 101:


An Introduction to Andalusian Cuisine

At this point, we've all heard of tapas. And, yes, Andalusian cuisine has long been famous for it (and justifiably so). But there's so much more than just tapas going on here. A majority of Andalusian dishes contain a wide array of ingredients, including olive oil, fish, nuts, red wine and fruit, among others. Below, I've outlined some of my favourites.
---
A Brief Introduction to Andalusian Cuisine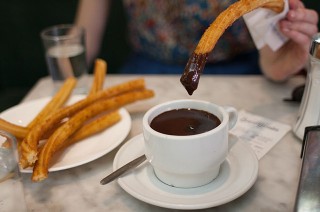 Churros con chocolate
A great breakfast treat—assuming, of course, your stomach can handle these long, tubular doughnuts served with thick drinking chocolate. (Sidebar: Are there two words in the English language that sound better together than "drinking chocolate"? Didn't think so.)
Serrano ham
A ubiquitous pork product in Andalucia, Serrano ham embodies the farm-to-table ethos; it's produced from locally raised pigs.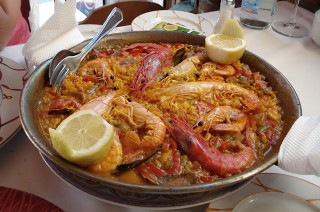 Paella
A base of golden, saffron-flavoured rice dotted with chicken, pork, shellfish and calamari.
Sweets
Plentiful in Andalucia, many of the local sweets originate from Arab traditions. Tocinos del cielo are made by nuns in convents, and polvorones, mantecas, alfajores, roscos de vino and other treats come from a village in the Sevillan province of Estepa. Pestinos and torrija, are an Easter week treat of bread soaked in wine, coated with egg, then fried and covered with honey. Mostachones are egg flans, and carne de membrillo, from Puente Genil, is an aniseed, ring-shaped biscuit.
Feeling inspired to taste your way through Andalucia? Get in touch with Christine Tucker to see how she can start planning your perfect Andalucian escape.
Gazpacho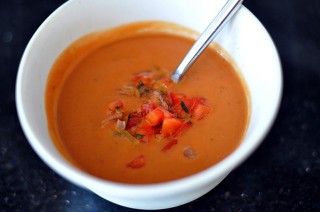 Perhaps the best-known Andalusian food. Known as the "liquid salad," (not quite the same ring as "drinking chocolate," right?) gazpacho is a cold soup made from water, tomato, onion, cucumber, green peppers, breadcrumbs, salt, oil and vinegar. Additional chopped cucumber, croutons and pepper are added to taste. Of Semite origins, gazpacho is normally eaten at the midday meal. There are various styles of gazpacho: Andalusian style, ajoblanco, a specialty of Málaga, is made with blanched almonds and served with either peeled muscatel grapes or chunks of honeydew melon. Antequeran style, salmorejo, is a Córdoban speciality, and is a denser version prepared without water. Other versions include cachorrenas, remojones, alboronias, and gazpacho verde, the latter of which are from the Huelva province. Gazpacho verde is made from parsley and other green herbs in place of tomatoes.
Tostadas
These toasted rolls may be gentler on your stomach than churros. They can be eaten either with oil (con aceite), butter (con mantequilla) or jam (y mermelada).
JOIN MORE THAN 70,000 FELLOW WANDERERS