Our Favourite Coastal Walk Right Now: Mallorca
Tired of winter? Slough off the seasons on the little island of Mallorca, my favourite place to skip straight to summer sun and seaside air. This Balearic gem is one of our most underrated destinations, especially when it comes to walking trips—one of our increasingly popular styles of travel. Learn why this is our favourite coastal walk of the moment.
A Wealth of History and Culture
Once upon a time, the island was inhabited by Bronze Age humans from 6000 BCE, with stone settlements, called talayots, still standing in some parts. The Phoenicians gave way to the Romans in 123 BCE, with olives, salt, and wine the main drivers of the economy. (Those Romans really knew their stuff). The Germanic Vandals came along in the year 427; Christianity was introduced in the year 534 by the Romans, who reclaimed the island.
The next occupiers, Muslim rulers, stood firm from 902 to 1229, when it was claimed by Spain (King James I of Aragon, to be exact), and watchtowers and church strongholds were built to defend the island even further. Since the 1950s, the tourism industry has transformed the island's way of life and economy.
Sunny Days Ahead (Well, All Of The Time)
It's just what the doctor ordered: a healthy dose of Mediterranean sun. Prescription: Mallorca! Shake it off and boost your spirits—the island receives an average of three hundred days of sun per year. If that isn't enough reason to pack your bags, I don't know what is…
Easy or Challenging? Your Choice, Your Pace
It's all too simple to choose a walking trip, especially for first-time B&R travellers: all you need is your own two feet and some sturdy shoes. (No fancy equipment necessary—we throw in the walking sticks and hip packs).
Going at your own pace, you can make this as easy or as challenging as you want, savouring every step. The walks here in Mallorca aren't just flat strolls—all the better for the this-walk-was-worth-it views. And if your legs get tired, no worries—we don't just walk along the coast, we sail, too.
See For Yourself
On our Mallorca Walking trip, experience incredible undulating coastal walks, secluded coves, the smell of citrus everywhere, and remarkable hotels in unforgettable settings.
DETAILED ITINERARY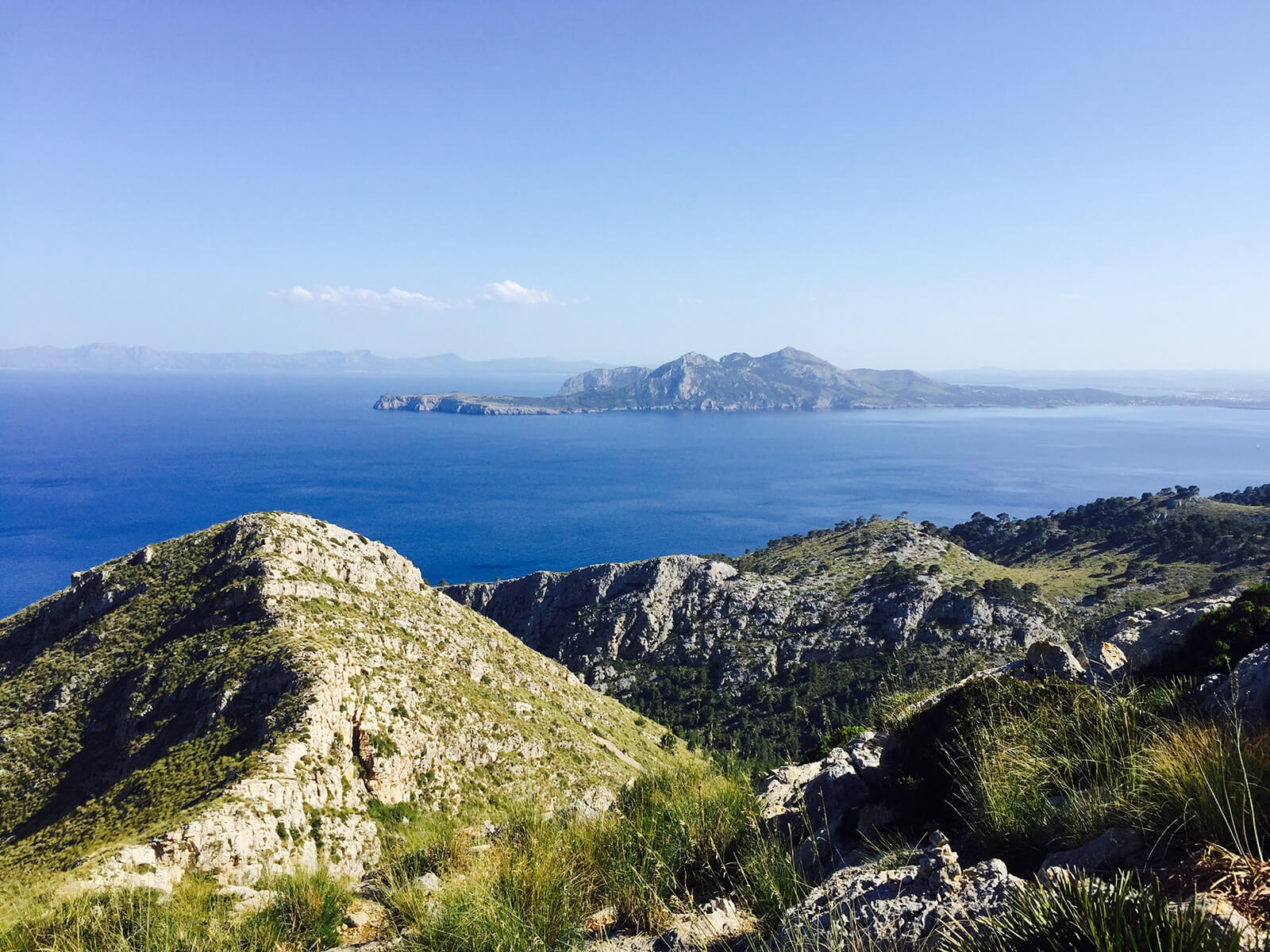 A Feast For the Eyes

Mallorca has some of the Med's best qualities on offer: limestone cliffs, baby blue seascapes, swathes of almond groves and artichoke fields—just to name a few. This luxurious island is truly something special, from the dramatic Cap Formentor to the main city, Palma, a little busier but still relaxed.
…And The Stomach
You'll never go hungry: hearty peasant fare is typical of Mallorquin cuisine, with a host of cultural influences that echo its history, including Roman and African touches that heighten Spanish flavours.  There are many specialties on the island to try, including fideua—a paella-like dish served with noodles instead of rice—to sweet ensaimada breakfast buns, generous doses of local olive oil, and turrón made from local almonds. Dining aficionados will rejoice that Mallorca has retained its eight Michelin stars this year. Not bad for an island a bit smaller than Rhode Island!
Luxurious Hotels
From countryside retreats to sun-soaked days by a glamorous pool, Mallorca has, hands down, some of the most luxurious hotels in Spain. (No wonder all those celebrities, not to mention the Spanish royal family, like to bunk here). From former 16thC monasteries and farmhouses to tucked-away city hideouts and impeccably designed boutique properties, you're sure to find your next favourite on this tiny island.
JOIN MORE THAN 70,000 FELLOW WANDERERS