Onboard the Pacific Yellowfin
Our Hotel Check-In series investigates interesting, sometimes peculiar and always character-ridden properties from all corners of the globe.
---
The Pacific Yellowfin
Gliding through the waters along British Columbia's gorgeous coast, you'll find the Pacific Yellowfin, the ideal floating hotel to access the beguiling and rugged beauty of Desolation Sound in the Northern Gulf Islands. On a route between small inlets and through remote waterways, this coastal yacht allows for all types of activity for all age groups.
This past summer our plucky co-founders hopped aboard the yacht for a private take-over with their children and grandchildren in tow to discover a region that Captain Colin, (more on him later), colloquially calls "whale soup." Their journey into Desolation Sound gave them ample time to get to know the character and charms of the small ship and the self-contained experience it offered.
As Martha noted enthusiastically upon return, "Loved by all from from 5 to 80!!" If you can please 13 Butterfields at the same time, you've done something right.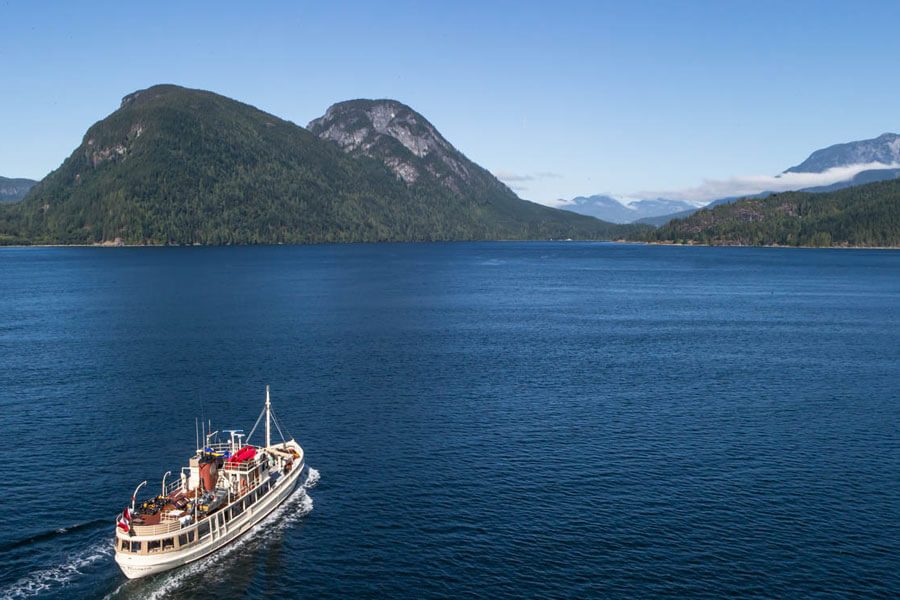 The personality
It's hard to know if the character of the Captain and crew influence the boat, if the boat influences the crew or if it's completely useless to try and separate the two? All's to say, there is a distinct personality and flair to the journey. Captain Colin has been sailing the waters along the coast of BC for over three decades, so he's well versed in 'secret stash' spots that allow you to optimize wildlife viewing, access rainforest hikes and find the best swimming beaches.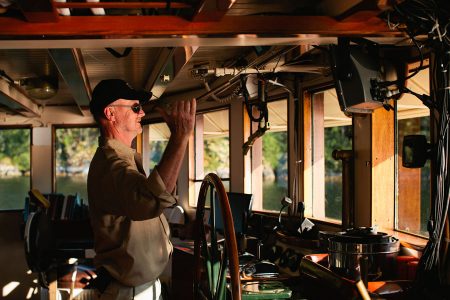 As a natural storyteller, an obvious Irishman, Captain Colin has a wicked sense of humour and a gift for the gab (but not in an overbearing way—you'll be hanging off his every word). As a seafaring man, he's well attuned to the rhythm of the waters, the patterns of the diverse marine life and what any change of weather might signal. Fortunately, in Desolation Sound the weather is pleasantly consistent.
The accommodation
From the outside, this perky yacht appears quite utilitarian (it's got a tugboat-boutique look going) but you quickly slip into the nautical flow and find yourself more than comfortable within its luxury cabins and common areas. Additionally, the level of service provided by the attentive crew enhances everything about the voyage (plus they know all the coastal lore, too).
Offering a range of cabin configurations, this boat really is best suited for multi-generational trips (it's doubtful that a group of adult friends would want to flip a coin over who sleeps in the bunk configured rooms). Anyone with mobility issues would likely want to keep to the main deck so as to avoid stairs; in that case only one room would be suitable and that would be the stateroom found on the same level as the dining room.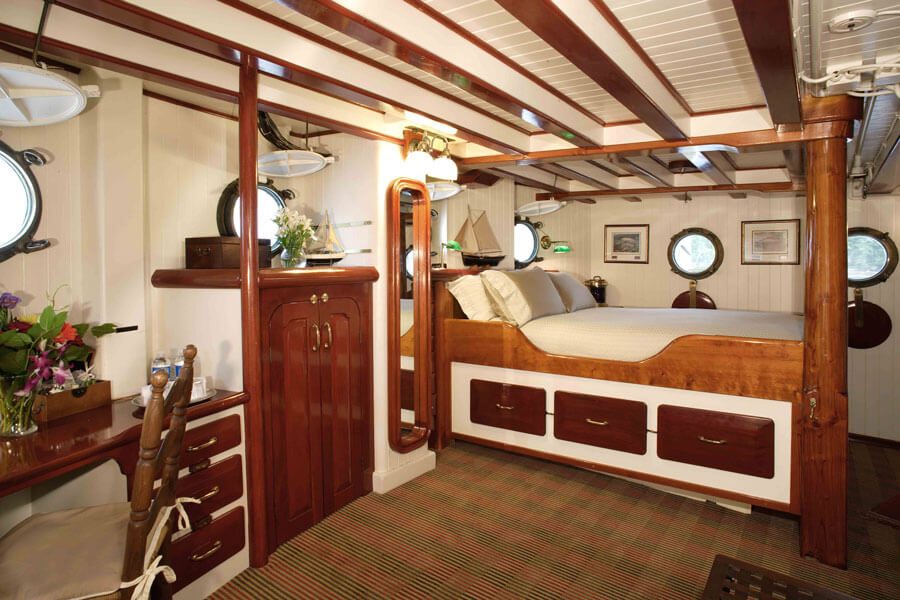 Getting around the boat requires the use of stairs and gangway walks with railway assists, so you'll want to be sure that family members are agile enough – or at least have a helping hand (the crew, naturally, is always looking out for you).
In the front dining room, wrap-around windows ensure you're never far from sweeping evergreen vistas and wide water horizons even when you're trying to grab a bite.
The surrounds
If the name Desolation Sound wasn't hint enough, this is a truly wild and serene place with minimal human interference. In this refreshing landscape, you'll encounter private and pebbled beaches, paddle long stretches of coastline that offer no road access, and amble within the interior to occasionally stumble upon First Nation middens, full of shells and animal bones. A few log cabins can be found sprinkled here and there.
See For Yourself
Interested in a Pacific Yellowfin journey with your multi-generational group? Reach out to B&R Trip Designer Marianne Abraham to consider options for your private crew.
START PLANNING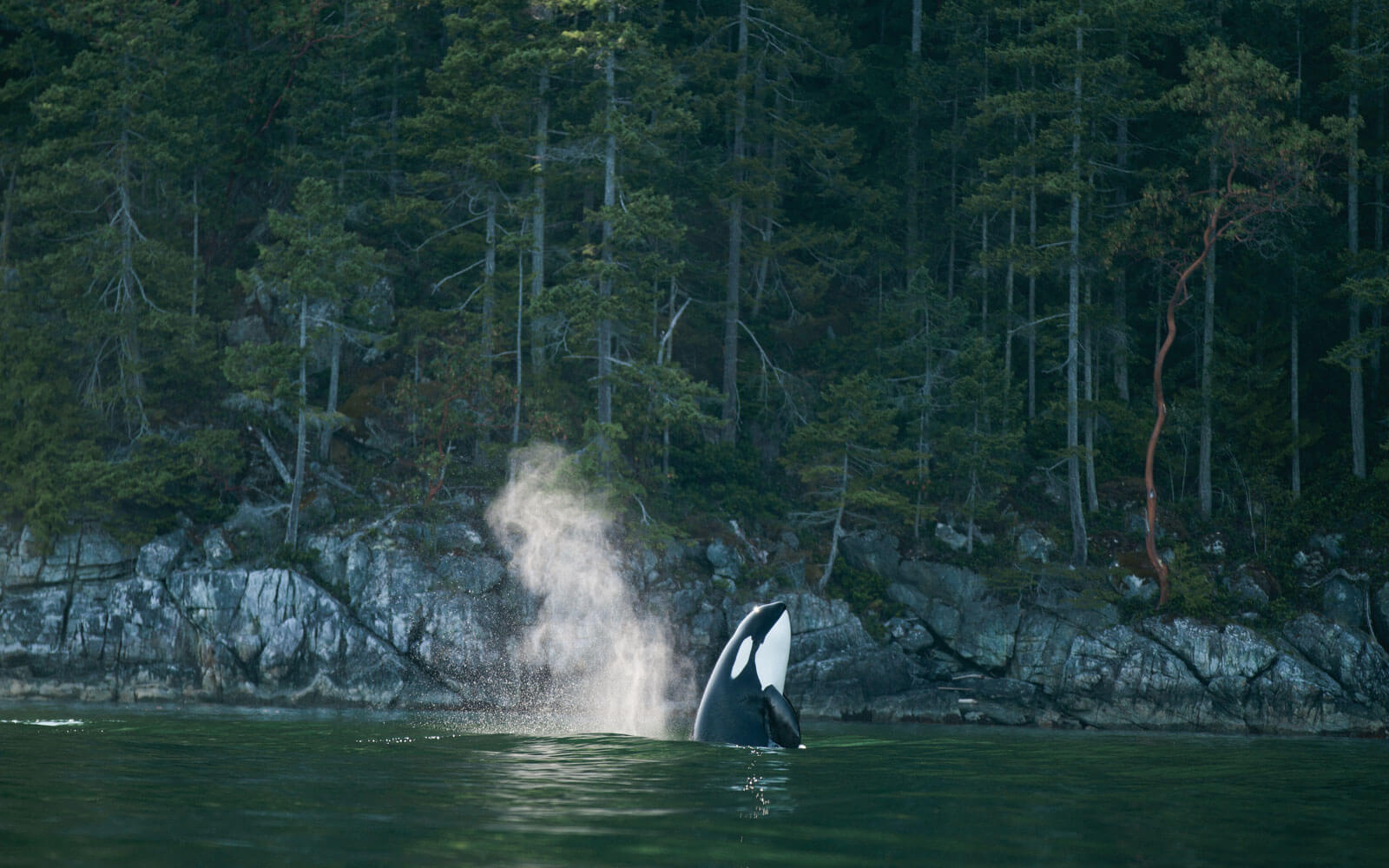 This tends to be the best region for family trips as the weather is more consistent and the water is warmer (owing to remarkable sea currents) than voyages that head  up to the Great Bear Rainforest.
(Trips in GBR are best suited for folks purely interested in wildlife watching—think salmon migration/bear spotting — the kids usually find it less entertaining since the water is quite frigid and not ideal for play.)
Daily activities
When sightings for Orca and Humpback whales quiet—or when the kids start to find breaching whale pods entirely routine—there are numerous "toys," as Martha referred to them, onboard. The most famous of which is the giant slide pictured below, which takes the classic playground concept to a new level. Kayaks, paddle-boards, tubes and more punctuate your water activity, while electric bikes provide a welcomed push (should you need it) when venturing within the interior.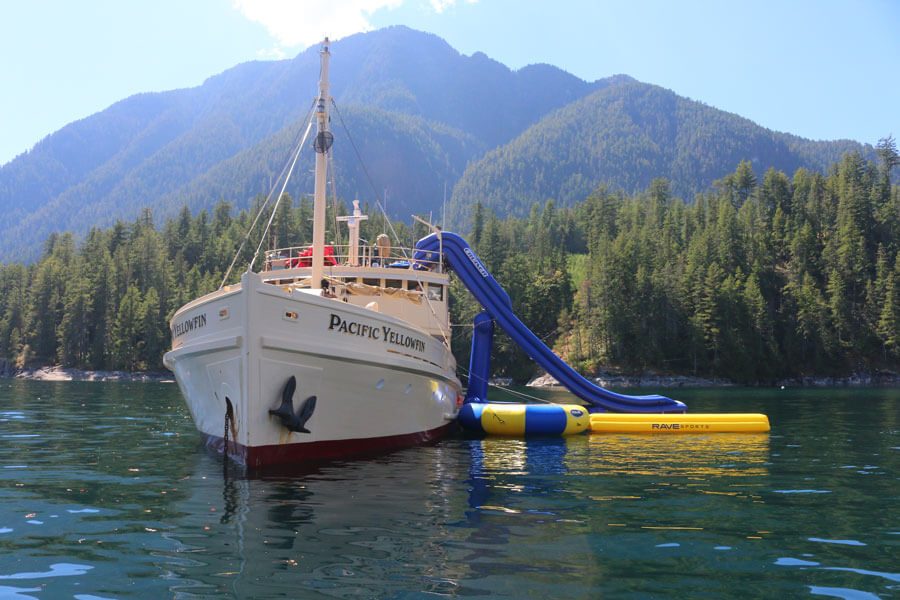 Meals
Meals onboard essentially become another way to immerse yourself in the region. Chef Ben creates a wildly imaginative and delicious menu accentuated by the best he can find in the region. You get to be a part of it too. Pick oysters off the beach, find wild greens and berries to supplement dinner and hear stories about growing up on a small island off the BC coast. This is the zero-kilometre diet in all its briny, nutrient-rich glory.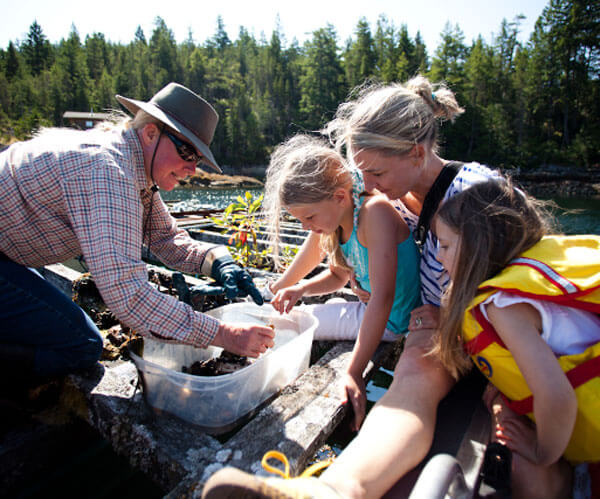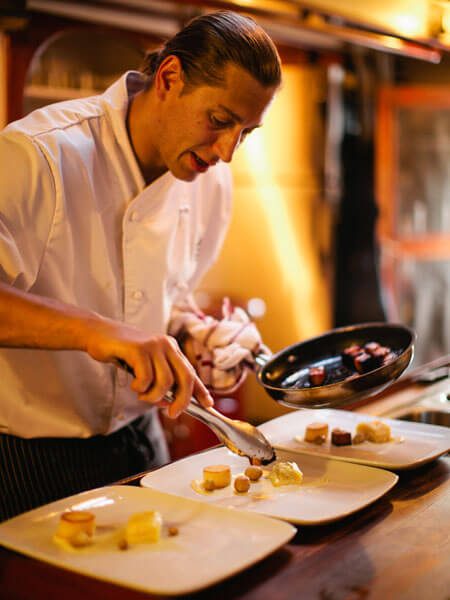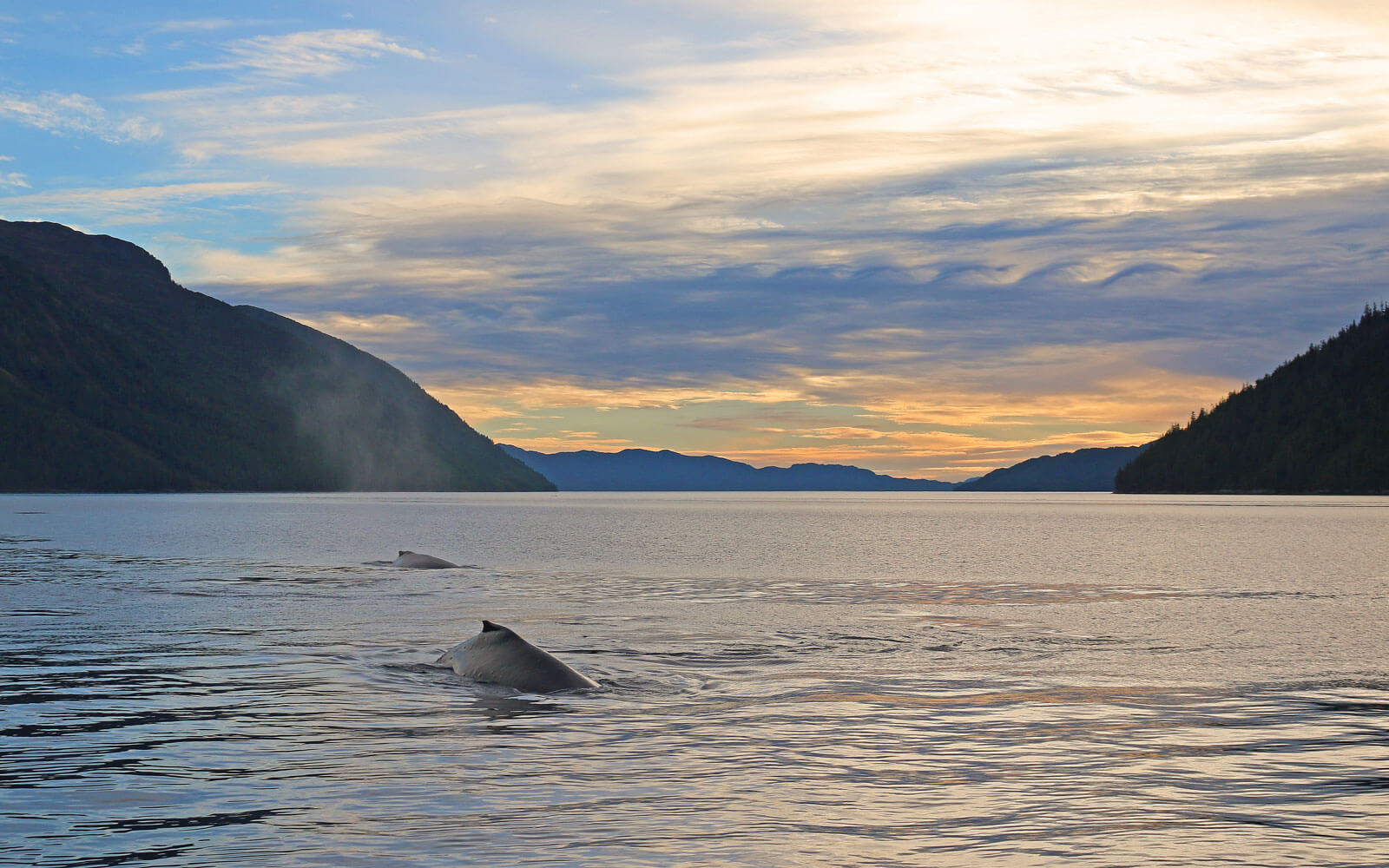 Overall
With large swaths of British Columbia's gorgeous coast devoid of roads, travelling by boat to explore the magical, remote inlets offers a refreshing sea-side perspective and a dose of natural seclusion as you witness majestic marine wildlife up close. Well worth it.
Time to go?
The Yellowfin skims the waters of Desolation Sound through the months of July, August and early September.
---
Interested in a Pacific Yellowfin journey with your multi-generational group? Get in touch with a member of our team to consider options for your private crew.
JOIN MORE THAN 70,000 FELLOW WANDERERS