Elemental Arctic
B&R Expert Dane Tredway walks us through the highlights (and surprises) from his research trip to the Arctic and his stay at Arctic Watch Wilderness Lodge—the most northerly fly-in lodge on earth! 
---
Flash Impressions from an Unfamiliar Place
This was my first trip to the Arctic and it quickly shattered a lot of preconceived notions. To start, I was astonished by the variety of wildlife. The arctic is such a stark and unforgiving landscape that the abundance of wildlife seemed like a blaring contradiction to the setting. The region was positively teeming with life.
During my week of research—walking, travelling by ATV and kayaking—I was able to witness arctic foxes in their habitat, majestic snowy owls, roaming muskox, polar bears, breaching beluga whales and seals. Not to mention the wildflowers, which blanketed parts of the landscape, a bit of whimsical colour in an otherwise harsh environment.
Human History
I learned about the Thule people, ancestors of the modern-day Inuit. These industrious and plucky folks survived and made a life in one of the hardest places on earth. They were hunter-gatherers who used kayaks to hunt whales and returned to the same hunting grounds every summer. A short distance from the lodge there are about half a dozen Thule sites accessible by 4×4 or by foot, including old hunting camps and a 1000-year old dog sled made from whale bones.
Venture North
Join us on a once-in-a-lifetime journey to the Canadian Arctic with our friends and esteemed explorers, the Weber Family, at the Arctic Watch Wilderness Lodge.
SEE THE ITINERARY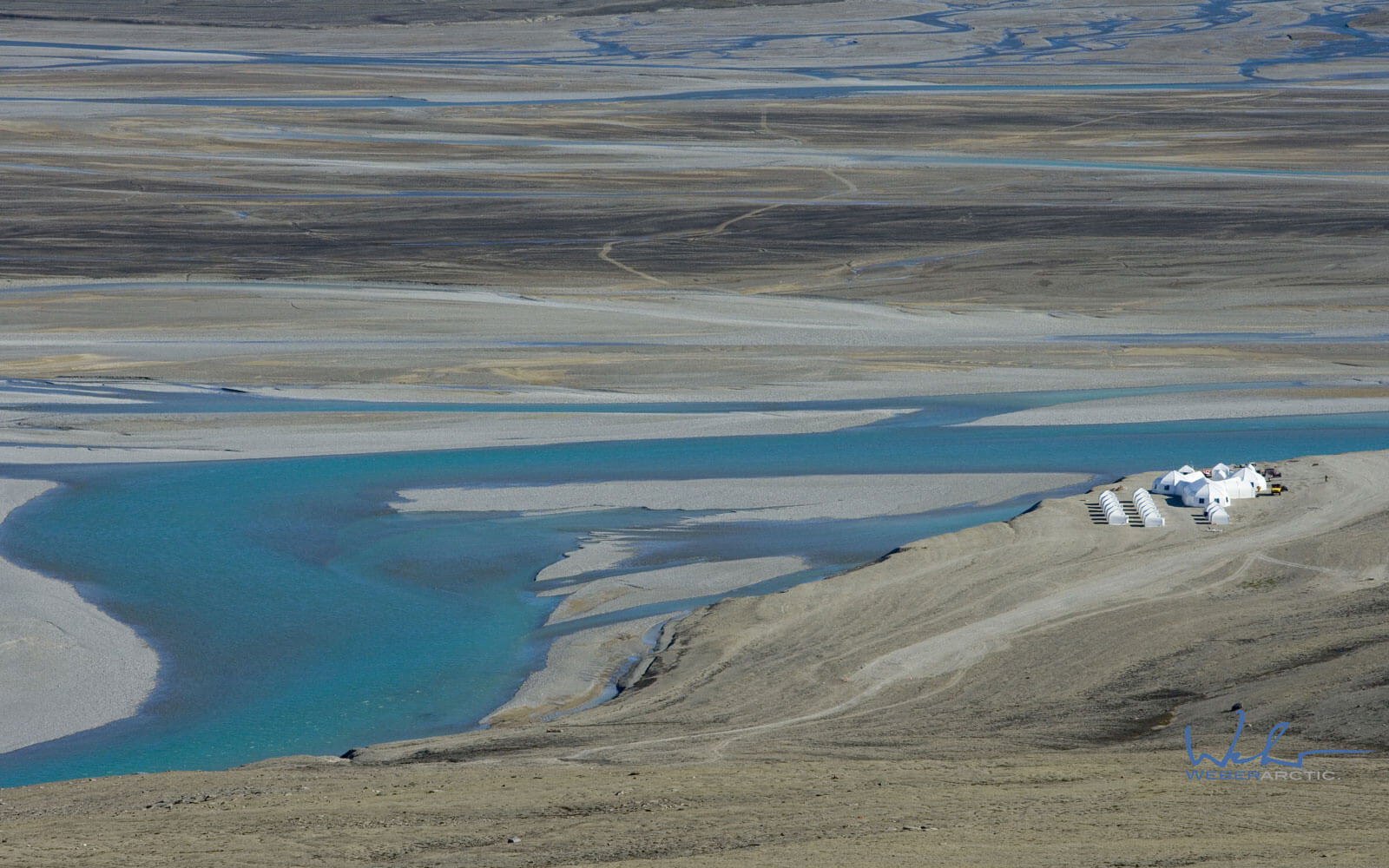 Arctic Watch Wilderness Lodge, Somerset Island, Nunavut
Arctic Watch Wilderness Lodge is the most northerly fly-in lodge on earth so I was assuming I would be roughing it with little more than a tent on the tundra. While that was certainly not the case, the accommodations are rustic (it's the High Arctic after all!), but the stay is entirely comfortable. A trip to this part of the world involves a little compromise—you won't have every amenity at your bedside, but you are dropped into a dramatically isolated and singular place.
The common space is fitted with a constantly crackling woodstove—around which people congregate in the evening to regale each other and relive the day. A real epicenter and anchor to the camp. When this far from roads and traffic lights, you can't help but feel a real sense of comradery in the shared experience.
With menus that are designed to highlight gourmet fare inspired by each province in Canada, the food far surpassed my expectations. To be clear, my low food expectations were entirely based on the location and the lack of easy access to fresh produce, but with some clever planning and a weekly food drop from Yellowknife, the staff were able to provide an incredible culinary experience with a Canadiana slant. The on-tap craft beer and BC wine selection was a nice treat as well!
Best of all? There is a bakery on-site (a rather unexpected luxury, but absolutely coveted). Who can resist the smell of freshly baked sourdough? Co-owner Josée, an incredible chef who hails from Quebec, surprised us with fresh-baked sugar pies for our final evening together. A true delight.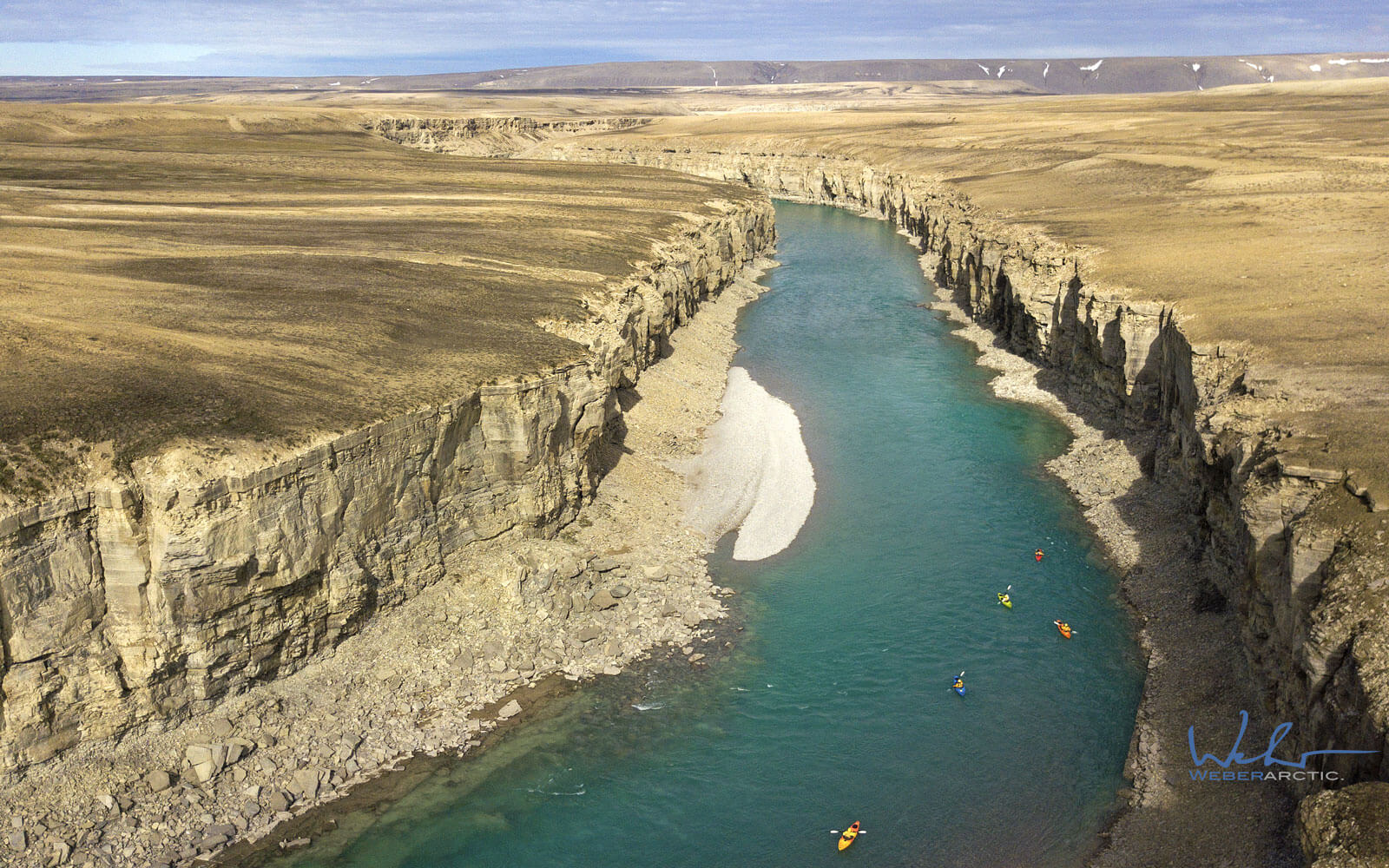 The Weber Family
As owners of three fly-in camps, the Webers—a family of four, all involved in the family business—live interesting lives. Richard and Josée Weber (the parents) have led expeditions to the North and South Poles since the 80's and are both incredibly skilled polar explorers. I'd suggest you look up their combined accomplishments (and awards). Their two sons have followed in their footsteps: Nansen is a wildlife photographer who has worked with Netflix and National Geographic; and Tessum holds the world record as the youngest person ever to ski from land to the North Pole. He completed the feat when he was 20.
Activity in the High Arctic
Days are spent on land or water exploring remote, stark beauty. Most activities range from moderate to easy-going, but there are always ways to extend activities and make them more rigorous. In the patch of land near the camp the coastline is generally quite flat (all the better to see far into the horizon) with some ups-and-downs along canyon walks. All active adventures are well-supported by 4×4 vehicles and ATVs, so it's easy to roam far knowing you're covered and can opt-out when you see fit.
For some, arriving to the Arctic would be adventure enough and there's no push to overdo it with activity every day. Sometimes just casually observing the wildlife and unusual geography is excitement enough. To that end, the camps' working months are July and August so travellers can take in the best of the region and fully appreciate the midnight sun.
Truly an experience unlike any other.
JOIN MORE THAN 70,000 FELLOW WANDERERS