8 Reasons Why You
MUST

Visit Lake Neusiedl

With more than 1,000 kilometres of near-perfect biking, a rich history spanning from the 30 Years War to the Cold War and a breed of pig as hairy as it is delicious (read on, it'll all make sense), Lake Neusiedl offers something for every traveller.
---
1. Mangalica Pigs
If you think it's odd that a breed of pig tops this list, you've clearly never eaten bacon in eastern Europe. Bred to become the Emperor's bacon, these pigs originated in the mid-19th century after the crossbreeding of the hirsute Romanian Szalonta and the outdoor-loving Serbian Sumadija breeds.
Mangalica pigs are very hairy and have been deemed "even uglier than regular pigs" by non-pig connoisseurs. But don't let these aspersions fool you: due to their furry coat of hair, they can live outside all year round, like a good snow tire. Besides their fluffiness and good cheer, their meat is high in the good kind of cholesterol and full of zinc, copper, iron and other antioxidants.
Bacon has never tasted so Mangalica. Look for it on the menu at the Relais &Chateau Taubenkobel.
2. Lake Neusiedl Itself
More of a giant puddle really, Lake Neusiedl is the largest endorheic lake in Central Europe (that's a fancy way of saying that water flows into but not out of the lake). Naturally this can lead to wild fluctuation of water levels.
After heavy rains in 1768, the lake attained twice its actual size. Stratigraphy, the science of dipping Fender Stratocasters into water to determine its depth (note: I know little about science), has revealed that the lake has also completely vanished several hundred times since its inauguration 14,000 to 18,000 years ago. But who's counting? One should never ask a lake its age.
Lake Neusiedl currently spans 315 square kilometres, sharing its edifying presence unequally between Austria and Hungary. Were an NBA player to fall from his yacht into the middle of the lake, the water might reach his bellybutton. At its deepest point, the lake is 5'9" deep.
Not all still waters run deep, and although superficial, Lake Neusiedl is large enough to create its own microclimate in which migratory birds and some of Austria's best wine thrive.
3. The Laid Back (and Yacht-free) Vibe
As mentioned above, at a maximum depth of 5'9", Lake Neusiedl has put an end to the yacht arms races that plague the harbours of the Mediterranean.
Imagine the chagrin of the Russian oligarch who spends hundreds of millions of dollars on a luxury yacht, only to return the following year and find his ship wallowing in the shadow of the season's newest megayacht. There's no such keeping up with the Ivans and Khalifas on Lake Neusiedl. Fortunately, the biggest boat currently on the lake is a Feeling 346 sailboat, the sort that might be found in the used section of Yachting Monthly for as low as $14,000.
From Vienna to Budapest
More majestic than mighty, more grand than great, the Danube deserves its admiration. And there is no better way to explore it than our Vienna to Budapest Biking trip, as its banks offer some of the best bike paths anywhere in world, with delightful villages and views nonpareil.
DETAILED ITINERARY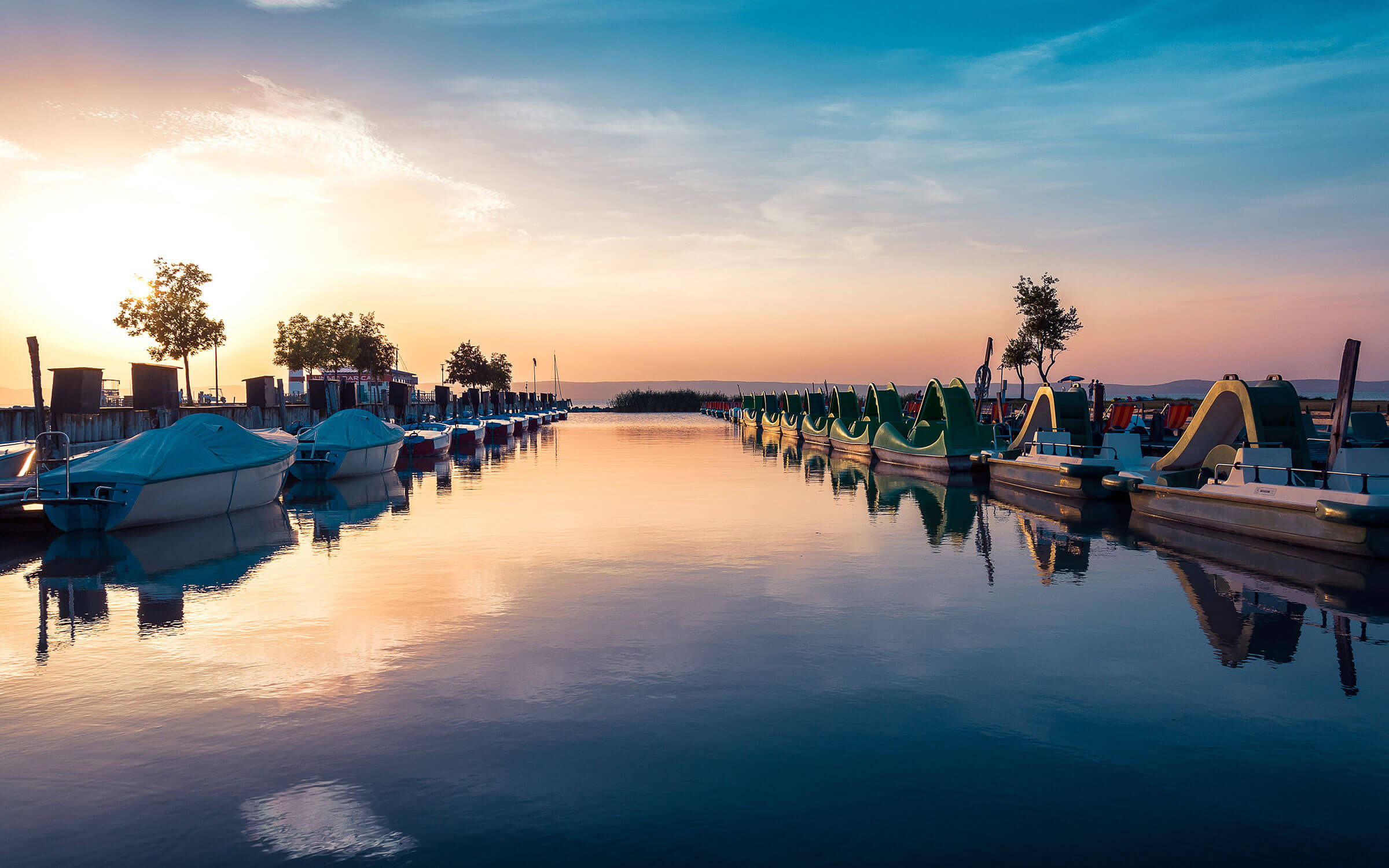 A random aside on boats: In 2015, Forbes magazine estimated that a 100-metre superyacht "should cost around $275 million." Should?! I'd happily buy one for less, thank you very much. Market forces aside, one such superyacht translates into 19,642 Feeling 346 sailboats. Furthermore, Forbes warns superyacht owners that they should prepare to spend 10% of the yacht's initial purchase price on yearly upkeep. That's another almost 2,000 additional Feeling 346 sailboats piling up in the lake each year.
At that rate, the fragile ecosystem of the lake would soon be replaced by an enormous tower of sailboats reaching to the sky, poop decks and rigging swaying in the breeze.
4. The Town of Rust
(Trust me, it's better than it sounds.)
Austria's smallest statutory city, it received the right to hold a market in 1470, which is very early. (Before that, the citizens of Rust had to drive to the box stores of nearby Eisenstadt.)
Benefiting from its proximity to Lake Neusiedl, Rust prospered due to industries derived from the reeds that grow around the lake, ship building (small, flat-bottomed wooden ships), and wine growing.
Rust became a Free City in 1681, which meant it reported, and paid taxes, only to the Emperor of the Holy Roman Empire. Unfortunately, he lived next door in Vienna most of the time, making tax embezzlement a dicier proposition.
Rust also has a medieval town square lined with terraces that's worth checking out.
5. The Wine
Lake Neusiedl is one of Austria's nine DAC regions (though not its most famous). Although most Austrians prefer German to Latin, DAC stands for Districtus Austriae Controllatus, and is akin to France's appellation D'origine Contrôlée or Italy's Denominazione di Origine Controllata. A mix of international and native Austrian grape varieties are grown.
It has been argued that the small but growing international distribution of wines made from the local varietals – Blauer Zweigelt, Blaufrankisch, Sankt Laurent, Gruner Veltliner, Neuburger, Zierfandler and Welschriesling – owes to how difficult they become to pronounce and therefore order once you've had more than two glasses.
Thus I frequently find myself turning to my friend Peter, the sommelier who accompanies us on the culinary and wine odyssey that is the first night of our Danube Biking trip at the Taubenkobel's legendary restaurant, who often provides both helpful pointers and another glass.
6. The Legacy of the Esterhazy Family
Originally minor nobility from what is today Southern Slovakia, the steady accumulation of land and unwavering loyalty to the Habsburgs led to the Esterhazy family amassing unfathomable wealth—and even four hundred years later, it shows.
A Bit of Esterhazy History
The twin processes of ennoblement and becoming rich and powerful began under Nikolaus Esterhazy, a 16thC Hungarian nobleman whose conversion to Catholicism and military successes against the Turks and local Protestants caught the eye of the Vienna-based Habsburgs.
When forced to hand over his lordship of Munkacs in 1622, in the wheelings and dealings surrounding the 30 Year War, the Habsburgs rewarded Nikolaus with not one, but two new lordships.
Next in line as the head of the Esterhazy clan was Paul, third son of Nikolaus, whose two older brothers had died fighting the Ottomans. A poet, harpsichordist and composer of both cantatas and religious treaties, the multi-faceted Paul also commanded the troops that raised the Turks' siege of Vienna in 1683.
The Habsburgs were again quick to show their gratitude for his victory, and soon the title of "Prince" became a hereditary perk of being born an Esterhazy. And so forth and so on.
740,000 Football Fields
By the late 18th century, the Esterhazys owned approximately 1,500 square miles of land. That is the equivalent of four billion square metres, or 740,000 football fields. Currently, a square metre of agricultural land around Lake Neusiedl costs 10 Euros, or US$11.40.
As it is always interesting to convert past fortunes into contemporary terms, we can say that at the time of the American Revolution, the Esterhazys owned land that was worth approximately 40 billion Euros. Not bad.
A Legacy of Luxury
The most visible remains of the Esterhazys are their castles in Eisenstadt, a Baroque jewel that for years was home to their personal composer Joseph Haydn, and the summer residence in Fertod, commonly referred to as the "Versaille of Hungary."
These enormous and lavishly decorated palaces, complete with ballrooms, opera houses, grand music halls, chapels, stables, manicured gardens and countless wings and rooms, are just 25 miles apart. "Shall we return to Eisenstadt, dear Galanta? Fertod is so terribly quiet at this time of the week."
When whichever reigning head of the Esterhazy family had not temporarily bankrupted themselves with the lavish lifestyle for which their name became synonymous at the Habsburg court in Vienna, they would subject their palaces to never-ending renovations designed to keep them à la mode, often French.
7. Its Role in Ending the Cold War
Four months before the Fall of the Berlin Wall on November 9th, 1989, the foreign ministers of Austria and Hungary opened the Iron Curtain in the Austrian village of Klingenbach.
The act would have far-reaching consequences. Soon after, the border crossing at Nickelsdorf was opened by the Hungarian border patrol who had clearly decided to stop doing their job.
Thousands of Eastern Germans who were more or less free to travel within the Eastern Block, poured into Austria to enjoy democracy and wiener schnitzel. These events fueled the civil unrest that led to the official opening of the Berlin Wall.
Biking across this historic crossing today, it's impossible not to pause and take a moment to ponder such monumental events.
8. Bike Paths
And speaking of biking, in the area surrounding Lake Neusiedl, there are 40 bicycle routes measuring a total of 1,000 kilometres.
For bike-touring wanderers like ourselves, it's basically heaven. We've chosen what we consider to be the nicest 104 kilometres (62 miles) of them – or 128 kilometres (76 miles) if you opt for the long option – for the second day of our aforementioned Danube Biking trip.
And to answer your question, yes: narrowing it down from 1,000 kilometres to the very best 100 is excellent work if you can find it.
JOIN MORE THAN 70,000 FELLOW WANDERERS