Top 5 Driving Routes in Germany, Austria & Switzerland
Although we're known to take the slow road to see the world, once in a while, it can be nice to see it from the fast lane. This rings especially true if you're travelling through Germany on four wheels—its legendary Autobahn is the stuff of drivers' dreams. With no speed limit in some stretches, the combination of top-notch driving and stunning scenery, driving in this region will make you wish your road trip took longer.
It's worth mentioning, too, that along the way, with Germany's excellent infrastructure, you'll find great biking routes, with scenic hikes almost anywhere there's a natural setting.
Here are some of the most beautiful driving routes in Germany, Austria and Switzerland, rich in history, culture and scenery.
1. Königssee to Bodensee, Germany
The long and winding (German Alpine) Road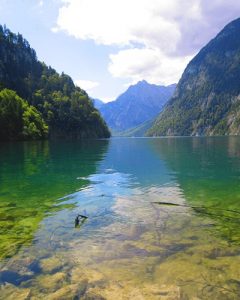 Take this zigzag route from See to See (lake to lake) through Southern Bavaria and the Alps, with rolling hills, picturesque peaks, sparkling mountain lakes, and charming little towns. Oberammergau, one of the towns, has a curious history: in 1633, its inhabitants prayed that if God spared them from the plague, they would thereafter stage a passion play every ten years. Thus, the tradition continues to this day, with over 2,000 villagers participating (the next performance is in 2020). King Ludwig II's palatial stamp is all over the region, and in addition to Neuschwanstein, it's worth checking out the island of Herrenchiemsee, an abbey he converted into a Versailles-styled palace, the largest of his collection. There's even a replica of Versailles' famous Hall of Mirrors here!
Highlights: Mount Zugspitze, Germany's highest peak; King Ludwig II's castles, including Herrenchiemsee and Neuschwanstein; Oberammergau; Lake Königssee, the deepest and cleanest lake in Germany.
Route: Königssee to Bodensee, Germany
Length: 450 km (280 mi.)
2. Würzburg to Füssen, Germany
Quintessential German scenery on the Romantic Road
An old medieval route in the south of Germany, the Romantische Strasse (Romantic Road) is perennially popular for its "quintessentially German" sights, like medieval towns and iconic castles, including King Ludwig II's beloved Neuschwanstein. Steeped in history and preserved in time, from Roman ruins to the fortified walls of Rothenburg ob der Tauber—spared from Allied bombs in the Second World War—you'll also find rich Franconian wine regions to explore.
Highlights: The Bavarian King Ludwig II's trinity of castles: Neuschwanstein, Hohenschwangau, and Linderhof; two UNESCO World Heritage sites: the Würzburg Residence and the Pilgrimage Church of Wies.
Route: From Würzburg to Füssen, Germany
Length: 350 km (220 mi.)
A Luxury Self-Drive Experience
We've partnered with BMW's European Delivery program to provide trips that put you and your new BMW in the heart of the most breathtaking scenery in Europe. This Munich Alpine Loop itinerary showcases the best to the south and east of the Bavarian capital: the imposing castles and pretty lakes of Füssen; the towering peaks of Austria's Tyrol region; the stylish ski meccas of Innsbruck and Kitzbühel; and the joyous history of Salzburg's musical legacy.
DETAILED ITINERARY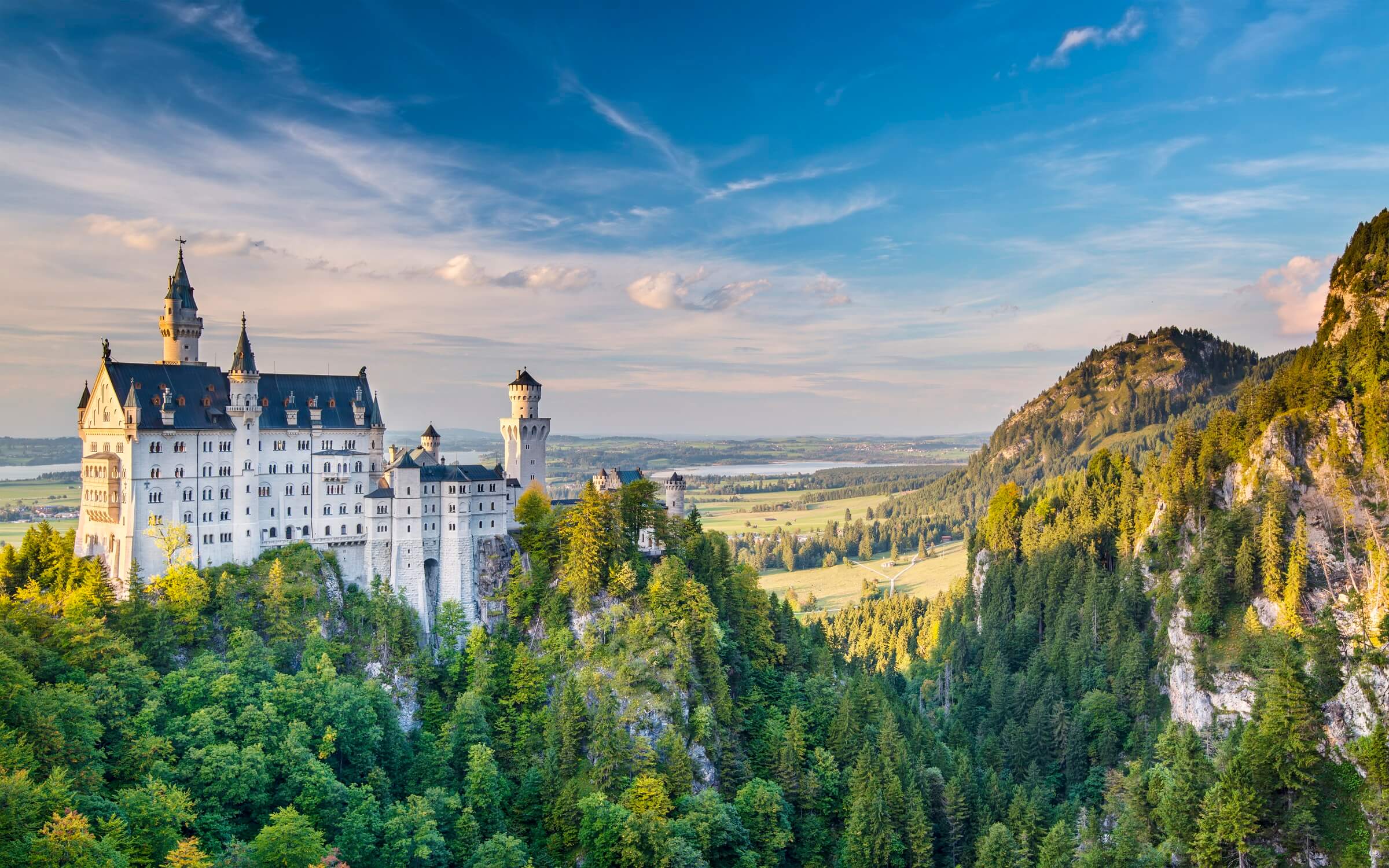 3. Hanau to Baunatal, Germany
The German Fairy Tale Road
Known and loved the world around, the tales of the Brothers Grimm are childhood classics. Traverse this whimsical road from Hanau, their birthplace, to Baunatal, birthplace of Dorothea Viehmann, from whom the Grimm brothers learned many tales. All the classic fairytale characters are here: Snow White, Little Red Riding Hood, and more. Along the way, visit many of the towns featured in their stories, including Bremen, and even Sleeping Beauty's castle in the ancient forest of Reinhardswald. Let these magical stories come to life as you navigate this route!
Highlights: Steinau's Grimm House, where the brothers once lived; Alsfeld, featuring the house of Little Red Riding Hood; Bad Wildungen's Snow White museum; UNESCO Heritage site of Bremen town hall and statue of Roland; Sababurg, the Sleeping Beauty castle in the Reinhardswald.
Route: Hanau to Baunatal, Germany
Length: 600 km (372 mi.)
4. Bruck to Carinthia, Austria
Austria's hairpin turns on the High Alpine Road
Not for the faint of heart, if you're truly looking for a bucket list drive, Austria's Grossglockner Hochalpenstrasse is the one for you. Yes, it's scenic, with all the Alps you can handle (no less than 37 mountains), rolling hills and wildflower-filled valleys to those pristine lakes, but you'll be watching the road as you take 36 thrilling hairpin bends around the mountains, reaching just over 2,500 metres above sea level. Whew! The drive takes about an hour; start early to avoid all the gawkers and photo-snappers.
Highlights: Did we mention the 36 hairpin turns? Once you've completed this drive, along with all the tour buses, cars, motorcycles and even brave cyclists taking on this Giro d'Italia route, you can pat yourself on the back for having completed one of the most epic drives of all time, not to mention the highest surfaced mountain pass road in Austria.
Route: Bruck to Carinthia, Austria. Note that due to impassable conditions due to snow, this route is typically only open June to September.
Length: 48 km. (30 mi.)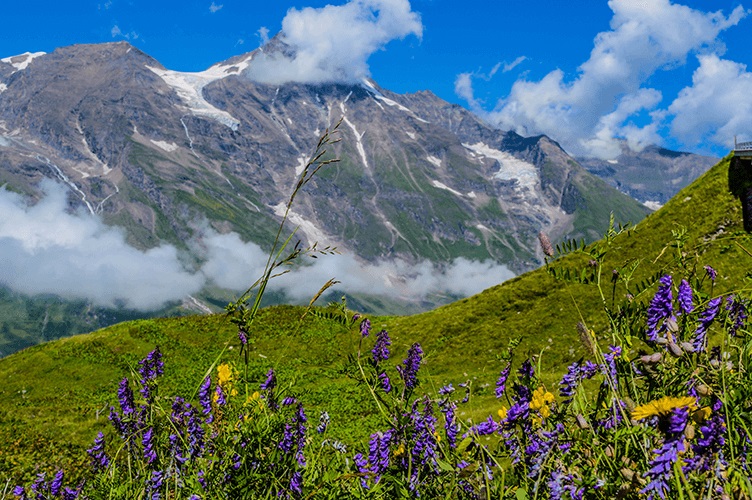 5. Martigny, Switzerland to Aosta, Italy
Switzerland's Great St. Bernard Pass
This famed mountain route is home to the iconic dog of Swiss hospitality, the St. Bernard, along with the monks from the same order. On this historic route, used for thousands of years, you'll pass through the postcard-perfect landscape of the Swiss Alps, surrounded on each side by peaks and crags. As you travel, rise as high as 2,490 metres above sea level through tunnels and winding alpine roads, complete with vivid green meadows and the bluest lakes you've ever seen.
Highlights: History is on your side: you'll be travelling the oldest path in the Western Alps, which was used as early as the Bronze Age, stretching to the Roman era and beyond; it was even marched by Napoleon's men as they made their way to Italy in 1800.
Route: Martigny, Switzerland to Aosta, Italy (near Milan). Note that due to impassable conditions due to snow, this route is typically only open June to September.
Length: 76 km (47 mi.)
JOIN MORE THAN 70,000 FELLOW WANDERERS