An Insider's Guide to Salzburg
Birthplace of Mozart and stage for The Sound of Music, Salzburg is synonymous with music.
But as if its musical pedigree weren't enough, the city's arresting natural beauty also provides reason enough to pack your bags.
Rolling emerald plains are set against a backdrop of snow-capped Bavarian Alps, while pristine lakes are embedded amidst this breathtaking landscape.
The Altstadt (Old Town) is dominated by its baroque towers and churches. Renowned for its timeless baroque architecture, this impeccably preserved city centre north of the Alps was listed as a UNESCO World Heritage Site in 1997.
Chances are, if you're headed to Austria you'll spend some time in this city on the river. Below I've rounded up some of my favourite places to eat and things to do in Salzburg.
---
Things to Do in Salzburg
Where to Eat & Drink
From hearty Austrian dishes to elevated culinary experiences, Salzburg has a range of delicious restaurants that show off the best the country has to offer.
The beer garden to end all biergäerten! Augustiner Bräustübl has served hearty snacks and stone tankards under ancient chestnut trees since 1621. They also have outstanding pretzels. A favourite place for a late afternoon brew.
Maybe the oldest restaurant in the world—meals have been served here since 803 AD. Refined Austrian classics and international dishes are served in settings that are equal in grandeur and feel. Located in the heart of Salzburg.
Organic and local, Triangel is a few steps from all of Salzburg's Old Town sights. The restaurant has both a sprawling outdoor seating area and a cozy dining room. Owner Franz's grandmother is the mastermind behind the menu.
The Pepper ship is one of Salzburg's top culinary addresses. Located in a renovated 17th century rectory and appointed with polished wooden floors, fine china and designer silverware, you'll find eclectic seasonal menus and a relaxed and refined atmosphere. Reservations required. A five-minute taxi ride from the centre of town.
A Symphony For The Senses
Eine kleine bike ride? Prepare for a harmonious pairing: Prague's old-world charm and fairytale spires to elegant Salzburg, home of Mozart. From romantic castles to deep green woods and riverside villages, our Prague to  Salzburg Biking trip will have you swooning.
DETAILED ITINERARY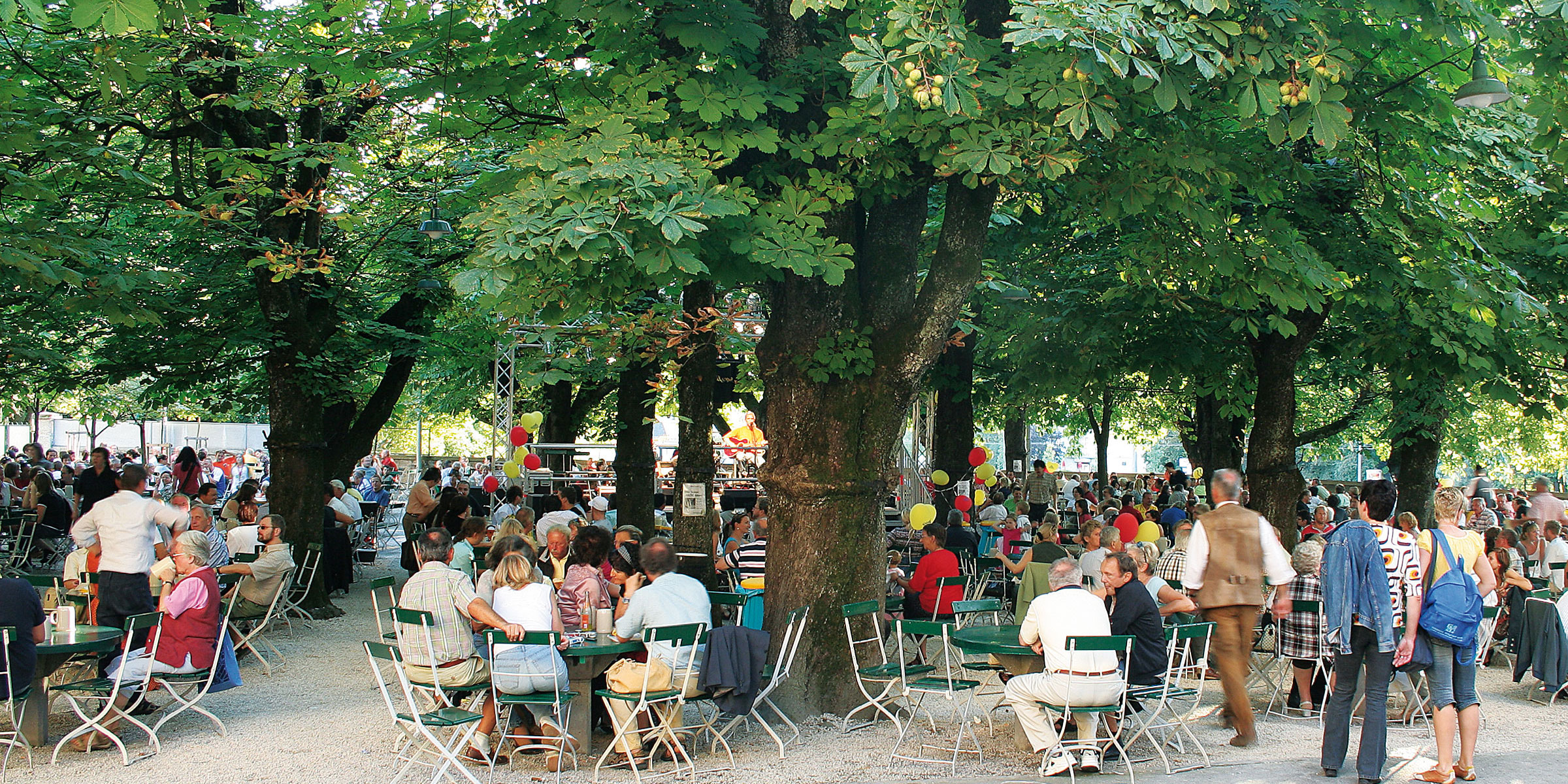 What to See & Do
Apart from strolling next to the Salzach River to appreciate the beautiful surroundings, there are many sites to see in this well preserved city that boasts renowned baroque architecture and great history.
Towering over the city and approaching 1,000 years of age, a visit to Salzburg's fortress will effortlessly transport you back in time. From its beginnings as a simple wooden bailey when the Bishop of Salzburg had a bone to pick with the papacy, through a long series of expansions that reflect the conflicts in the region, Salzburg Castle is today one of the best preserved castles in Europe.
It can be reached by a strenuous 15-minute walk from the centre, or a quick ride up the cable car that was first opened in 1892! Highlights include the Golden Hall and its gold-studded ceiling, the Marionette and Fortress Museum, as well as a good selection of predictably terrifying torture devices.
Bit of a tourist mill, but a quick visit will allow you to say "it was the violin he played in his childhood that really caught my eye" over drinks in the near future. Wolfgang Amadeus Mozart was born in this house in the middle of Salzburg's pedestrian zone in 1756. Although he never got friendly with the city, the museum houses a trove of souvenirs from his early years.
Perched high above Salzburg on the Mönchsberg and with a fantastic view of the city, the Museum of Modern Art does temporary exhibitions only. It is worth checking their website for current content. The museum is also a trail head for a number of tracks into the surrounding woods. Don't forget to take a moment to discuss the art and take in the first rate views of the Old Town over a Kaffee und Kuchen or lunch at their restaurant, the M32.
JOIN MORE THAN 70,000 FELLOW WANDERERS