The 18 Best Shops
in Marrakech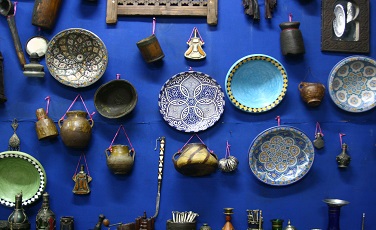 The original market city, Morocco's Medina (old town) is in equal part a surreal cultural experience as it is a consumer's idyll.
A dizzying labyrinth of Souks—the name for the shopping quarters of Western Asia and Northern Africa—gather shopkeepers and artisans in winding alleyways of embossed leather goods, dimly flickering lanterns, the sound of brass being hammered into pieces of jewellery and the scent of exotic spices, fruits and incense.
The atmosphere could amuse for hours on end, and even if you have no intent to shop, chances are you'll exit with a new rug or purse in hand. 
Bargaining comes part and parcel when shopping in the Medina. The price you'll first be quoted is usually always more than the real value of the item in question, so you'll have to play the game if you want to get your money's worth.
A rule of thumb is to counter with at least half of what you're initially quoted (though, some say, this tactic has been caught on by merchants, meaning they'll start with an even more exorbitant price.
Trust your instinct and check up on the current currency exchange and typical going rate of the item in advance). From there, you can work your way up to a reasonable price.
Getting lost in the Medina is half the fun, but it also makes it easy to overlook shops worthy of a visit that go unnoticed among the chaos. As for beyond the the Medina, in the new city or Ville Nouvelle as it's called by locals, you'll find boutiques with modern-day takes on classic Moroccan housewares, fashion and accessories and more.
In these areas, and generally speaking outside of the Souk, bargaining is not the norm, so the price on the tag is the price you'll pay.
Needless to say, shopping in Marrakech is no simple feat to take on yourself. That's why we've compiled a list of our favourite shops to help guide the way (but you're sure to stumble upon countless others yourself!)
---
Fashion Shops in Marrakech
For high-quality and custom-made kaftans, we turn to our friend Nawal El Hriti's sophisticated designs that range from exotic prints to solid colours. You'll find her showroom, Aya, in the old Melland (Jewish) quarter, hidden in the outer streets of the Medina.
Call ahead to ensure she'll be there and make an appointment if you're looking for a bespoke piece, which will take a few days to craft.
Au Fil d'Or
From off-the-rack kaftans and djellabas to babouche slippers, this small shop has a garnered cult status with tastemakers.
Venture into the marketplace frenzy and keep your eyes peeled for its gilded door where you'll find Moroccan cashmere sweaters, velvet coats and top-grade babouches waiting on the other side. To uncover even more of the shop's treasures, be sure to wander down into the basement (and be careful not to bump your head on the way).
Algerian-born Norya took her talents to Paris, London and Cannes before she landed on Marrakech.
Approaching fashion much like a top chef would the preparation of a fabulous meal, Norya adds dashes of influences drawn from her global experiences, including French, Moroccan, Berber and Algerian, into her collection of breezy kaftans, jumpsuits and modern pyjama pieces.
From brazen colours to wild prints, there's something for everyone (including menswear) in her collection along with a selection of vintage pieces.
For a break from traditional kaftans and tunics, stop by Laly for high-fashion, ready-to-wear apparel and accessories by designer Badra Benjelloun.
Taking a modern approach to Moroccan clothing, her selection of editorial-style pieces includes bold capes, camo babouche slippers and pochette purses with embroidered cartoon designs.
Isabelle Topolina moved from quiet Normandy to the bustle of Marrakech six years ago. Trained in her native France as a couture pattern maker, Isabelle brought her French flair and combined it with the colours and textures of the Souk to create Topolina: her sun-drenched, second-floor unit in the up-and-coming Sidi Ghanem neighbourhood. 
Sourcing patterned silks and printed cotton from the local merchants, she strings together A-line coats, relaxed peasant blouses and easy-to-wear dresses. Her 18-year-old son, Pierre-Henery Ramaget, takes part, too, hand-crafting the brand's signature tribal-printed and tasselled loafers for men.
Experience Morocco With B&R
Scheduled Group E-Biking Trip
This Morocco E-Biking trip will bring you from souk to kasbah to remote Berber village to mountain pass. One authentic experience after another. Unleash your inner nomad (on two electric-assist wheels)!
DETAILED ITINERARY
Explore Morocco with Your Tribe
On our Private Morocco Walking Journey trip, we give you its very best: vibrant Marrakech, Berber villages, stunning oases, fabulous food, a Kasbah hotel, and the High Atlas Mountains
DETAILED ITINERARY
Marrakech's Best Concept Shops
So stunning it could serve as the main attraction, the boutique inside the Majorelle Gardens—a dreamy botanical garden and one of the most visited sites in Morocco—is immaculately curated by creative director Stephen DiRenza.
From an in-house workshop, they create their own clothing, drawing inspiration from designs by Yves Saint Laurent (who purchased the gardens in the 1980s).
Hand-hammered silver jewelry, chic throw pillows and clutches embroidederd with 16C Islamic art prints round-out this truly unique collection.
The self-made description of 'glam in the Medina' is quickly understood as you enter the eclectic and colourful store of Max & Jan.
Go either all out with an attention-grabbing print tunic or stick to something more subdued by opting for an equally beautiful colour-block dress.
Take a breather from the busy souks at this airy lifestyle boutique with a Moroccan twist.
Showcasing nearly 100 independent of the country's designers and artisans, you'll find an array of items for your wardrobe (think: vibrant scarves, brass jewelry and jacquard babouches) and for the home like glasses for mint tea, patterned potteries, crocheted Hamimi lanterns… and really, anything else you can think of!
The collection changes frequently, so stop in to see what's new.
Owner Meriem Rawlings mastered her talents at Saint Martin's School of Art in London, where she lived with her British husband for several years.
It was there she designed her first collection of kaftans which earned their way to the shelves of Selfridges. Upon returning to her native Marrakech, Hanout Boutique was born.
This delightfully-curated shop sits beneath one of our favourite lunch spots (Terrasses des Epices) and is filled with contemporary pieces fused with Moroccan-inspired flavour like silk tunics, leather handbags and kilim boots.
Housed in a restaurant and bar, here you'll find a selection of items that highlight the designers and artisans of Marrakech.
Owned by Vanessa Branson, El Fenn is ripe with vintage clothes and bags, locally-crafted housewares, dazzling jewelry, coffee table books and more.
Expertly edited in a stunning location, pop in if you want the vibe of the Souk without the haggling.
With flower-toed ballerina flats, babouches speckled with hardware, beaded necklaces and gold rings anchored by gemstones, you can immediately sense the quirk and playfulness at the core of French expat Michèle Baconnier's shop found on a small street down in the Gueliz neighbourhood. 
Often, Baconnier will be present to assist with sizing (she also sells dresses, tunics and more) and to share the stories behind her hand-made pieces of jewelry.  
---
Marrakech's Jewelry Shop
El Abidi Nasser Eddine
A few steps away from Au Fil d'Or, this shop is brimming with one-of-a-kind items, from antique finds to semi-precious stones amidst silverware and gold.
Their eye-catching jewelry are the ultimate statement pieces like gold bangles, colourful stringings of Moroccan coral and their collection of Berber-inspired necklaces anchored by a Hamsa, the ancient Middle Eastern talisman that protects against the evil eye.
---
Shops for Home/Decor in Marrakech
Pick up a special piece for your home at this trendy boutique adorned with Moroccan housewares with an updated appeal.
A variety of hand-painted ceramics lend a Bohemian look to a cup of Moroccan mint tea; perfect to sip while perched on one of their throw pillows, each of which is uniquely hand embroidered with Berber motifs. Or pick up a handcrafted terracotta tajine to concoct Moroccan feasts back home.
Along with your new house-enriching pieces, you can peruse their brand of Moroccan skincare essentials like argan dry oils and milk-based soaps.
We're convinced the unmarked door of Mustapha Blaoui's shop is secretly a portal to another world; an enchanting one packed with whimsical carpets, antiques hailing from different countries, tables and chests that surely come with a story, carved wooden doors, lanterns worthy of being hung in Moroccan places, art, pottery, cabinets and more.
A real emporium of wonder, it's worth visiting for the atmosphere alone.
A specialist in carpets, Chabi Mohamed himself is the son of a shopkeeper (Au Fil d'Or). Among his collection, you'll find anything from antiques to Berber rugs (which can be shipped internationally).
Here's a good opportunity to play the bargaining game and land on fair prices without sacrificing quality.
L'Art du Bain
If you plan to indulge in a spa treatment in Morocco, chances are you'll cross paths with savon noir: a thick, dark-coloured soap that is used in the hammams.
Also known as beldi, this 'black soap' is rich in vitamin E and made entirely of natural and organic product.
You can stock up on jars of it in this tiny store along with other handmade, pure plant-oil soaps with scents like rose and orange blossom.
Hailing from Belgium, Valérie Barkowski came to Marrakech some 20 years ago to open Dar Kawa, a minimalist, white-washed riad (a traditional Moroccan guest house) in the heart of the Medina.
A woman of numerous talents, her eye for design includes creating luxury home linens like hand-embroidered pillowcases and bedsheets and tasselled hand towels which you'll find in her showroom just a few minutes away from the riad. Be sure to call ahead to make an appointment.
---
Footwear Shop in Marrakech
Atika
Visit Atika for a rainbow of designer-looking loafers at a fraction of the price.
Whether you like to stand out in a crowd or simply keep your feet looking classy, chose from a spectrum of shades that range from earth tones to neon.
Atika doesn't have a website, but you can visit their store in the Nouvelle Ville to scope out their selection. If you want something custom, give them a call ahead of time to put in your request.
JOIN MORE THAN 70,000 FELLOW WANDERERS