Notes From the Road:


Portugal Biking

Last year I was invited by Butterfield to plan a trip in Alentejo and my heart started pumping with happiness and pride. B&R is coming to my native Portugal!

Let me tell you something about this corner of my country, a region once known as Lusitania, one of the most important provinces in the Roman Empire. Alentejo is considered by many to be the soul of Portugal. With pastures that vary between myriad tones of gold and green that you can see for miles, it is home to one of the biggest productions of cork in the world. Yes, I am pretty sure that many of you have popped a couple of Portuguese-made corks, often found sealing the best wines in the world.

This region was always well known to me, as I used to spend my childhood vacation here, and came to know it more intimately in my early 20s. From the white sand, crystal clear waters of the Atlantic coast and the medieval hilltop fortified villages that border Spain, to the green-planed north and the never-ending gold fields of wheat in the south, Alentejo is special in many ways.

Alentejanos, the name given to the natives of Alentejo, are authentic in so many ways. Their speech is strongly characterised by a slow-paced accent. If you allow yourself to be absorbed by the natives and their culture you'll enjoy a well deserved, relaxed time.
Ready to Go?
On our newly resurrected Portugal Biking trip, ride along this culinary and cultural heartland, where sleepy villages dot a landscape of farmland, cork forests, olive groves, vineyards, and sinewy man-made lakes.
DETAILED ITINERARY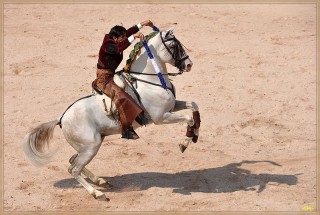 Olive groves, vineyards, cork trees and oak trees make up the bulk of the local vegetation in the region. As a region mainly dedicated to agriculture, it's easy to see how the slow pace of the work shaped the laid-back nature of the natives. A cork tree, for instance, will take five years to give its first cork, and after that, the (always manual) process of cork collection takes place every nine years. Alentejanos thus respect the all-natural process of growing and collecting what the earth gives to them. The world-famous Lusitano horse.
The landscapes, meanwhile, will introduce you to the autochthonous Mertolenga cattle and the world-famous Lusitano horse. The latter definitely deserves a close look at their elegant posture and robust build.
After re-acquainting myself with the region's landscapes and routes, I knew I had to dig just a little deeper to come up with events that would truly reveal the region. I wanted to share something more with our travellers—after all, it was my country, and I knew what I wanted to show. The question was how to find it. And the answer, it turned out, was all in the rhythm of the research.
After a couple of days, I started parking my car in the centre of villages and making inquiries of the locals, who normally spend their afternoons sitting in the shade of the main church in the village centre. After introducing myself and asking my first question, the answer was always the same: "Why don't you sit down and tell us a bit about yourself?" On many occasions, I forgot I had a notebook in my hand as I found myself sharing childhood stories with strangers, who quickly came to feel like old friends I had known forever.
Their readiness to help and answer questions took me to the homes of many new friends, and saw my share in many (seemingly never-ending) meals. These meals always took place in a dining room full of family photos—accompanied by stories and memories that the hosts were happy to share. I wasn't a stranger anymore. I didn't feel like a researcher for B&R either. I was in my own country, having a true experience of a region that meant so much to me.
And this was how the trip came together. From lunches at the family table of award-winning wine producers and olive oil tastings in convents to visits to family-owned private eco-systems that preserve all types of local animals, at its core, this trip is a series of authentic, true experiences—which the Alentejo people are all too happy to share.
JOIN MORE THAN 70,000 FELLOW WANDERERS