For George, It's About

the Journey
While it all worked out pretty well in the end, when you really stop to think about it, George Butterfield had one hell of a nerve.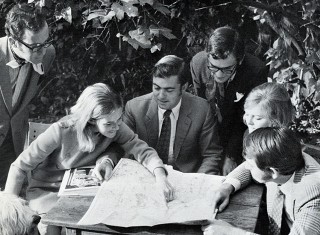 When he decided in 1966, having just graduated law school, that instead of practicing law he'd team up with his wife and her brother to lead a bunch of their fellow 20-somethings on a bike tour around Europe, he wasn't entirely sure that people would want to travel with him—but he was absolutely sure of how he wanted to travel.
"We started Butterfield & Robinson to see the world and have a lot of fun doing it," he says, admitting, "we just wanted to get back to Europe for the summer."
The trio's vision wasn't about storming through a city or region and checking as many sights as they could off a bucket list. It was about immersing oneself in a region, talking to the locals, sampling their fare (an especially smart strategy when you're travelling through the world's greatest wine regions) and sharing in their experiences.
"Along a few of the beautiful valley roads of Germany, we bike," read B&R's first brochure penned by Martha Butterfield back in '66, "(providing) an opportunity to swim, to picnic and to acquire a feeling of seeing Europe the way thousands of European students do."
Be Part of B&R History
To celebrate our 50th Anniversary we're going back to where it all began. Just as George did in 1966, we'll traverse the beautiful valley roads of Bavaria on our new Munich to Salzburg Biking trip.
DETAILED ITINERARY
They began providing immersive and authentic travel experiences long before those became industry buzz words—not because George was trying to distinguish himself in the marketplace (after all, at the time there was no market for this kind of thing), but because he just couldn't imagine travelling any other way. It wasn't so much a business model as a philosophy, and while innovation has always been a hallmark of B&R, George's vision has remained constant.

While he wasn't always sure it would work, he knew he had struck on something special; in fact, he believed in his idea so strongly that he was able to persevere against that most heady of obstacles, the opinion of his mother-in-law, who considered travel "a futile pursuit."
As George grew up, so did B&R. After years of successfully running student trips he began to notice that the parents of his young travellers were expressing similar interest in biking around Europe—though they were admittedly less enthusiastic about the hostels their kids were staying in.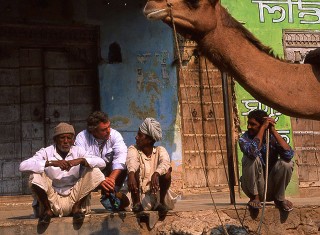 An unabashed believer in treating yourself well, he swapped out the hostels he had been using on student trips for great hotels, and made sure to include stops at some of the region's best restaurants along the way. It took a few tries to get the concept off the ground, but by 1980 George had struck upon a formula that combined his curiosity about the depth of a place and his firmly held respect for its history with an appreciation for the good life.
Five decades and many accolades later, the industry term for the style of travel he pioneered is "active luxury." To George, it's simpler than that.
"The reasons we travel remain the same as they always have: We love exploring new places. We think biking and walking are the best way to see a region's people, history and culture. And at the end of the day, we like to treat ourselves well with a great meal and a great hotel," he said in 2000.
"We travel in style and comfort. I guess we're known for that. But for me, it's always been about the journey."