Ask an Expert: How to Choose the Right Bike for You
Our European Director of Operations, Geoff Sandquist, hones his decades of bike experience to recommend how to choose the right bike, plus shares details on B&R's brand new fleet. 
While many of us are restricted in our travels this year, that doesn't mean we can't still explore. Sometimes all you need is a new means of movement to help you see the world that's around you through fresh eyes.
One of our long-standing favourite ways of getting around is the bicycle. On a bike, familiar scenes become renewed: you experience your surroundings at a different speed—a slower one—allowing you to appreciate the little things. Gliding down a quiet countryside road. Pedalling a trail that leads to a hidden lake. Discovering a new Sunday afternoon tradition with the family.
Whether you're an avid cyclist who's looking for a refresh of your gear or you're new to the biking world, we're here to share our expertise. Our recently renewed fleet combines the best components from models we've previously used to craft our ultimate set of two wheels. After decades of testing out the top makes in the business, you can take it from us: here's how to choose the right bike for you.
Hybrid vs Road Bike vs E-Bike: What's the Difference?
The first question to consider is what you want to use your bike for. Are you looking to begin commuting to work by bike for a healthier start to your day? Or is it more for touring—a weekend bike you want to use to check out the country roads beyond your city? There are three main types of bikes we offer on a B&R trip: a hybrid bike, a road bike and an e-bike.
Hybrid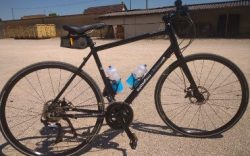 A hybrid bike, which is a cross between a road bike and a mountain bike, is best for commuting, city riding and touring. It keeps your position upright, with flat handlebars and slightly wider wheels than a road bike. A hybrid bike is a great place to begin if you're just getting started and taking up biking as a leisurely hobby. 
Road Bike
With narrower wheels and drop handlebars that put you in an aerodynamic position, a road bike lets you gather more speed, take on longer stretches of terrain and tackle challenging climbs. This option is best for those who seek a high-performance ride and have a bit more experience on two wheels.
E-Bike
Whether you're commuting or touring, the electric assist of an e-bike is a wonderful way to reduce some legwork, especially if you're in a mountainous region. We have an article dedicated to the rise of the e-bike that you can check out here. 
A Quick Note on Racing Bikes
Chances are if you ride a racing bike, you already know a fair bit about biking! It's worth noting we can upgrade you to a carbon road bike (extra charges apply) on our trips. We recommend that if you haven't ridden one before, but are interested in doing so, get well-acquainted before opting for one on a trip with us.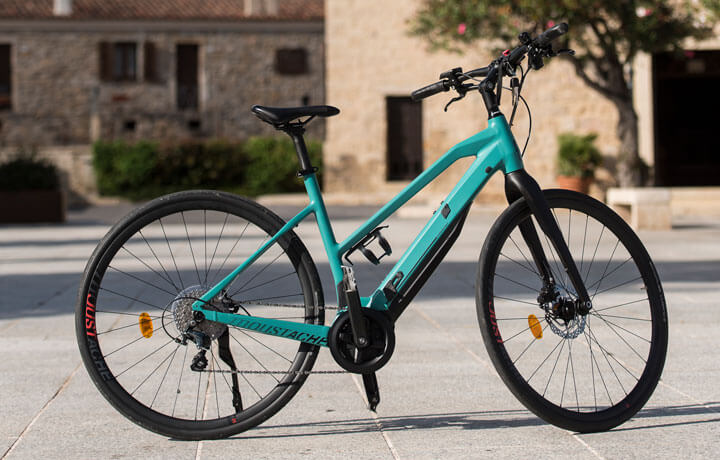 Which brand should I choose? 

Most of the top names make their bikes in similar styles and often even use the same factory. Trusted North American brands include Cannondale, Specialized and Trek⁠—all of which we've offered in previous fleets. European brands we've used and recommend are Pinarello, Bianchi and Scott, though these might harder to come by in the US and Canada.
Once you've determined your budget, head to your local shop to speak with an expert who can guide you through different styles and makes. If you want to find something similar to what we offer, you can share the specs on our equipment page as a reference.
What about other biking gear?
Helmets
The key to a good helmet is one that fits properly and not being shy about what you spend to make that happen. This is where you'll preferably want to defer to an expert in-person if you're unsure. Helmets generally come in in two sizes: small and medium (sometimes large, too) or are sized at 54 cm and 57 cm. Look for more adjustments that will help with the perfect fit, like a spinning dial and adjustable straps. Knowing your hat size will help guide you.
Our helmets come from an Italian maker, Cratoni. We offer two different sizes with removable pads that we wash between each trip.
Shoes: To Clip In or To Not Clip In?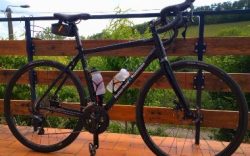 If you're not already familiar with clip-in cycling shoes but looking to try them out, the easiest ones to get started with are the Shimano SPD off-road pedal and shoes. They are designed so you can clip into either side of the pedal and are easy to snap on and off.
Clip-in shoes reinforce the key to pedalling engineering, which is to keep the ball of your foot over the pedal axle and not the arch. When you rely on the arch of your foot is when your legs will fatigue and start to get sore.
You can also use toe cages to keep your foot in the correct position without clipping into the pedal. On our trips, we offer the option to bring your own pedals (and your shoes), toe cages or a regular pedal. We always recommended getting acquainted with clip-in shoes or toe cages rather than trying them for the first time on a trip with us. 
Apps: Routes & GPS
On all of our trips, we set you up with a tablet with the app Ride with GPS, which we find is great for drawing and sharing bike routes. Another bike app that's gaining in popularity and a favourite of our team is Strava. There's also Garmin Connect, which allows you to collect ride data if you have a Garmin device. 
These apps are perfect not only for tracking your routes and performance but also for checking out nearby trails fellow cyclists have already tested and to get a feel for the elevation and terrain before you take off.
Handlebar Bags
We use and recommend Ortlieb, a German company that's considered one of the top makers of bicycle bags. We opt for a small handlebar bag in order to not have too much weight on the front end of the bike. Ortlieb makes several different styles—from paniers to backpacks to saddlebags. 
Hit the Open Road
Check out our 2021 trip collection to see all the destinations you can explore by bike with us.
See the Collection
The B&R Bike Fleet: What We Use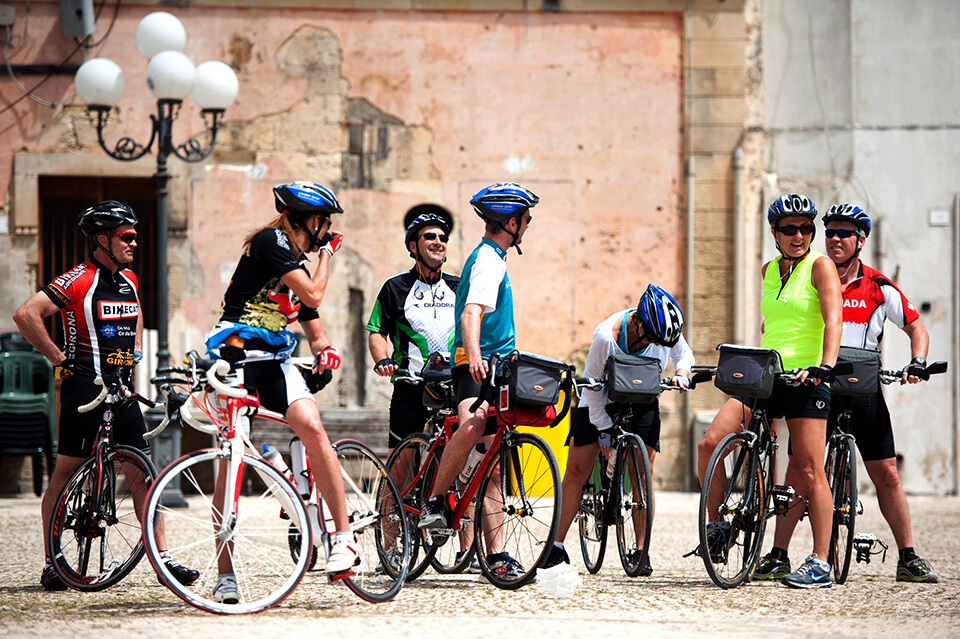 For 2020, we designed a custom B&R fleet with the help of Tim McDermott. Tim worked with us for three seasons as a mechanic and guide. He has since moved on to designing bikes, working with two high-end European bicycle brands: Focus and Ridley. Collaborating with Tim on a bespoke product allowed us to create bikes that fit our travel style and gave us access to the factories that build them.
We've taken the best components of our previous fleets, going through our list part-by-part and then sourcing top-of-the-line pieces from companies like Shimano and Mavec. We also made some improvements, such as moving from rim to disc breaks for a softer breaking dynamic and switched to compact gearing.
Here are some key points about our new bikes:
Flat Handlebar Hybrid Bike
-Light, fast-spinning Mavic wheels
-High-performing Disc brakes by TPR
-Shimano high-end Ultegra compact gearing
-Ergonomic handlebar grips and adjustable stem
Dropped Handlebar Road Bike
-Light, fast-spinning Mavic wheels
-High-performing Disc brakes by TPR
-Shimano high-end Ultegra compact gearing
-Gravel geometry for comfort and stability
E-Bike Fleet
-Made by Moustache, a French manufacturer that exclusively makes e-bikes
-Light, fast-spinning Mavic wheels
-High-performing gearing and hydraulic Disc brakes by Shimano
-Sector-leading Bosch e-motor and 500Wh battery
-8 kg lighter than our previous Scott E-bike Fleet
–Check out this article for more information about our new e-bikes
As for our old fleet, we shared some with our local partners, donated some to a charity in Morocco and sold the e-bikes to our community in Beaune where our atelier is located.
We hope this has helped provide some insight on how to pick the right bike and that we will see you on one of our bike trips soon! If you have any other questions about biking or our trips, be sure to get in touch with a member of our travel team.
JOIN MORE THAN 70,000 FELLOW WANDERERS