Ask An Expert: Your E-Bike Questions, Answered
With an e-bike, there's no compromising on having as active a holiday as you want while getting a little boost when you need it. The way we see it, they're designed to flatten hills and ease the challenge of those all too common ascents that define many of our itineraries.
E-bikes create the perfect opportunity to introduce the world of B&R to any friends who've commonly begged off one of our adventures with excuses of fitness or fatigue. What a great way to see the (hillier) world: pedalling areas you didn't think were possible and seeing them in luxurious style as only B&R delivers.
To help prepare you for your next e-bike adventure, our Operations team answers the most commonly-asked e-bike questions and shares tips and best practices while riding.
What is an e-bike?
An electric bike is a conventional bicycle outfitted with a small motor that provides electrical assistance when riding. As you ride the bike, the motor provides a boost of energy that aids your efforts, allowing you to ride faster and further than you could on a standard bike. 
The most common type of e-bike, and the ones offered on B&R trips, is called a pedelec or  pedal-assist e-bike, which only activates while you are pedalling the bike (opposed to the less common throttle e-bike which works similar to a moped or scooter.) 
Most e-bike systems feature 4-5 different power modes, each one offering a different level of assistance, that are controlled by a small display computer that is typically located on the handlebars. E-bikes are heavier than standard bikes due to the motor and battery pack.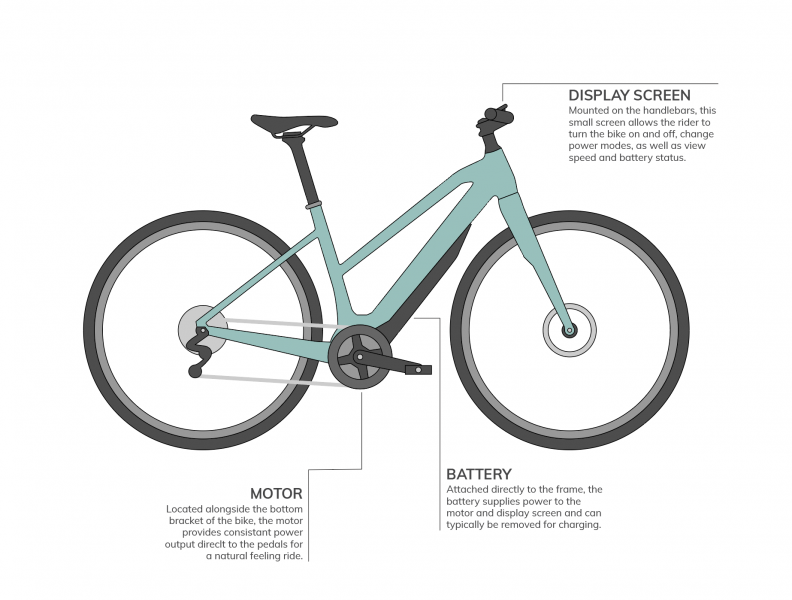 I've only ever ridden a standard bike. How quickly can I pick up riding an e-bike?
E-bikes are designed to be easy to use and, as long as you can ride a standard bike, it takes only a couple of minutes to get accustomed to the e-system. To use an e-bike, simply turn it on using the power button, select your desired power mode on the display computer, and you're ready to ride! 
The gears, brakes and pedals work exactly the same as a standard bike, but be aware of the added torque an e-bike provides when you first start moving. If you need to increase or decrease the power mode on the e-bike, including turning the bike off, you can toggle the buttons on the display computer without having to stop riding. 
I like riding my conventional bike, why would I choose to ride an e-bike?
E-bikes have a myriad of benefits for almost every type of cyclist, especially when you're travelling! Many people have wrongfully viewed e-bikes as a bike for the lazy cyclist, or for those who have limited experience riding, but their increasing popularity has shown that they're far more useful and fun than most people think. 
E-bikes can unlock destinations that could otherwise be inaccessible (like that super-steep hill with the beautiful view at the top) or allow you to ride an extra hour or two because you've got extra gas left in your tank. An e-bike could also mean you get to actually ride beside your super-fast travel partner (instead of watching them disappear over the hill, again) or maybe it could mean arriving for lunch significantly less sweaty than usual (to enjoy your Negroni, of course!)
Most importantly, e-bikes can take the stress out of performance, giving you a real chance to take in your surroundings, get some fresh air and enjoy the journey. While not everyone will be interested in riding an e-bike, we'd recommend not writing it off without giving them a try…you may be surprised at how much fun they can be!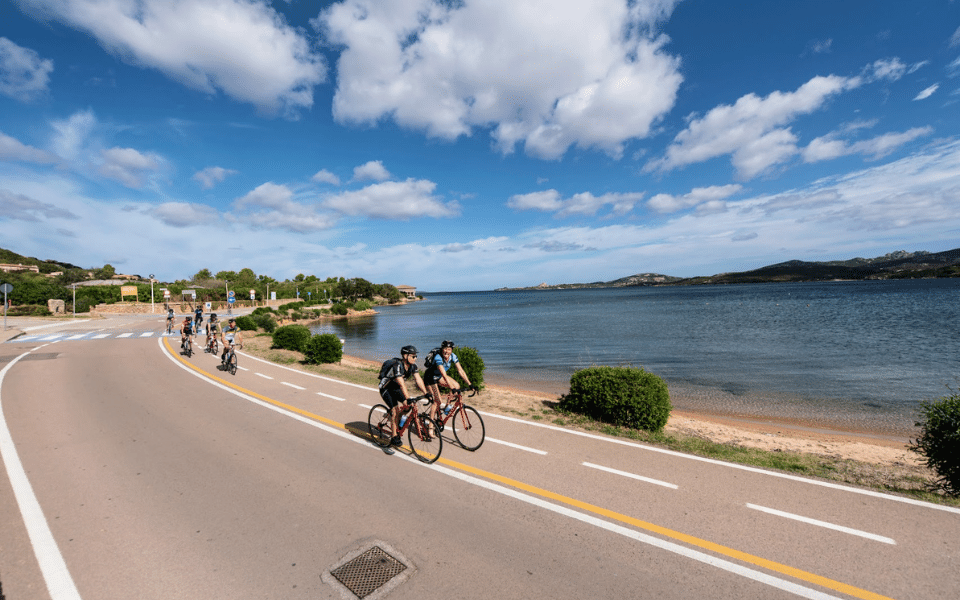 How fast can I go on an e-bike?
Almost all e-bikes are designed with a set speed limit that caps the power output at a designated speed–in Europe, this is 25km/h. This limit is a safety feature, but it's important to note that it does not prevent a rider from going faster, it simply dictates that anything past the 25km/h limit must be 100% powered by the rider. This limit is typically designated by local jurisdiction, so it may vary in different parts of the world.
Can I still get a good workout using an e-bike?
Absolutely! One of the best features of an e-bike is the ability to adjust power modes, allowing you to increase or decrease the amount of assistance the bike provides you. On the lowest mode, typically called "eco", the assistance level is quite light and helps to balance out the extra weight of the e-bike. Simply change your power mode to suit your energy level throughout the day of riding, even with the opportunity to turn the bike off entirely.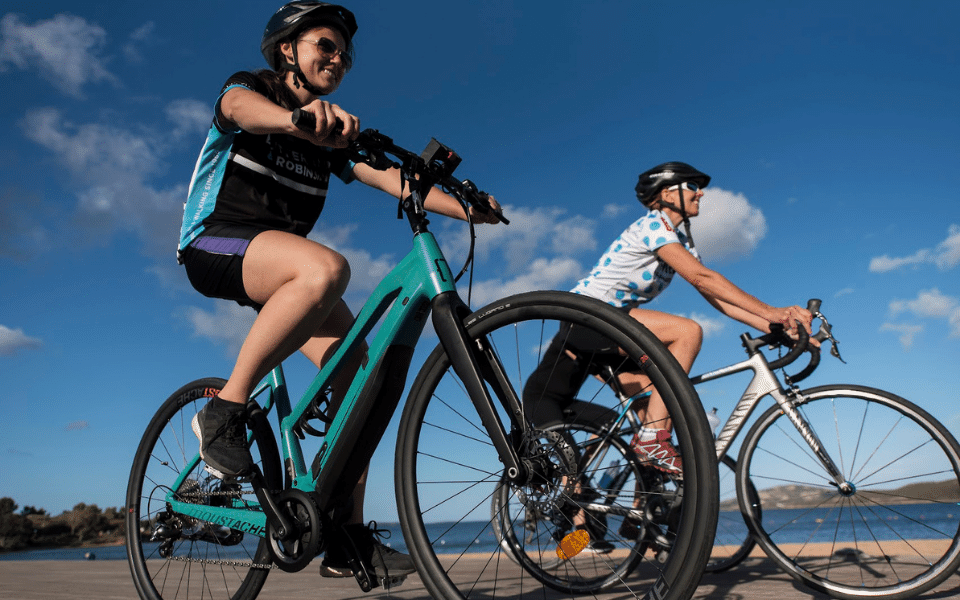 How long will the battery last?
An e-bike battery should last you all day on a B&R trip! Most good quality pedelec e-bikes have ratings around 120km (or about 75 miles) of riding per charge, providing you're using the lowest power mode. There are many factors that can impact battery charge, including wind, road conditions and elevation, but most riders can get through the day without worrying about it. We'll always have spare batteries on hand if yours runs low!
What model of e-bike does B&R offer?
The type of e-bike you'll receive on a B&R trip will depend on the region you're travelling in, as we select bike models to suit regional needs and local terrain. Regardless of the region, we only offer lightweight, pedal-assist models and always pack spare batteries. Give us a call or reach out to your Travel Advisor if you'd like more details.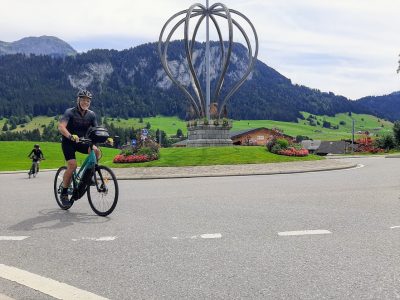 Where in the world can I join an e-biking trip with B&R?
While e-bikes are available on almost all of our trips, regions with specific e-bike itineraries include: Tuscany, Alsace, Northern Greece, Mallorca, Switzerland, Morocco and Japan. 
Our Travel Advisors are always happy to chat about crafting a Bespoke e-bike trip to suit your needs, so you get to decide where and when to ride and who you're riding with. Get in touch with a member of our time to see how we can start planning your custom e-bike adventure.
JOIN MORE THAN 70,000 FELLOW WANDERERS