Aging Like a Fine Wine:


Nearly Half a Century of B&R

Editor's Note: B&R's been Biking and Walking Since 1966, and while a steady diet of good food, great wine and miles of biking has kept us feeling sprightly, we can't deny the truth: we're about to turn 50. As we ramp up for the big 5-0 celebration in 2016, we thought we'd start by going back to where it all began…
---
Fifty years on, having traversed six continents, immersed ourselves in more than 80 countries and made more friends than we can count, it all seems so natural—the company's origin having long ago become lore: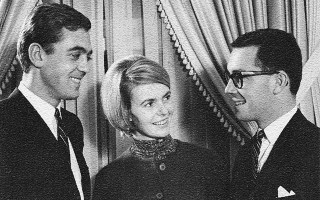 Toronto law student George Butterfield teams with his high school roommate Sidney Robinson and his wife Martha Butterfield (Sidney's sister). Itching for adventure, the three lead a student trip that meanders its way through Europe for a summer.
"We decided the only way we could afford to get back to Europe, where we'd travelled, worked and studied, would be to develop a student tour program," George recalls. "Our idea was to visit great cities, arrange history seminars and spend some time biking and hiking."
It worked, and a company – not to mention an entirely new way to travel – was born.
What doesn't get said, but bears keeping in mind, is just how damn crazy this idea was in 1966.
The Inaugural Odyssey
That first trip was a 59-day odyssey taking 43 students – many of them barely younger than George, Martha and Sidney – through five countries. On a hodgepodge of rented bikes, they spent a week riding through Bavaria, from Munich to Salzburg. They hiked in the Swiss Alps. They explored the quays of Paris. They visited the galleria and palazzi in Florence. Along the way, they savoured all the local specialties, from croques-monsieurs and gelati to pints of Leffe and some great wines.

After a few years of only running student trips, in 1974, George decided to offer an adult version of the trip. It was a brilliant idea—a sure winner. Forget the hostels that the students were using—find a few great hotels and bike between them! B&R joined with Lufthansa to offer trips in the Bavarian Alps billed as "a deluxe bicycle trip featuring modest exercise in a great cultural region with the best in the way of hotels and fine food." (In hindsight, it may have been a little verbose.) George published 20,000 brochures, sent them out and waited for the bookings to roll in.
None did.
Be Part of B&R History
To celebrate our 50th Anniversary we're going back to where it all began. Just as George did in 1966, we'll traverse the beautiful valley roads of Bavaria on our new Munich to Salzburg Biking trip.
DETAILED ITINERARY
Innovation… For Better or Worse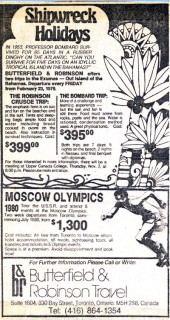 Undeterred, George and Martha continued to run student trips and ran a number of trips for the Royal Ontario Museum, but the company as it exists today wasn't quite yet borne. In parallel, Martha started her own interior design business and Sidney went on to become one of the top corporate lawyers in Canada. George opened a restaurant that became a hot Toronto nightspot. He had his hand in a number of businesses. And then, in 1979 another great travel idea emerged: Shipwreck Holidays.
The idea was to take people to a deserted Caribbean island in a shipwrecked state. For $600, each person would receive a bathing suit, a plastic sheet and a bucket. While the purpose of the bathing suit was obvious, the other two props were perhaps less straightforward. Participants were to dig a hole in the sand, put the bucket in the hole, cover it with plastic and collect the condensation for drinking water. Food was the conch from the sea. A brilliant idea—real survival in a beautiful place. He planned 15 departures in the first year. This time there was some interest. He ran one trip.
Everyone hated it.
---
What doesn't get said, but bears keeping in mind, is just how damn crazy this idea was in 1966.
---
Undaunted Ingenuity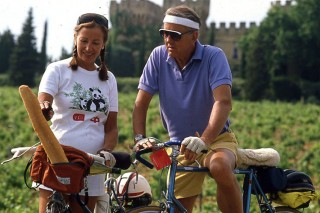 But George remained undaunted. A true entrepreneur, he knew that success in business depends upon three things: innovation, surrounding yourself with talented people, and good timing.
In 1980, George re-introduced the concept of deluxe biking trips for adults. This time, after many valiant attempts and innovative spins, B&R's concept of high-end cycling and walking holidays (finally) caught on. What started as one trip in 1980 became three trips in 1981, eventually climbing to more than 400 in 2016. While the growth has been exponential, the company has always remained a family-run business.
A Rose by (a Shorter, Better) Name
The very first Butterfield & Robinson brochure promised, "We will travel Europe in a relaxed and leisurely fashion." It took a few years to both refine and expand that philosophy, and the exact origins of what would become B&R's motto and raison d'etre remain something of a mystery—there are clues scattered throughout the archives, including a partially wine-stained napkin with "Slow down…" scrawled in spotty penmanship—but the root of the idea has been there from the very beginning:
Slow Down to See the World


After 50 years, a stumble or two, a few more "eureka!" moments and an unfailing commitment to slowing down, today Butterfield & Robinson is the world's premier active travel company. We've spent half a century crafting incredible journeys and immersing ourselves in the world's most amazing places.
This is the point where most companies would add, "and we have no intention of slowing down." But we're not most companies.
Slowing down has worked pretty well for us over the past 50 years—and we have every intention of continuing to do just that.