Experts + Insiders:


Karen MacRae

Like so many of B&R's intrepid world wanderers, Trip Designer Karen MacRae has never been much for sitting still.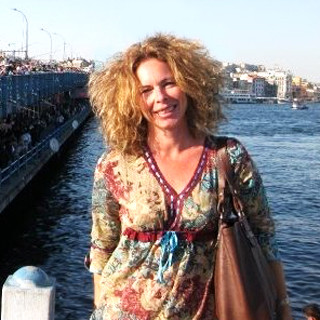 "In 2000 I went to Asia for three months, then returned to Grand Cayman where I was living, resigned from my job there and went straight back to Asia," she recalls. "I just felt intensely compelled to return and see more and more and as much as I could. I stayed for 10 years."
And so it goes.
During that span, her resumé racked up nearly as many pages as her passport, with stints managing a riverboat and then the Inle Princess Resort in Myanmar, living and working as a local guide in Thailand, and eventually becoming B&R's Regional Director for India.
Like so many Butterfieldians (a phrase I just coined now—don't tell George), she's returned to the fold at B&R to craft the sort of experiential adventures that will immerse people in the lands she fell in love with. Just don't hold her responsible if upon your return you decide to quit your job and move back there permanently.
---
Vital Stats
Years in Travel Business: 14 years
Years with B&R: 5 (off and on)
Countries/Regions of Expertise: India, Myanmar, Vietnam, Cambodia, Bhutan, Thailand
Countries visited: About 45
Countries lived in: 5
Trips planned: 50+
Trips guided: 40+
Q&A with Karen
You've both travelled and lived in many countries where the official language was not your native tongue. What's your preferred method for immersing yourself in a country or region?
Make friends with the locals! Making friends with locals is the easiest thing in the world.  They are your key to the country you're visiting anywhere.
What's the best thing that ever happened to you while travelling?
So many great things have happened, it's impossible to identify one. But one thing I'll never forget was when a Pakistani man held a pillow under my head for almost six hours on a rocketing minibus from Peshawar to Chitral. It really was above and beyond hospitable. I think if I had accepted all the dinner invitations I received in Pakistan, I would still be there.
This one's probably just as tricky. Can you describe a memorable moment that jumps out at you from your time as a guide?
A traveller was obsessed with collecting spoons, she collected them every place she went, and was devastated she couldn't find one in Vietnam. I found an old antique-looking spoon in a shop,  found a silversmith and got him to reproduce it in sterling silver,  got it engraved with "Vietnam" and the year, and presented it to her. She was floored!
What are your three most underrated destinations?
Sulawesi, Indonesia, Tamil Nadu, India and Nan Province in Thailand.
Do you have a favourite travel quote, mantra or words to live by?
"Go with the flow." You can control some of what happens but some stuff is just going to happen regardless of what you do.
What Karen Does Best
To really know Karen is to see firsthand what she does best. In her new portfolio of India adventures, she's crafted itineraries that offer multiple ways to experience this ancient and amazing country. Click below to see for yourself.
SEE MORE
OK, time for the lightning round. What's your favourite trip you've ever taken? (I know, I know, but try to narrow it down to one!)
Syria.
Favourite trip you've ever designed?
Myanmar and Bhutan is a fantastic trip. Very similar countries in many ways but the contrasts that do exist are stark and fascinating.
Favourite hotel in the world?
Difficult question! I have so many favourites, but if I'm forced to choose, Amankora Punakha – a converted Bhutanese farmhouse. It's small and intimate, only eight or nine rooms, and the setting overlooking the valley is incredible.
Favourite restaurant in the world?
It ranges from holes-in-the-wall to street stalls to Michelin-starred restaurants. But taste is subjective and my favourite restaurant is generally where ever I ate the last meal I loved.
Favourite bottle of wine?
I love Cakebread Sav Blanc.
Someone has just landed in a country they've never been to, where they don't speak the language. What's your number one piece of advice for them?
Change money and have the hotel address written in the language of the country you are in. Have fun.
What's one destination you haven't visited, but want to visit?
Iran. I am obsessed with visiting Iran. The history, the incredible friendliness of the people, the culture. I can't wait to go!
What trips do you have in store for yourself: where are you headed in the next 12 months?
Hopefully back to India and Bhutan—and Iran!
We all mistakes. What's your most embarrassing travel story?
What happens on trip, stays on trip.
OK, fair enough. But what's the craziest thing you've seen on trip? Probably the monkey with a mustache and toy gun in Varanasi. Don't ask.