Experts + Insiders:


Michele Harvey

For some kids, a family vacation means a week at Disney World or a day at the beach. For trip designer and South Africa native Michele Harvey, it meant…well, something else.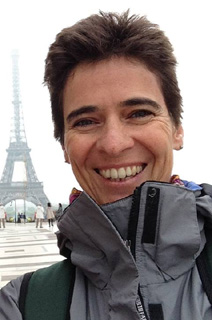 "Our family holidays growing up in what was then Rhodesia, were spent in the Eastern Highlands of Zimbabwe. We would travel in convoy with the army as the civil war was at its height, and all civilian movements were under armed convoy," she recalls. "I think wanderlust bit at around the age of eight years old on those early road trips."
As you can imagine, she also developed a deep appreciation for travel that didn't include accompaniment by an armed guard. No surprise, then, that she served as the local guide on B&R's first South Africa trip in 1996, beginning a relationship that would span two decades and culminate with her joining B&R's talented team of private trip designers.
"I mentioned to the guide manager at the time that I could speak Dutch and would be available to guide their biking trips in the Netherlands and Belgium," she explains, before confessing, "I failed to mention that it was 17th-century Dutch (as Afrikaans is sometimes referred to). But that led to great things!"**
---
Vital Stats:
Years in Travel Business: 21
Years with B&R: 19 (on and off for the last three years)
Countries/Regions of Expertise: Southern Africa, Greece, Turkey, SE Asia, Bhutan and Nepal
Countries visited: 40-plus (nine in Africa, 10 in Asia, 21 in Europe and CANADA!)
Countries lived in: Zimbabwe, South Africa, UK, France
Trips planned: 50-plus
Trips guided: 150-plus
Q&A with Michele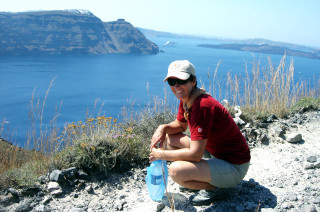 What's your preferred method for immersing yourself in a country or region?
I spend the first few days exploring under my own steam and creating my own impressions, rather than having too many preconceived ideas going in. Wherever possible, I find an 'in' to engage with the locals; I try to learn a few greetings of the language and find out what the national obsession is (like a sport or politics). I tend to take a lot of cab rides and engage the drivers in topics of national obsession. I also love fresh food and produce markets and spend hours wandering the market places sampling local coffee.
What's the best thing that ever happened to you while travelling?
The best moments for me on the road are those authentic cross-cultural exchanges, often in broken languages over a cup of tea. Moments of great hospitality and simple exchange. Perhaps my fondest memory of such an exchange was with a Buddhist monk in his hermitage, above Taktsang Monastery in Bhutan. I had been hiking with a local guide and we were invited into the monk's home for a cup of tea. He had a great presence and warmth, sitting in his meditation corner, surrounded by prayer texts and ritual objects, completely self-sufficient with a flask of tea and a plate of cracked rice. We shared our trail snacks over tea in the humbling shadows of the mountains.
Time for favourites. What's your favourite trip you've ever taken?
I did a three-week research trip around the Greek isles, including the Turkish coast. The main objective was to find the greatest swim spots, followed by the most authentic tavernas. (Ed. Note: Life's tough, eh Michele?)
See for Yourself
It's hard to believe that so much beauty, diversity and wine can be found so close to Cape Town—to say nothing of the first-class hotels and truly spectacular biking. The rich culture and natural bounty of stunning South Africa make for a trip you'll never forget.
DETAILED ITINERARY
Favourite trip you've ever designed?
A Southern Africa "Grand Journey," which included biking in Namibia, game-viewing in Botswana and Zambia. All transfers were by small charter plane—travellers would literally land on a remote dirt runway, get on their bikes and cycle to the next point/lodge/town.
Favourite hotel in the world?
Eeesh! Tough one. I'll say Dwarika's in Kathmandu, for the architectural heritage.
Favourite restaurant in the world?
Probably right here at home in Cape Town: Harbour House, Kalk Bay—can't beat the setting. A close second would be Katina's Taverna in Ammoudi Bay, Santorini.

Favourite bar/wine bar/watering hole in the world?
Loved the old Rum Doodle in Kathmandu for its expedition and mountaineering memorabilia. Otherwise, any sunset with sundowners in Africa. Who needs a roof?
You've designed and guided more than 200 trips cumulatively. What's one memory or moment on trip that really jumps out at you?
We were guiding a Nepal trek many years ago that overlapped with Thanksgiving. I was relatively unfamiliar with Thanksgiving but it dominated conversation as the days went on. My co-guide and I decided we had to do something to honour the tradition and the hunt for turkeys began. While we were in the mountains we had contacts in Kathmandu track down frozen turkeys, which then had to be flown into Lukla (a remote airstrip that serves as the trailhead to the route that leads to Everest). That was the first challenge.
The second challenge was to figure out how to cook them. We had a mobile kitchen and chef travel with us—he had never seen such big birds! We discreetly asked the guests how they would usually cook a turkey and then relayed the info to the Nepali chef. The kitchen tent was a riot with all the trek staff discussing turkeys and trying to find pots for the birds to fit in. Needless to say, on Thanksgiving night and the last night of the trek, two turkeys, cooked at 9,000-plus feet altitude in a most unconventional way, were served complete with a Nepali-inspired apple sauce.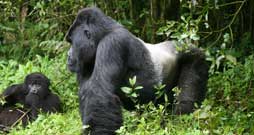 This is my favourite question to ask savvy and experienced world wanderers like yourself: What's the top destination you haven't been to, but want to visit?
Rwanda. To hike or mountain bike the green hills, drink coffee with the locals and experience another land of great reconciliation. The genocide in Rwanda was unfolding the same month as we celebrated our democracy in South Africa. Seemingly incongruous events, one joyous, the other a tragedy, within 2,000 miles of each other. (Oh, and if I can, I'd love to see the mountain gorillas.)
---
**For the record, I feel compelled to state plainly that we at B&R do not endorse exaggerating on resumes. (In the interest of full disclosure, I also feel compelled to admit to our HR Director that I did not, in fact, ghost-write The Sun Also Rises, as my resume may have implied. But I swear, I have totally read it. Well, OK, I haven't read it so much as I perused the first few pages. But I can confirm that I enjoyed those pages.)