Experts + Insiders:
Tom Abraham
It rains a lot in Vancouver. While this naturally leads to smiles among the city's sellers of raincoats and umbrellas, it's worked out pretty well for B&R, too.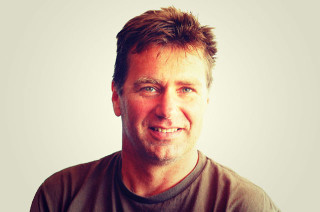 "When I was six or seven my parents gave me a giant National Geographic puzzle of India," recalls Trip Designer and Vancouver native Tom Abraham. "On rainy days I would put that puzzle together on the living room floor and stare at the depictions of tigers, the Taj Mahal, the Himalayas."
After many days spent on the living room floor (like we said—a lot of rain) an adventurer was born.
Given that wanderlust was ingrained in him early on, it was no surprise Tom found himself a partner in a British Columbia-based rafting and kayaking company that was purchased by B&R in the late 90s.
"I started with B&R by running rafting and sea kayaking expeditions, and after a year or so they decided I might scrub up well enough to guide some of their biking, walking and expedition trips," Tom recalls.
The life of a B&R guide followed, which is to say that Tom spent the next couple of years traipsing the globe, leading trips and conducting research around the world. In 2010 he transitioned into trip planning, returning to his home base in British Columbia—"With small kids around the house it was time to spend more time at home," he says—where he's come full circle.
Like his childhood self, he now spends his days staring at depictions of tigers, the Taj Mahal, the Himalayas and many more far-flung corners of the globe. Of course, this time he doesn't have to fantasize about them—just close his eyes and remember.
Vital Stats
Years in Travel Business: About 25
Years with B&R: 13 (plus or minus a few…)
Countries/Regions of Expertise: Bhutan, Nepal, India, Thailand, Myanmar, Cambodia, Mongolia, Western USA, Western Canada, Belize, Mexico, Croatia, Switzerland, Rwanda, Southern Africa
Countries visited: About 40
Countries lived in: Six—Germany, Switzerland, Nepal, USA, Australia and (of course!) Canada
Trips Planned: Really not sure.  Maybe 100?
Trips Guided: Ditto
Q&A with Tom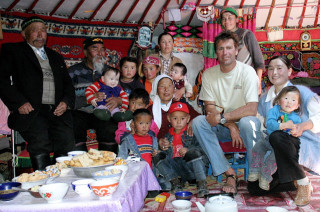 You've been to 40 countries. Is there any destination you haven't visited but would like to see?
I really want to visit the "stans."  In particular Taijikistan and Kazakhstan. Big mountains, unique culture, lots to experience and discover. I'd also like to visit Mergui Archipelago in Myanmar: undiscovered reefs and beaches, great diving, jungles, sea gypsies… what more could you ask for? Also, it will really annoy my friend, trip planning colleague and Myanmar expert, Tyler Dillon, if I get there before he does.
What's your preferred method for immersing yourself in a country or region?
One of the best things about working with B&R is that we also work with so many amazing locals, be they guides, experts, vintners, taxi drivers, hoteliers, etc. This is bar-none the ultimate way to get to know a region: make friends, ask questions, listen closely, repeat.
Beautiful Bhutan
Gross National Happiness is an official development goal in Bhutan. We haven't seen the numbers, but we're pretty confident they've hit their annual targets. Click below for an itinerary so rich in life-changing moments, you'll be sure to exceed even the loftiest of happiness goals.
DETAILED ITINERARY
Favourite trip you've ever taken? (I know, I know, but try to narrow it down to one!)
In 2003 my wife and I kayaked the outside of the BC coast from the Alaska Border to Vancouver Island. Fifty-two days of pristine scenery, crazy weather, unforgettable wildlife sightings, huge ocean swells or mirror-calm seas, freeze-dried veggies (yuck!) paired with fresh fish and foraged berries, massive sand beaches and even bigger sea cliffs. Oh, and great company. Bliss and adversity—often on the same day. It's a trip I revisit in my mind regularly.
Favourite trip you've ever designed?
Impossible to answer, although I tend to really enjoy planning big rambling odysseys.  I've planned and researched  three  60-plus day trips in the USA and Canada in the last five years, which can be a bit harrowing but fun, and I'm working on a 40-day Himalayan journey for a couple right now. I'd like to go on that one myself, but I don't think they'll invite me. On the other end of the scale, I also planned a four-day Places on the Verge trip to the Alberta Oil Sands that was highly interesting and educational to research.
Food is such a gateway into a new region. What's the most memorable meal you've had on the road?
I was researching travel opportunities in Mongolia in 2006 or so. In the far west of the country there is an extensive population of expat Kazakh nomads, who live in yurts and follow their flocks around the open steppes and mountain valleys. I was lucky enough to meet a large extended family, who was celebrating successfully moving its herds to the summer pasture. They invited me for a meal, which consisted of five kinds of animal fat, boiled into submission, covered with a layer of homemade dumpling. I sat to the right of the headman, and after his wife placed the pot in front of him, he pulled a large knife out of his boot (honest), poked at the largest piece of Bactrian camel fat, identified by its luminescent yellow hue, and offered it to me. With 20 expectant faces watching every move, I managed to eat it, smiled at the cook, and settled in for a very long meal.
"I'd like to visit Mergui Archipelago in Myanmar… it will really annoy my friend Tyler Dillon if I get there before he does."
What's your most embarrassing travel story?
I hate costume parties, dressing up etc. For the final night of a very fancy Bespoke trip in Venice, I was coerced into wearing the most ridiculously foppish outfit of a baroque-era Venetian Prince. We had to walk through St Marks Square to reach the venue. There were four of us guides in period costume, and we must have been stopped by 100 tourists for photos. They thought we were street performers. However, luckily my embarrassment was upstaged by one of my co-guides, who stepped on the hem of her dress and went down in the middle of St Mark's Square like a lacy sack of spuds.
You're a B&R veteran, you must have a good George Butterfield story.
At the end of my very first guiding job for B&R, I was sitting in the office in Beaune, labouring over my trip accounts. Sitting near me, also trying to balance his trip accounts, was an older guy. At one point he grumbled out to the rest of the office, "what happened to the days when we used to just hand the guides a pile of money and tell them to spend it and run a good trip? This paper work is killing me!" That was my introduction to George Butterfield. After that, I knew I'd be able to get along in this company.
And finally, in all your gallivanting around the globe, what's the craziest thing you've seen or done while on a trip?
Definitely classified information. First rule of guiding: what happens on a trip, stays on a trip. I can't believe you even asked that!