17 Top Berlin Museums
to Explore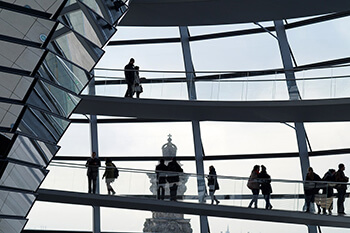 As you walk through Berlin, the entirety of the city itself is a living museum. Once divided by the infamous Wall, you'll see golden place markers along streets and sidewalks highlighting the former East and West parts of the city. Now a unified and vibrant cultural capital, with many artistic treasures to explore, here's a guide to some of the best in Germany's capital. (For our guide to many of the Second World War museums and exhibitions, check out our Things To Do in Berlin post).
The Undisputed Classics
Museumsinsel (Museum Island)
A UNESCO World Heritage Site in itself, the fantastic Museum Island houses five spectacular museums and should be among your first stops for some of the world's most famous artworks, paintings, sculptures, artifacts and more. First established in 1830 with the Altes Museum, today, you will find five museums on this island, with one more to come; the Humboldt Forum will incorporate the Ethnological Museum of Berlin and the Museum of Asian Art upon its completion in 2019.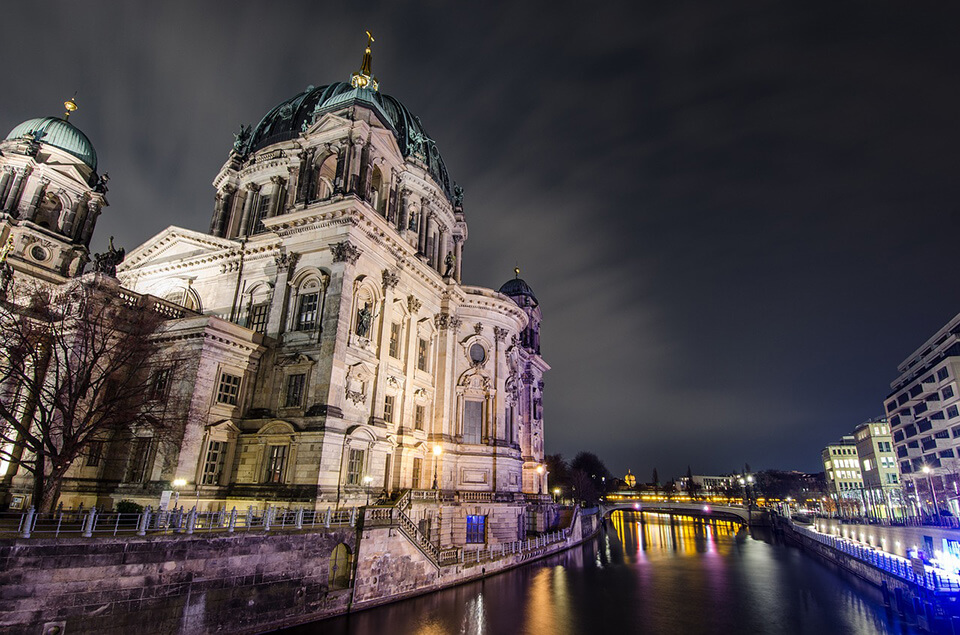 Berlin's most popular museum, receiving about one million visitors a year, the Pergamon Altar is the main draw here along with the impressive Ishtar Gate of Babylon, and the Roman Market Gate of Miletus with some lovely mosaics. Inside, you'll also find the Museum of Islamic Art. Undergoing renovation until 2025, a new fourth wing will highlight the Kalabsha Gate, a columned hall from Egypt, and the Tell Halaf facade. (Note: the museum is still open, but certain exhibitions may be temporarily closed during the renovation process).

The 'Old Museum' was first opened in 1830 as then-Prussia's pioneering achievement, thanks to Friedrich Wilhelm II. With a neoclassical design by Karl Friedrich Schinkel, Prussia's leading architect, within, you'll find a storehouse of Greek and Roman art and sculptures from the 10th until the 1stC BCE.
First built between 1843-1855, this museum was closed in 1939 at the beginning of the Second World War. Badly damaged during wartime and finally rebuilt in 2009 with an award-winning re-do by British architect David Chipperfield, the New Museum is filled with Egyptian, prehistoric and classical antiquities, including the famed bust of Nefertiti.  
This neoclassical gallery sits high on a platform overlooking the island, inspired by the Acropolis in Athens. Opened in 1876, it highlights the paintings and sculptures from neoclassical times through to Impressionist and early modernist art: the 19th to the 21st centuries. From Edvard Munch to Monet, Manet, Renoir, Cezanne, Max Liebermann and Johann Gottfried Schadow's sculptures of Princesses Luise and Friederike (considered the most accomplished Prussian sculpture), there's much to marvel at here.
Constructed in 1904, renovated and reopened in 2006, the museum is known for its large collection of sculptures ranging from the medieval period until the late 18th c., along with Byzantine art, coins (one of the world's largest collections) and medals. One of the most comprehensive collections of European sculptures, including some masterpieces Donatello (Pazzi Madonna), Antonio Canova's dancer, and Petro Tacca's Tarquinius and Lucretia.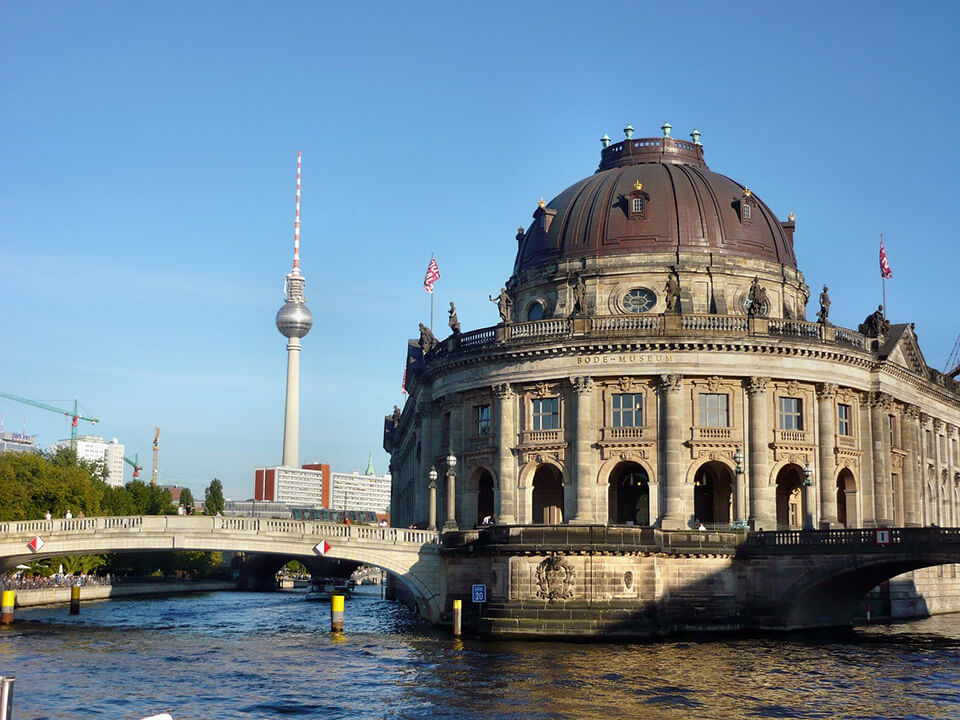 MORE FOR ART LOVERS…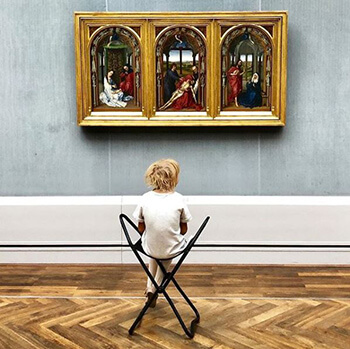 Not part of the Museum Island but still worth visiting, Berlin's state museums hold a lot of treasures (some of them looted or lost/destroyed during the Second World War), here are some other worthy institutions to visit.
Find the greatest selection of Old Masters works in Berlin, within the Kulturform. From the Middle Ages to the early modernist period, the simple interplay of light, brush and paint from the most skilled artists in the world, with many priceless works in this collection. From Rembrandt, Rubens to Botticelli, Caravaggio and van Eyck to Bruegel the Elder, Vermeer and more, it's an afternoon well worth spent in rapture. 
Living and working in Prenzlauer Berg with painting, printmaking, and sculpture, you will see the largest collection housed under one roof from the artist. Here, there are over 200 drawings and prints, sculptures, and woodcuts, along with a touching series of self-portraits that take place over the course of five decades. Kollwitz's humanistic themes—war, poverty, suffering, and love—are always ever-present in her work.
Biking Between the Capitals of Cool
Wind your way through valleys and vineyards on our Berlin to Prague Biking trip. Peek behind the once-mighty Iron Curtain to explore the uber-hip capital city of Berlin, passing through the jewel box of Dresden, and top it off with an intoxicating blend of old and new in Prague.
DETAILED ITINERARY
Contemporary Art
One of the newest museums in the capital, first founded in 1975, this museum of modern art, photography and architecture focuses on art from Berlin from 1840 through today. Located in the hip neighbourhood of Kreuzberg, take a tour through multimedia installations and paintings ranging from Dada and the Eastern European avant-garde movements, along with the history of art from divided and reunified Berlin.
Housed in the former train station, here's where one of the world's foremost collections of contemporary art can be found. From the 1960s onwards, this 13,000-square-metre space highlights Andy Warhol's portrait of Mao (in addition to many other Warhols), along with works by Joseph Beuys, Robert Rauschenberg and Cy Twombly, not to mention Dan Flavin and Cindy Sherman, you will see a wide range of art, from photography, film, visual and other mediums represented throughout.
Located in front of the palace of Schloss Charlottenburg, get your fix of modern art at this museum, based upon the collection of the art dealer and collector Heinz Berggruen, a Berlin-born gallerist of Jewish descent who fled Germany in 1936. You'll see more than 120 works by Pablo Picasso, along with 70 Paul Klee works, along with Matisse, Giacometti, along with works by Cezanne, Georges Braque, Henri Laurens and a selection of African sculptures.
The last major building designed by the German-American architect Mies van der Rohe (complete with sculpture garden), it is in the final stages of a redesign and preservation by David Chipperfield. The museum focuses on 20thC art from Europe and North America. Familian names like Munch, Picasso, Ferdinand Hodler, Max Beckmann, Otto Dix, Paul Klee, Max Ernst, Salvador Dali, Francis Bacon, Gerhard Richter and Andy Warhol. Until it reopens in 2019, make your way to the 'Neue Galerie' exhibition space at the Hamburger Bahnhof
Since opening in 2004, this comprehensive museum has an ever-rotating series of exhibitions highlighting what's new and next in photography. On the first two floors, it shares space with the Helmut Newton Foundation, with a permanent exhibition of the acclaimed German-born fashion and landscape photographer's work and equipment.
Great for Families
Museum fur Naturkunde (Museum of Natural History)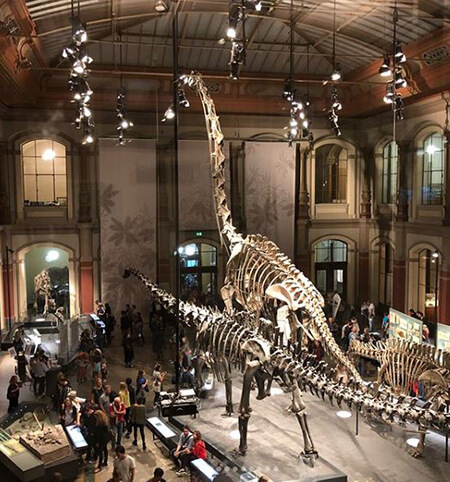 Look out for Tristan Otto, a giant Tyrannosaur skeleton, along with the world's largest dinosaur skeleton, a massive 13.27-metre-long (43.5 feet) brachiosaur. Just as fascinating, don't miss the excellent 'wet collection', which features 276,000 glass jars filled with natural specimens, from crabs, fish, spiders, amphibians and mammals preserved in alcohol in over 12 kilometres (nearly 8 miles) of shelving.
Located on the elegant avenue of Under den Linden, the baroque building recounts 2,000 years of German history, with 7,000 exhibits on display. Time travel from the early Middle Ages and learn about the Second World War up until German reunification, art juxtaposed with items from daily life and artifacts that tell the story of the country.  
Topped dramatically by a US Air Force 'Raisin Bomber', you can't miss this museum, dedicated to science and technology. From steam-powered locomotives and other trains to aircraft, telecommunications, municipal transport and photo and film technology, it celebrates uniquely German achievements in this field.
Located in Berlin's pretty Tiergarten, the oldest zoo in Germany was first opened in 1844, with animals donated by Frederick William IV, the King of Prussia. The most-visited zoo in Europe, it spans 86.5 acres and holds about 1,380 different species, with more than 20,000 animals; one of the most species-rich zoos in the world. You will see four types of great apes, from orangutans to gorillas, bonobos and chimpanzees, along with an aquarium and aviary.
JOIN MORE THAN 70,000 FELLOW WANDERERS