Experts + Insiders:
Nathan Lane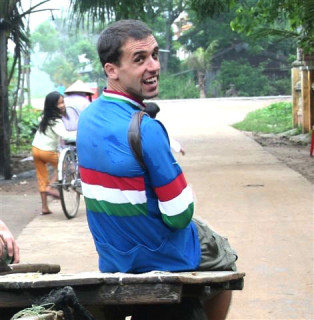 Before it happened, Nathan Lane was starting to feel overwhelmed.
It was his third day of guide training in Beaune and the litany of guidelines, knowledge and accounting practices was getting a bit dizzying.
"And then out of the blue George (Butterfield) walks in and says 'Lets all go for a bike ride,' he now recalls his salvation from spreadsheets. "Two hours later, after many climbs and vistas of Grand Cru wine, he pulls into a small funky café. He greeted the owner like a long-lost brother with kisses on the cheeks, and soon enough we all had a Kir Royal in our hands. And then I got it."
What Nathan calls "it," others have called the Zen of Guiding. Some just call it George being George. Either way, it was the best education Nathan could have hoped for.
"No more training necessary," he says.
A career was born.
It's been 12 years since that fateful ride through Burgundy, a span that's seen him wear many hats, working his way from guide to regional director to his current incarnation as a Bespoke Trip Designer, planning the sort of amazing adventures he used to facilitate as a guide.
Though his business card has accumulated a few new titles over the years— and his passport many, many new stamps—the lesson he learned during that first ride with George has remained with him throughout.
"A great bike ride with a guide that knows the way, knows the people and has friends who can hand us a celebratory drink at the end of the last downhill."
Out of the blue George walks in and says 'Lets all go for a bike ride…' And then I got it.
---
Vital Stats:
Years in Travel Business: 15
Years with B&R: 12
Countries/Regions of Expertise: Italy, Vietnam, Laos, Cambodia, Thailand, Switzerland, Scandinavia, China, Japan, Lebanon, Jordan, Syria, Oman, India, Sri Lanka, New Zealand, Australia
Countries visited: 39 (And yes, I'm including the small ones—sunset cocktails in the Republic of San Marino after a bike ride, anyone?)
Countries lived in: USA, France, Italy, Switzerland, New Zealand
Trips planned (estimate): 100+
Trips guided: 111
Q&A with Nathan:
How did you get started with B&R?
I was giving tours of the Coliseum and Forum in Rome and used to brag about how I rode my bike through the Circus Maximus to get to work.  Someone from B&R came on my tour and offered me a job.
Everyone at B&R has their fair share of wanderlust. When/how did you first get bit by the travel bug?
I'm lucky, my parents took me camping and hiking as a kid. I always loved adventure and soon started dreaming about adventures further afield.
What's your preferred method for immersing yourself in a new place? 
A café at dawn with the locals. Not many tourists or people trying to sell you things at those hours. It's nice to just see a place wake up.
You've visited nearly 40 countries. What's on your wishlist that you haven't yet seen? 
I have always wanted to take a bike trip over the Karakoram Highway, the highest paved international road with sections over 15,000 feet! It runs from Pakistan to Tibet.  I imagine I might have to wait a couple of years—but I've got patience.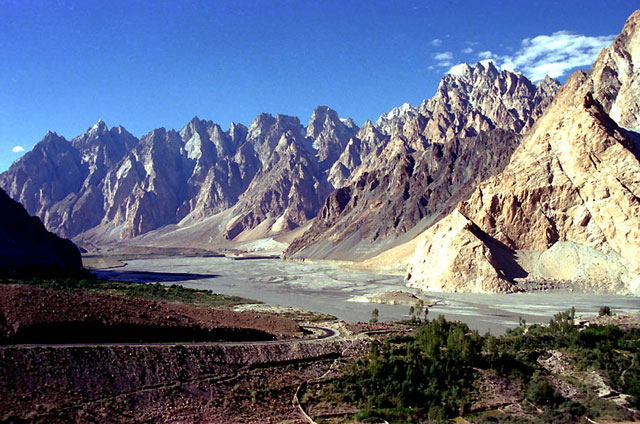 OK, here's your chance to brag a little. What one moment from your guiding career are you most proud of?
My best guide moment. Hmmm… I was trapped in a traffic jam on highway one in Vietnam. We learned the road was closed because a beer truck 10 miles up had overturned and it would take hours to clear. We wrangled up 15 motorbikes with drivers from the local rice paddies and offered them a nice tip. They took one traveller on the back of each bike and we cruised past the traffic jam and beer truck. We laughed and spent the rest of the afternoon lazing around the pool while our luggage truck showed up seven hours later, having taken that long to escape the traffic jam.
Ha! Classic. But here's the flip side to that question: what's your most embarrassing travel story? 
Showing up on the right day—but at the wrong airport. I was flying to Europe from Vietnam, and after a couple of trips I showed up with my Cathay Pacific ticket in hand to the Hanoi airport. They said, "Um…you have a flight with us today, but it is from Saigon." Good thing my Vietnamese language skills were strong enough to make them laugh and fix it all in the nick of time!
Yikes! Let's end on a more positive note. What's the best trip you've ever taken?
You know, it would have to be a Bespoke trip to Jordan. Great travellers and a perfect, in-depth experience to the Middle East, which has certainly made me appreciate the current world more. Incredible floating in the Dead Sea, Petra by night and hiking valleys and canyons. Oh yeah, and a hot air balloon ride at sunrise after spending a night in the desert and feeling like Lawrence of Arabia.